Things We Like: Reading Recommendations
Kumpulan rekomendasi bacaan yang kami sukai.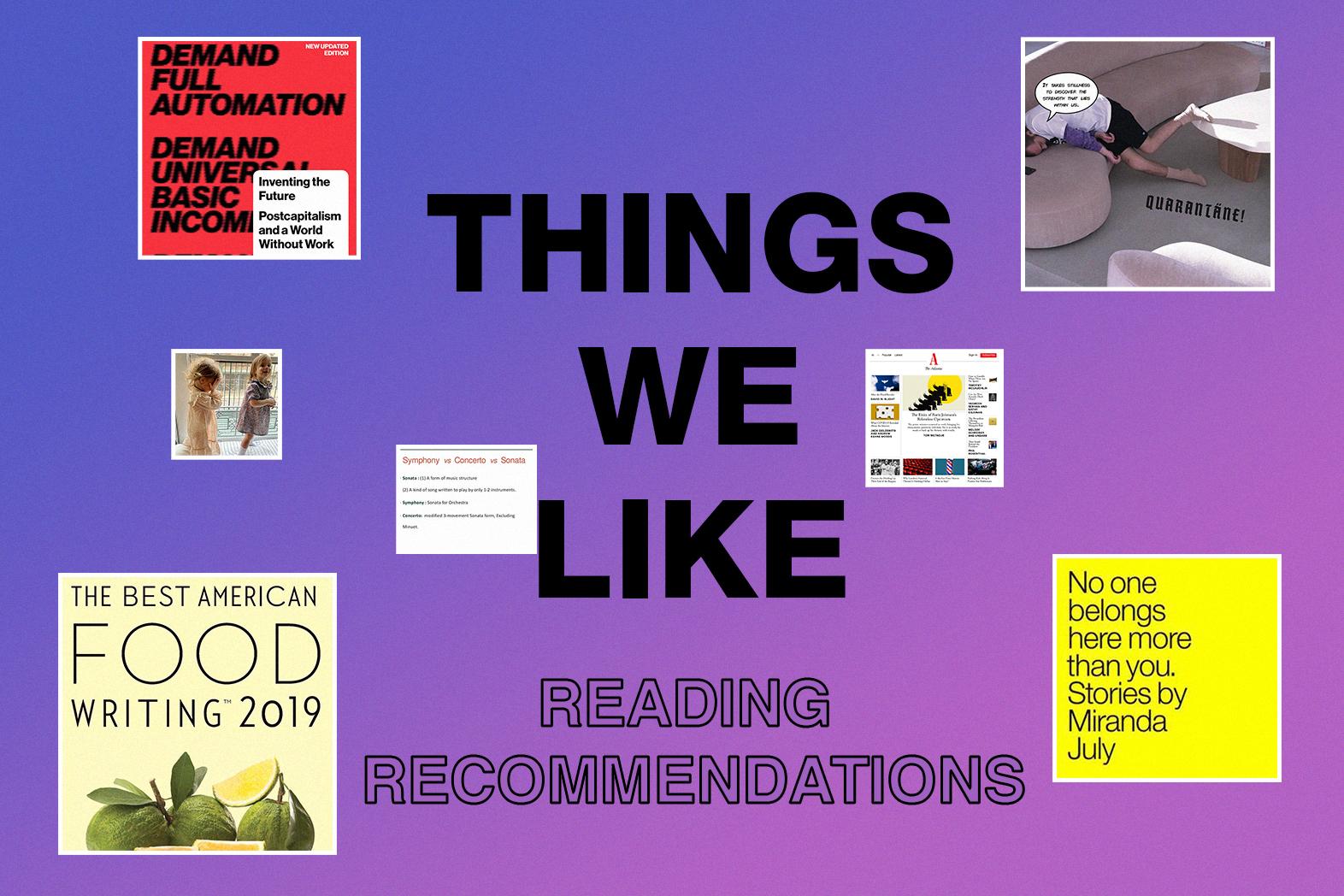 "Things We Like" kali ini merupakan edisi khusus. Salah satu aktivitas yang pasti dilakukan oleh semua orang saat #WFromHome adalah membaca, baik dari media sosial, website, hingga buku untuk menemani kegiatan kita sehari-hari. Oleh karena itu, kami mengumpulkan sederet bacaan yang kami sukai semasa work from home. Dari playlist buku tulisan Miranda July, fanzine dari 032c hingga kumpulan tulisan soal kuliner, berikut adalah beberapa pilihan kami.
M. HILMI
Managing Editor
What:
INVENTING THE FUTURE, POSTCAPITALISM AND A WORLD WITHOUT WORK – Nick Srnicek & Alex Williams
Description:
Sebagai seorang pesimis, dengan situasi sekarang rasanya semakin takut dengan masa yang akan datang. Tapi di saat yang sama, ada rasa penasaran yang besar tentang bagaimana masa depan akan berjalan. Dan demi kesehatan mental, mari kita berfokus pada rasa penasaran ini. Buku ini sepertinya bisa menjadi teman untuk mencari jawaban atas penasaran tadi. Premisnya menarik, "A major new manifesto for the end of capitalism". Sejujurnya belum baca bukunya dan baru mau beli, tapi sudah semangat lihat ulasan-ulasannya. Aduh, gajian kapan sih?
HANA DEVARIANTI
Lifestyle Editor
What:
The Atlantic 
Description:
Sebetulnya akhir-akhir ini lagi gak terlalu aktif baca buku. Justru malah lebih sering ngulik situs-situs berita, kebetulan karena mereka lagi membuka akses terutama untuk artikel-artikel yang berhubungan dengan COVID-19. Dan, yang lumayan rutin jadi reading list gue adalah The Atlantic. Mereka punya berbagai berita in-depth dengan analisa dan angle yang menarik buat berbagai aspek dari kondisi pandemi ini. Mulai dari update terbaru soal virus sampai dampak pandemi ini ke berbagai aspek kehidupan kita di masa depan, dari tentang data privacy, internet speech, mental health, hingga fashion. Salah satu artikelnya bahkan menginspirasi gue untuk bikin sesi IG live di Whiteboard Journal minggu lalu! Guess which one guys 😉
 https://www.theatlantic.com/world/
FEBRINA ANINDITA
Editorial Staff
What:
How the World Will Look After the Coronavirus Pandemic
Description:
Jarang baca, karena lagi sering nonton. Ini kayaknya artikel gw baca 7 April. Isu kompleks tapi ditulisnya concise banget. 
GHINA HANA SABRINA
Editorial Staff
What:
032c "QUARANTÄNE!" Fanzine and Lookbook
Description:
Not necessarily a read, but this fanzine and lookbook from 032c is probably the coolest to have come out of quarantine. As usual, their editorial statement kicks you in the face with their bold attitude and that's exactly what we need in this kind of situation. 
The zine is free to download on the link below:
EMMA PRIMASTIWI
Editorial Staff
What:
No One Belongs Here More Than You – Miranda July 
Description:
A collection of short stories by Miranda July. These are earnest, original tales of love told in interesting, head spinning ways. You think you know what's gonna happen? HA! Think again. Not gonna lie, the first story (The Shared Patio) was a bit hard to read, the character is just so delusional and unlikable but I still enjoyed it, she reminds me of me when I'm at my worst. 
The type of love that occurs in her stories seem like a damaged person's answer to intimacy, there are some deep, sometimes disturbing features about her characters, her protagonists feel so painfully unhappy, plus some of their actions actually really piss me off. 
The Shared Patio, I Kiss A Door and This Person resonated with me the most so far, haven't finished the book, but looking forward to. We'll see what comes out of it. 
CLARISSA AMABEL
Art Director
What:
The Best American Food Writing 2019, Edited by Samin Nosrat
Description:
Yeah yeah, akhir-akhir ini konsumsi media gue 70% tentang makanan, 20% tentang K-drama (specifically HOSPITAL PLAYLIST). But who doesn't like food? Weirdos, that's who.
This publication reminds me that the world of "food writing" is so diverse and open for interpretation. It could be a writer's very personal account about the food she had when she was a young homeless child, but it could also serve as eye-opening journalism about the current state of our economy. 
Semoga Indonesia bikin kompilasi food writing berkualitas kaya gini juga. WBJ editors, make this happen.
SABRINA FARIZKY
Marketing & Partnerships
What:
"Dispatch #006: The First Big Quarantine Fight and a Face Dive on Howard Street" by Leandra Cohen
Description:
Article ini gue baca beberapa hari lalu, and it hits me right on my soft spot, sampe agak berkaca-kaca dikit (padahal emang cengeng).
This article is a reminder that it's okay to have an emotional downfall once in a while, that we should all go easier on ourselves, especially in this stressful time, and lastly, to remind us what "love" actually means (sedap).
MAR GALO
Bamboo Twist
What:
Definitions of Sonata/Partita/Symphony/Concerto
Description:
I'm actually still stuck in the classical realm. Was just reading this last night for research purposes. It's fascinating that classical music's genre/classifications is based on the number of musicians playing e.g solo, a small group, a large group. Did you know that Beethoven has over 700 compositions written? Productive would be an understatement. Anyone ever heard his complete works deserves a standing applause.
Read here