Things We Like: What to Watch on YouTube
Kumpulan tontonan di YouTube yang kami sukai.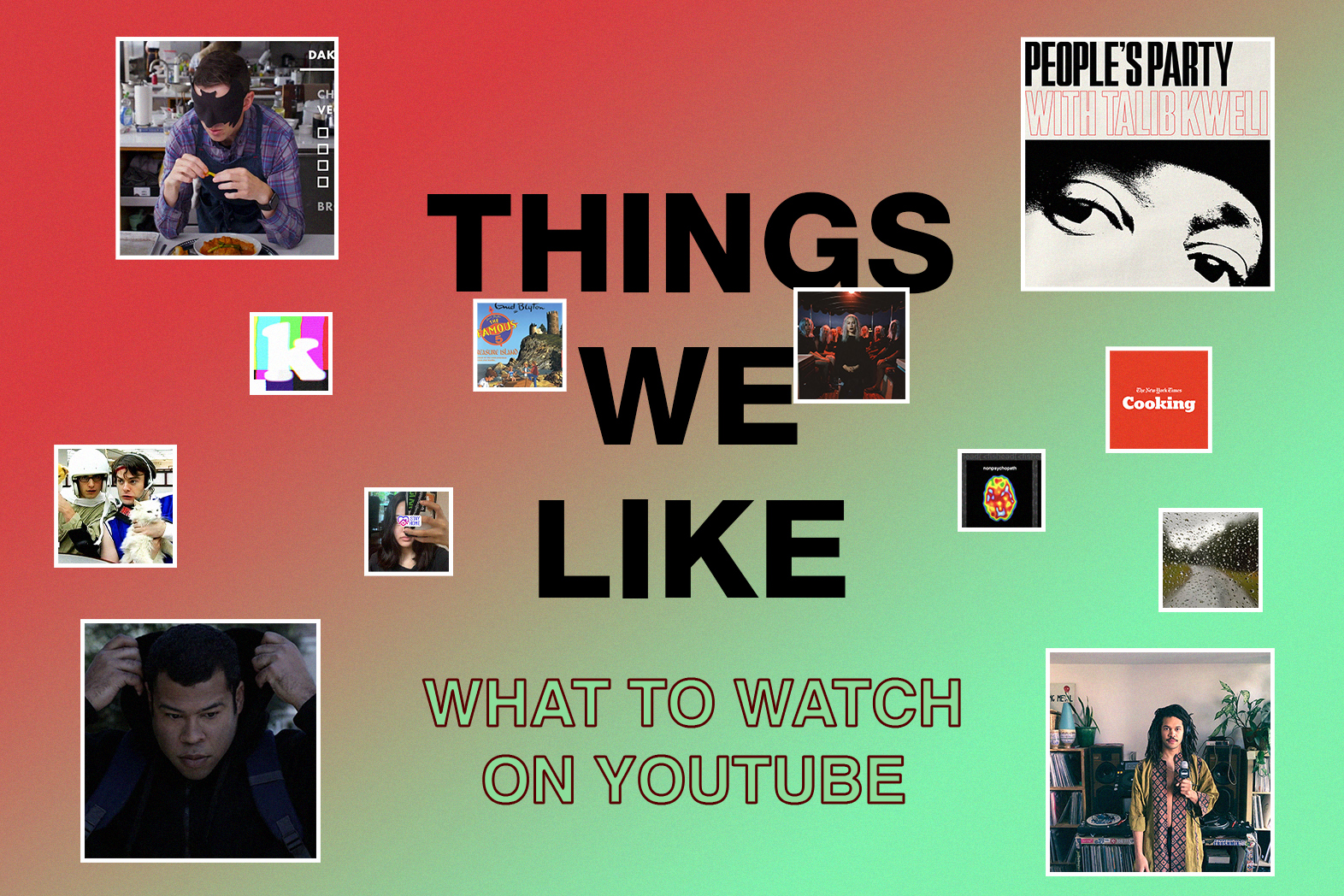 "Things We Like" kali ini merupakan edisi khusus. Salah satu aktivitas yang pasti dilakukan oleh semua orang saat #WFromHome adalah menonton video di salah satu platform video ternama, YouTube. Oleh karena itu, kami mengumpulkan sederet tontonan yang menjadi pilihan tim Whiteboard Journal semasa work from home. Dari video klip Phoebe Bridgers, short film dari Key & Peele, live streaming Boiler Room hingga video masak, berikut adalah beberapa pilihan kami.
KEN JENIE
Editor
What:
People's Party with Talib Kweli
Description:
If you ever wanted to know the personal stories behind some of hip hop's most revered figures, People's Party is a podcast you have to listen to, or watch on Youtube. Hosted by one of the one and only Talib Kweli and co-hosted by comedian Jasmin Leigh, the podcast revolves around Kweli talking to a variety of guests (activists, actors, comedians, and of course emcees) about their come up and personal stories behind their career-defining moments. Whoever Kweli may be speaking to (El-P, Jadakiss, Rapsody, JPEGMAFIA), you get some of the most interesting behind the scenes stories and political perspectives that are tied to their careers.
For starters, I recommend watching his interview with the legendary Evidence of Dilated Peoples – he has a lot of stories to tell.
M. HILMI
Managing Editor
What:
Phoebe Bridgers – Scott Street
Description:
Selama WFH ini, entah sudah berapa puluh kali dengerin lagu-lagu Phoebe Bridgers. Merasa nyaman di nelangsa yang selalu ada di tarikan vokalnya. Selain "Motion Sickness", paling suka lagu ini di album "Stranger in The Alps". 
"Spending money and I earned it, When I'm lonely, that's when I'll burn it"
HANA DEVARIANTI
Lifestyle Editor
What:
NYT Cooking
Description:
I've been watching random videos on Youtube lately. Tapi salah satu yang lumayan sering muncul di home Youtube dan akhirnya gue tonton sampai selesai adalah video masak di NYT Cooking. Suka banget sama cara mereka berinteraksi sama audience saat di video. One of my personal fave adalah video mereka bikin cookies yang katanya resepnya dibeli dengan harga $250!
FEBRINA ANINDITA
Editorial Staff
What:
Key & Peele: Hoodie
Description:
Semacam "Get Out" tapi short film. Pengen bisa bikin skrip video pendek kaya gini deh.
GHINA HANA SABRINA
Editorial Staff
What:
Boiler Room: Streaming from Isolation
Description:
Semakin lama ngerasa bosen sama lagu-lagu sendiri, hence I've been streaming Boiler Room's Streaming from Isolation program on a daily basis. Selain set-setnya yang menarik, seru juga bisa ngintip rumah dari para DJ dan melihat set-up mereka yang keren banget.
Intinya sih kangen party, like what Sam Shepherd said during his stream "Hopefully see you on the dance floor some time." 
EMMA PRIMASTIWI
Editorial Staff
What:
Gentle Night Rain Videos
Description:
My fellow night terrors / anxiety / night owl / hard to focus friends will relate. When normal people work they listen to music, I listen to rain sounds. Udah sering ke-gap juga sih di kantor kadang suka bikin bingung "Ujan?" nope, it's just me. 
I don't know if it's as abnormal as it sounds though. So many people commented that this really helps to reduce anxiety, especially during this insane place we're all in we're bound to feel some type of anxiety sometime. I recommend giving this a go. Lie down, breathe and listen. 
Banyak versinya, ada yang sama crackling fireplace (so good), ada yang background jazz music also good but quite distracting for work, terus ada juga yang thunderstorm, kadang suka kaget ada glodok tapi aside from that it does the job. 
CLARISSA AMABEL
Art Director
What:
Famous Five Game Playthrough videos
Description:
My childhood (and adulthood) dream is to be a detective. Thanks to a steady content diet of Detective Conan, Sherlock Holmes, Agatha Christie, Scooby Doo, etc, I've always wanted to be a gumshoe. 
Naturally, my favorite type of computer games was the point-and-click adventure, with little to no action sequences (so NO DEATHS please). Basically what you do is walk around specific areas, talk to people through a pre-designed conversation tree, click on mundane objects (example: a rubber ducky), put it in your inventory, and see if you can use said object to fix an obstacle (ie: stop a moving train), and solve the mystery!
The Famous Five games were based on the Enid Blyton children's book series (lovingly dubbed Lima Sekawan in Indonesia), and you get to play as 11-13 year old cousins solving various mysteries in picturesque English seaside towns. I can still sing the theme song from memory. "We are the Famous Five, Julian Dick and Anne. George and Timmy the dog, we're out to have some fun!" BRB, gotta find some hidden treasure in an abandoned smugglers' cove!
TIANA LONDA
Graphic Design
What:
Reverse Engineering – Bon Appétit
Description:
I've been watching lots of Bon Appétit videos lately. But out of all their shows, I really like the Reverse Engineering ones with Chris Morocco! In this video, he can only taste, touch and smell the dish and then he has to replicate it as close as possible both on the taste and the appearance.
MARDHI LU
Graphic Design
What:
KaptainKristian's Video Essays
Description:
If Every Frame a Painting is an essay channel focused on film, Kaptain Kristian is the counterpart for Animation. I binged all his videos over the weekend, and I really love the Superman Video. It's such a shame that he doesn't continue making these videos anymore. I think this is one of the best video essays out there in the wild.
AZZAHRA RIZQA
Graphic Design
What:
Hairdressers Guide To Cutting Your Own Hair And Not Ruining It
Description:
Being quarantined at home means a lot of things, and one of 'em means I can't get a haircut. It's not like I want to cut my hair for shallow aesthetical purposes (which in a non-corona world, would probably be my 1 reason for a haircut), it's just that it's getting WAY TOO LONG, and it's falling out by the minute! So I jumped on my computer in search for the best self-haircut-tutorial the interweb has to offer and here's what I found. No, I didn't comb through every youtube tutorial and compare it one by one, I mostly let the view counts and the fact that the guy who made the video is an actual hairdresser be the judge. It turned out great, my hair's not falling off, and I saved about 200k from going to the salon. Yay!
SABRINA FARIZKY
Marketing & Partnerships
What:
SNL Digital Short: Laser Cats 4 Ever
Description:
Been watching a lot of old SNL videos, and of course, I had to rewatch the Laser Cats "series." Di episode kali ini mereka selain mengikutsertakan Steve Martin sebagai bintang tamu, tapi juga memperkenalkan……. *drumroll*……CYBERFACE!!!!! The latest creature in the Laser Cat universe, that is half human, half laser cat, and HALF ROBOCOP (WHATTT???) 
MAR GALO
Bamboo Twist
What:
Fishhead – Brilliant Documentary about Psychopaths and Society
Description:
An interesting discussion of how psychopaths function in the society. "Individuals who are extremely egotistical, self-centered, lack in remorse of what they have done, knowing exactly what they are doing is manipulating other people for their own ends." "You've probably met one but you just haven't seen behind the mask." Anyone you know?