Album "Mr. Morale & The Big Steppers" Milik Kendrick Lamar Versi Vinyl Sudah Bisa Dipesan
Edisi vinyl untuk album barunya tersebut tersedia dalam format double-disc dengan dua pilihan warna: coklat keemasan dan hitam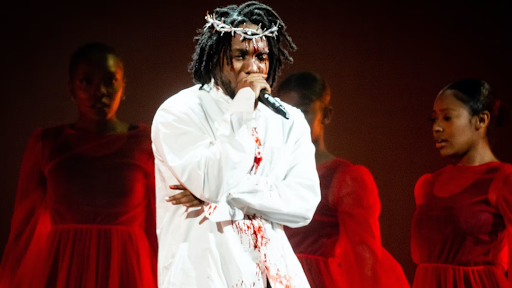 Teks: Setto Lintang
Foto: Samir Hussein/WireImage
Setelah mengumumkan perilisan vinyl untuk album teranyarnya, "Mr. Morale & The Big Steppers" pada Kamis (30/6) lalu, Kendrick Lamar segera membuka prapesan untuk rilisan fisik album tersebut pada keesokan harinya, Jumat (1/7) ini. Rencananya, pesanan vinyl tersebut akan mulai dikirimkan pada 26 Agustus mendatang.
Pembukaan prapesan untuk vinyl "Mr. Morale & The Big Steppers" dilakukan tepat tujuh pekan sejak Kendrick merilis album barunya tersebut di berbagai platform streaming digital pada 13 Mei lalu. Album tersebut resmi menjadi album studionya yang ke-5 sekaligus proyek lengkap perdananya sejak merilis album "DAMN." pada 2017 silam.
Di samping itu, "Mr. Morale & The Big Steppers" menjadi proyek terakhir Kendrick yang dirilis oleh label hip-hop ikonik west-coast, Top Dawg Entertainment (TDE). Dilansir dari situs pribadinya, musisi dengan lebih dari sepuluh alias tersebut menulis, "Seiring dengan perilisan album terakhir saya di bawah TDE, saya turut senang telah menjadi bagian dari jejak kebudayaan tersebut [TDE] selama 17 tahun lamanya. Mulai dari perjuangan, kesuksesan—dan yang paling penting: kekeluargaan yang ada di dalamnya. Semoga Yang Mahatinggi senantiasa menuntun Top Dawg sebagai wadah bagi para seniman jujur. Sementara itu, saya akan terus mengejar panggilan hidup saya." Selama 17 tahun tersebut, Top Dawg Entertainment telah merilis sederet album legendaris Kendrick, seperti "Section.80", "Good Kid, M.A.A.D City", "To Pimp A Butterfly", serta "DAMN.".
Terkait dengan perilisan vinyl album terbarunya, "Mr. Morale & The Big Steppers", Kendrick juga membuka prapesan untuk edisi kaset pita, CD, serta bundle boxset-nya dengan t-shirt di situs pribadinya.