Reality Club Membawa Kita Ke Era Wild West Dengan Single Terbaru "Dancing In The Breeze Alone"
Reality Club bereksperimen dengan musik koboi Western dalam single terbaru mereka yang berjudul "Dancing In The Breeze Alone".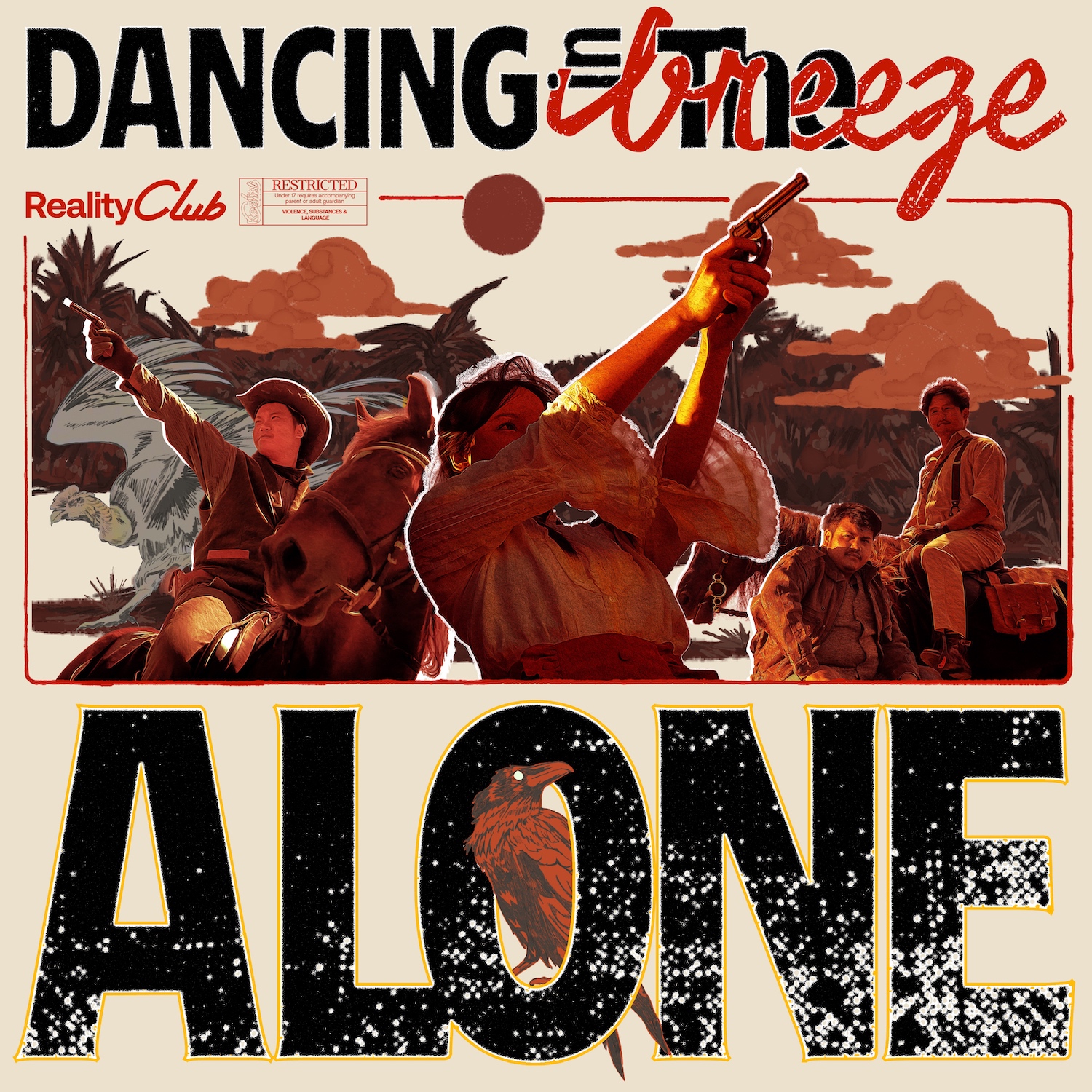 Teks: Reiko Iesha
Foto: Reality Club/P.L. & Hilmy P. Soepadmo, Estu S. Kharisma
Reality Club, grup musik Indie Rock asal Jakarta, dibentuk oleh Fathia Izzati yang berperan sebagai vokalis, Era Patigo sang pemain drum, dan pemain bass bernama Mayo. Fathia lalu merekrut Faiz Novascotia untuk menjadi vokalis dan gitaris, dengan Nugi Wicaksono yang bergabung untuk menggantikan Mayo sebagai pemain bass. Fathia juga merekrut Iqbal Anggakusuman sebagai gitaris. Band yang didirikan pada tahun 2016 ini telah merilis dua album, yang pertama pada tahun 2017 secara independen berjudul Never Get Better, dan yang kedua berjudul What Do You Really Know? di tahun 2019. Mereka juga merilis beberapa single dan suatu EP di tahun 2020 yang berjudul The Rush and Other Vices. Reality Club telah merilis single terbaru mereka yang berjudul "Dancing In The Breeze Alone" pada tanggal 24 Februari kemarin.
Sebagai suatu tribut kepada film-film "Spaghetti Western" dan video gim yang bertema serupa, Reality Club membuat single bertema musik koboi yang bercerita tentang hubungan cinta yang berakhir buruk. Lagu yang mengingatkan para pendengar pada era wild west ini menampilkan suatu ansambel paduan suara dari Kancatala dan orkestra 46 piece dari Budapest Scoring Orchestra, orkestra yang membuat scoring musik untuk serial Netflix Squid Game dan film garapan Jordan Peele Get Out. Reality Club sebelumnya telah bekerja sama dengan Budapest Scoring Orchestra ketika mereka membuat single Tell Me I'm Wrong pada tahun 2021. Dancing In The Breeze Alone menggambarkan tragedi cinta dan patah hati yang membuat kita membayangkan bagaimana jika semua hal dalam hidup menjadi baik-baik saja. 
Band yang terpilih untuk mewakilkan Indonesia di Austin, Texas pada acara South By Southwest (SXSW) ini juga merilis suatu musik video untuk membuat pengalaman dunia koboi lebih terasa bagi para pendengar. Musik video ini juga terinpirasi oleh film-film "Spaghetti Western" dan disutradarai oleh Ibnu Dian, dengan Bobby Mandela sebagai salah satu pemeran. Para anggota Reality Club belajar berkuda agar dapat memperagakan aksi mereka selagi syuting untuk musik video ini di Bali. Musik video ini juga sepenuhnya menggunakan efek praktis. 
Single "Dancing In The Breeze Alone" sudah bisa didengar dalam beberapa streaming platform seperti Spotify dan Apple Music. Musik video untuk single hasil kerja sama antara Reality Club dengan Dominion Records ini dapat disaksikan melalui kanal media YouTube Reality Club.