Things We Like: Dari Minggu Ketiga Februari
Musik, komik hingga series yang kami sukai.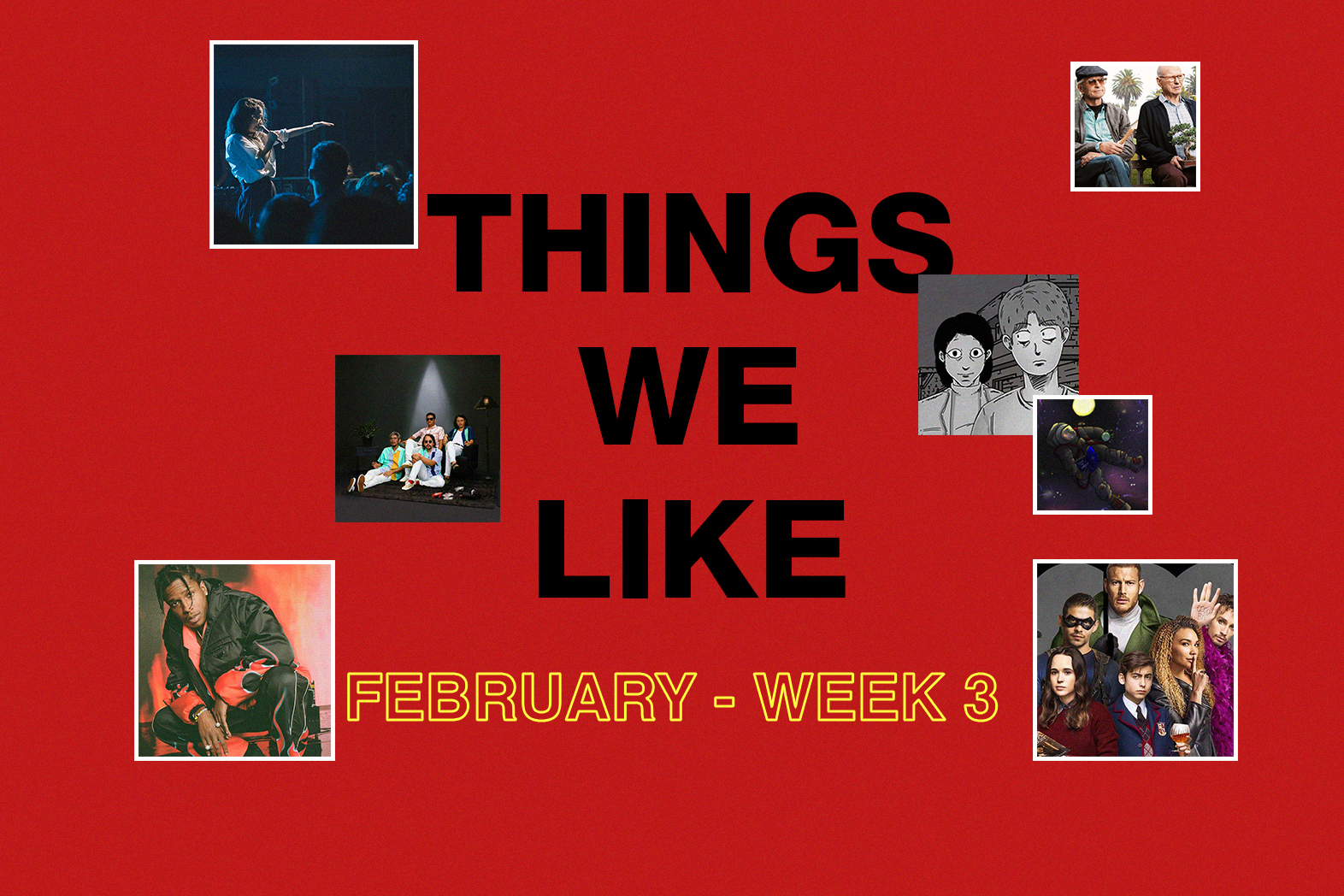 Di edisi pertama "Things We Like" di tahun 2019, kami mengumpulkan hal-hal yang sedang disukai oleh tim Whiteboard Journal berikut alasannya. Dari materi-materi untuk album terbaru The Adams, konser musik Mitski, hingga kedatangan A$AP Rocky ke Bali, berikut adalah "Things We Like" dari minggu ketiga Februari.
FEBRINA ANINDITA
Editorial Staff
What:
The Kominsky Method
Description:
Sebenarnya habis selesai nonton "POSE", gue nonton "Friends from College" sampai season 2 selesai tapi kalau dibanding "The Kominsky Method" yang baru gue selesain pas 2 minggu lalu, jauh lebih mengena.
Awalnya gue segan nonton karena opening scene di pilot episode kok agak serius ya – karena tujuan utama gue nonton Netflix adalah cari hiburan ringan. Tapi ternyata ringan dan tetap ada episode woke menjelang akhir season 1.
Akting Alan Arkin jadi grumpy old man natural banget!
AMELIA VINDY
Editorial Staff
What:
Materi-Materi Album Baru The Adams.
Description:
Gue sangat menantikan album terbaru The Adams. Setelah sekian tahun lamanya kesetiaan sebagai fans diuji, akhirnya gue dan fans-fans lainnya mendapatkan kepastian. "Agterplaas" akan segera dirilis dalam waktu dekat! Lewat beberapa materi yang sudah diperdengarkan seperti "Timur", "Pelantur" dan "Masa-Masa", gue punya firasat yang baik untuk album baru mereka. Sampai hari ini, meskipun hanya bisa mendengarkan versi Live-nya, tapi "Timur" belum pernah absen dari telinga gue selama beberapa waktu belakangan, untuk menyambut "Agterplaas". Setelah "Hanya Kau", The Adams sekali lagi memberikan soundtrack cinta-cintaan yang super relevan buat gue lewat "Timur". Cie!
GHINA HANA SABRINA
Editorial Staff
What:
Mitski Live in Jakarta
Description:
Ever since "Lush" days, Mitski has always been a favourite – be it in terms of songwriting, the relatability of her lyrics, the way she titled her albums (re: Puberty 2), and even her online (twitter) presence. Anyway, last year she released her fifth record "Be the Cowboy" and my fangirling intensified. Beside it becoming almost everyone's AOTY, her songs have seeped through all my playlists and what's a fangirl's biggest wish? To see her live obviously. Hence, I lost my shit when noisewhore brought her here to play a gig. I would not talk about the gig at length here, but all in all, it was one of the best shows I've seen, the setlist was brilliant, I cried. 10/10 would watch her again.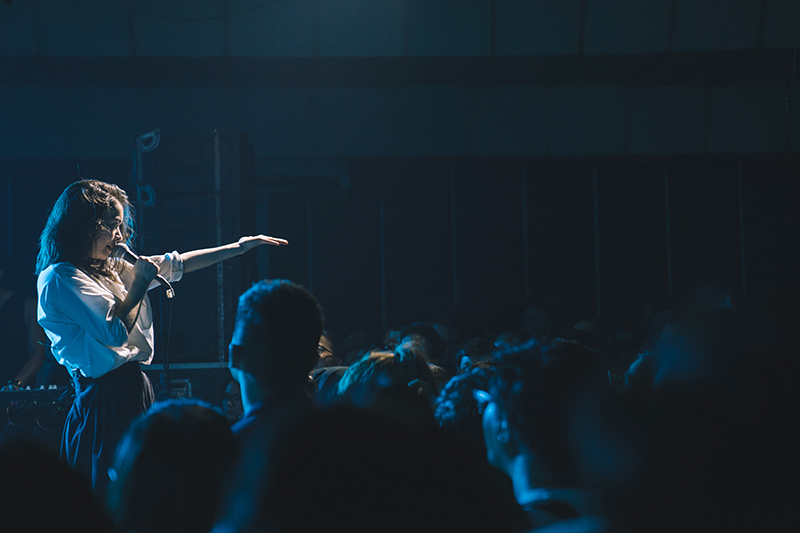 CLARISSA AMABEL
Art Director
What:
The Umbrella Academy
Description:
This show successfully made me go "meh" then "whu?" then "eew" then "awww!!" then "huh" then finally "ok you got me, I'll just go along with whatever you got".
The original concept is a lot of fun, I'll give you that. Seven adopted siblings, all born on the same day, with six having superpowers and the last one being Ellen Page (wins instant cool points there). The worldbuilding, based on a comic book written by My Chemical Romance's Gerard Way, is impressive and weird.
The acting left something to be desired, though. Sometimes in the middle of a scene I just want to interrupt the actors and leave them a note saying "maybe a little less Acting?" or "save the extra cries and gasps for another Percy Jackson sequel".
Tip: After a couple of episodes you will have questions but do not Google the show before you finish because SPOILERS from the comics abound!
DILA F. HASAN
Graphic Designer
What:
Klaudspirit First EP!!!!
Description:
It's finally here!!!! JADIIIIII band ini adalah band dari teman-teman gue di Melbourne dulu. Shout out to Vito Gusman and Nadhira Sinulingga (former vocalist)! I'm so proud of you m8!! Pertama kali ngeliat mereka perform itu di salah satu acara yang gue manage back in the days, though mereka memang sering nge-jam bareng dan upload-upload video di instagram mereka, sampai akhirnya bikin lagu-lagu sendiri. EP mereka ini udah bisa kalian dengerin di segala media musik! Personally gue suka banget sama single mereka "Satellite" it's easy to listen to, its fun and also heart-warming. Go check'em out now!
KANIA THEA PRADIPTA
Graphic Designer
What:
Strangers from Hell
Description:
Salah satu komik favorit yang lagi gue baca via Webtoon. Awalnya gue kira ini komik horor hantu gitu, but it's way more than that. So far ga ada hantu, adanya sekumpulan orang-orang aneh yang ngekos di kosan butut di Seoul. Semua penghuninya suspicious, termasuk ibu kos nya. Ceritanya adalah ada seorang fresh graduate baru dapat kerja dan pindah ke Seoul. Karena gak punya duit dia ngekos di sebuah kosan abal-abal. Lama kelamaan banyak kejadian aneh di kosan tersebut, ada orang yang ilang, daging amis, kepala tikus mati, dll. Sejauh ini udah jalan 52 episode tapi masih belum ketauan jelas apa yang terjadi sesungguhnya. Komik ini bikin penasaran banget sih di tiap episodenya. Didukung artwork character yang ngeri-ngeri sedap bikin ga nyaman haha. Plotnya menarik banget, agak main psikis, intens dan sangat ga ketebak.
SABRINA FARIZKY
Marketing & Sales
What:
A$AP Rocky is Coming to ID!
Description:
Iye, ketaker iye.
Tiga minggu yang lalu, gue baru cerita ke temen-temen di kantor kalau habis mimpi nonton intimate showcase-nya A$AP Rocky dan berandai-andai kapan harapan babu tersebut akan terjadi (karena pada saat itu, yakin 1000% ga akan kejadian). LALU tiba-tiba dikirimin poster kalau Rocky mau nge-host grand opening-nya Manarai Beach Club di Bali bulan April mendatang!
Setelah R+R=Now yang akan main di Java Jazz Festival minggu depan, sekarang ini. Tuntas sudah harapan konser gue as per Q1 2019. *Silahkan mendengar WBJ's Best of 2018 playlist di bawah, dimana kebetulan gue memilih album-nya R+R=Now dan A$AP Rocky sebagai rilisan terbaik tahun lalu.
All in all, goodbye money, hello pretty flacko.