The Charming Illustration of Eko Bintang
Athina Ibrahim (A) meets with Eko Bintang (E)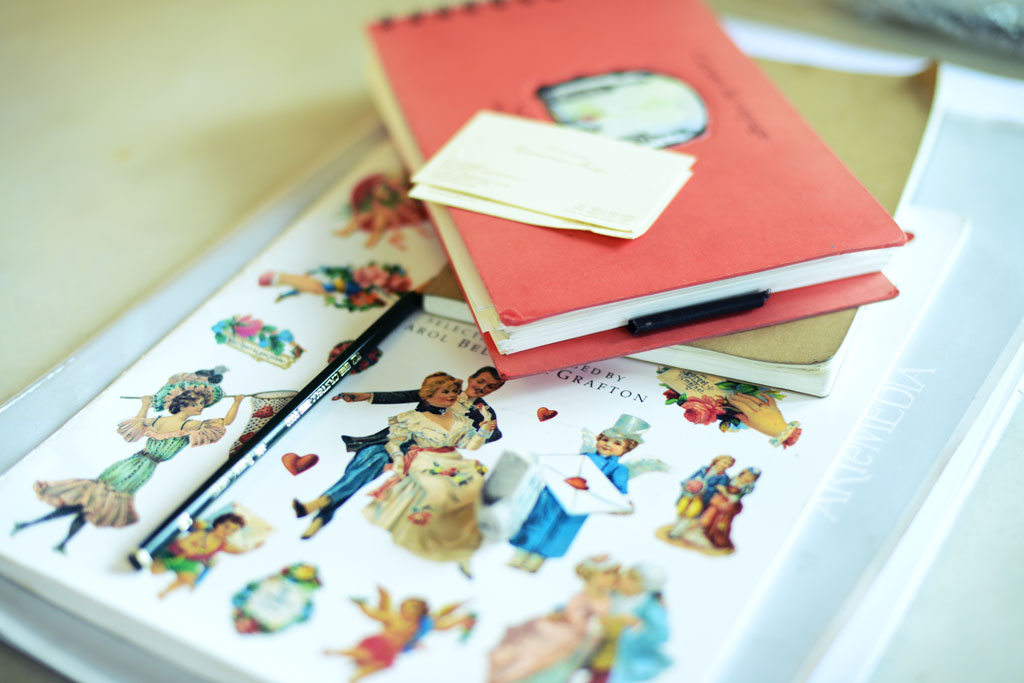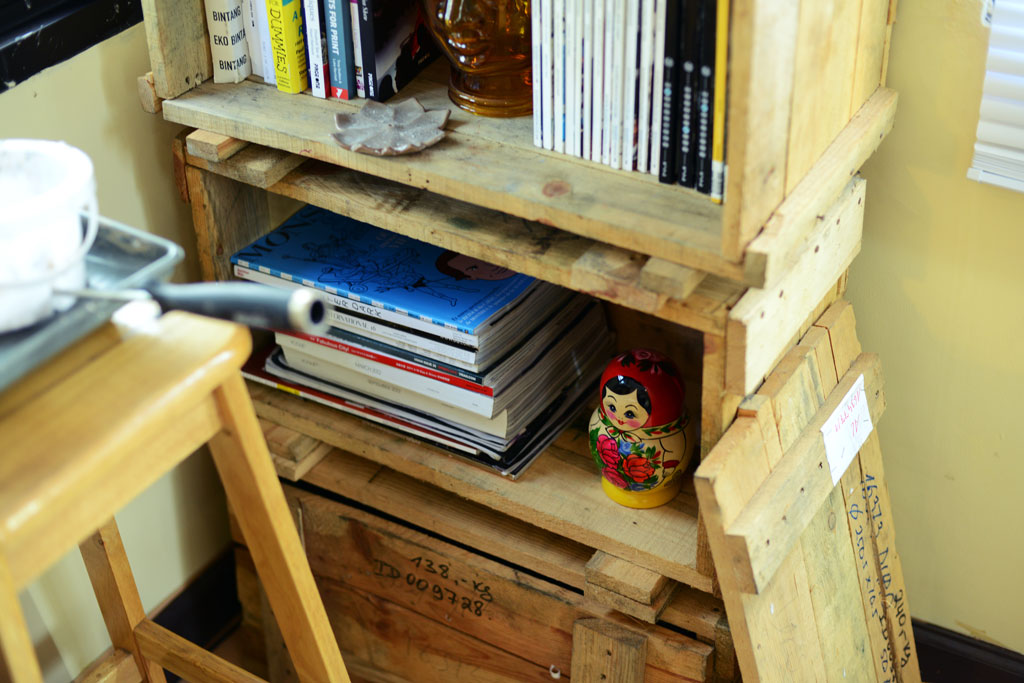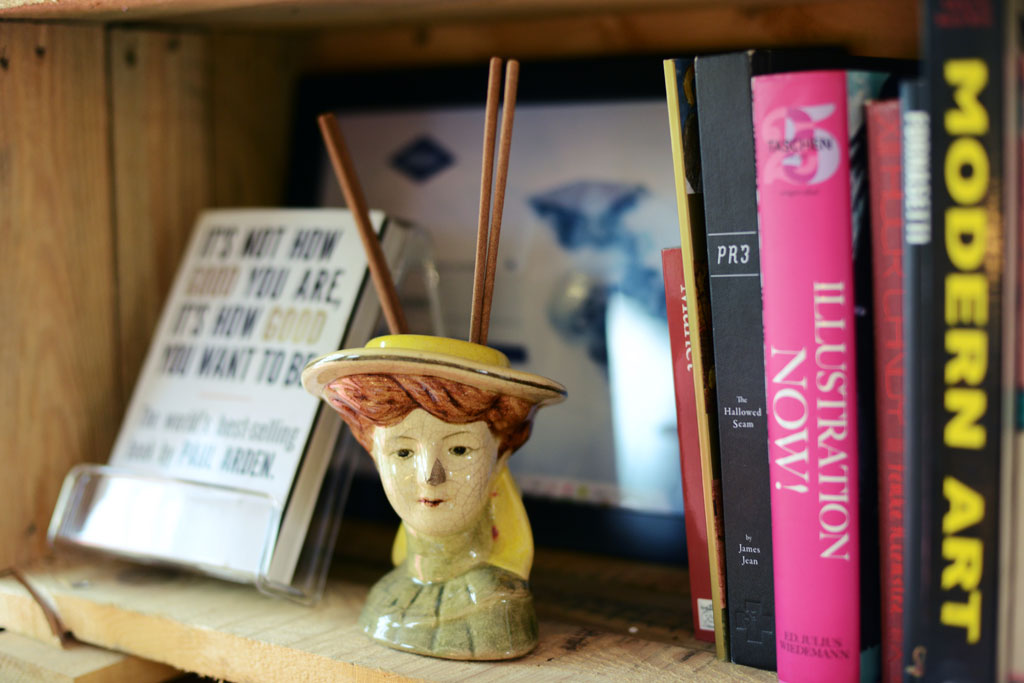 A
How did you get into illustration?
E
I always enjoyed illustrating since I was little. I would spend my time making various drawings of the character from Dragon Ball. But it was something very personal and not shared to people around me. Especially because my family were not from that background who indulge in arts.
During high school, I started doing different activities as posting on the bulletin board and would also use my schoolbooks to draw. Many friends would then request me to draw different characters for them. At the time, the kids my age were interested in Street fighter and even Spice Girls. So I would draw them these characters and they would pay me for lunch.
One day I received a commissioned work to do an artwork for the band Slank. That is when I thought I could get money out of illustrating.
A
Did you continue to do illustrative work then on?
E
I continued my studies at Trisakti university and took on graphic design while opening a freelance collective with a number of friends. Each had their own skills to contribute and we would work on designing and art directing various projects. My illustrations helped in visualizing ideas and story boards for the projects.
Aside from that I still enjoyed making my own visual images so I started contributing my illustrations for magazines and continued to receive magazine offers from then on.
A
When did you realize that illustration was something you could pursue?
E
During university years, I joined an exhibition organized by Ruang Rupa and was really motivated by the Jakarta 32 degree exhibition that year. It dawned to me from the surrounding exhibition that it was all right to pursue an interest in visual arts. This was one of the first event that set my determination.
I still focused on my studio with friends but started to reduce the amount of projects I would be involved in. I realized the things I wanted in life and the basic things I needed, as money, was offered to me in a different path. As a result I had to restrain myself from receiving too much commercial work to push me to make money out of something I wanted, which was illustrating.
A
What was the turning point that made you decide to focus solely on illustration?
E
I saw only a few of us at the our graphic design studio had the experience of properly working under someone in a company. Only a few comprehended the mechanism of a workplace. We worked 24 hours when there was a project, but if there wasn't any we would just rest and sleep.
So I joined an advertising agency called NEO to understand how a workplace actually worked. I decided to give 110% of myself – I didn't mind working long hours and overtime – to completely delve into the operations of the organization. In the end, I didn't have the vision to work there for too long and thought of resigning. If I did stay at the agency, I knew there was a career path for me 5 to 10 years down the road. But I always knew it wasn't something I wanted to do. I was still looking for a way to illustrate and make money out of it.
One of the Board of Directors supported my decision to resign and said "You've got what it takes. Don't second guess what it will give you" and he also mentioned if he didn't have a wife, three kids, and people who work with him, he would probably make the same decision of resigning to become a barista who makes excellent coffee.
A year later, I met up with him again and he asked me what I accomplished since our last discussion. I told him for a year I only have been focusing on three projects which didn't relate too much to illustrating. And to my surprise, he came to me with an astonishing news that he left his comfortable position at NEO and had proudly revealed his pursuit of owning a coffee shop and making coffee he says is better than coffee served at Starbucks.
That exact moment felt like a slap on my face.
Here was a man who already had an established job and with the consent of his wife still dared to risk pursuing what he always wanted to do. He suggested that I book a ticket to Bali without a return ticket and further told me I could do anything I want, either to get drunk there or for leisure, but try to spend my time alone for myself and to think about my personal work.
Ubud, Bali then became my turning point pushing me to spend time on my artwork and making a space of my own.
A
So you moved to your own studio in November. Is a working place of your own important for you?
E
It definitely is. I have a decent house. Actually it is my parent's house, and there I have a relatively comfortable room as well. At home, I can easily switch from different kind of design work efficiently. But when it comes to illustrative work, I would need a place I can be idle for days without much distraction.
A
When you started organizing this studio, what books did you feel you had to have with you?
E
Oh it was just a collection of books I always had. You can find many different books on the shelves. There is Business Plans for Dummy, Paul Arden's It's not how good you are, but how good you want to be. A book by Edward Manet, one of my favorite painters from France. A book by  product designer Jamie Hayon, an illustrative books on plants, and two recent illustrator books I recently found out about.
I feel the more I surround myself with great books made by these amazing people, the more it pushes me to make something of my own. It acts as a great motivator for me.
A
Can you explain to us your style of illustration and how you evolve your style to how it is now?
E
I really don't know how to explain this. I'm not sure how my style evolved to what it is now. It is just personal preference. I like what I do, so  I just continued doing it. My style could evolve from a process of constant experimentation. I mean if you see my studio now I just surround myself with things that I like. Naturally it influenced the way I work.
A

So what are the things that you like and enjoy?

E
I enjoy things that have a nostalgic value in them. Objects that retain a certain story and memory in it, from those objects I enjoy looking at the textures and the faded colors.
If you look around the studio, I have many objects that remind me of my travels. The Buddha Head statue is from Bali and there are objects from Bandung or St. Petersburg [Russia]. Although that mug there I just bought yesterday from Kandura and these scented candles above [on the shelves] I bought because I liked the smell.
A

These things around you, would you say they act as a reference to your work?

E
Not really, sometimes I haven't finished reading the books I have around. But its the thought of having the book around you makes it an inspiration in itself. I have references of work but I never set a goal to make my illustration to be like these references. I find it to be a torture to do that, because even if you are able to imitate one's style and technique, it'll never be considered yours. Either way, you are never going to win in that manner.
A

What tools do you use to make your work?

E
I normally use acrylic on wood. For my work that has a rustic effect I would usually scrape the layers off with either a match or sometimes even SIM card (laughs) to gain that nostalgic feel. If I'm not mistaken, I think it is called a Dry-brush technique.
A

What do you need to have with you before you create your artwork?

E
I normally have a notebook around with me. I used to have just one, but I started being forgetful and would leave my notebook in my car or in my bag or at the studio.
I would be on the road and an idea would suddenly pop-up. I don't think it's a good idea to just rely on our memory, so I have this need to jot things down.
If you are persistent enough, maybe two years later if you are challenged with a job or an exhibition, you can use your journals as reference for your idea. Either you can come up with a new idea based on days jotting down your train of thought or go back to an old idea that has never been realized at all.
A

How would you describe the process of your work?

E
When working on an illustration, I won't be content with just one alternative for a particular idea. I would make a number of alternatives and curate the choices to three options and finally make the last selection. This became a rather exhausting process.
When I stayed in Ubud someone actually gave me a good advice, "You have to follow what your brush tells you."  I didn't understand what this meant at the time, and also wasn't accustomed with this way of working. I was used to working systematically in a graphic design studio where you are a given a brief and you would work around that.
In the end, I did decide to approach my work spontaneously, I started splattering vibrant and bold colors in the first layer and would later cover it up with a much subtle and warmer color afterwards. In my head I know what I want to make but I played along with my brush and explored different colors beforehand — with hopes that it gives the artwork more character.
A

There is one editorial work you did of a body separated into pieces. We also notice some of your work has the same recurring theme of these body separated from its entity, why is that?

E
This goes back to my story of staying in Ubud. I was really alone in Ubud for 2 months and had went through a series of transition from first enjoying more time for myself to becoming completely frustrated of being alone. At that point of frustration you suddenly crave to communicate with anybody.
When we are in a mall we would avoid making eye contact with people around us and would find it strange if people stare at you for no reason. But when I was in Ubud, suppose I was walking by the rice fields and would see a person walking a few meters away from me, I would start thinking about what to say to greet them,  since there is a possibility I won't come across anybody the next day. You end up making more effort connecting with people. It also makes you realize the friends and family that are important to you.
From that experience, I formed the understanding that we are, although not literally, a puzzle that we adjust to our surroundings. Say we are meeting a friend or when we go to work, we normally adjusts ourselves for the convenience of people we come across with. Because of this we tend to spend our whole life finding the missing piece that completes us. Even though we probably have everything intact with us, I feel it's a tendency to search for what we perceive is missing. This missing puzzle could be in the form of work or a person or any object. And this is what make people have purpose in their lives. From that idea I translated that figurative thought into a puzzle cut of human beings.
A

In my opinion, one of the work you did resemblance so much to yourself. Did you use yourself as the subject of your own work?

E
Not really. I wouldn't use myself as a subject of my own work. Although there is always this one character that will always appear in my illustration, and I don't necessarily know who it is. I think it's a matter of relevancy, you probably perceived that subject of illustration as myself, although I see it as using a character that visibly reflects something that is relevant to me. So far, I don't think the whole artwork would work if it were an animal of maybe a bear or a rat. For now this human being is probably something that physically is relatable to me and is the closest thing that I can translate my message to.
A

How would you approach a brief a client requests from you, do you have the freedom to illustrate anything you want?

E

In the beginning, I wasn't so cooperative (laughs), especially when I was working at an agency. It was very clear what the aim of using my illustration was for and I would just have to do anything they request me even if it was for a product or a client.

That was five years ago though. Now I am more hesitant about the briefs I receive. Because I would need more room to do my work. Sometimes I would receive a brief and they would request me to do an illustration similar to the work of David Downtown. In this scenario I would immediately say no thank you and refuse the job. I don't want to imitate anyone's work. The purpose of making my website was so people would come to me because of the style I presented so far.

Although currently I am at a point where I want to make something for myself and not do commissioned work.

A

Noticing on your website, you do a lot of editorial work. Why do you think your illustration has attracted fashion magazines so far?

E

They usually say everything happens for a reason. The first time I did an illustration was for a online fashion magazine called Swank Glossy. I started contributing for their magazine for a while up to the point when they started producing their own print magazine. By working for a fashion magazine, I realized it added my sense towards aesthetics. Because of the job,  I would spend my time on youtube looking and admiring spring/summer collections and then translating what I see on to my own visual image.

I think it was only natural a lot fashion magazine would be more keen on working with illustrators. If you go to a magazine stand here in Jakarta, you would notice that the ratio of fashion magazines beats in comparison to other kinds of magazines out there. I don't think it's wrong though, I see it as a opportunity since there is higher likelihood of illustrators starting out from fashion magazines, and I think generally its because they attracted to things of beauty.

Recently I am trying to get out of that generalization of being called a fashion illustrator. I just worked with Forbes and Garuda in-flight magazine which I find enjoyable because they would send me materials of articles and background facts to read. This helps keep me challenged with a new perspective and knowledge.

A

Your artwork seems to bring an element of sophistication, serenity, and a vision of beauty – does this translate to your liking of seeing things of beauty?

E

I think so. With my background of doing fashion work and in seeing the collection of magazines I have – Vogue, Interview Magazine, W Magazine, and Elle Decor  – I think it possibly translates to that hunger of finding beautiful images.

Technically,these magazines helpto keep me current, but in general I just like reading them. I find relying on google to find information is a bit overrated. So I stick with books and magazines. One of favorite magazines is an interior Elle Décor, but the one from UK. I like their taste of combining a setting of really high-end and over-the-top furniture with thrifted or D.I.Y products in one room.

A

Do you think you would take your illustration to a different level? Say story telling?

E

I always think there is a certain element of story telling in my artwork. It's just a different form. I don't think I would consider making something like a comic or picture book. It might be too literal of a platform for me. In the end, most of my work tend to be have a subliminal message beneath it.

A

Is there anything you want to explore in the future?

E

I want to explore illustrations on different medium,  for example on cut-out mediums or create collaborating my illustrations with a product. I also want to explore anagrams and challenge a play of perspective.

Hopefully in the near future, I would be able to set up an exhibition of my own and to also document my previous works into a book.