Growing The Indonesian Craft Beer Scene With Beervana's Aaron Grieser
We had a quick chat with Beervana founder Aaron Grieser on their mission for Asia to lead the beer world.
Words by Ghina Sabrina
When talking about beers, it is definitely difficult to overlook the influences from the West as most of the beer types that we know of originated from there. Think Ales, Lagers, Stouts, and Malts. As beer consumption in the West came to a halt, Asia saw itself slowly becoming the world's biggest beer market. Hence, it is only right to focus the attention on Asia. But in the midst of everything, came craft beers. What began as a revolt against mass-produced beers then became a cultural movement.
This movement then spread worldwide and has arrived in Asia. As people became aware that there's more to beers aside from the usual fuzzy yellow lager, they started to explore what else is out there and eventually discovered the exciting world of craft beers. Which is where Beervana comes to play. A B2B company that imports and distributes craft beers across Southeast Asia, Beervana started out in Thailand and has expanded to Indonesia to help jump start the scene. We caught up with founder Aaron Grieser to talk about their unique ways of marketing, changing the perception of beer, and the possibility of Indonesia being the powerhouse for beer innovation.
Starting off, could you tell us the reason why you chose to build Beervana and how do you see the Indonesian craft beer market?
We have 8 different offices in Southeast Asia. We're in Phuket, Bangkok, Chiang Mai, Isaan, Pattaya, Ho Chi Minh City, – so we have 5 in Thailand, 1 in Vietnam. We've actually just hired our first people in Hanoi too, last week. So it's pretty cool, we're expanding slowly to our 9th office. 
We got two in Indonesia, Jakarta and Bali. It's so fascinating to look at it. Who is the craft beer market in Indonesia? If you zoom out, 70% of the beer consumption in Indonesia is in Jakarta and Bali. But if you zoom in, it's really interesting because Jakarta and Bali are opposite markets. It has almost nothing in common. Jakarta is huge, it's a city made up of 10 million people and a lot of them have never really heard of it. But, they have unlimited spending power and they'll spend on whatever's cool. Bali's the opposite, whereas it has a bunch of foreigners who are there for one week and they totally know and love craft beer but they can't afford it (laughs). So the two markets are so different and the way we approach the two markets are also the opposite. 
If you look at our marketing in Jakarta, it's all about building a community, cultivating a lot of education and training, whereas in Bali, it doesn't make sense to do that because the people you train are going to go back to Australia or Sweden. It's all about investing in surfers, restaurateurs and people who actually sell the beers down there. 
So in Bali you focus more on the B2B aspect while in Jakarta you're focusing more on the people and creating a community?
The craft brewers are like artists.
Absolutely. Yeah, because there's a community in Jakarta. I'm not saying that there is no community in Bali but it's so much smaller. It's mostly people who are working in the tourist industry or Jakartans who come down to Bali on holiday. There's an interesting subset of the Indonesian crowd down there, what I would call as 'cultural refugees' from Jakarta. They're like, "Oh my god I can't handle Jakarta, I'll go move to Bali" and they'll do whatever in Bali. Two-thirds of our staff in Bali are Jakartans. 
Jakarta is a very unique place and it's very insular. I think for a lot of people in the past who has studied abroad, they wouldn't want to go back because Jakarta's not that interesting – until recently. Recently, for the last 5 years, it's been so amazing to see new kinds of places popping up all over the city. The thing is, it isn't like some kind of magical thing that happened, it's actually something that happens because people who had studied abroad go back to Jakarta – and when they're here they wanted to do something cool. The people who are interested in having cool things, do cool things. 
I think when these people went abroad, they discovered new things that they haven't seen before in Indonesia. And they're trying to relive the experience when they got back when they have the money and support. They're always trying to find something similar to what they've been experiencing outside.
Exactly. And if you get that little shaft of light, you've understood our marketing. We worked with Ogilvy a couple of years ago, it's really interesting to just kind of understand who our market is. If we really zoom in to the Jakartans that we were after, it's typically somebody who's foreign or at least has vacationed abroad and had life-shaping experiences abroad. So, for a lot of our consumers, they are drinkers who are often trying to connect to a nostalgia like 'I had this beer in college', or when they were abroad for school or work and it's such a formative time of their lives that they associate our beer with their experiences. It's really fun. 
Beervana is known for its curation of craft beers, what makes craft beers so special? 
It is the artisan attention to detail. The way I explain it, if you go to a wedding and there are 1000 people there, someone prepares food for 1000 people. You can't get those little details exactly right. Meanwhile, if you make dinner for 5-6 friends, you can get the sears exactly right on the edge of the fish. The other thing is the culture around it. Modern craft beer came up as a revolt against mass beer. It was this "Why did we have to drink fuzzy, yellow lager?" – average beer for average drinkers. If you think about mass beer, it got watered down to a point where it's designed to appeal to the most people. The craft brewers are like artists. 
The way I explain is this; mass beer is like listening to Top 40s, traditional European beer is like listening to classical music, whereas craft beer is like listening to new shit coming out at the club. That's like the music analogy for craft beers. It's like when you go see a DJ and there's a whole culture around it of innovation and creativity, it's the same thing with craft beer.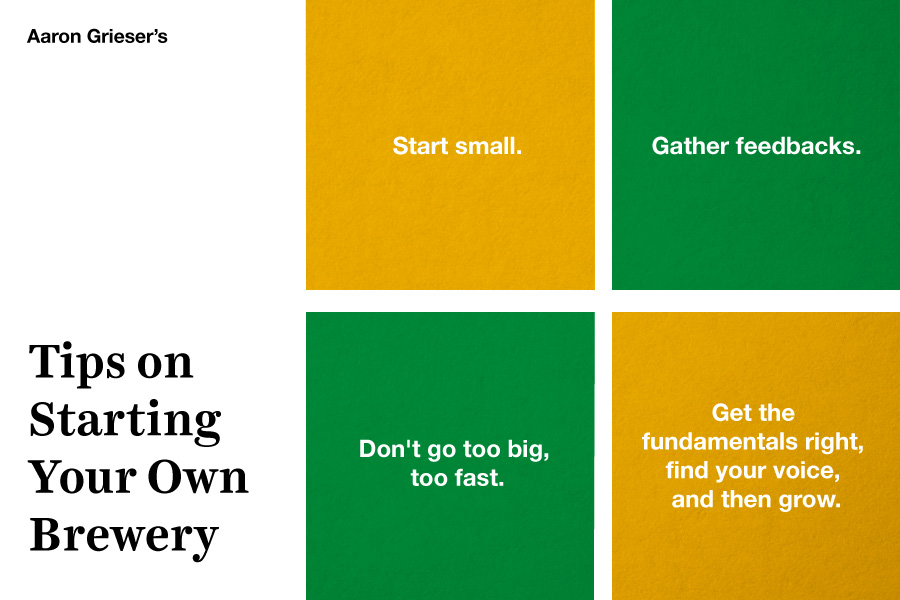 How does the curation process take place for the beers to be chosen for Beervana?
There's never been a better time in human history to be a beer drinker. This is the best time ever. Right now there are 7000 breweries in the United States. If you go back to 1981, there were 104. There's just been an explosion – a golden age of brewers coming up, and 5000 of those came up in the last 10 years. What we realised is that there's a lot of beers out there and not all of it's good. Obviously not every one of those 7000 breweries is making great beers, so we got the opportunity to go in and actually just go around and pick the ones that are the best. What does 'the best' mean? For us, we looked at every style of beer and we picked the breweries that are doing the best of that style. We have IPA-forward breweries, easy-drinking breweries, breweries who do sours, big heavy stouts, and those kinds of things. Every brewery has their own kinds of speciality. So we tried to pick the ones that are the best example of the styles. But, there's another piece to it, which is it isn't all about taking the best breweries, it's also what's relevant for the market. 
Asia is the biggest beer market in the world.
So if we're looking at Indonesia, it reminds me a lot of being an expat. I grew up in Oregon and I was faced with the craft beer culture ever since I was a kid. I started brewing when I was 14 because you had to be 21 to buy alcohol, which then we could actually make ourselves. I was born in that culture, but it was really different in Southeast Asia and so we are constantly translating, trying to authentically translate what the breweries are doing to what the market will understand. As an expat you're always trying to translate – kind of living between cultures of where you're from and where you are and so Beervana does that with beer. 
The curation process is not only finding the best but also things that are relevant to the market. If you look at Indonesia, what's relevant for the Bali market and Jakarta market is totally different. In Jakarta, where so many drinkers are new to craft beer, lighter, sweeter and less-bitter styles are really popular. Whereas in Bali, people like a really crisp, bitter beer – their palate has already adapted to bitterness. 
Drinking culture is nothing new to Indonesia, with the existence of traditional fermented drinks such as tuak and arak, do you see these types of drinks entering the market abroad? 
I think it's going to be hard. As far as new styles, it's very difficult to open up people's minds. If you look at sake, for anywhere outside of Japan you only drink sake at a Japanese restaurant. So it hasn't really penetrated into the normal, kind of mainstream way of drinking. Whereas in Japan, you'll drink it for lunch and dinner, whenever you want. So I think introducing entirely new types of alcohol into a market is quite difficult. But, here's what we're trying to do with Beervana, our 25-year mission is for Asia to lead the beer world, not just in beer consumption and growth, but also in innovation. 
There's never been a better time in human history to be a beer drinker.
Right now, Asia is the biggest beer market in the world. Obviously it has the most people. It's a lot of mass, but it's also the fastest growing in the world. The Western beer market is quite big but they're flat, the growth is actually negative, they're actually shrinking a bit as people switch to premium – to wines and spirits. So Asia is the biggest and fastest growing, but the issue is that Asia has always been a beer copier. What original beer style have you ever heard of coming from Asia? There's nothing new happening. Bintang is a copy of Heineken. San Miguel is a copy of Carlsberg. The only style that's uniquely Asian is the Japanese lagers which have rice in them. That's like a unique Asian innovation. If you look at wheat beers, they are German, Lagers are Czech, Stouts are English or Irish, IPAs are American – all these styles are traditionally Western-oriented and are imported into Asia. The idea is to change that in the next 20-25 years.
Just like the media, how there's never been an easier time to get online but a hard time to be heard, a similar thing happens to beer innovation. There's an innovation curve in beer that's exponential. Where if you go back to the first beer ever in recorded history, it was 9000 years ago during the Ancient Sumerian and there was essentially very little innovation in beer from 7000 BC all the way until the 1000 AD. So you're looking at basically 8000 years of very little innovation. Then in 1000 AD, people started using hops – hops are what make it bitter and give it a lot of flavors. There was very little innovation there until the 1900s with industrialization. And during that year, there was just a mass proliferation of lagers that took over the world and in the 1970s, the first craft beers begin to pop up. The first craft brewery happened in California and Oregon. 
Which is where you grew up in.
Yeah, totally. I kind of grew up in the heart of it all, had no idea that the rest of the world didn't have this kind of beer. I remember moving to Berlin and I was like, "Your beers sucked, where's the good beer?" Which then most of my friends were like, "Fuck you" (laughs). 
For innovation, the idea is that it is happening all the time, everywhere across the world. Innovation doesn't have to come from the West, it could actually come from anywhere, so why not from here? Especially for Indonesia, it has the unique opportunity to be the powerhouse of beer innovation. As unlikely as it seems. It doesn't look like it as it is a Muslim-majority country and all the other things, but if you look at the biological diversity that Indonesia has, it's obviously a powerhouse. If you also look at the innovation and creativity that people have, it's off the charts. We have abundant resources, but the most amazing resource that I've seen in Indonesia is creativity. It reminds me a little bit like this, under the Soeharto years it was very difficult to get things inside Indonesia. Still, if you look at alcohol and the challenges of importing, it's still very difficult. So people have been forced to be creative, to make things interesting – which is a blessing in disguise. 
The obstacles regarding the alcohol trade in Indonesia seems like a difficult journey, could you tell us the process you went through in order to set up Beervana here?
It was difficult. When you look at Thailand, we went from closing our funding to selling our first beer in 4 months. In Indonesia, it took 18 months. It was a lot of paperwork. The challenge for us is just that Indonesia is very relationship-based and so it really took a long time for us to kind of get into the importing networks, getting to know everybody and to pick the right partners. It took a long time and you just got to be super patient. I used to be a lawyer so I feel comfortable with that. I feel like that's been helpful in understanding the laws and regulations of the place and how to navigate through it.
Indonesia is a captured market where it's called an oligopoly where there is a small handful of entities that are companies or people that essentially work together to control. Can you guess how many import licences there are for imported alcohol? There's 17, and only 14 are active. If you go back 20 years, there was only 1 – Sarinah under Soeharto. So under Soeharto, it was a monopoly, then it got broken up a little bit so now there's a small group of 17 licences. Can you guess how many licences Thailand has? 400, in a country a quarter of the size. So Indonesia is a very controlled market, which is fine, that's how it is. I'm not trying to change things. 
One of the ways to push forward the beer culture is to "take beer from a drink for toasts to something you can pair with a good meal like good wine". How do you see this being implemented in the Southeast Asian market?
One person at a time. It's also like building a sandcastle, it takes a long time to build but easy to fuck up. For us, we need to do a lot of education, a lot of training, but if you look at our stemware, have you seen our Beervana taster glass? It automatically frames it as "This is not stupid beer, it's beer for enlightened drinkers".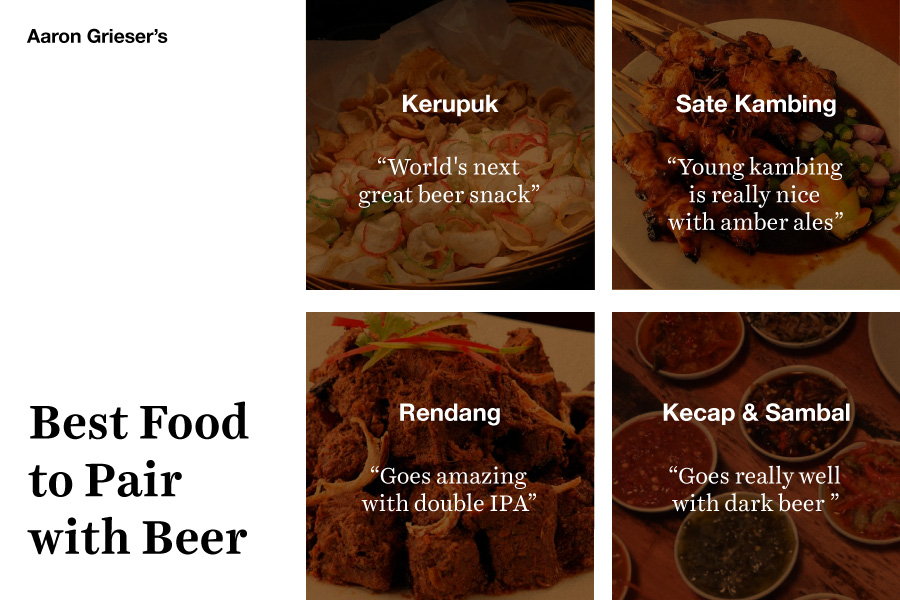 It's very interesting because our food actually pairs really well with beer.
You're totally right. Do you know what would be fun to do? A craft beer and krupuk pairing. Krupuk, to me, is the world's undiscovered beer snack. It's so good. 
Beervana held Indonesia's first national homebrew competition, The Brewing Project Indonesia, how do you see the potential of local brewers seeing the submissions gathered? 
Unlimited. The creative side's amazing and we saw that in the competition. There's 2 guys who lives in Kalimantan and were implementing permaculture, they made beer with 100% of the ingredients coming from Kalimantan. It's delicious, you wouldn't believe it. They used local herbs for bittering and they used potatoes and other roots for the starches and sugars. It's incredible how they do it. It's actually a really layered, complex beer. 
It was so amazing to see the creativity of people. We're actually flying off on Monday to New Zealand to brew their beer. Do you know how the competition works? 
Not really, no. I was just there to taste all the beers.
(Laughs) Cool! When we did the national competition, we invited any homebrewers that met the rules of the competition. There were 2 rules, you had to be Indonesian and there had to be an Indonesian ingredient in the beer besides water. The winner, we fly them to New Zealand to brew in Tuatara. We're doing 10.000 litres with Tuatara and shipping it back to Indonesia to distribute in December. 
We actually did this project 3 years ago in Thailand and the beer that we created together is now the number 2 of the best-selling craft beers in Thailand. It's huge!
So the project works!
It works! It's not a gimmick. That's the thing, our marketing, for us, isn't marketing, it's outreach. We're trying to do original, cool shit and not have it feel like marketing to our crowd. It's been amazing to see how others had copied that and now there's a bunch of other craft beers popping up in Thailand. So, it's great. 
Our goal is not to compete with them, but to complement what they're doing.
If you look at what we do, we're primarily an importer and distributor, so that's our role. And these guys (Coffeebeerian crew), if you look at what they do, they're doing it locally. Our goal is not to compete with them, but to complement what they're doing. To support them. So we have a much bigger distribution network, and we're legal. We could get out in the market and open up tons of new accounts and make people aware of craft beer. And once they taste our beer, they'll be like, "What else is out there?" And they'll find these guys. 
We're kind of working together to build and grow the craft beer scene. 
Speaking of beer, the style of the original beer brewed in Asia is still unheard of, how do you see this changing in the next few years?
Very fast. It's interesting because the real question in my mind is, "How independent will beer be?" Craft beer right now, from the West at least, is traditionally very independent and very anti-establishment. Whereas in Asia, it's still in very early stages and the craft beer scene is still very young and still very independent as well. But, the big conglomerates, they know what's going on and they know they can't make their own beers themselves so they're essentially buying craft breweries. So it'll be interesting to see how that evolves. So it will come, no question. Craft beer has blown up in the West, it's blown up in Australia, Japan, and it's blowing up right now in South Korea, it's just starting to tip in China. If you look at Singapore, Hong Kong and Thailand, it's all the rage, and Indonesia right now is just kind of peeking up over the edge, looking out. They're just starting to become aware of it, so wait until it wakes up. It's going to happen. It has happened everywhere else in the world, why not here?