Hearing a Song within a Song
Part Two of Look to Listen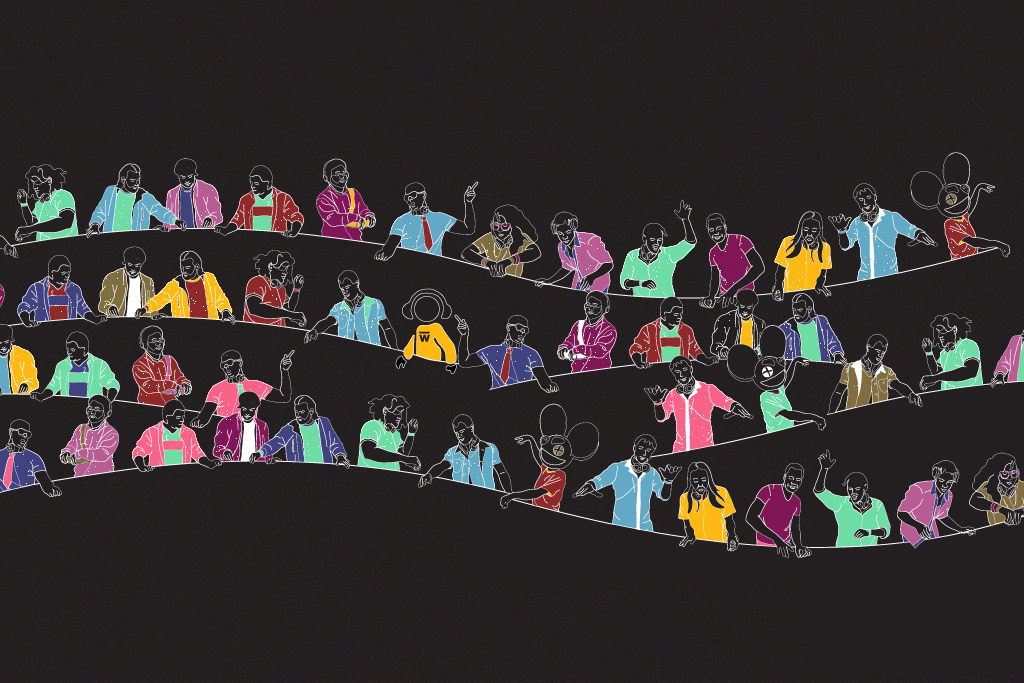 I'm in love, what's that song? I'm in love, with that song
– The Replacements, "Alex Chilton"
For me, nothing can be entirely original in terms of making music in this day and age. You would have to think of the many sounds, methods and ideas that musicians have managed to touch on and experiment with throughout the course of history.
The evolution of music occurred due to artists willingly exploring many different methods of creation.
We are now at the point where almost every method has been tried and almost every sound utilized, leaving new artists with merely taking cues from whatever exists. By taking cues from old sounds and old methods in order to create something new, genres are formed, and new methods of making music are discovered.
Originality today, in all mediums, involves taking or being inspired by what is already here.
In hip-hop, for instance, a lot of the instrumentals are mostly built on existing sounds and remade into something new. The origins of the style originated from (and mostly still involves) two turntables looping a combination of two records (usually a beat and a melody), and one or few people versing their heart out above the music.
The looping process is called "sampling," which literally means sampling bits and pieces of existing music to create an entirely different composition. It is a staple method of making music usually in the hip-hop and the electronic scenes, and in the digital age, it has become a genuine method of creating new music.
Making music today can be like assembling a puzzle, and the artist is the one responsible for finding the right pieces that fit. Snippets of a drum break or a piano melody or even half of a guitar solo from existing records, CDs, films videos or what have you, are taken and looped or chopped, slowed down or distorted to the artist's liking and are arranged by the artist according to their vision. They could assemble something with the drums from a Roots song, layered over a stanza of an old slave chant recording, looped over a Bill Evans piano line, for example.
Artists living in today's digital age can thank the Internet for giving them access to a vast plethora of sounds from the past and present to utilize in their music.
Through sampling, older music can be given new life by being included into a new creation, as it can be exposed to younger ears and could garner appreciation from the younger generations, giving the music a somewhat immortal quality.
Due to the occasional obscurity of a lot of sampled music, new or old, people hearing the new creation may not realize that certain parts in the song originated as part of another. That is up to the curious bunch to discover, and willingly dissect.
Within sample-using songs, the listener is thus able to listen to a song, within a song. And some won't even realize this until it is brought to their attention. In order for one to discover new music this way, a great sense of curiosity, and great urge for discovery, is needed.
I was baffled when I heard about the sampling process for the very first time, but I discovered a lot of music this way. If I hadn't become so hooked on the horns on Kanye West's "Touch the Sky," I would have never discovered Curtis Mayfield. If I never was obsessed with how the dreamy opening keys on Daft Punk's "Digital Love" was made, I would not have discovered George Duke.
Personally, I tend to fall in love with a certain sound in a song so much that I am willing to find out where it came from. Because of this, I've discovered a lot of new music, some of which are still featured in my regularly rotating playlists.
So in my usual fashion, here are six great tracks that I discovered within six other great tracks, and still stay in my rotating playlists today.
Curtis Mayfield – "Move on Up" in Curtis (1970)
Sampled in Kanye West ft. Lupe Fiasco – "Touch the Sky" in Late Registration (2005)
Kanye West's diverse discography of samples is an interesting source of music-within-music, as he is one of the artists in hip hop that is able to take any far-flung piece of music and use it well in any form.
Jai Paul – "BTSTU" in BTSTU (2011)
Sampled in Drake – "Dreams Money can Buy" in Drake's October's Very Own Blog (2011)
Jai Paul is a producer whose beats are so anticipated that he was quickly hyped by the music media upon (false) news that he had dropped his album last year. Part of this hype was due to his music being used by the likes of Drake, who applied part of the opening of Jai's BTSTU on 2011's Dreams Money Can Buy.
The Free Design – "Light My Fire" in One by One (1972)
Sampled in Flying Lotus ft. Andreya – "Tea Leaf Dancers" in Reset (2007)
Discovering this tune started when I tried to find the right notes to play Tea Leaf Dancers. It turned out that one piano note from this soulful cover of The Doors' classic had set the melancholy mood of the track really well.
Opa – "Pieces: Tombo/La escuela" in Goldenwings (1976)
Sampled in Captain Murphy feat. Earl Sweatshirt – "Between Friends" in Duality (2012)
Flying Lotus masterfully took part of the pianos and the ambient section of this song by Uruguayan-American jazz band Opa and created one of my favorite hip-hop songs of all time.
David Axelrod –  "The Human Abstract" in Songs of Experience (1969)
Sampled in DJ Shadow – "Midnight in a Perfect World" in Endtroducing (1996)
Within Shadow's rich tapestry of samples in Endtroducing, it may be hard to know where to begin. Once you do though, you may never know what you may find. For one, you may find a great musical interpretation of the William Blake poem "The Human Abstract" hidden beneath his sea of samples.
Sherbet – "We Ride Tonight" in Defying Gravity (1982)
Sampled in Daft Punk – "Contact" in Random Access Memories (2013)
When I was living in Australia last year, the hype surrounding Random Access Memories was raging so much that "Get Lucky" was played on the radio once every two or three songs. The inclusion of obscure classic Australian rock band Sherbet into the album wowed a lot of people, especially the Australian music media, who proudly boasted their already-large sense musical nationalism upon learning the fact.
Sherbet was worth the boast though, as Daft Punk revived this classic Australian band straight into younger Australian ears, and winning the band appreciation from a younger audience.
Need an easier way to figure out what songs live in which songs? Whosampled.com is a pretty helpful online guidebook on sampling, why not check that out and be surprised?