Label Love: Def Jam Recordings
Number three out of the list of six essential record labels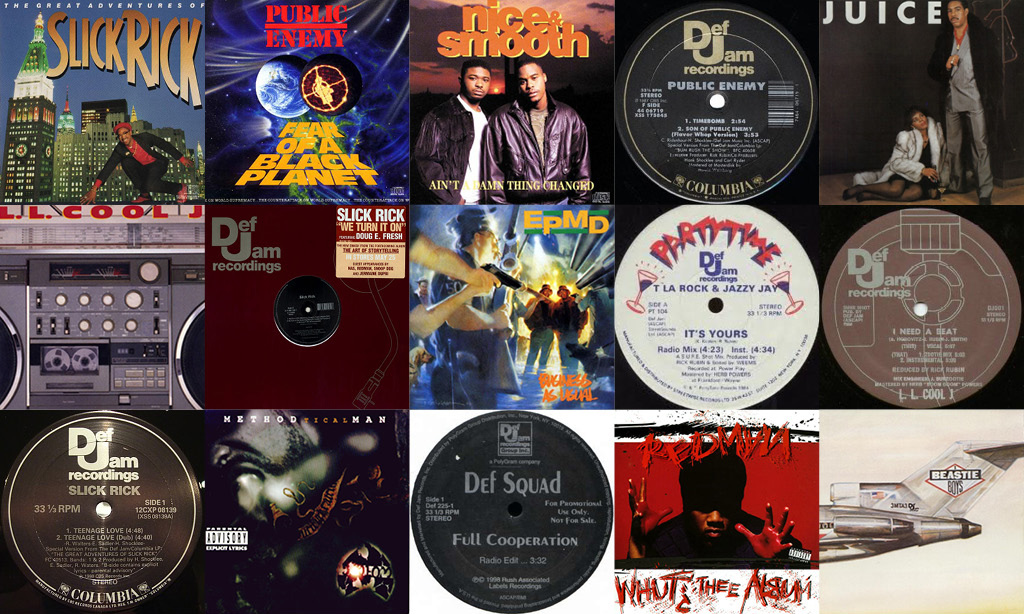 Yes I know, the multi-million dollar making Island Def Jam group these days boasts a glittering roster of hip-hop luminaries such as Justin Bieber, Mariah Carey, The Killers, Bon Jovi, Ne-Yo, Rick Ross, N-Dubz and such. Jesting aside and ignoring the label's somewhat downward trajectory of late (in this reviewer's opinion), it was of course the label's undoubted essential role in the rise of hip-hop music and culture throughout the 1980s that made them hold an almost mythical status in the genre and therefore makes them included in this Label Love list.
Def Jam Recordings is of course strongly linked with the name of two pioneers from completely contrasting backgrounds: the street-wise Russell Simmons and the enigmatic Rick Rubin. Back in 1983 Rick Rubin was a wealthy 20-year-old Jewish kid in Long Island with an obsession with punk rock. After forming a band (Hose) and failing miserably, he uprooted himself to New York City to study philosophy where he befriended Jazzy Jay of Afrika Bambaataa's Zulu Nation fame and subsequently learned the basics of hip-hop production. It was soon afterwards that Rubin amassed enough money for him and Jay to produce 'It's Yours' for the emcee T La Rock, which marked Def Jam's first ever release.
On the other side of the scene Russell Wandell Simmons had just quit his career as a (quite successful) dope dealer in Queens and started focusing on organising block parties across the borough as well as being manager for seminal hip hop acts like Kurtis Blow and Run DMC. After being introduced to Rick Rubin by Jazzy Jay, at Danceteria, which the Guardian puts as being 'the legendary Manhattan nightclub then on 21st Street, where rock kids, new wave hipsters and B-boys mix side by side.' Simmons quickly become a pillar in the company, signing up acts from across the 5 boroughs and subsequently creating a buzz in the scene.
It wasn't long after that the 'Def Jam Proper' period began, which was marked by the release of Queens based heartthrob Ladies Love Cool James' (LL Cool J) track I Need A Beat after mailing it to Simmons via a NYU dorm. The track went on to sell over 100.000 copies and Simmons quickly tied up a distribution deal with Columbia Records, signalling hip-hop's first real foray into the mainstream music industry.
It was soon after that Def Jam's catalogue really started to bulge. The period now affectionately known as hip-hop's 'Golden Age' (between 1986-1994) was flooded with Def Jam releases that are still revered as a few of the genre's finest, most notably Public Enemy's It Takes A Nation Of Millions To Hold Us Back & Fear Of A Black Planet, The Great Adventures of Slick Rick, EPMD's Business As Usual, Method Man's Tical, The Beastie Boys' Licensed To Ill & LL Cool J's Mama Said Knock You Out.
As it was with the previous other labels I've reviewed, things started to slowly-but-surely go downhill once the label sigs exclusive deals with the bigger players in the industry. As for Def Jam, due to financial constraints they duly signed deals with PolyGram and later on Universal Music Group, which in my opinion signalled the label's demise as a creative force in hip-hop.
Ffonz' 5 Essential Def Jam Recordings:
1. Beastie Boys – Fight For Your Right To Party
2. Public Enemy – Welcome To The Terrordome
3. Slick Rick – Children's Story
4. LL Cool J – Mama Said Knock You Out
5. Method Man – All I Need