The City of Imagination
A Stroller's Right of Mind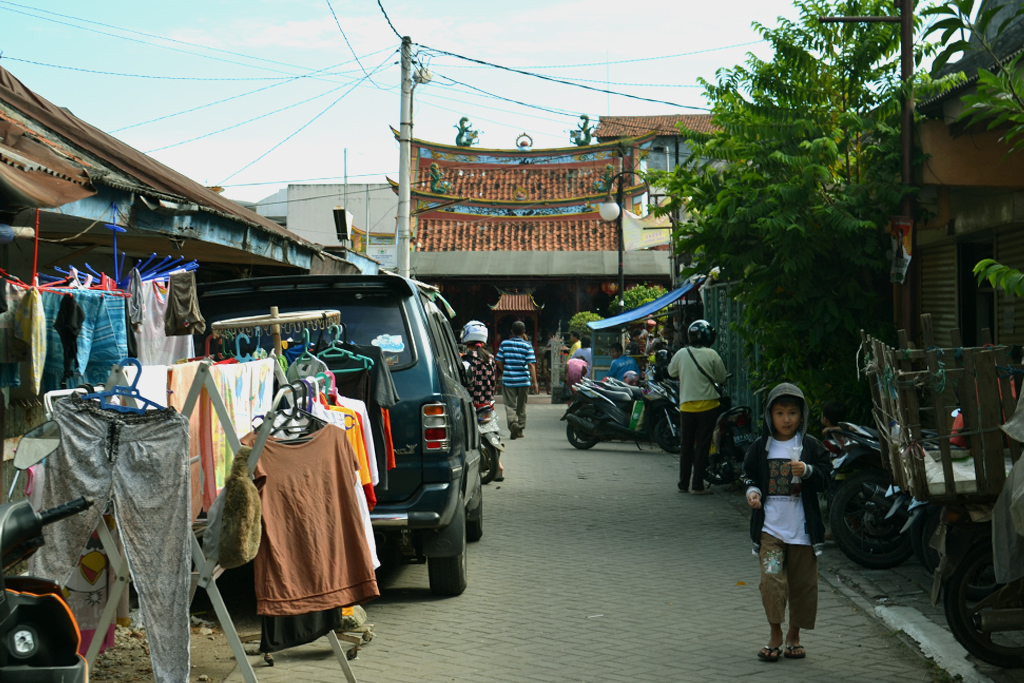 I.
People – and especially newcomers – are so terrified of walking in Jakarta. But are the reasons justified or is it a case of first-world problems? Why do we shun the untethered blocks of pavement and the company of teasers, oglers, and ojek drivers?
Should we be afraid of gaining rich personal anecdotes or serendipitous encounters that walking in an urban jungle provides? Do the costs really outweigh the gains?
And although safety may be an issue on many people's minds, statistics show that Jakarta has actually become a safer city within the last few years.
Crime rates in the capital have dropped from 60,000 reported cases in 2010 to 52,000 in 2012. And though one might argue that the numbers don't necessarily indicate any significant improvement – and not likely to warm anyone's heart, for that matter – but comparatively, it translates to 256 incidents for every 100,000 people living in the city. That's a whopping 0.26 percent chance that you may "get unlucky" in Jakarta, and even that isn't guaranteed to happen exclusively on the streets.
Without discrediting the seemingly unanimous public opinion that Jakarta is a rowdy, grey concoction of concrete, steel, rubber, glass and sweat, we should think twice about doing away with the "unnecessary hike through the city," as The Quietus once called it.
The wise words of Jane Jacobs, who wrote one of the most influential tomes ever to grace the field of urban planning, come to mind.
"Great cities are not like towns, only larger. They are not like suburbs, only denser. They differ from towns and suburbs in basic ways, and one of these is that cities, are by definition full of strangers. To any one person, strangers are far more common in big cities than acquaintances. More common not just in places of public assembly, but more common at a man's own doorstep. Even residents who live near each other are strangers, and must be because of the sheer number of people in small geographical compass."
And with Jakarta epitomizing the melting pot paradigm in Indonesia, it is both a space where diversity gets its definition, and a place for the exciting and unrehearsed to unravel.
II.
Indeed it has been a running commentary that Jakarta is desperate to give up its old habits and make the change towards a more open and inclusive city. In my humble opinion, it is a matter of persuading more people to come onto the streets and step out of their lonely, sequestered homes.
Jakarta's streets only lack the incentive to open up its imaginative side. The city should rely on its people and the interactions among them to unveil a face previously hidden inside shopping malls and parking lots housing an endless sea of motorcycles. We need to bring the indoors out and the imagination of the people on the streets. The city only needs the imagination of its dwellers to keep it alive and bustling, and not even of the traffic jam kind.
If I'm allowed a play on words, then we must jog the mind, and in turn let our minds wander as we jog through the city. For this to happen, we might want to seek examples from other places and times, or we may simply try to interpret our surroundings differently.
Reading Dickensian prose, for example, may give us an important lesson on our sense of place. Charles Dickens had a vision so acute, that it allowed people to view urban walking as something other than it already is.
GK Chesterton, who is a renowned expert on Dickens' works, once wrote that the author was able to blur the line between fact and fiction, people and places. He said that the realism that Dickens portrays "can only be gained by walking dreamily in a place; it cannot be gained by walking observantly." So, if you happen to have a copy of Our Mutual Friend, go read it and have a stroll in the neighborhood afterwards.
And maybe tell me all about it when you meet me on the open road.
III.
Walking in a city such as Jakarta should afford us the space for imagination. A story could write itself just by seeing things in a different light.
But how do we encourage people to go on the streets?
We have a wealth of creative types working in the capital, whether in design, architecture or advertising. Most of them have shown the possibility of an alternative landscape that has been missing on the streets.
What are the equivalents to big city corner shops? Where are our versions of neighborhood delis, tiny hole-in-the-wall coffee shops or street side barbershops? What are the substitutes for New York's omnipresent news stands, or the equally well-distributed Imbiss in Germany? Why do we have to go through a field of slumbering cars in order to get to the confines of a small boutique or traditional market?
There already is a burgeoning scene of storefronts and facades that have been designed with just as much love and detail as the interiors of hip watering holes and indulgent restaurants.
Let's have more of these places out in the open. Turn those warung into places that people could hang out in and not avert their eyes. Ingrain the concept of alun-alun into underutilized spaces. Open up the boundaries of Taman Ismail Marzuki and let it flow into the street front. Think of that little French bakery in residential Kemang or the openness of the Ancol art market. There are so many things that need to be multiplied.
And even if you're not from that crowd, you still have your two feet. They will help you understand the city as it should be seen: in person, not behind glass or concrete walls.
Walk alone, walk in groups; walk for pleasure, walk for release. The more people start walking on the streets, the safer it becomes for everyone.
And as for the weather – well, there are always workarounds to that.