The Sound of Anime
Part One of Look to Listen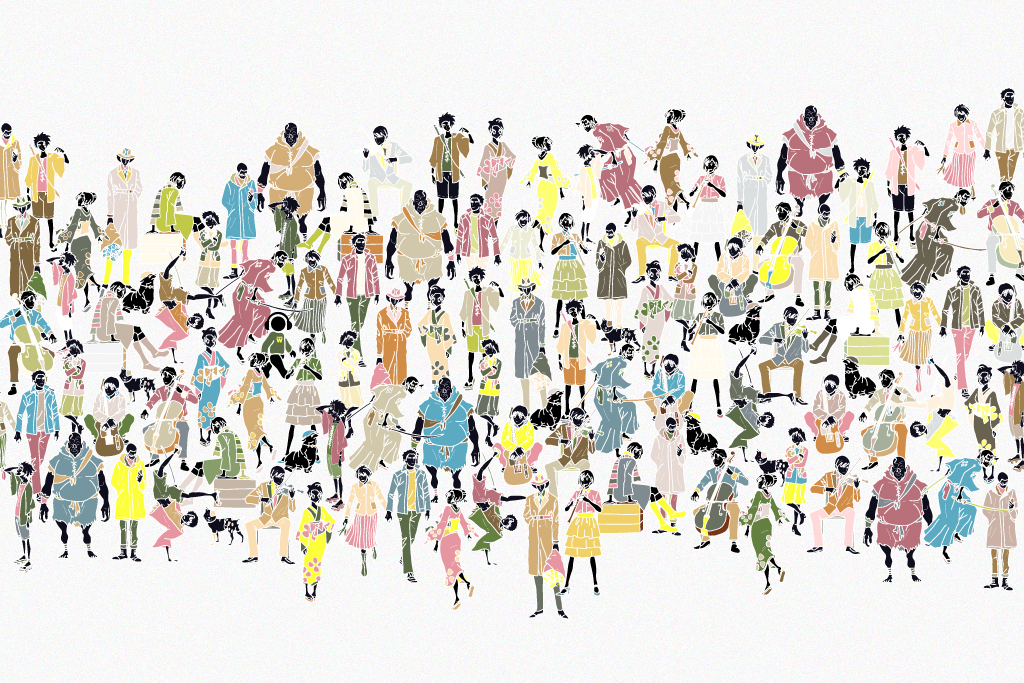 When one is presented with the word "anime", the first words that would come to one's mind would be "Japanese animation," "girls," "more girls," "otaku" or "childhood" (according to a personal survey). "Music" is rarely an answer.

Anime remains a niche interest to some and a childhood memory for others. The immersive anime otaku subculture itself has, over the years, garnered an undesirable reputation due to its association with do-nothings and isolationism. The isolationism factor could be a result of the unrealistic fantasies that the culture gives, resulting in fans having unrealistic standards and thus becoming uninspired to live their lives.
By grouping the medium as one entity with its fans, efforts for non-devotees to appreciate anime as an art become lost under the stereotype. If an outsider were to appreciate the artistic quality of an anime series, one would first need a bridge between the medium and the outside.
One of the bridges that could connect the subculture with outsiders is through its soundtrack.
Music is an underutilized aspect of anime which can help a series gain appreciation and diversify its audience. It can serve as a bridge between the outsiders and the loyal followers, and can be the one thing that both sides can agree on.
A friend of mine, who is an anime enthusiast, tells me that the musical qualities of anime are usually overlooked because most fans only watch for the visuals and the cuteness qualities of the story. From observation, non-enthusiasts watch because of their curiosity or the nostalgic factor. Music does not stand out because it is usually not the focus. Anime soundtracks would mostly cater to their niche audiences, building around J-centered themes and not much else.
But Japan is exposed to so many styles of music, especially from the west. How can they incorporate these influences into a crucial part of their culture? Particularly, animes which use western music styles in their soundtracks appeal more easily to both the devotee and the non-devotee. Western-influenced soundtracks can certainly help garner appreciation from non-devotees and can diversify their audience, and that would serve as one step towards the appreciation of the anime medium.
There are series that incorporate styles such as hip-hop, jazz and even classical music into their soundtracks and what is noticeable is that these particular series are usually built and written around the music rather than the usual way round. For one, the classical music-oriented Nodame Cantabile series focuses on the musical pursuits of the characters and therefore music would have to be a central aspect. The jazz-music oriented Sakamichi no Apollon series is also an example of this, as jazz plays a major role in the story.
Music can also give the anime more substance as an art form as well, by giving it more artistic diversity in its presentation and content. Anime's artistic qualities would come from its visual design, dialog, screenplay or music and the look and the design of the anime can be a factor in affecting how music affects the series. For one, the urban look and the appeal of the Afro Samurai series can become creative inspiration for urban artists, as seen by the series' hip-hop tinged soundtrack being produced and created by Wu-Tang Clan's The RZA. If anime were to continue to stick to their intrinsic themes and methods, and not incorporate outside influence, it would be difficult for it to gain widespread appreciation.
Soundtracks, in general, fascinate me because it is the binding aural rope that ties images together. A good soundtrack is supposed to be able to bring out the story through the music.
This month, I will showcase four underrated anime soundtracks which I view can appeal to both the anime otaku and the outsider.
1. Samurai Champloo (cr. Shinchiro Watanabe, original run: 2004-2005)
Samurai Champloo's soundtrack is a woven tapestry of instrumental hip-hop beats, showcasing the sounds of some of Japan's underrated underground hip-hop scene.
The storylines themselves are not unlike any other samurai- themed anime I have seen, focusing on topics such as the pursuit of art, and the taboo of marijuana, all in the backdrop of feudal Japan. All while these scenes are accompanied by the instrumental sound of 808 kicks and looping jazz chords on the piano.
Its soundtrack spans over four discs, and is mostly instrumental beats from some of Japan's underrated hip-hop artists. Japanese beatmakers Force of Nature and "Japan's Dilla," Nujabes, all have a substantial amount of music featured in the show's soundtrack. Other artists included in the soundtrack are American producer Fat Jon, Japanese rappers Shing02 and Shakkazombie and R&B singers MINMI and Kazami.
Nujabes – Aruarian Dance
2. Sakamichi no Apollon (cr. Yuki Kodama, org. run: 2012)
Set in the 1960s, Sakamichi no Apollon – or Kids on the Slope – is about Kaoru Nishimi, a nerdy-looking introverted kid and also a skilled pianist, who was initially only familiar with playing classical music until he met the Yin to his fussy Yang, Sentaro Kawabuchi. The resident "free spirit" at their high school, Sentaro's love is in Jazz, and the drums are his weapon of choice. Ultimately opposites attract and the once rigid and musically conservative Kaoru becomes enamored with the feel of jazz and loosens up his playing style.
The soundtrack is a delight for Jazz fans, young and old. The soundtrack beautifully composed and masterfully arranged by Japanese composer Yoko Kanno, who has produced some of the best soundtracks for acclaimed animes.
While she usually plays out a vast range of genres in her soundtrack works, her 2012 soundtrack for Sakamichi focused solely on jazz. Most of the score were her original compositions but there are also a number of jazzy reworkings of old songs, with the instrumentation provided by her band The Seatbelts. A few jazz standards get the Yoko Kanno treatment, including numbers by Chet Baker ('cause a Jazz themed show simply isn't a Jazz themed show without him), Sarah Vaughan and Art Blakey.
Jazz fans and curious minds may be intrigued to check out the show or the manga, as well as feeling the intense bro-love between the two main characters.
Yoko Kanno – My Favorite Things// Someday My Prince Will Come // Moanin' medley
3. Cowboy Bepop (cr. Shinchiro Watanabe, org. run: 1998)
Probably the most known series in this list, the Shinchiro Watanabe-directed Cowboy Bebop has already won the critical acclaim of many, with critics and fans naming the science fiction series as one of the greatest animes ever.
The adventures of a charismatic team of space bounty hunters are soundtracked by a diverse range of music originally composed and arranged by the versatile Yoko Kanno and her signature backing band, The Seatbelts, accompanied by a sway of guest musicians. Like Watanabe's Sakamichi no Apollon, here we can see scenes that juxtapose itself with music that may initially feel out of place but work nonetheless.
Cowboy Bebop's soundtrack spans three full-length soundtrack albums and the most suitable description for the show's soundtrack series would be "multipolar," as with Kanno's musical approach, it rarely stays in one place.
Fast paced Bebop jazz pieces, makes up one album, while the second has a bluegrass centerpiece interwoven with songs with Maiden-style heavy metal, child-like Casio keys and Middle Eastern instruments playing the blues. The third disc presents itself as the most schizophrenic, featuring the sounds of folk rock, classical & opera, modal jazz, bossa nova, funk, and even breakbeats.
The Seatbelts ft. Mai Yamane – The Real Folk Blues
4. Beck: Mongolian Chop Squad (cr. Harold Sakuishi, org. run: 2004-2005)
Beck: Mongolian Chop Squad's soundtrack is populated by numerous fictional bands that appear in the series, with each having their own sound. Most of the anime's music is mostly performed by Japanese rock band Beat Crusaders.
But what makes the music of this story-of-a-struggling-band series interesting is that creator Harold Sakuishi based the playing styles of the main characters on actual musical figures, resulting in a familiar rock band sound that can be accepted by both anime fans and outsiders.
BECK's music can be described as a mix of the Red Hot Chili Peppers and Oasis as a whole, with guitar riffs influenced by Rage Against the Machine and early Incubus.
This works because the five-piece band has two vocalists, one rapper based on Zach de la Rocha and one clean vocalist who sounds like a Japanese teen version of Liam Gallagher.
The band's lead guitarist has a playing style and sound that recalls Noel Gallagher. The bass player is based on RHCP's Flea, and the drummer can sound like Keith Moon in some parts of their music. Mixing different real-life musical personalities into one sound creates an interesting result. Think of it like a young supergroup of these aforementioned artists.
Other interesting bands in the soundtrack include The Dying Breed (some kind of Foo Fighters-ish group) and the Rocket Boys (an early-Beatles sounding band, of which one character in the series described as "better than the Beatles").
Beck: Mongolian Chop Squad – I've Got a Feeling
Other anime soundtracks to check out: Nodame Cantabile, FLCL, Afro Samurai, Macross Plus, 20th Century Boy.