PRINTEMPS FRANÇAIS 2013 PRESS CONFERENCE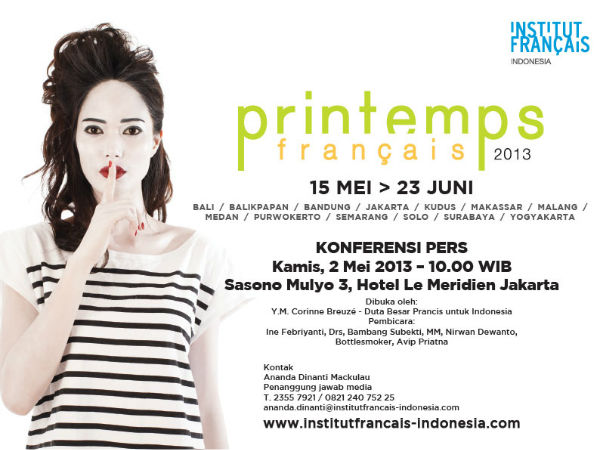 Printemps Francais 2013
13 May – 23 June 2013
15 cities in Indonesia
Printemps Francais is back!
Printemps Francais, annual event of French arts and culture festival by Institut Francais Indonesia has now entered its 9th edition. Presenting the panoramic of arts and French culture; best performance by French artists in 14 different programs with 53 shows that give the inspirations to the Indonesian arts and cultural scene.
Printemps Francais 2013 will be visiting 13 cities in Indonesia, and this the cities include Kudus, Makassar, Malang, and Solo. Printemps Francais will also present 5 different programs which results on the collaborations between Indonesian and French artists. For 6 months, they are working together to make new shows. There will be contemporary dance, contemporary circus, contemporary music, classical music and visual arts.
For more info, contact ananda.dinanti@institutfrancais-indonesia.com
and visit www.institutfrancais-indonesia.com