IRL to URL: Kumpulan Pameran dan Arsip Seni yang Bisa Dinikmati Dari Rumah
Meskipun banyak dari kita harus menetap di rumah, museum-museum dan organisasi ini telah mengunggah arsip mereka agar dapat dinikmati secara online.
Teks: Annisa Nadia Harsa
Foto: Paul Gauguin, "Tahitian Women on the Beach" (1903) / Google Arts and Culture
Di tengah kehebohan dan kecemasan krisis pandemi global COVID-19, banyak perhelatan yang ditunda atau bahkan dibatalkan. Tempat-tempat destinasi turis maupun rekreasi umum juga tak luput dari tahap-tahap keamanan tersebut, dari taman rekreasi hingga museum-museum.
Meskipun demikian, social distancing tidak berarti bahwa seseorang harus membatasi dirinya dari seni maupun experience dan kehidupan lainnya di luar rumah. Museum-museum, organisasi pendidikan, dan bahkan industri entertainment banyak yang mulai memperbanyak akses terhadap koleksi arsip online mereka agar tetap bisa dinikmati oleh umum di era social distancing ini. Berikut adalah beberapa museum dan organisasi yang telah mengunggah arsip dan koleksi mereka secara online.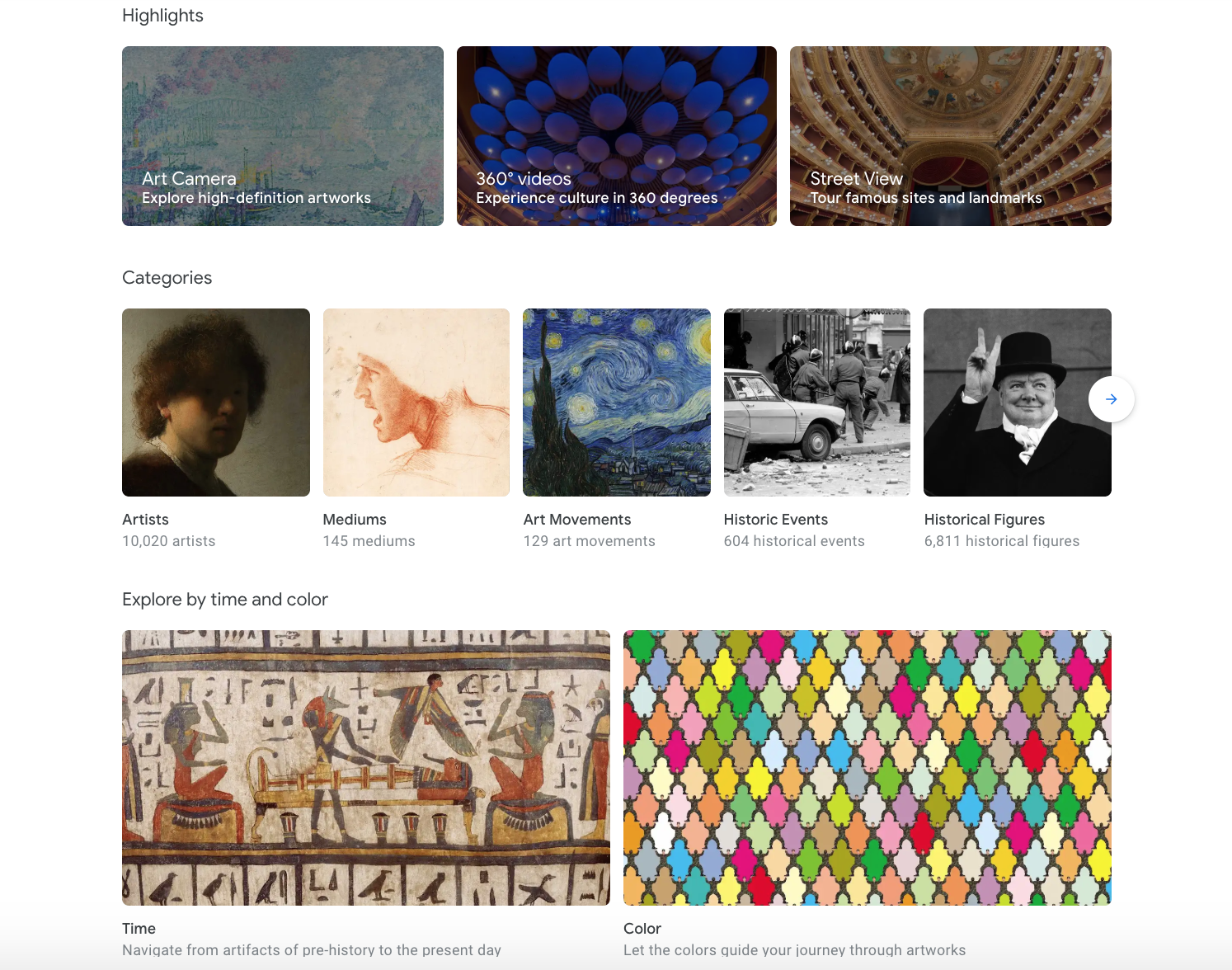 Platform digital dari Google ini menyediakan koleksi dari 1.200 museum dan arsip-arsip kesenian di dunia. Experience yang ditawarkan dari Google Arts and Culture ini juga meliputi powerful zoom agar users dapat melihat detail-detail dengan resolusi tajam dari artworks dalam arsip mereka. Selain itu, bagi yang penasaran terhadap museum-museum di negara lain, Google Arts and Culture juga menyediakan Museum View. Melalui Museum View, users dapat menikmati eksibisi yang dimuat secara online, seperti ekshibisi oleh seniman Sophie Taeuber-Arp dari koleksi MoMA.
Art Basel Online Viewing Rooms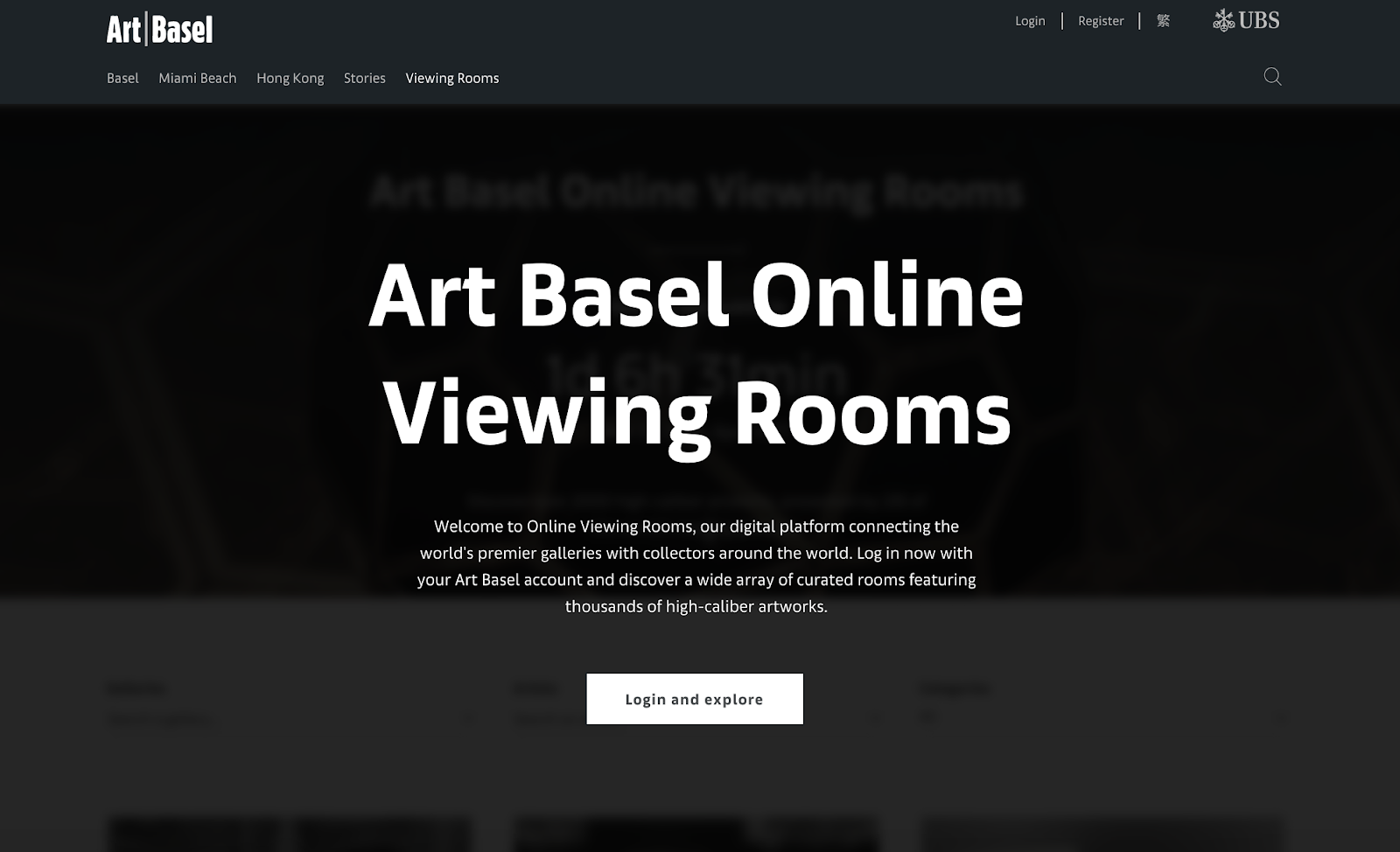 Art fair skala internasional, Art Basel Hong Kong, telah membatalkan perhelatan mereka karena krisis global pandemi ini. Dalam mengatasi masalah ini, pihak Art Basel Hong Kong telah memuat koleksi yang akan dipamerkan dalam acara tersebut secara online melalui Art Basel Online Viewing Rooms. Melalui situs tersebut, pendatang maupun penggemar seni dapat menikmati 2.000 karya seni dari koleksi tersebut mulai tanggal 20 Maret hingga 25 Maret mendatang.
Meskipun tidak memiliki teknologi secanggih Google Arts and Culture, Museum Louvre, salah satu museum yang paling tersohor juga memiliki koleksi online yang dapat dinikmati dari rumah. Melalui situs resminya, pengunjung dapat mengeksplor koleksi Egyptian Antiquities dari museum ini secara virtual. Selain itu, akses virtual ini juga meliputi sebagian dari museum bersejarah tersebut, seperti Galerie d'Apollon, salah satu ruangan yang paling ikonis dengan langit-langit berkubah tinggi berdekorasi apik dari museum yang berlokasi Paris ini.
Bagi yang peminat seni yang ingin mencari pengalaman virtual yang realistis, situs Artland menyediakan beberapa eksibisi online dengan fitur 3D Tour. Melalui teknologi VR, "pengunjung" dapat menikmati karya-karya eksibisi online ini dengan berbagai angle layaknya mengunjungi pameran secara langsung. 
Karya oleh seniman Ian Cheng yang bertajuk "Bad Corgi" datang dalam bentuk iOS game. Dengan konsep mindfulness, karya ini juga dapat digunakan sebagai pengisi waktu di saat social distancing. Sebelumnya, karya ini telah diluncurkan di Serpentine Gallery pada tahun 2016 silam sebagai bagian dari koleksi Digital Commissions museum ini.
Jakob Kudsk Steensen, Serpentine Gallery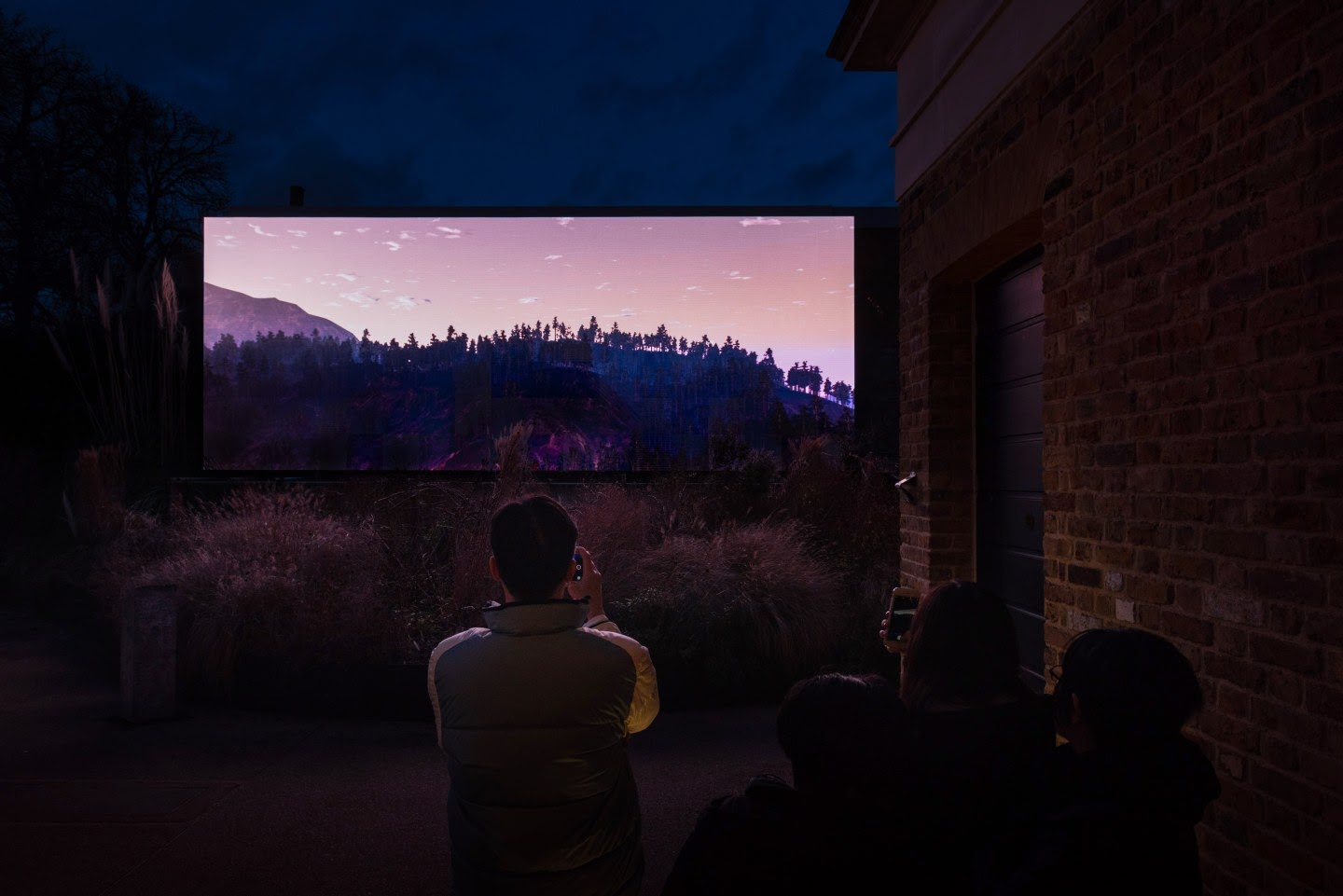 Serpentine Gallery, museum yang berlokasi di London, menyediakan eksibisi online karya Jakob Kudsk Steensen. Dalam eksibisi online yang bertajuk "Catharsis", Steensen mengajak pengunjung virtual untuk mengeksplorasi simulasi digital sebuah hutan. Melalui teknologi VR, pengunjung dapat mengeksplor ekosistem tersebut secara realistis dari kenyamanan rumah masing-masing.
Dia: Art merupakan foundation yang memiliki fokus untuk memelihara arsip dan koleksi karya dari berbagai seniman secara digital. Hal ini dilakukan melalui komisi proyek-proyek dari seniman dan menyelenggarakan eksibisi. Situs resmi dari foundation ini juga menyediakan berbagai media dari audio maupun video yang menjelaskan tentang berbagai macam karya seniman-seniman tersohor seperti sutradara Chantal Akerman.
Seri 'First Look: New Art Online', The New Museum
Sejak tahun 2013 silam, museum seni yang berlokasi di Manhattan, New York ini telah memulai seri eksibisi online bulanan bernama First Look: New Art Online. Dalam program ini, karya-karya digital baru yang di-submit oleh berbagai seniman diperlihatkan dalam situs resmi museum tersebut. Salah satunya adalah karya digital dalam bentuk video game oleh seniman Cassie McQuater bertajuk "Black Room".
"Collecting Comme", National Gallery of Victoria
National Gallery of Victoria yang berlokasi di Melbourne merupakan salah satu museum di Australia yang telah menutup pintunya kepada umum karena krisis pandemi ini. Walaupun ada kemungkinan bahwa museum ini akan kembali membuka pintunya pada bulan April mendatang, untuk sementara ini mereka telah menyediakan tur secara virtual untuk eksibisi Rei Kawakubo yang bertajuk "Collecting Comme" dan meliputi 65 busana dari 40 koleksi yang diluncurkan melalui label COMME des GARÇONS.
Art fair internasional, Art Dubai, platform yang mewakili ekosistem seni di Timur Tengah, Afrika Timur, dan Asia Selatan telah menunda perhelatan mereka karena krisis COVID-19 ini. Acara tersebut awalnya akan diselenggarakan pada 25 hingga 28 Maret mendatang dan akan ditunda menjadi akhir tahun ini. Walau demikian, Art Dubai telah menyediakan program pengganti yang akan diluncurkan pada 23 Maret mendatang. Program pengganti tersebut adalah online catalog yang meliputi 500 karya, live-broadcast dari Global Art Forum, dan online performance program yang dikurasi oleh Marina Fokidis.

</center<