RIMOWA Apresiasi Patti Smith Lewat Campaign "The Poem That Moves"
Ada juga tiga filter AR untuk yang tidak bisa berada di enam kota internasional tersebut.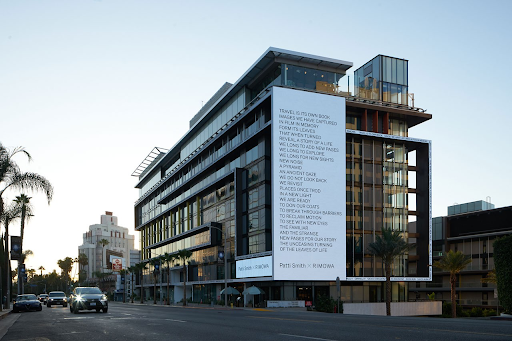 Teks: Deandra Aurellia
Foto: RIMOWA
Menyusul campaign perjalanan yang menampilkan Rihanna, LeBron James, Roger Federer dan Patti Smith, RIMOWA telah meluncurkan campaign baru yaitu "The Poem That Moves". Campaign ini juga berfungsi sebagai penghormatan kepada puisi lagu kebangsaan, berjudul "Never Still," yang ditulis oleh Smith.
Merayakan rangkaian koleksi merek "Never Still", yang mencakup tas selempang polikarbonat RIMOWA dalam berbagai colorway dan koper khas andalannya, campaign baru ini menampilkan kutipan dari puisi yang disebutkan di atas di lokasi fisik dan digital di seluruh dunia. Bertempat tinggal di enam kota internasional — Berlin, Paris, Hong Kong, London, Los Angeles, dan New York — kata-kata Smith telah mendapat stempel global melalui banyak aktivasi inovatif.
Di Paris, puisi itu akan muncul di alas piring di Café de Flore serta di perahu di Sungai Seine. New York akan menawarkan postingan besar-besaran dan kios digital, sementara Los Angeles akan menjadi tuan rumah papan reklame digital di Sunset Boulevard. Di Berlin, total 150 postingan akan tersebar di kota, dan di London, taksi kota akan dihiasi dengan kutipan dari puisi di kursi lipat mereka, di antara beberapa iterasi promosi lainnya.
"Seiring kita menavigasi dunia yang terus berubah, "The Poem That Moves" bertindak sebagai seruan optimis untuk masa depan," kata Emelie De Vitis, Chief Marketing Officer di RIMOWA. "Ketika disatukan, setiap aktivasi lokal dan digital menjadi bagian dari inspirasi global untuk terus bergerak – dalam bentuk apa pun yang memungkinkan."
Bagi mereka yang tidak dapat mengunjungi enam kota yang ditampilkan dalam aktivasi "The Poem That Moves", brand tersebut telah membuat tiga filter AR yang menciptakan sensasi gerakan "Never Still". Dua filter — satu di Snapchat dan satu di Instagram — menampilkan elemen ilustratif dan berputar-putar dari puisi itu, sementara filter Lidar di Snapchat, hanya tersedia di iPhone 12 Pro dan iPhone 12 Pro Max, mengukir kata-kata Smith ke objek di sekitarnya.