Just Things: Strictly Céline & the Philo-pals
In the third edition of Just Things, we dive into our favourite designer, Phoebe Philo, as a way to remind ourselves of who we are and how we dress during this period where getting dressed has become something strictly for ourselves.
Words by Whiteboard Journal
As we try to acclimatise to the life we currently live as the new normal and as we seek to find solace between all these uncertainties, it's often easy to forget about the things that you love. But in times like these, it's also important to find comfort in normality and simplicity. And maybe, realise that you do need to slow down and put aside the fast-paced mentality you've had going on before we had to retreat to self-quarantine. 
While our days now are mostly spent on screen, either through Zoom meetings or endless scrolling through your feeds, have you really thought about getting dressed? Do you still get up and get dressed in your Sunday best or are you more of a head-to-toe sweats 24/7 type? Either way, these actions do meet in the intersection between who you are and what you wear. And what defines how you dress and how you are as a person more than your favourite designer?
This is where Phoebe Philo fits in the equation. In this edition of Just Things, as an ode to the designer who perfectly juxtaposes normality with femininity yet still being spontaneous and playful, we are going to dive into her collections while also inviting her friends to do the same. For Marshella, "my group of friends and I want to remind fellow women to feel comfortable and be themselves. You don't need to have full makeup everyday or dress like your friend, you can be as lazy, comfortable yet as chic as you can be. Also it's sort of reminiscent of how we knew each other and clicked because of our love and appreciation for Phoebe Philo."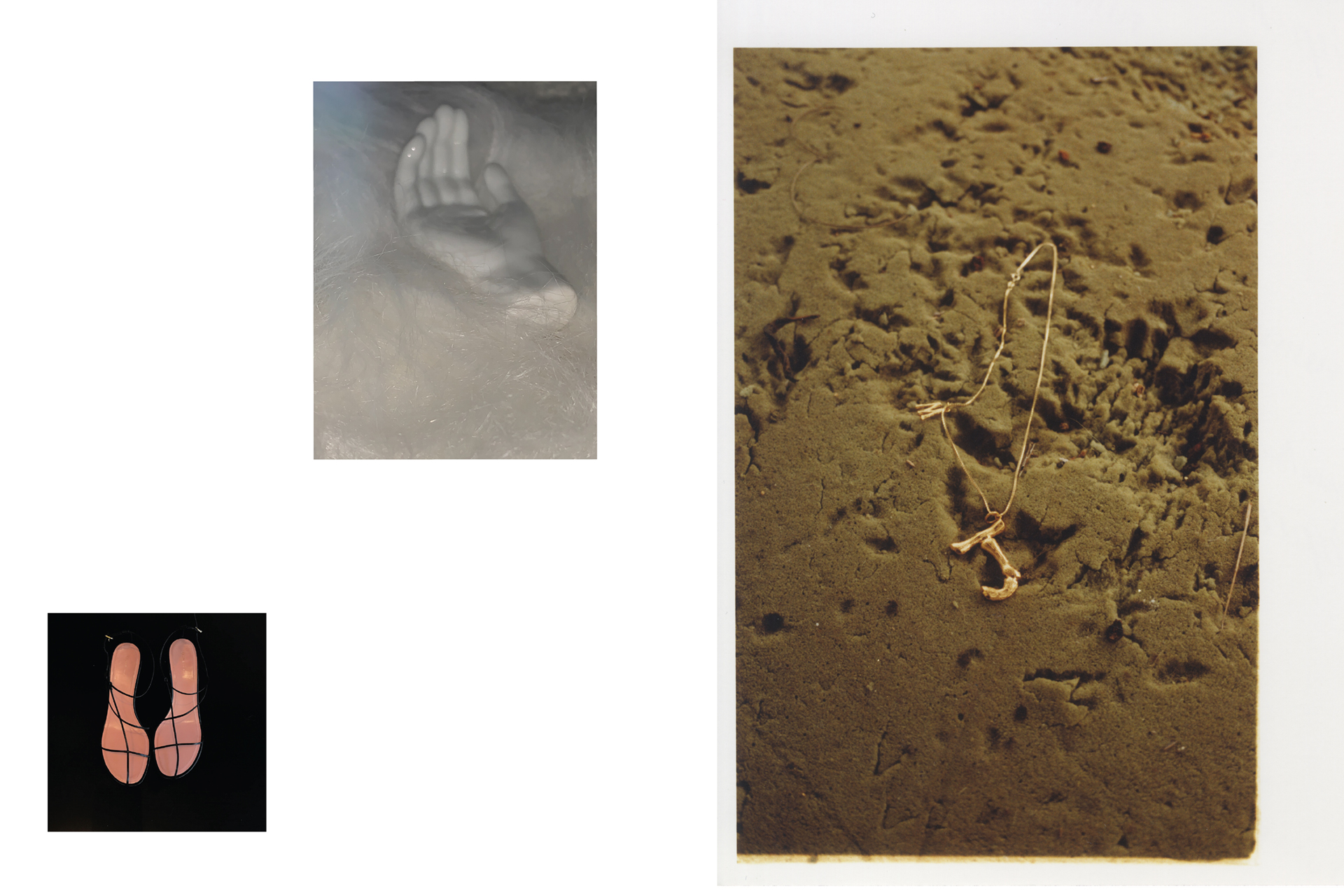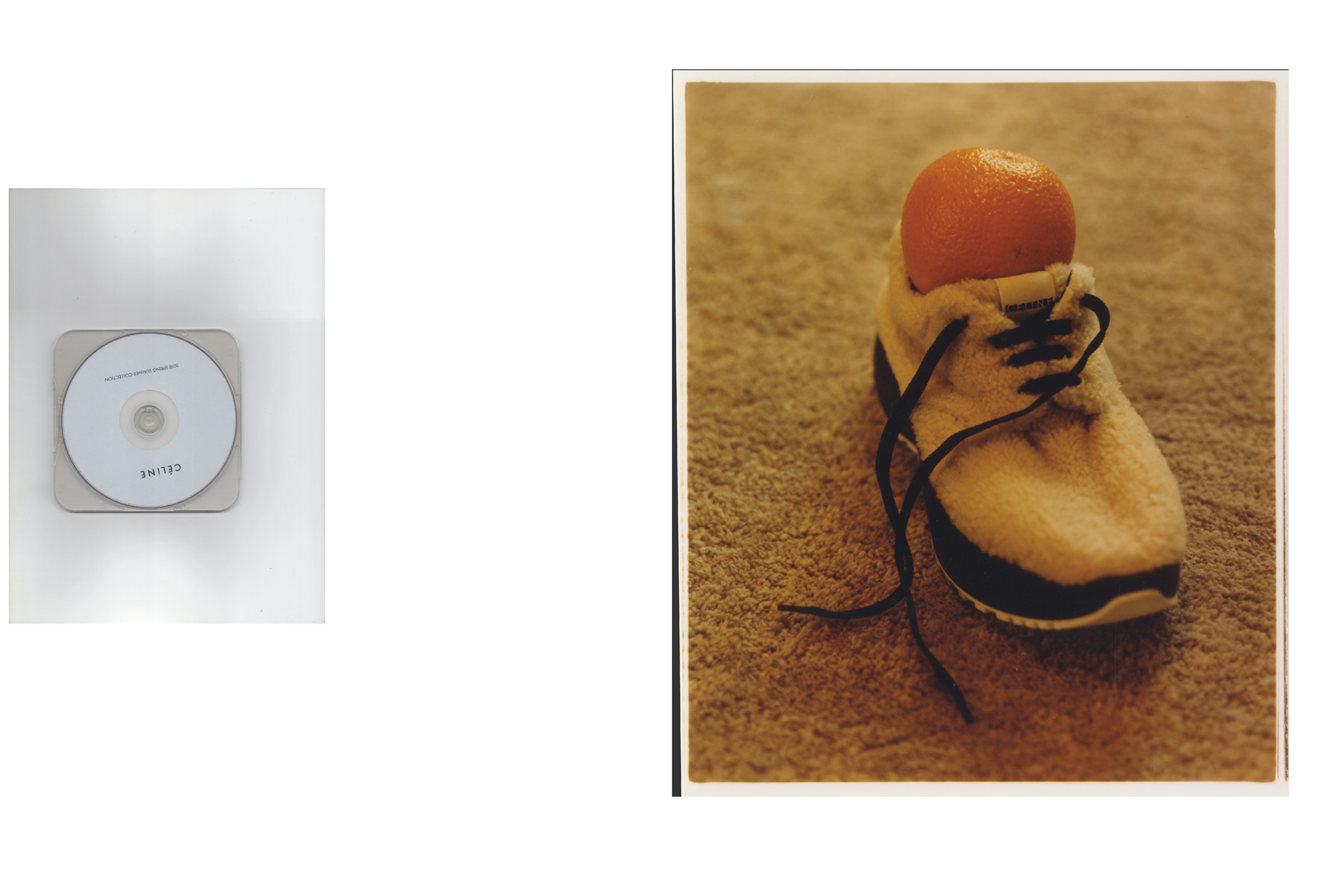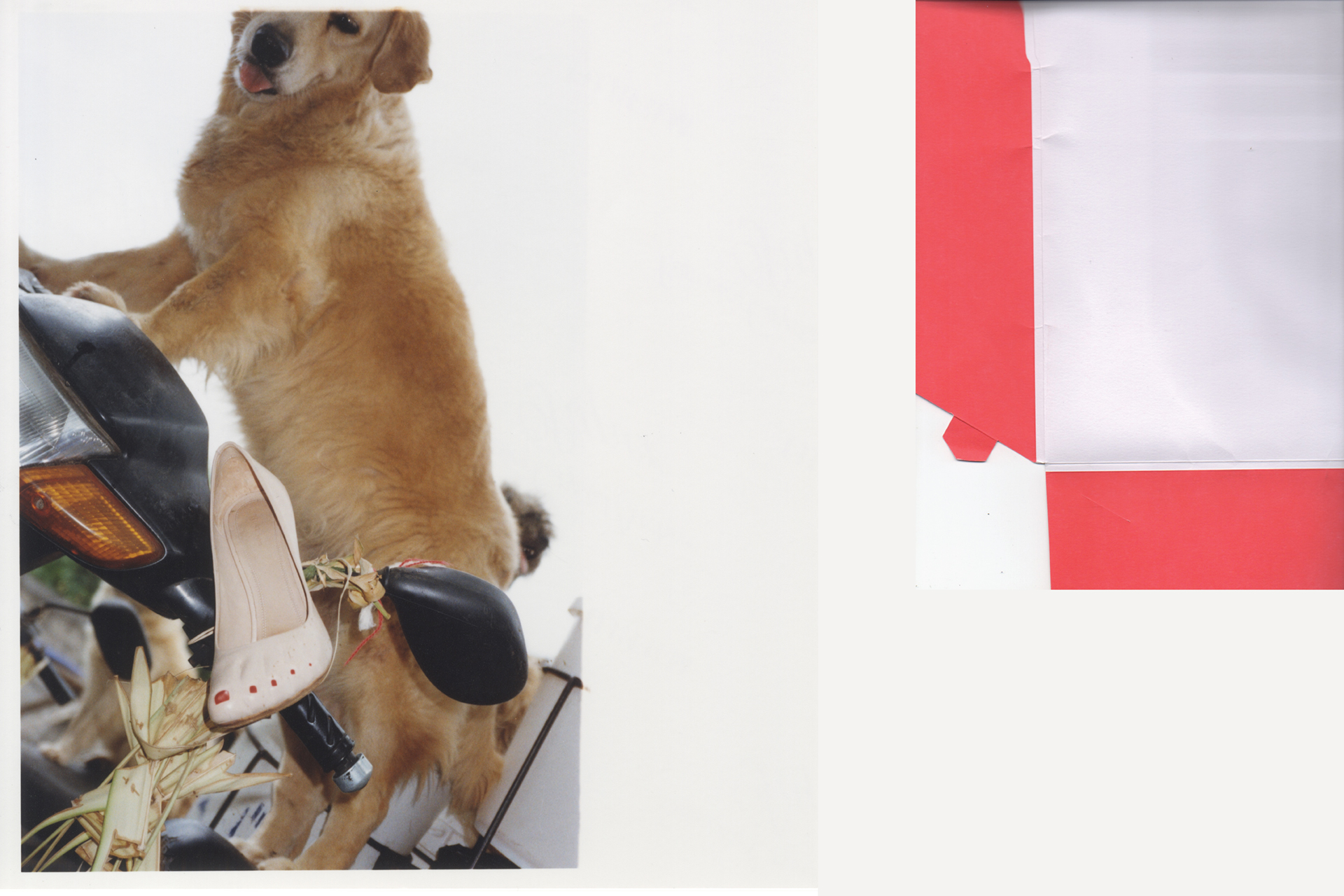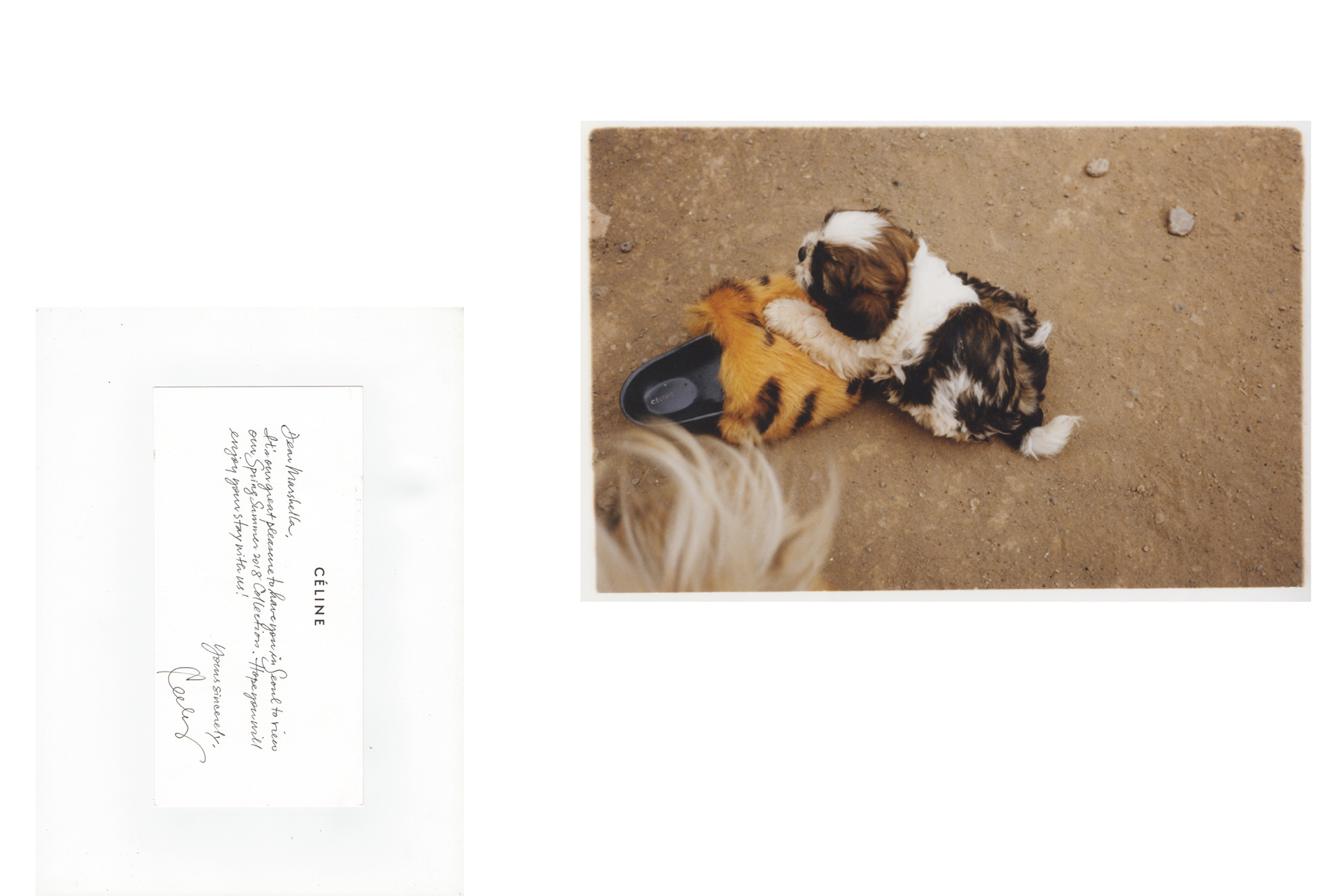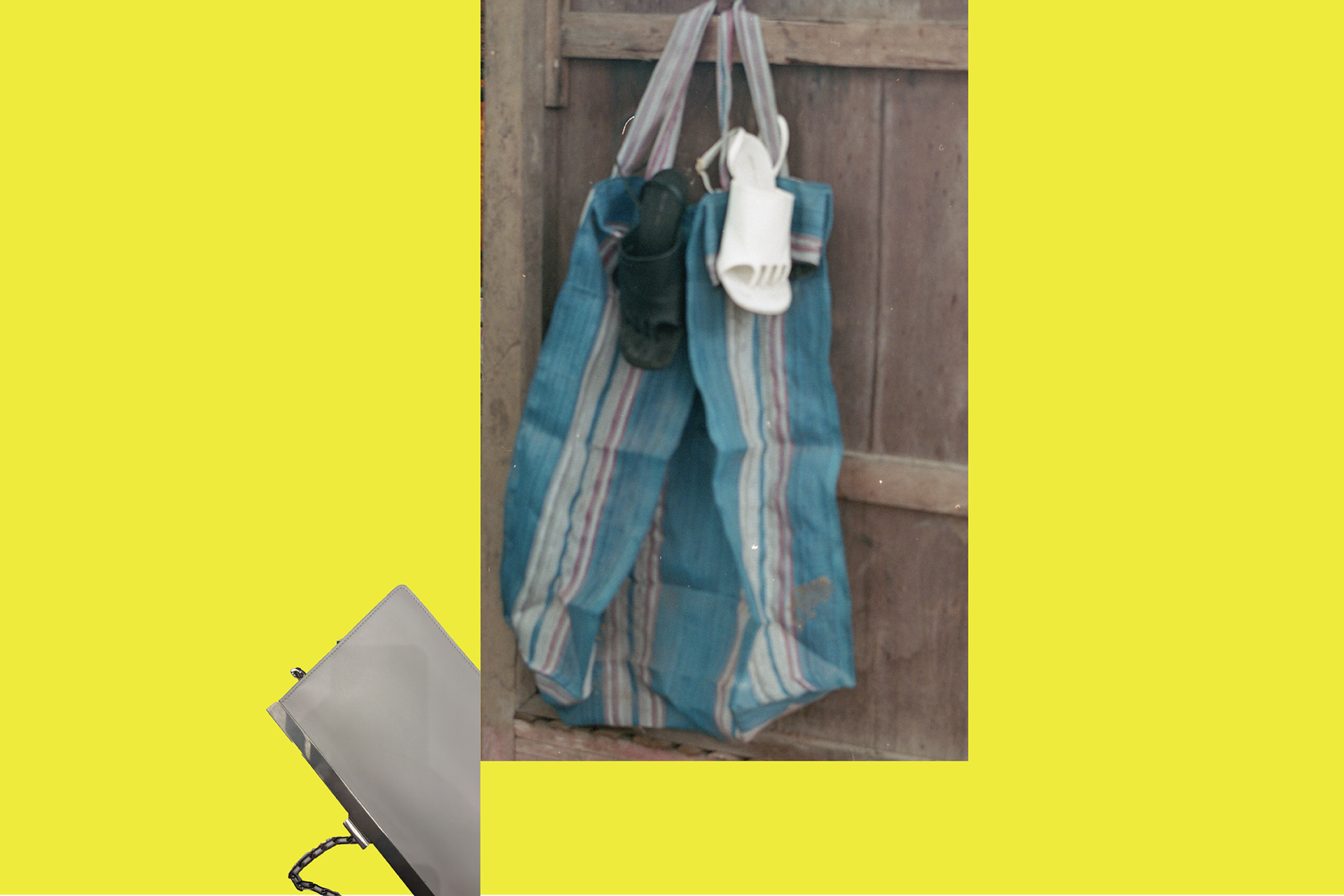 As a friendship whose bond grew over their shared love and vision for normcore, they gathered their personal Phoebe Philo-era Céline collections and went to Bali as one of them had plans to come back to Indonesia for the holiday. There were some interesting stories that happened during the shoot, but one in particular was when Pak Ketut was involved. "Deborah has a love of dogs and she found Pak Ketut online. He owns so many dogs and he brought all of them on a motorbike to gather all the leftover food for the pigs in the farm he works at. I feel those reflect humanity, humility, honesty, but also eccentric in a way. We met his mother and we photographed her with the iconic Yves Klein dress. Because no matter how old you are or your background, your beauty will shine from deep within."
While Phoebe Philo has stepped down from her role as the creative director of our beloved house in 2017, with her Pre-Fall 2018 collection as her last one, her influence could still be felt around us. It was more than just the clothes, but it was a woman designing for women whose identities are as complex while still putting forward comfort and functionality.
Most of us surely have our own favourite pieces that we feel a deep attachment to it, be it for whatever reasons. And that's why it's best to dive into the collections which belonged to our dear friends!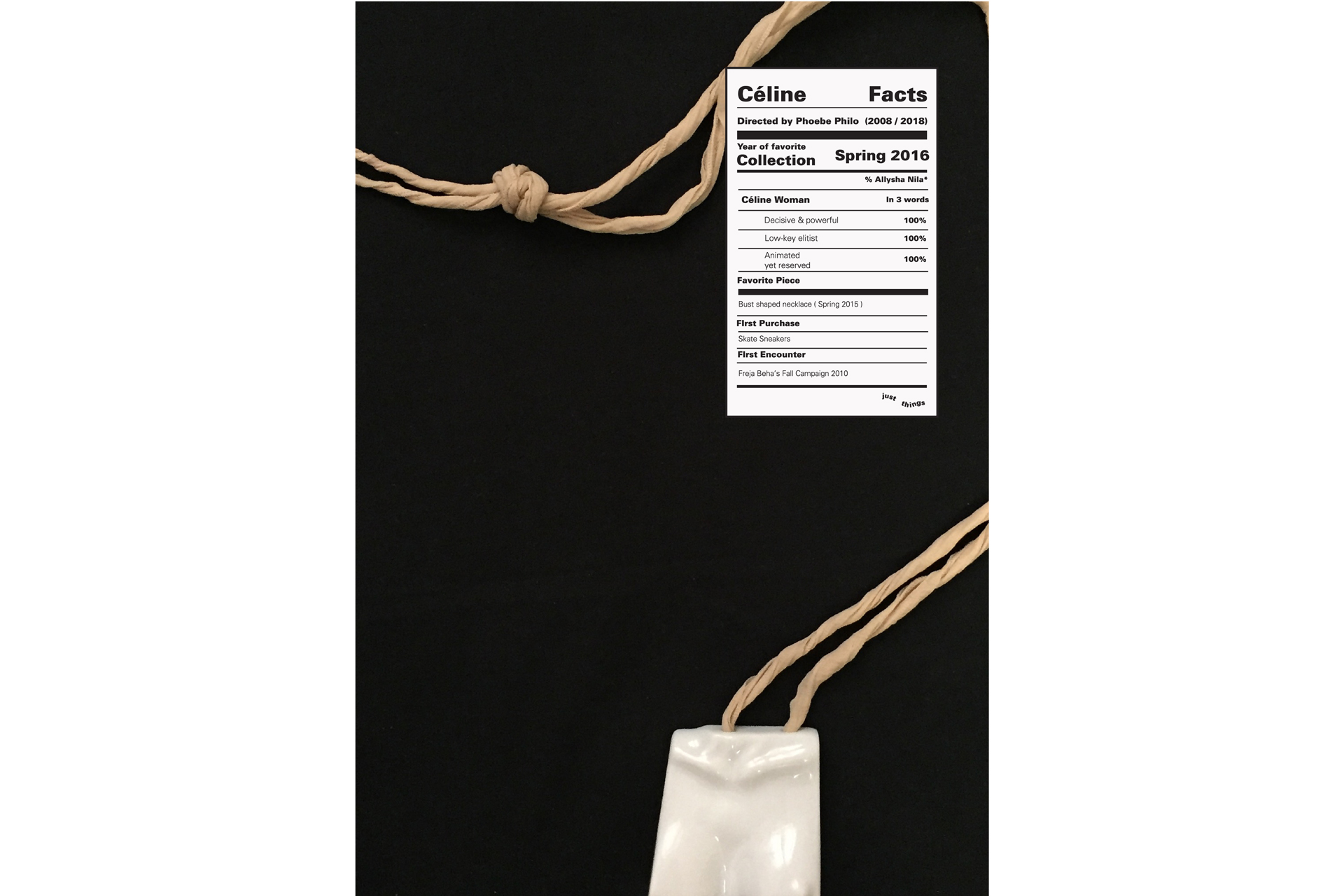 Allysha Nila
Stylist & Writer
Tell us the story of your first experience with Céline.
Before Instagram, kids were on Tumblr. The most reblogged content was Raf Simons' Jil Sander, Riccardo Tisci's Givenchy, and Phoebe Philo's Céline. The first thing I ever saw was Freja Beha's picture from Fall 2010 which had tens of thousands of notes, but Fall 2011 changed everything for me. Phoebe Philo's peak genius, I think, was this collection. Her inspiration was classic automobile interiors—an obvious interpretation was her use of mahogany prints—and I found a lot of nostalgia in that. I was figuratively hit by a car.
Her work had lots of complexity, and given that she was a "minimalist" I think people took the most reductive aspect of her. If you see her mood boards, she toys more with ideation than the looks but also took loads and loads of references. During her first five years, there was a lot more restraint and it was super duper luxe, compared to later seasons when she took more of a Dadaist/Surrealist approach to designing
What brought you to purchase fashion items from Céline?
You love designers for so long but it takes a while until you make that purchase. My factor was luck. My first purchase was the really popular skate shoes, and they were on sale at Yoox.com for $100. But it's so hard to find anything worth it online, because everything else was a poor condition, second-hand piece that I didn't like. Then at one point I remember Kris Jenner wearing the Radical sunglasses, and I begged my parents to buy it for me. I fucking love her. After that I just made every excuse to go to their store and buy accessories—the thought of spending more than a few hundred for clothing was intimidating.
Could you tell us about your favorite Céline piece?
The one I have is a porcelain necklace from Spring 2015, which is in the shape of a bust. This is a great example of her Dadaist leanings. I'm not sure if this is a direct reference but this is reminiscent of Erwin Blumenfeld's The Eye of Male Mortality. Needless to say, it's very feminine.  
What is your dream Céline collection/piece?
Spring 2017 comes in second place for my favourite, followed by Spring 2016. 
If you could describe a Céline woman in three words, what would it be?
Decisive and powerful. Animated yet reserved. Low-key elitist.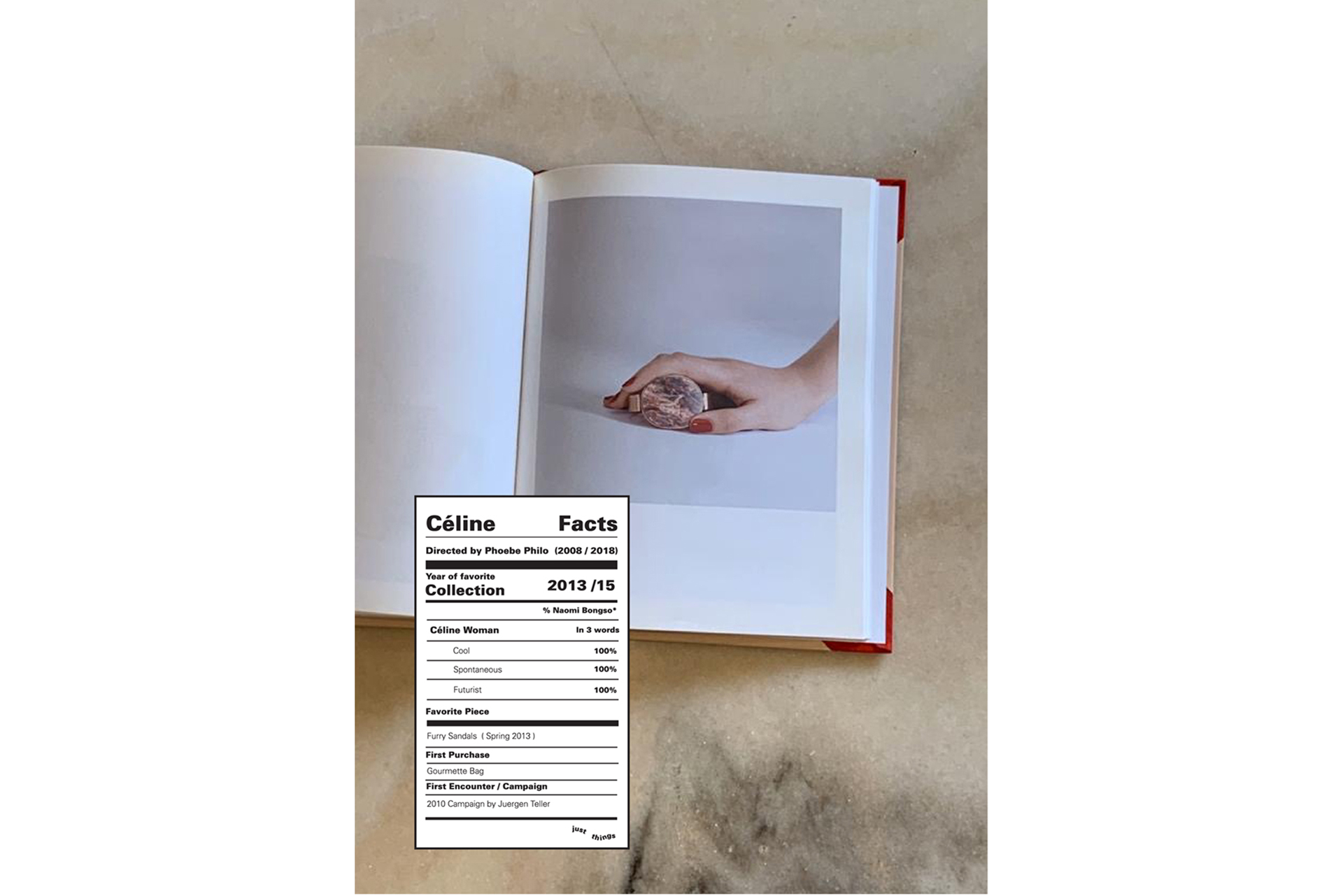 Naomi Bongso
Creative
Tell us the story of your first experience with Céline.
My first experience of Phoebe Philo's Céline was the indulgence of her unwavering coolness and her genius mash of materials and textures.
What brought you to purchasing fashion items from Céline?
It's wit, freshness and functionality.
Could you tell us about your favourite Céline piece?
Too many. The fur Birkenstocks might be a genius invention.
If you could describe a Céline woman in three words, what would it be?
Cool, spontaneous, futurist.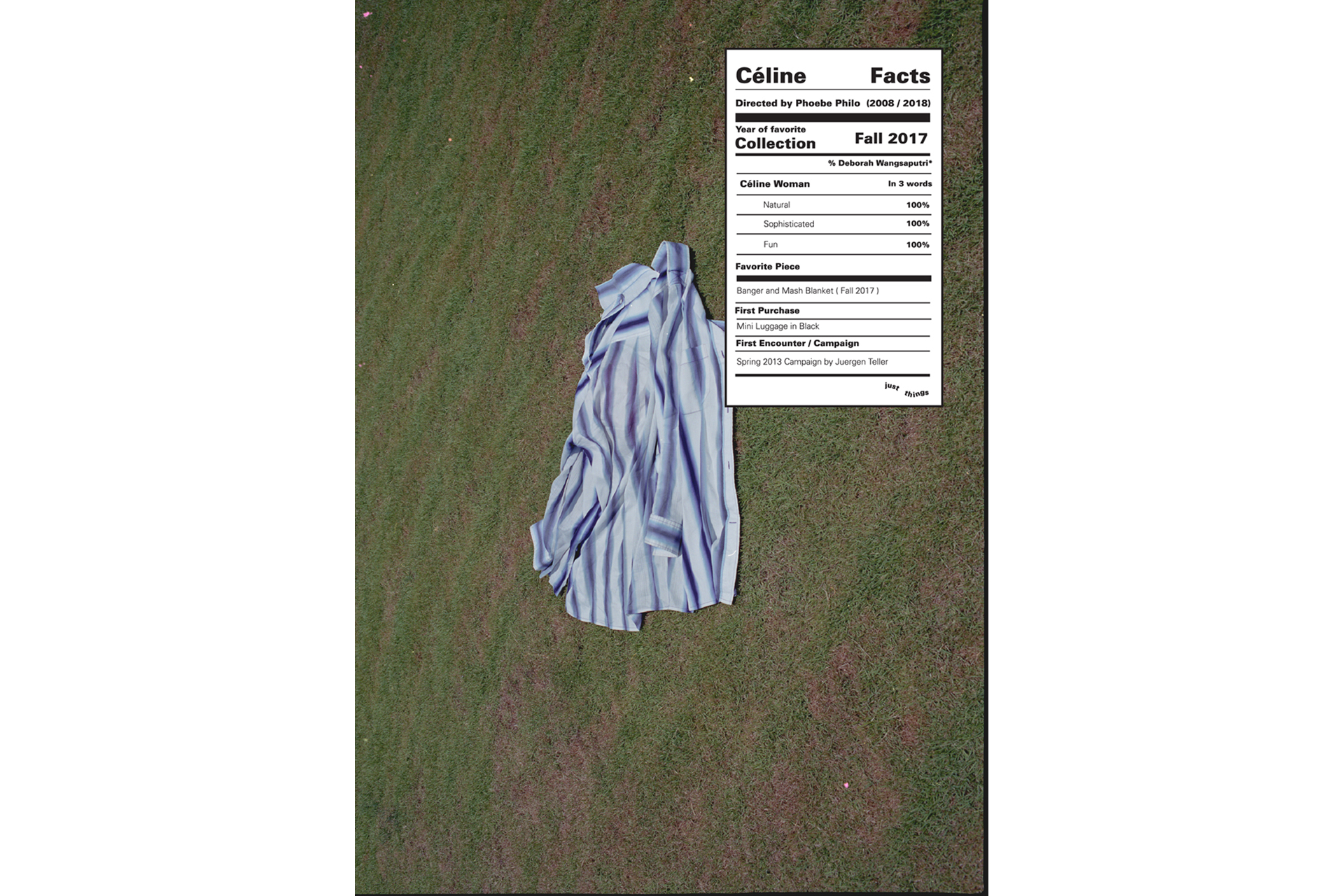 Deborah Wangsa Putri
Photographer
Tell us the story of your first experience with Céline.
The first time I was ever exposed to Céline was going through a magazine that my mum bought. I remember seeing their Spring 2013 campaign shot by Juergen Teller that had a woman (Daria Werbowy) wearing trousers paired with furry slippers. Her toenails were red. That was the time I learned that there's another way women are styled and that there's nothing wrong with using a baggy trouser and going simple.
What brought you to purchasing fashion items from Céline?
I think I was around 16, and I never properly owned a handbag where I could carry things (I used to carry bits and bobs with a ziplock) so my mum thought it was time for me to get something proper which then I decided to purchase a nice quality handbag from Céline!
Could you tell us about your favorite Céline piece?
Honestly, there's too many to choose from! Probably the bangers and mash blanket because firstly it's a blanket and I love to sleep. And also because it says "Macaroni and Cheese".
I LOVE cheese !
What is your dream Céline collection/piece?
Too hard to choose! Fall 2017 Collection or Summer 2017 Collection
If you could describe a Céline woman in three words, what would it be?
Natural, sophisticated, fun!
Art Direction: Marshella Jastine
Photography: Deborah Wangsaputri & Marshella Jastine
Text: Ghina Hana Sabrina
Special thanks to: Allysha Nila, Naomi Bongso, Pak Ketut