Menggunakan Bahan Daur Ulang untuk Mengusung Sustainability, Nike Merilis Koleksi Sepatu "Cosmic Unity"
"Cosmic Unity" akan dirilis pada 26 Februari, lalu 7 dan 12 Maret mendatang dengan tiga desain warna berbeda; "Green Glow", "Amalgam" dan "Space Hippy".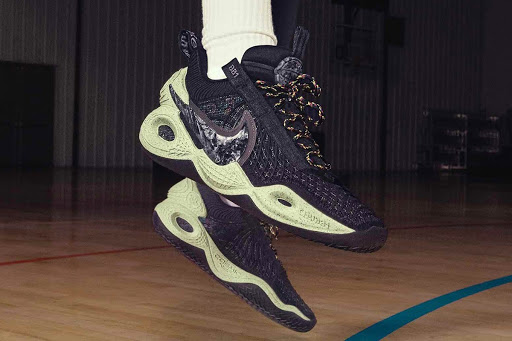 Teks: Daniet Dhaulagiri
Foto: Nike
Setelah sebelumnya Nike mengeluarkan GO FlyEase sebagai inovasi terbarunya menciptakan sepatu dengan keunggulan lebih praktis. Kini dalam mengusung sustainability melalui proyek "Move to Zero", Nike resmi mengeluarkan sepatu pertama dalam edisi proyek tersebut, terbuat dengan perpaduan bahan yang bertanggung jawab untuk lingkungan dan teknologi siap pakai.
Tali sepatu, bahan pelapis kaus kaki, dan efek marmer pada Swoosh sepatu untuk basket ini terbuat dari 25% bahan daur ulang. Lalu bagian atas dari sepatu ini juga dibuat dengan daur ulang benang kabel, namun pada unit Zoom Air Strobel sebagiannya dibuat dengan bahan daur ulang.
Ross Klein selaku Senior Creative Director di Nike berbicara mengenai Cosmic Unity, "We asked ourselves a question that is guiding our process into the future: Can a product that makes the world better also make an athlete better? We wanted to create a synergy between making the world better by what we do, but also leave an impact for athletes so that they can perform at a higher level."
Jika kalian tertarik dengan koleksi sepatu Cosmic Unity pertama yang berwarna "Green Glow", desain tersebut akan dirilis melalui situs web Nike pada 26 Februari. Sementara untuk warna lain seperti "Amalgam" dan "Space Hippy" dirilis menyusul pada 7 dan 12 Maret mendatang.