"Conversations with Friends" Jadi Novel Kedua Sally Rooney yang Diadaptasi ke dalam TV Series
BBC THREE resmi meluncurkan teaser trailer untuk serial adaptasi kedua dari buku Sally Rooney, Conversations with Friends.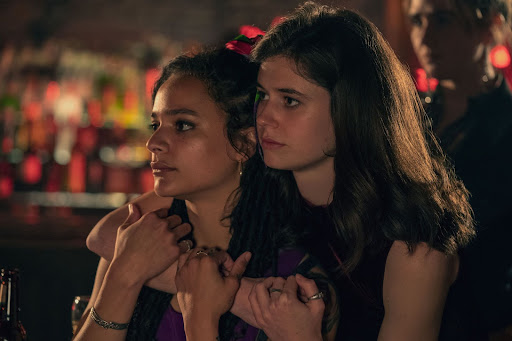 Teks: Hafiza Dina
Foto: Conversations with Friends/Twitter
Serial adaptasi terbaru dari buku Sally Rooney, Conversations with Friends, resmi meluncurkan cuplikan teaser untuk 'menggoda' para penggemar. Cerita yang diangkat dari novel debut Rooney pada 2017 ini diproduksi oleh BBC THREE dan direncanakan untuk rilis pada bulan Mei mendatang, dengan tanggal yang masih dirahasiakan.
Dalam teaser trailer yang berdurasi kurang dari semenit ini menampilkan dua pemeran utama, Frances─diperankan oleh Alison Oliver─dan Bobbi─diperankan oleh Sasha Lane─yang bertemu dengan sepasang suami-istri, Melissa dan Nick─diperankan oleh Jemima Kirke dan Joe Alwyn. Meski minim dialog, teaser trailer ini berhasil menunjukkan kisah cinta yang rumit dan, kemungkinan besar, dapat membuat para penonton ikut menangis.
Conversations with Friends menjadi serial kedua yang diangkat dari karya Rooney. Pada tahun 2020 lalu, novel kedua Rooney yang bertajuk Normal People berhasil meraih kesuksesan besar saat diangkat dalam bentuk serial oleh BBC THREE. Banyak dari kru serial Normal People pun kembali berkontribusi dalam Conversations with Friends, termasuk sang sutradara, Lenny Abrahamson.
Terlepas dari banyaknya kesamaan tadi, Abrahamson memprediksikan respons yang berbeda dari para penonton─dalam arti yang baik─sebab Conversations with Friends disebut akan menjadi tayangan yang cukup berbeda dari Normal People.