Film Terbaru A24, 'Red Rocket', Menampilkan Simon Rex yang Berperan Sebagai Bintang Porno 
Disutradarai oleh Sean Baker, sutradara dari 'The Florida Project' dan 'Tangerin'.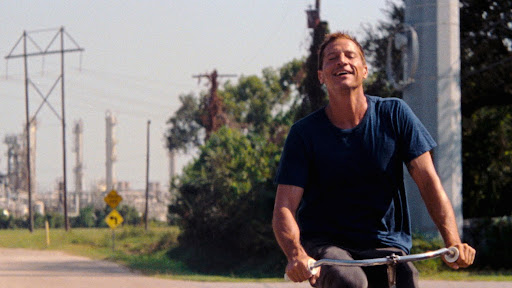 Teks: Nada Salsabila
Foto: A24
A24 baru saja merilis trailer pertama untuk film mendatang sutradara Sean Baker, 'Red Rocket', yang dibintangi Simon Rex yang berperan sebagai bintang porno bernama Mikey Saber. Sebelumnya Sean Baker telah menyutradarai 'The Florida Project' dan 'Tangerin'. 
Dua menit pertama pada trailer dimulai dengan Mikey yang kembali ke kampung halamannya yang kecil di Texas, di mana ia tidak disambut dengan tangan terbuka oleh semua orang, termasuk istrinya, Lexi, yang diperankan oleh Bree Elrod. Ketika Mikey berjuang untuk mencari pekerjaan setelah 17 tahun berkarir di industri film dewasa, ia mengembangkan hubungan dengan seorang gadis remaja bernama Strawberry, yang diperankan oleh pendatang baru, Suzanna Son. Pada klip selanjutnya menampilkan adegan Mikey terlibat dalam beberapa perkelahian dan pertemuan dengan polisi, dilengkapi dengan soundtrack "Bye Bye Bye" dari *NSYNC. Red Rocket juga dibintangi oleh Brenda Deiss, Ethan Darbone, Brittney Rodriguez dan Judy Hill. 
Dalam penulisan film ini, Baker menulisnya bersama dengan Chris Bergoch, seorang penulis skenario dan produser Amerika yang dikenal karena ikut menulis 'The Florida Project', 'Tangerine', dan 'Starlet', serta menulis di acara televisi 'Greg the Bunny' dan 'Warren the Ape.' 'Red Rocket' ditayangkan pertama kali di Festival Film Cannes pada bulan Juli lalu dan diputar lagi di Festival Film Telluride bulan lalu.
'Red Rocket' akan dirilis pada bulan Desember. Tonton trailernya dibawah ini: