Teaser Terbaru dari Serial Anime "Junji Ito Maniac: Japanese Tales of the Macabre" Telah Dirilis
Junji Ito bekerjasama dengan Netflix untuk mengadaptasikan cerita-cerita ikoniknya, seperti "Tomie", "Mold", dalam sebuah serial animasi.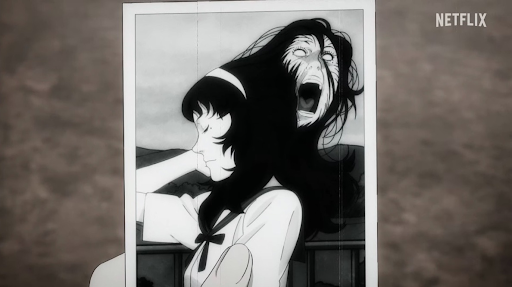 Teks: Shania Indah Adiyobikenia
Foto: Netflix
Usai pengumuman serial animasi dari mangaka horor Junji Ito pada bulan Oktober lalu, Netflix baru-baru ini merilis teaser terkini dalam rangka menyambut tanggal tayang yang semakin dekat.  
Klip ini menampilkan beberapa citra grafis, termasuk gambar seorang gadis dengan wajah tumbuh di belakang kepalanyanya, bersama dengan karakter ikonik Junji Ito, Tomie. Gadis itu kemudian bertanya, "Will you listen to me?" saat mengobrol dengan dua pria.
Lima karya Junji Ito sudah dikonfirmasikan akan ditampilkan dalam seri ini, di antaranya "The Story of the Secret Tunnel", "Mould", "Layers of Fear", "The Thing That Drifted Ashore", dan "The Back Alley". Serial Netflix Junji Ito Maniac: Japanese Tales of the Macabre akan hadir di layar Netflix mulai Kamis, 19 Januari 2023 mendatang. Bagi para cult fan dari karya Junji Ito yang iconic dengan body horror dan luar biasa meresahkan, jangan lupa untuk terus memantau update serial ini di Netflix.
Berikut tautan teaser trailer Junji Ito Maniac: Japanese Tales of the Macabre: