Berita Baik, Giant Panda Akhirnya Resmi Tidak Terancam Punah di Alam Liar
Pihak berwenang mengklasifikasikan ulang giant panda sebagai "vulnerable" dengan populasi di luar penangkaran sebanyak 1.800.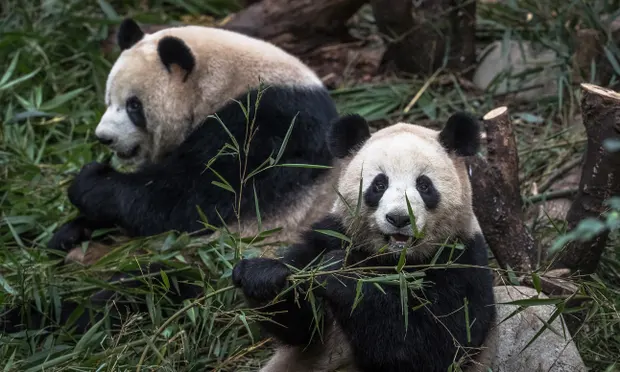 Teks: Hanindito Buwono
Foto: The Guardian
Menurut pejabat Tiongkok setelah bertahun-tahun melakukan upaya konservasi, giant panda resmi sudah tidak lagi terancam punah di alam liar. Namun mereka tetap masih rentan atau "vulnerable" dengan populasi di luar penangkaran sebanyak 1.800.
Kepala departemen konservasi alam dan ekologi di Kementerian Lingkungan Tiongkok, Cui Shuhong, mengatakan bahwa reklasifikasi ini adalah hasil dari, "Kondisi yang lebih baik dan upaya Tiongkok dalam menjaga habitat mereka untuk tetap terintegrasi."
Dari pengumuman tersebut juga mencerminkan upaya nasional Tiongkok untuk melestarikan keanekaragaman hayatinya dalam beberapa tahun terakhir. Pihak berwenang telah bekerja untuk memperluas habitat giant panda, serta menanami kembali hutan bambu untuk memberi makan mereka.
Selain itu Cui Shuhong juga menyatakan dalam konferensi pers dilansir oleh The Guardian, bahwa jumlah populasi binatang harimau Siberia, amur leopards, gajah Asia, dan crested ibis juga "tampak meningkat". Semua itu berkat hasil upaya konservasi yang berkelanjutan dalam beberapa tahun terakhir.
Walau demikian, binatang panda tetap dihadapi ancaman jangka panjang. Menurut IUCN (International Union of Conservation of Nature) menyebutkan bahwa perubahan iklim dapat menghancurkan lebih dari 35% habitat bambu mereka dalam 80 tahun ke depan.