BAFTA Games Awards Umumkan 18 Kategori Nominasi Games Terbaik 2021
16 dari 18 kategori nominasi telah diumumkan. 'Chicory: A Colorful Tale', 'DEATHLOOP', 'The Forgotten City', 'It Takes Two, Metroid Dread' dan 'Unpacking' akan bersaing dalam kategori Game Terbaik 2021.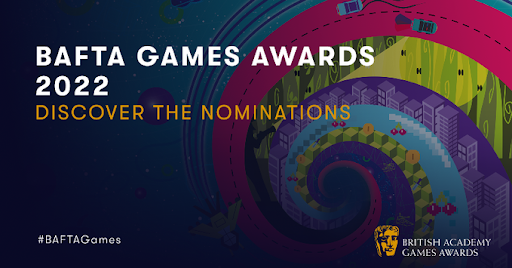 Teks: MM Ridho
Foto: BAFTA
The British Academy of Film and Television Arts mengumumkan nominasi untuk BAFTA Games Awards 2022, merayakan permainan terbaik tahun 2021 dan menyoroti keunggulan kreativitas dari berbagai tim developer, baik yang berasal dari Inggris maupun internasional.
Acara penganugerahan game terbaik itu akan diselenggarakan pada Kamis, 7 April di Queen Elizabeth Hall, London, dengan presenter dan jurnalis Elle Osili-Wood sebagai pembawa acara. Untuk yang berada di luar Inggris, BAFTA menyediakan live streaming di kanal-kanal resmi mereka.
BAFTA Games Awards 2022 akan memilih pemenang dari total 18 kategori, yang menyangkut berbagai aspek mulai dari teknis hingga sisi pertunjukan dari game-game tersebut. Semua penghargaan dipilih oleh juri yang terdiri dari para profesional industri game, dengan pengecualian pemenang Game of the Year yang akan dipilih oleh publik.
16 kategori telah diumumkan pekan ini. Dua kategori selanjutnya, Performer in a Leading Role dan Performer in a Supporting Role, akan diumumkan dalam beberapa minggu mendatang. Nominasi yang tahun lalu dimenangkan Laura Bailey dalam game 'The Last of Us Part II' dan Logan Cunningham dalam 'Hades'.
Dari seluruh 39 game yang dinominasikan pekan ini, ada beberapa yang menjadi sorotan, di antaranya:
'Returnal' dan 'It Takes Two' mendapat 8 nominasi.
'Ratchet & Clank: Rift Apart' mendapat 7 nominasi.
'Forza Horizon 5' dan 'Psychonauts 2' mendapat 6 nominasi.
'DEATHLOOP' mendapat 5 nominasi.
Sementara, lima games yang masuk ke dalam nominasi Game of the Year di antaranya 'Chicory: A Colorful Tale', 'DEATHLOOP', 'The Forgotten City', 'It Takes Two, Metroid Dread' dan 'Unpacking', akan dipilih oleh publik dengan sistem voting.
Nominasi BAFTA Games Awards 2022 selengkapnya bisa di akses di situs resmi mereka.