Bez, Salah Satu Maskot Happy Mondays akan Merilis Program Kelas Fitness di Channel YouTube Miliknya
Kondisi tubuh kurang bugar dan perut yang membuncit menjadi alasan dirinya untuk berolahraga dan membuat program "Get Buzzin' With Bez".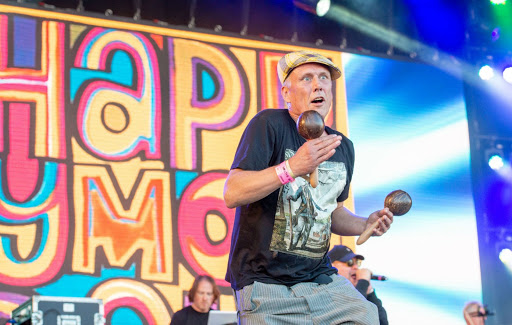 Teks: Daniet Dhaulagiri
Foto: NME / Rex
Mark Berry atau yang lebih populer dengan nama Bez dikenal karena aksi panggungnya bersama Happy Mondays, salah satu band yang mengusung pergerakan kultur Madchester pada medio '80-an hingga '90-an. Shaun Ryder sang vokalis sengaja mengundang Bez untuk bergabung sebab tarian Bez yang terbilang cukup unik dan aneh seraya memainkan marakas, tak lama Bez seolah menjadi maskot tersendiri bagi Happy Mondays.
Kini pria berumur 56 tahun itu mengumumkan perilisan program YouTube-nya yang meliputi bagaimana aktivitas kelas fitness-nya di tengah lockdown pada awal tahun 2021 ini. Dikabarkan Bez mengalami kesulitan untuk beraktivitas selama terjadinya pandemi Covid-19 ini.
Program YouTube yang diberi nama "Get Buzzin' With Bez" akan perdana tayang pada 17 Januari mendatang dengan konsep dirinya menjalani aktivitas olahraga dengan arahan langsung pelatih profesional, tentunya bukan dia yang memimpin kelas fitness tersebut.
Dilansir melalui BBC, Bez menyampaikan, "I'd like to think I'm somewhere between Joe Wicks and Mr Motivator, I've started this new year seriously unfit, with a fat belly and creaky hips, and I can't stop eating chocolate." Saat lockdown yang sebelumnya ia mengakui jika pola makannya bisa terbilang tidak baik, sehingga membuatnya malas dan tidak bugar.
Bez juga menambahkan jika para penggemarnya bisa menonton program tersebut sambil ikut berolahraga, "On this mad journey or just sit on the sofa and have a good laugh at me. At the very least, I know I'll be making people smile, at best I'll be helping people get fit and mentally happier alongside me," ujarnya.
Pada Oktober 2020 lalu, Bez juga memiliki program YouTube dalam channel yang sama yakni Spoke TV, ia bersama Shaun Ryder menjalankan sebuah program bernama "Call The Cops", tayangan tersebut meliputi pengalaman mereka dalam karir bermusiknya dari pengisahan pribadi Bez dan Shaun.
Kalian bisa menanti penayangan "Get Buzzin' With Bez" dengan menonton terlebih dahulu episode pertama dari program "Call The Cops" di sini.