Dari Momen Antara Olivia Rodrigo dan Kim Taehyung Hingga Rokok Bruno Mars di Atas Panggung, Berikut Sekilas Kemeriahan dari Piala Grammy ke-64
Silk Sonic membawa pulang seluruh nominasi kategori yang mereka raih tahun ini – "That's what we call a clean sweep."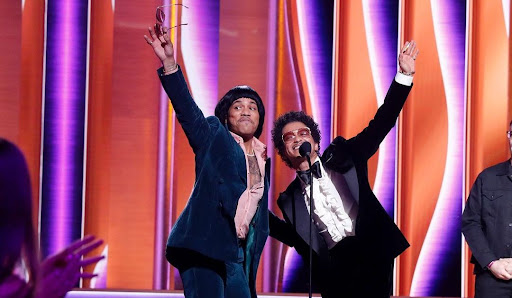 Teks: Nancy Rumagit
Foto: The Recording Academy
Piala Grammy ke-64 telah diadakan pada 4 April pukul 07.00 WIB dengan penampilan-penampilan dari BTS hingga Lil Nas X, yang tengah gagal meraih kemenangan kali ini dari seluruh 5 nominasi yang ia dapatkan, mengunggah tweet berikut di Twitter:
can't believe i lost all my grammys. i am now no longer gay!

— MONTERO (@LilNasX) April 4, 2022
Selain penampilan dari berbagai musisi-musisi ternama, Piala Grammy pun dimeriahkan dengan beberapa highlight seperti:
Momen antara Olivia Rodrigo dan Kim Taehyung

WTF WAS THIS KIM TAEHYUNG pic.twitter.com/RMl23YkEln

— bts (@kkukstudio) April 4, 2022
Megan Thee Stallion dan Dua Lipa membuat referensi terhadap momen antara Mariah Carey dan Whitney Houston di MTV VMA 1998

Dua Lipa and Megan Thee Stallion recreate Mariah Carey and Whitney Houston's iconic 1998 MTV VMA same-dress moment at this year's #GRAMMYs. pic.twitter.com/4m8cbv1lVP

— Pop Base (@PopBase) April 4, 2022
Lil Nas X dan Jack Harlow membuat referensi terhadap musik video "Industry Baby"

Lil Nas X and Jack Harlow doing the clapping part on Jack's verse 😭😭 pic.twitter.com/GWiVgXSUot

— 𝙈𝘼𝙅𝙊𝙍 ⚜️ (@lilnasxmajor) April 4, 2022
Bruno Mars menyalakan rokok seusai (lagi-lagi) memenangkan kategori Record of the Year

anderson paak saying "that's what we call a clean sweep" and bruno mars pulling out a cigarette LMAOOOOO pic.twitter.com/81EhvfJouV

— j🌷 (@hijabprint) April 4, 2022
Piala Grammy tahun ini pun menandakan kesuksesan Olivia Rodrigo, Doja Cat, dan SZA sebagai pemenang Piala Grammy untuk pertama kalinya, serta menandakan ketiga kalinya Bruno Mars memenangkan Record of the Year. Tyler, The Creator pun kembali ke panggung Piala Grammy tahun ini dengan kemenangannya untuk Best Rap Album dengan "Call Me If You Get Lost", piala keduanya setelah memenangkan kategori yang sama untuk "Igor" pada tahun 2020.
Kemenangan Jon Batiste untuk Album of the Year ("We Are") mengejutkan sejumlah penggemar dan pengikut setia Piala Grammy. Di antara nominasi-nominasi kuat lain seperti "Happier Than Ever" oleh Billie Eilish dan "Evermore" oleh Taylor Swift, spekulasi untuk pemenang kategori ini telah didebatkan secara panas di media sosial pada hari-hari menuju acara penghargaan Piala Grammy tahun ini. Tampaknya, pada momen pengumuman kategori ini, sang pemenang Piala Oscar (untuk "Soul") pun sama terkejutnya dengan para penggemar yang menonton di rumah atas kemenangannya, sehingga genap membuat total Piala Grammy-nya malam ini menjadi lima – kemenangan terbanyak pada malam tersebut.

congrats to Jon Batiste!! he looked so shocked 🥺 pic.twitter.com/qgAT47KzBu

— irene anna (@enerianna) April 4, 2022
Jon Batiste is the first Black artist to win Album of the Year in 14 years. pic.twitter.com/Ptm7a5lQLY

— kyle (@blkboybulletin) April 4, 2022
what a beautiful speech by Jon Batiste after winning the 2022 Grammys Album Of The Year. Congratulations @JonBatiste 🤍 pic.twitter.com/nwM7mQWTv5

— ` 𝓅𝓊𝓇𝑒𝓈𝓌𝒾𝒻𝓉 ` (@pureswift2) April 4, 2022
Perdebatan sama juga dihadapi oleh kategori terbesar lain di Piala Grammy, Record of the Year, yang dimenangkan oleh "Leave The Door Open" oleh Silk Sonic. Silk Sonic pun memenangkan seluruh nominasi yang mereka dapatkan pada tahun ini, dari Record of the Year, Song of the Year, Best R&B Performance (seri dengan Jazmine Sullivan), dan Best R&B Song of the Year.

.@silksonic once again pulling out the moves to accept Record of the Year for "Leave the Door Open" at the #GRAMMYs pic.twitter.com/7LbvQJCom3

— MTV NEWS (@MTVNEWS) April 4, 2022
Berikut sedikit cuplikan para pemenang Piala Grammy tahun ini:
Record of the Year – "Leave The Door Open", Silk Sonic
Album of the Year – "We Are", Jon Batiste
Song of the Year – "Leave The Door Open", Silk Sonic
Best New Artist – Olivia Rodrigo
Best Pop Solo Performance – "drivers license", Olivia Rodrigo
Best Pop/Duo Performance – "Kiss Me More", Doja Cat feat. SZA
Best Traditional Pop Vocal Album – "Love For Sale", Tony Bennett & Lady Gaga
Best Pop Vocal Album – "Sour", Olivia Rodrigo
Daftar lengkap pemenang Piala Grammy dapat dilihat di situs web resmi The Recording Academy.