Frank Ocean, Bad Bunny, dan BLACKPINK jadi Penampil Utama Coachella 2023
Grup K-Pop BLACKPINK, rapper Frank Ocean, dan penyanyi Latin pop Bad Bunny dipilih menjadi tiga penampil utama di Coachella 2023.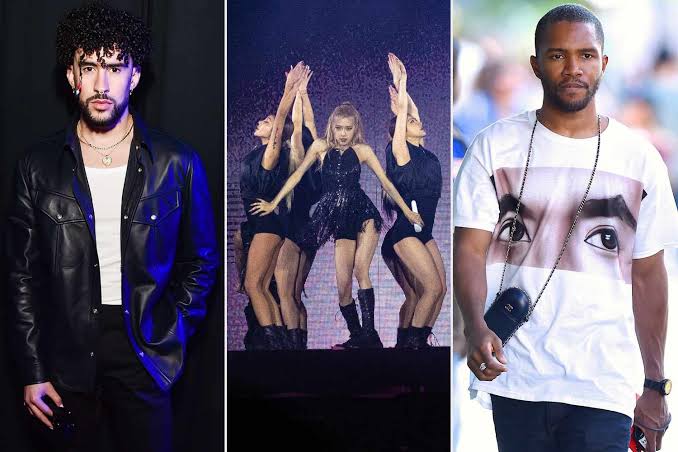 Teks: Reiko Iesha
Photo: People
Coachella adalah salah satu festival musik paling terkenal di dunia, dan selalu ditunggu-tunggu setiap tahunnya. Tahun ini, Coachella mengumumkan lineup mereka yang akan menampilkan antara lain Bad Bunny, di tanggal 14 dan 21 April, BLACKPINK, di tanggal 15 dan 22 April, dan Frank Ocean, di tanggal 16 dan 23 April. Selain ketiga penampil utama ini, para festival goers juga dapat menyaksikan Calvin Harris, Becky G, FKJ atau yang juga dikenal sebagai French Kiwi Juice, Charli XCX, Labrinth, Dominic Fike, dan lebih banyak lagi. Daftar resmi berisi semua artis yang akan tampil di Coachella 2023 bisa dilihat melalui kanal media sosial Coachella.
Ugh was stuck in drafts 🫠

Register now for access to passes at https://t.co/qujCsdlTip. Presale begins Friday, 1/13 at 11am PT. Very limited Weekend 1 passes remain. For your best chance at passes, look to Weekend 2. pic.twitter.com/5zMQ4dJZHq

— Coachella (@coachella) January 10, 2023
Coachella Valley Music and Arts Festival pertama kali diadakan di tahun 1999, dan berawal dengan festival yang hanya berjalan selama dua hari. Beriringnya waktu, semakin banyak yang menggemari festival yang diselenggarakan oleh organiser Goldenvoice ini. Banyak yang menganggap coachella sebagai suatu pengalaman yang tidak bisa dirasakan saat pergi ke festival musik lainnya, bukan sekedar acara untuk mendengarkan musik saja. Mulai tahun 2012, Coachella selalu diadakan dua minggu berturut-turut dari hari Jumat sampai Minggu, dan tiket untuk festival ini selalu habis dengan sangat cepat. 
Selain penampilan musik, akan ada beberapa instalasi dari banyak seniman, antaranya Kumkum Fernando, Maggie West, dan NEWSUBSTANCE. Penjualan tiket pre-sale dimulai hari Jumat tanggal 13 Januari 2023, dan tiket untuk minggu pertama sudah sangat terbatas. Pendaftaran untuk membeli tiket bisa dilakukan melalui situs resmi Coachella.