Kodaline & Lauv Hadir dalam Line-up Pertama Soundrenaline 2023
Soundrenaline 2023 kembali hadir dengan line-up yang baru saja diumumkan.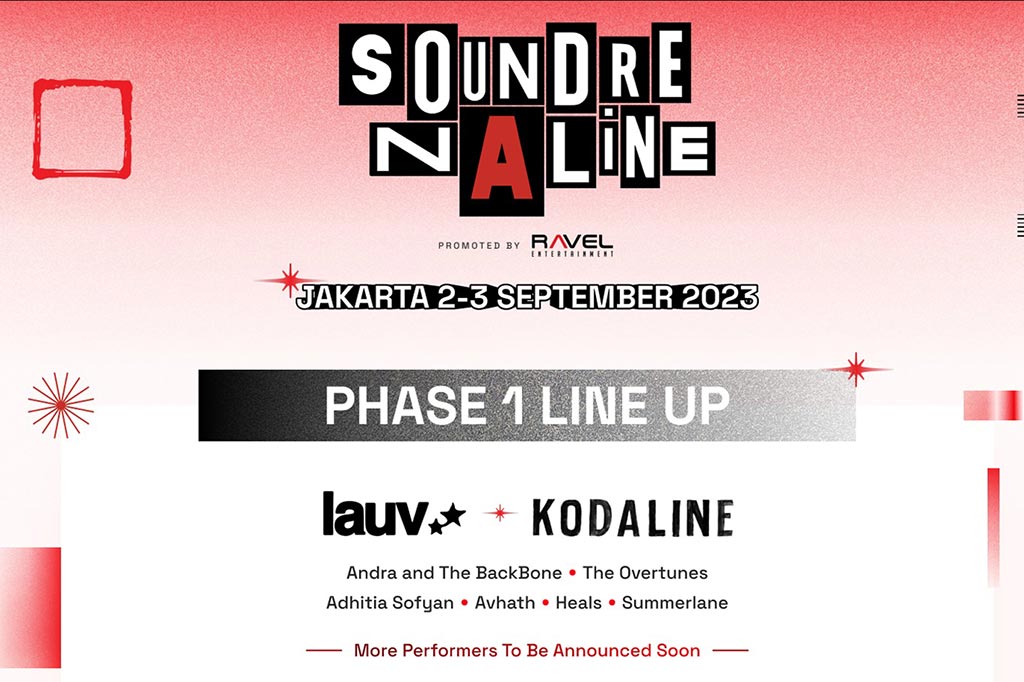 Teks: Rofi Jaelani
Foto: Soundrenaline.id
Melalui announcement dalam web resminya, Soundrenaline mengumumkan nama-nama yang akan turut hadir meramaikan dalam perhelatan Soundrenaline 2023 yang akan berlangsung pada tanggal 2–3 September 2023 di Jakarta.
Setelah sukses menyelenggarakan festival sebelumnya, Ravel Entertainment selaku promotor kembali menginjak pedal gas yang kali ini akan menggaet beberapa nama besar. Di antaranya ada Kodaline dan Lauv yang telah resmi diumumkan, juga terdapat nama beberapa musisi lokal lainnya.
Mengenai musisi lokal, nama-nama yang akan tampil di panggung Soundrenaline di antaranya ada Avhath, Andra and The Backbone, The Overtunes, Adhitia Sofyan, Heals, dan Summerlane.
Bahkan, penjualan tiket early bird sudah ludes terlebih dahulu pada Rabu (05/04) kemarin, sebelum pengumuman nama-nama yang bakal tampil tersebut keluar.
Dalam siaran persnya, Ravel Junardy mengucapkan terima kasih dan apresiasi tinggi kepada para penikmat musik yang luar biasa dalam menyambut Soundrenaline 2023 tahun ini.
"Seperti pada saat pre-sale tiket itu dijual, ludes dalam waktu lima menit saja," kata Ravel Junardy.
Tiket yang terbagi menjadi dua pilihan: Daily Pass untuk Day 1 atau Day 2 dibanderol dengan harga Rp2.588.000, dan 2 Days Pass dibanderol Rp3.588.000. Tiket-tiket ini dapat dibeli melalui e-commerce Tokopedia.