Perpanjang Kemeriahan, Salt A Way Gelar After Party 
Salt A Way perpanjang kemeriahan edisi ke-5 yang bertema "New Day, Same Sun" dengan menggelar Hang Loose: Salt A Way After Party.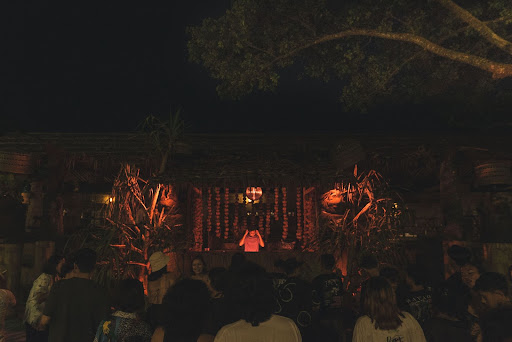 Teks: Ahmad Baihaqi
Foto: Moses Sihombing
Setelah sukses menghadirkan festival musik Salt A Way edisi ke-5 yang bertema "New Day, Same Sun", gelaran tersebut memperpanjang kemeriahan festivalnya melalui rangkaian acara after party di bawah naungan acara bulanan Hang Loose, yang berlokasi di Pantai Pandan, Carita Bay. 
Gelaran Hang Loose: Salt A Way After Party akan diselenggarakan pada Sabtu, 8 Oktober 2022. Open gate acara tersebut akan dimulai pukul 15.00 WIB.
Gelaran after party ini akan dibuka dengan sunset set yang dipimpin oleh Rimba B2B Karmakalona. Dilanjutkan dengan penampilan residen Pantai Pandan, Peaces, Artificial, dan Anka. Salt A Way juga menghadirkan special guest Heru (Slits) dan Ridwan (Dekadenz). Tentu tak hanya musik, merchandise milik label Sunburn dan Salt A Way juga akan dijual malam nanti.
Selain penampilan musik dan penjualan merchandise, terdapat juga beberapa aktivitas outdoor seperti surf lesson, beach massage, banana boat dan aktivitas lain yang dapat diikuti oleh pengunjung. Tersedia juga camping spot dengan sistem BYOT (Bring Your Own Tent), jadi pengunjung harus membawa tendanya sendiri jika ingin berkemah saat acara berlangsung.
Tiket Hang Loose: Salt A Way After Party dapat dibeli langsung di pintu masuk Pantai Pandan seharga Rp.100.000 dengan metode pembayaran QRIS, harga tiket tersebut sudah termasuk voucher senilai Rp.40.000 untuk pembelian makanan dan minuman di Restoran Pantai Pandan.
Bagi pengunjung yang tidak ingin membawa kendaraan pribadi, Salt A Way juga menyediakan shuttle transport seharga Rp 200.000 dengan titik temu di Pelaspas Nipah, Jakarta Selatan dengan jadwal keberangkatan pada Sabtu, 8 Oktober 2022 pukul 11.30 WIB dan waktu kepulangan pada Minggu, 9 Oktober 2022 pukul 16.20 WIB. Info keberangkatan selengkapnya dapat dilihat melalui Instagram resmi Pantai Pandan. The ids websites has forever been labeled as detestable in numerous social orders. The legitimate age for which certain limitation is taken out appears to be very ludicrous and in a bad way with our speedy world. Ask many individuals when they had their most memorable beverage of liquor; you will be stunned to hear ages that are way underneath the lawful age. The following inquiry to pose is the manner by which they got them. We realize that even without counterfeit ids, teens actually get liquor.
View this post on Instagram