Simon Raymonde on Life After Cocteau Twins and Running Bella Union
We met with the founder of Bella Union and ex-bassist of Cocteau Twins, Simon Raymonde during his stay in Jakarta for Archipelago Festival to talk about the ever-evolving landscape of the music industry and following your passion.
Words by Ghina Sabrina
Started off working in a record shop and now at the helm of an award-winning label, Simon Raymonde surely has left his mark on the music industry in several ways. To say that he 'likes' music is an understatement – his life revolves around it. He was the bassist and keyboardist for one of the most unique bands of the 80's, Cocteau Twins. When the band went on to go their separate ways, Raymonde then took charge of the label Bella Union, which was initially formed to support the releases of new Cocteau Twins albums. With the band gone and nothing else to do, he built Bella Union from the ground up and now the label has entered its 21st year. Along the way, Raymonde has signed a roster of talented musicians like Fleet Foxes and Father John Misty while also winning awards for "Independent Record Company of the Year" at the Music Week Awards to add to their collection. We had a chat with him to talk about the possibility of Cocteau Twins reforming, ways of discovering new music and his advice on up and coming new labels.
One of the things that set the Cocteau Twins apart from other bands is your sound, especially how the music and Elizabeth Fraser's sound perfectly complement each other. How was the songwriting process then?
Well, that's actually quite interesting. It's quite unconventional. So Robin and I would make the music first, and we literally would have no tunes. When we booked the studio, we'd tell the label we had all our song ready when we had nothing. And we'd go to the studio, and we'd basically jam, and just improvise. Turn the time machine on, he'd plug in the guitar, I'd plug in the bass or we'll set the piano or something and we just start messing around. And then we'd get a beat together on the drum machine, and we'd be like "yeah that's cool" "that sounds right". After about half an hour we'd suddenly have a verse, and then we'd have chorus, and then we'd work something out and we'd have a whole piece of music. By the end of the day, we'd get Liz (Elizabeth Fraser) to come in and we have a listen, and she'd be like "oh, amazing, I'll come and sing on it". So she would basically be singing on a piece of music that had been written, but it was just a piece of music at that point of time. And her vocals came out of her reaction to that music.
So we didn't all sit together with an acoustic guitar and work out the melody over chords. It was creating almost like an instrumental piece first, and then having the vocals added afterwards. So it was quite weird. I thought it was normal because that's all we ever really knew. But after talking to other bands, it's actually quite weird. But interestingly, I make music again now after all these years and I still do it exactly the same way. It's all just improvised and then the vocals are added right at the end. It's a really interesting way to work. When I got all these vocalists recently involved in this new project I'm doing, they were like "wow, that's weird. You want us to write the vocals after the music?" "Yeah, just react to it instinctively. Just let go of your fears and inhibitions and just go for it." And it's actually quite liberating. You got to let go and trust the process.
In 2005, it was rumoured that the Cocteau Twins would have reformed and headline at Coachella for £1.5 million – but then it didn't happen. Was the idea of the band reforming ever a real possibility?
I mean, there's always a possibility I suppose, but it doesn't seem very likely to me. I wouldn't feel great about it right now and I don't think it's the right thing to do. Robin and Liz's relationship was well-documented. It's difficult, they broke up, there were big drug problems. The reason we broke up was the reason we broke up. You can't suddenly just fix it just by offering somebody a load of money. I think for a small period of time we thought it was possible to make it work because other bands had got back together.
The reason we broke up was the reason we broke up. You can't suddenly just fix it just by offering somebody a load of money.
The Pixies, you know everyone said they didn't get on. There's still going to be bands that reform for money. And I'm never going to say it's impossible, 100% not to happen because you just don't know what's going to happen tomorrow. But I think it's extremely unlikely. I have no interest in it personally right now. Why would I want to spend 3 months doing something that you know is difficult and emotionally troubling. I'm sure some people would like it, definitely. But I don't think Liz or I would like it. I'm almost certain that she would not be interested in doing it. She'd turn it down several times. I will have other things going on our lives that are much more important.
The formation of Bella Union started out during Cocteau Twins' reign as a band and as a way to support future releases. However, the band disbanded on the same year and yet you and Robin Guthrie decided to take charge of it. Could you tell us why you decided to keep the label alive?
I think I didn't have anything else to do. My band wasn't there anymore and I love being in the Cocteau Twins. The Cocteau was all of our lives. We put so much into it. And maybe we should've broken up before, when they broke up. Maybe that would've made a lot more sense. But I think, we all loved doing the music so much because it was a way of distracting ourselves from the bullshit, we kept it going longer than we should.
The label – I don't know, I guess in hindsight it's easier to make a judgement on it. I think I just needed something to throw myself into. To stop worrying about what the hell I was going to do. None of us ever wanted to run a record label, I could assure you that. But here I am 21 years later, and I'm still doing it.  I think it's because I really enjoy what I do now. Working with young artists, and maybe I didn't realise I would enjoy it so much at the time. Because the intention was never to work with anyone else. It was always just to put our own stuff out. So it's been an incredible ride.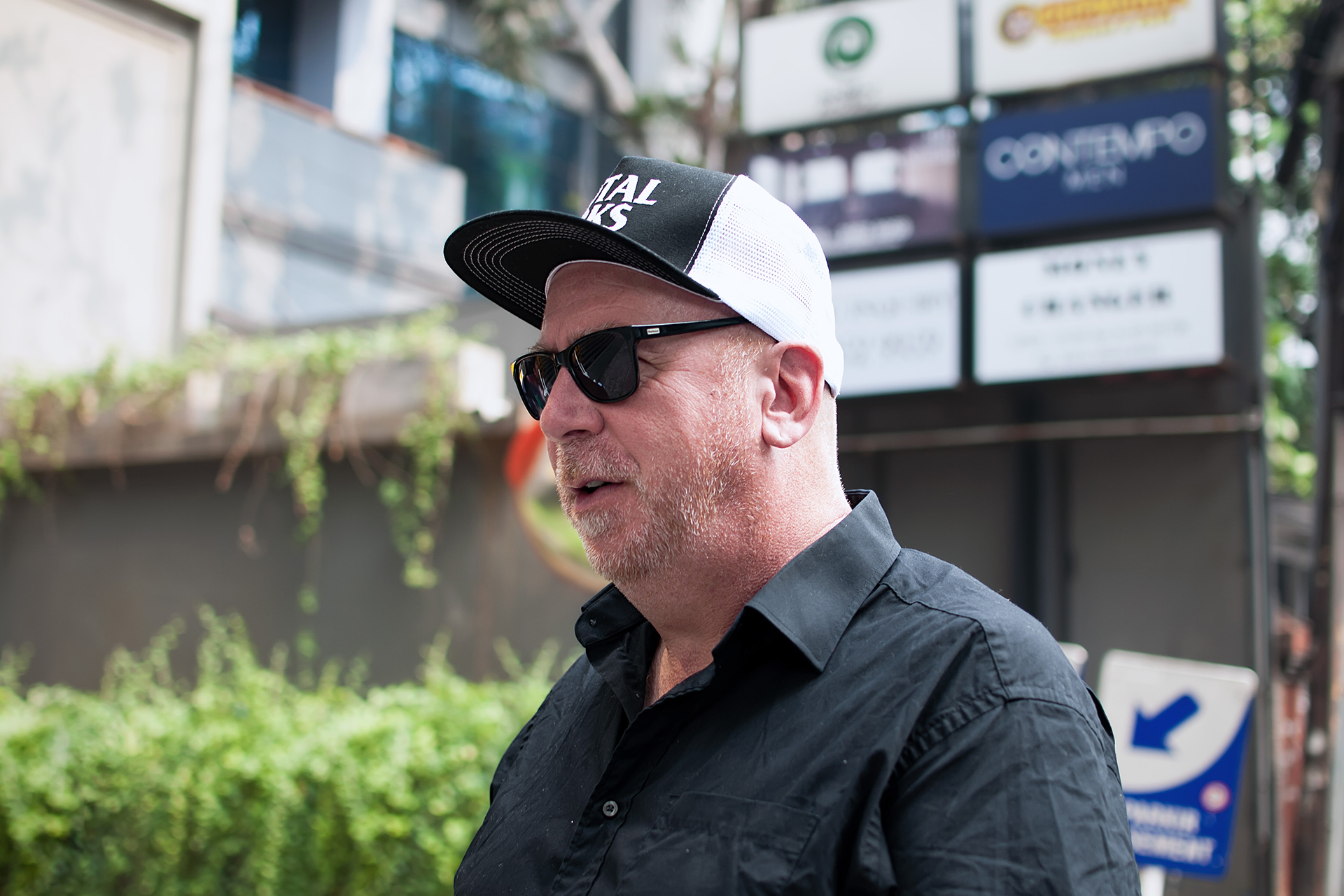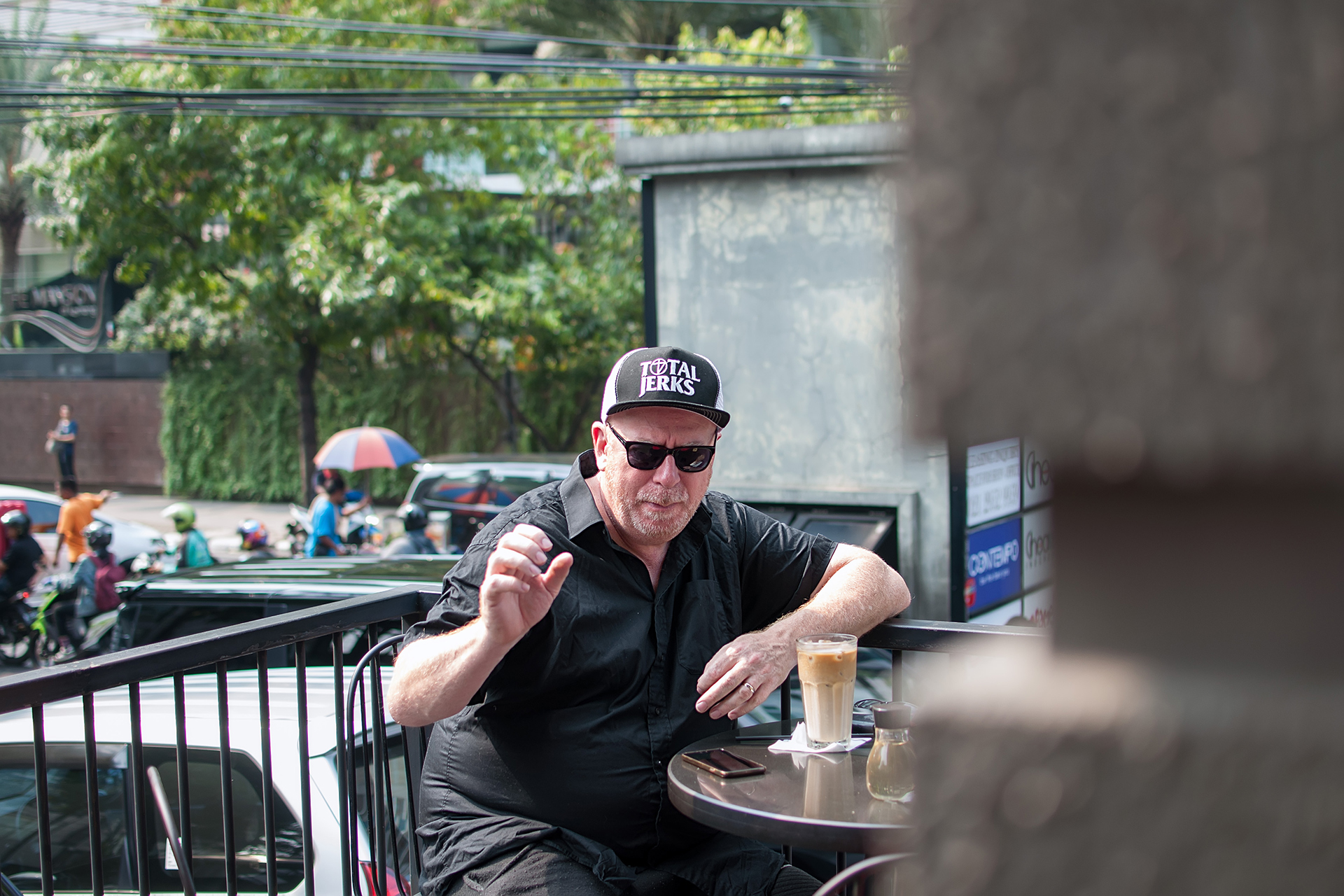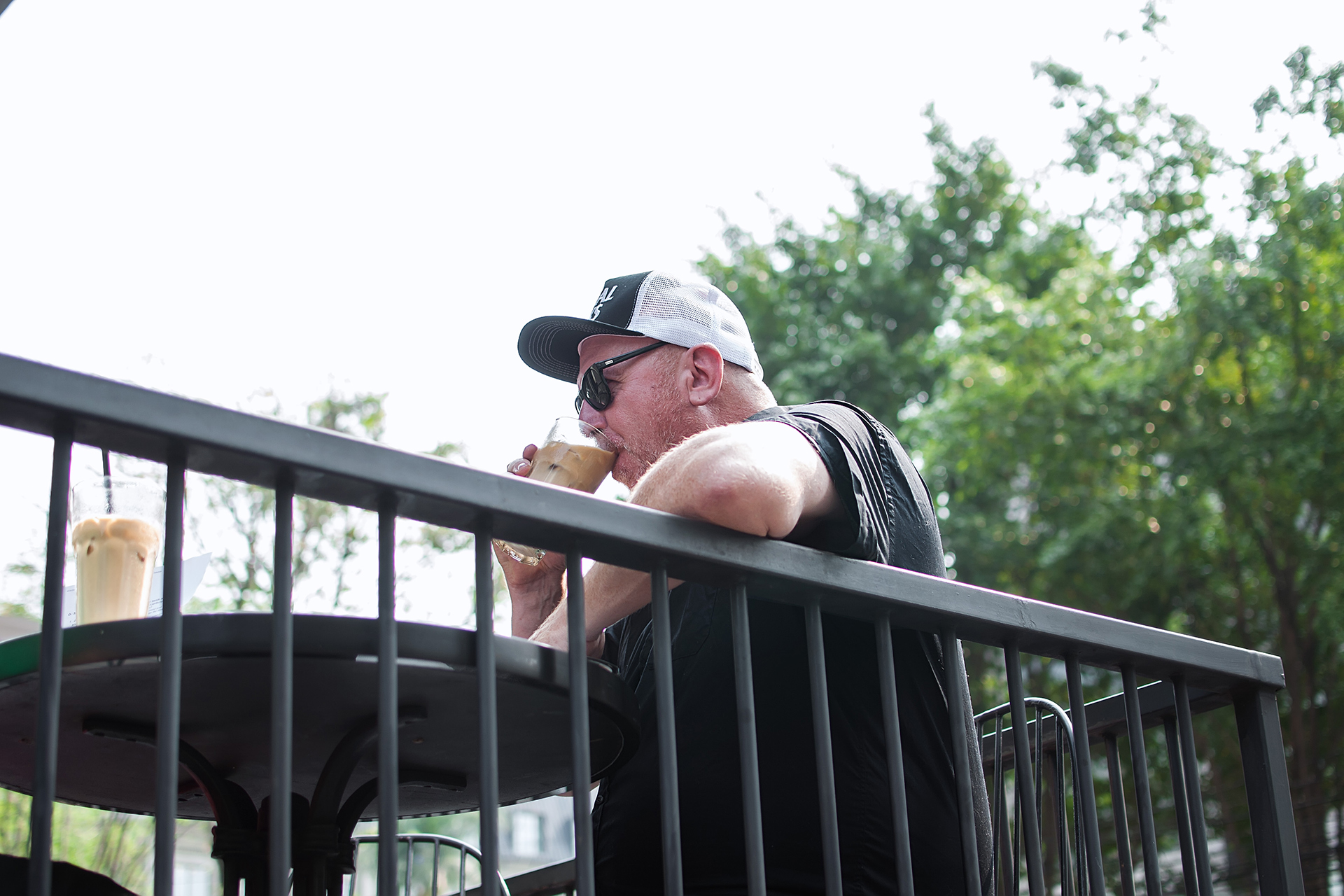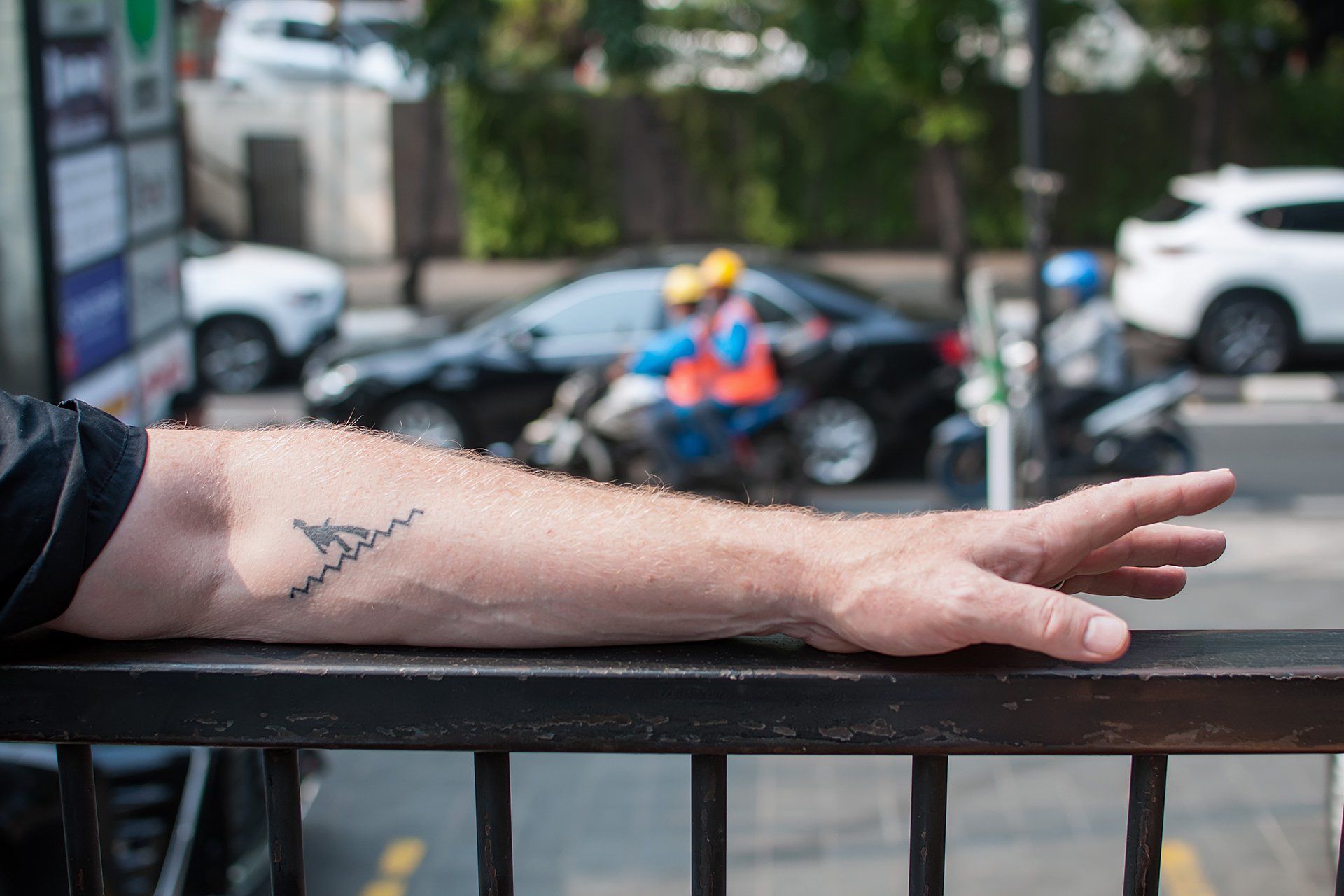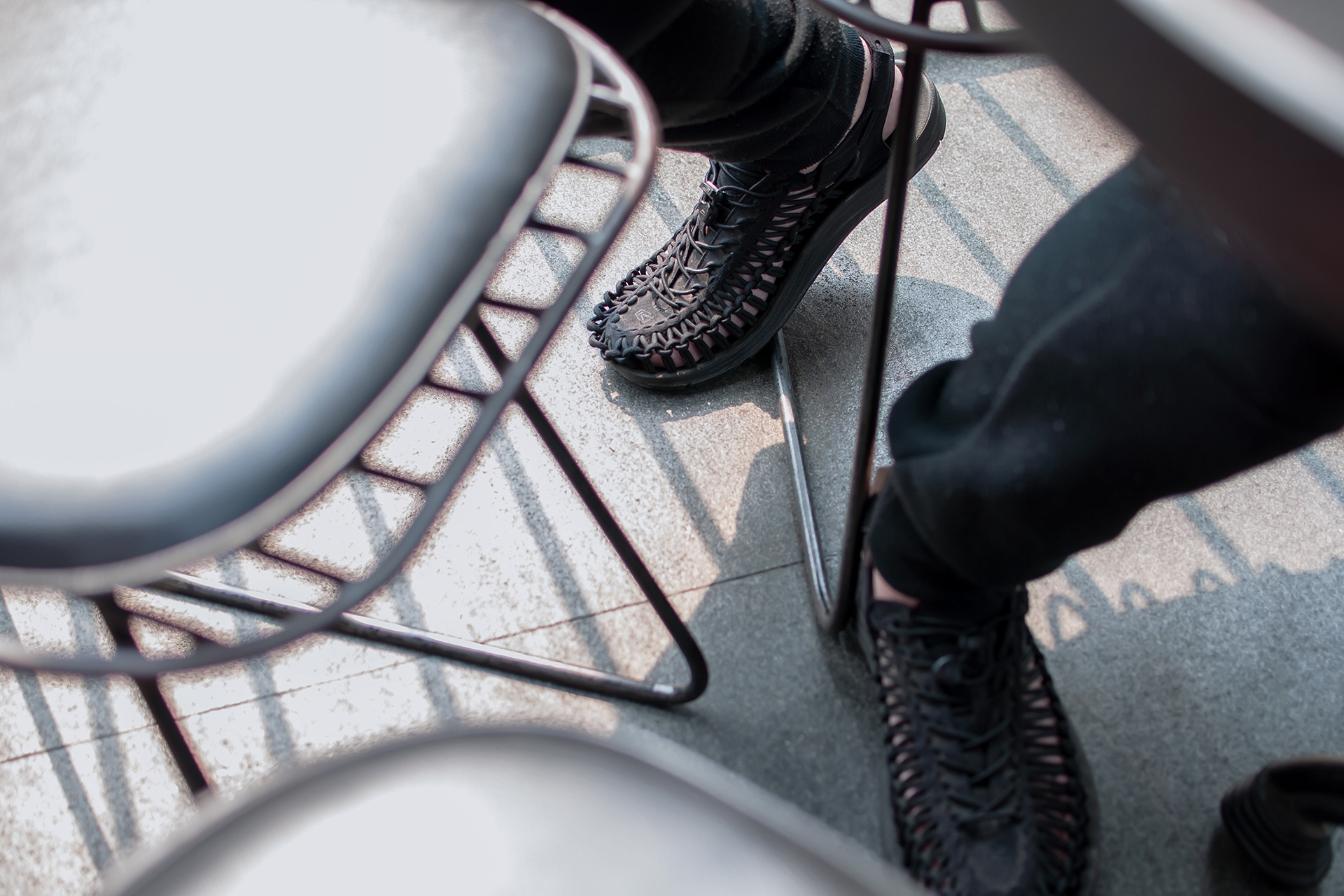 On one of your interviews, you said your label's ethos as "having a label that I would like to be signed to". Could you elaborate further on that statement?
I think the problems we had as a band were getting beyond the friendship-relationship with 4AD and the business-relationship with the major label. It never really works. We started off being friends with 4AD and it went wrong, why? It went wrong because of money, mostly. We were selling tons of records and we were all totally broke. And we could see the label spending a lot of money on other bands but not on us. So with the major label we decided to have a relationship with them because it was simple. It was a transaction. You give us a ton of money and we'll give you the records. It seemed a good idea at the time, it was a terrible idea in hindsight. Because in doing what we do, there needs to be an understanding between artists and labels.
None of us ever wanted to run a record label, I could assure you that. But here I am 21 years later, and I'm still doing it.
At the end of the day, it is all about business and commerce and selling units and all that stuff. But I don't think it has to be about that solely. I think it should be more about the connection, the collective, the collaboration and Bella Union to me was a way of trying to put right some of the things that I felt were wrong in previous relationships. Listen, I don't always get it right, I make mistakes, we all make mistakes. And certainly, for the first few years I didn't have a clue what I was doing. But people would say to me, "you can't be friends with your bands, that's a terrible idea." Why? You can be friends with anyone you want as long you have a trustful, honest relationship, the friendship will continue. Why do friendships break up? Why do relationships with your partner break up? Because trust went away or the other person did something that was unforgivable. Well, if you just restrict those things and you're honest and transparent, okay you may well drift apart at some point naturally but it doesn't need to be antagonistic, it doesn't need to be with an argument or a fight.
So my hope was and it still is, is trying to create relationships that are meaningful. And show that you can make great art with people that you respect. It doesn't have to be this sort of "them and us" situation, which it always was before. And as I said, I don't always get it right because you don't always work with the right people. You think you're going to. You start off with the great intention that "I'll meet these people, yeah they seem so great". Not everyone turns out that way and maybe they feel the same way about me. You're going to get it wrong. But if I get it right slightly than I get it wrong, I'll probably still be here next week (laughs).
The roster of the bands signed on Bella Union doesn't really have one particular characteristic that ties them together – unlike some labels who sign only similar-sounding bands. What brought you to sign these bands and what do you see in bands before signing them?
It's very simple, it's just a reflection of my own interest in other music. I'm not somebody that's just happy listening to the same thing over and over again. You know, a punk label, that's what they're going to do, that's wonderful. But for me, I'm always curious. I have many years in the history of the label where I was doing a radio show. And when you do a radio show, it's the most brilliant way to discover new music. In that period I was discovering a lot of things I wouldn't have heard before and it taught me a lot of ways to check out new music from all over the world that I wouldn't have known before.
I started off in a record shop, my first job was working in a record shop, my second job was working in a record shop, my third job was working in a record shop and then I joined the band. So my only work experience is in record shops. While Spotify and iTunes are like the biggest records shops in the world in a way, at the time there was no internet when I started. There weren't CDs, there were just vinyls and cassettes when I started. So my background of discovering music comes from humans, talking, sharing, word of mouth – "you got to check this out!", "this band is amazing!", going into shops and learning. And that's why I'm so curious because I think I learnt about that very early on.
At the end of the day, it is all about business and commerce and selling units and all that stuff. But I don't think it has to be about that solely. I think it should be more about the connection, the collective, the collaboration
In 1976, 14 years old, I was a punk and I didn't like anything else. I didn't like anyone older than 20. I thought anyone older than 20 was an idiot. Then I got a job working in a bigger shop and I suddenly learnt about jazz and Dylan and the Stones and Led Zeppelin. My preconceptions are changed. My prejudices, changed. And that's what happens with music, we're all the same. When we started off, we were very tribal about our favourite this and that, and then we get a bit older and we hear other things and be like "oh that's pretty good, I think I like that now!". And then something else comes along and I'm still the same curious person that I was when I got away from punk and discovered there were other things. And I don't want that to change. Hopefully, Bella Union is a reflection of that.
Bella Union has entered its 20th year last year. How has the music industry change since you started?
It's almost unrecognizable really. I mean, obviously the income has just disappeared. Even just 10 years ago when we released the debut album by Fleet Foxes, in Europe it sold a million a copies and 800,000 of them were from CDs. So that's a lot of money coming into the label, our label. Now, if the record came out today, maybe it would sell 10,000-20,000. The income has dropped significantly because the physical product has disappeared. Nobody really buys CDs anymore. A few people still buy vinyl, less than you would think by reading the press. I think the press would have you believing that this vinyl explosion was enormous. Yes, in a way it is, but it was mostly reissues of Fleetwood Mac's "Rumours", The Clash's "London Calling".
All these things are available again now and that's why there's so much money coming back because 60 year-old men are going into the supermarket and buying records again. But, in the underground scene and in our record shop in Brighton, the people that come in the shop are all kids. They can't necessarily afford much vinyl because they're expensive. But maybe they'll buy a cassette. Maybe they'll get some holiday money or birthday money from their parents and they'll come and buy a vinyl and they're investigating it and they're slowly starting to get excited about it. It's not just the domain of middle-aged white men, which the image of vinyl is for white, lonely middle-aged men. It's really not.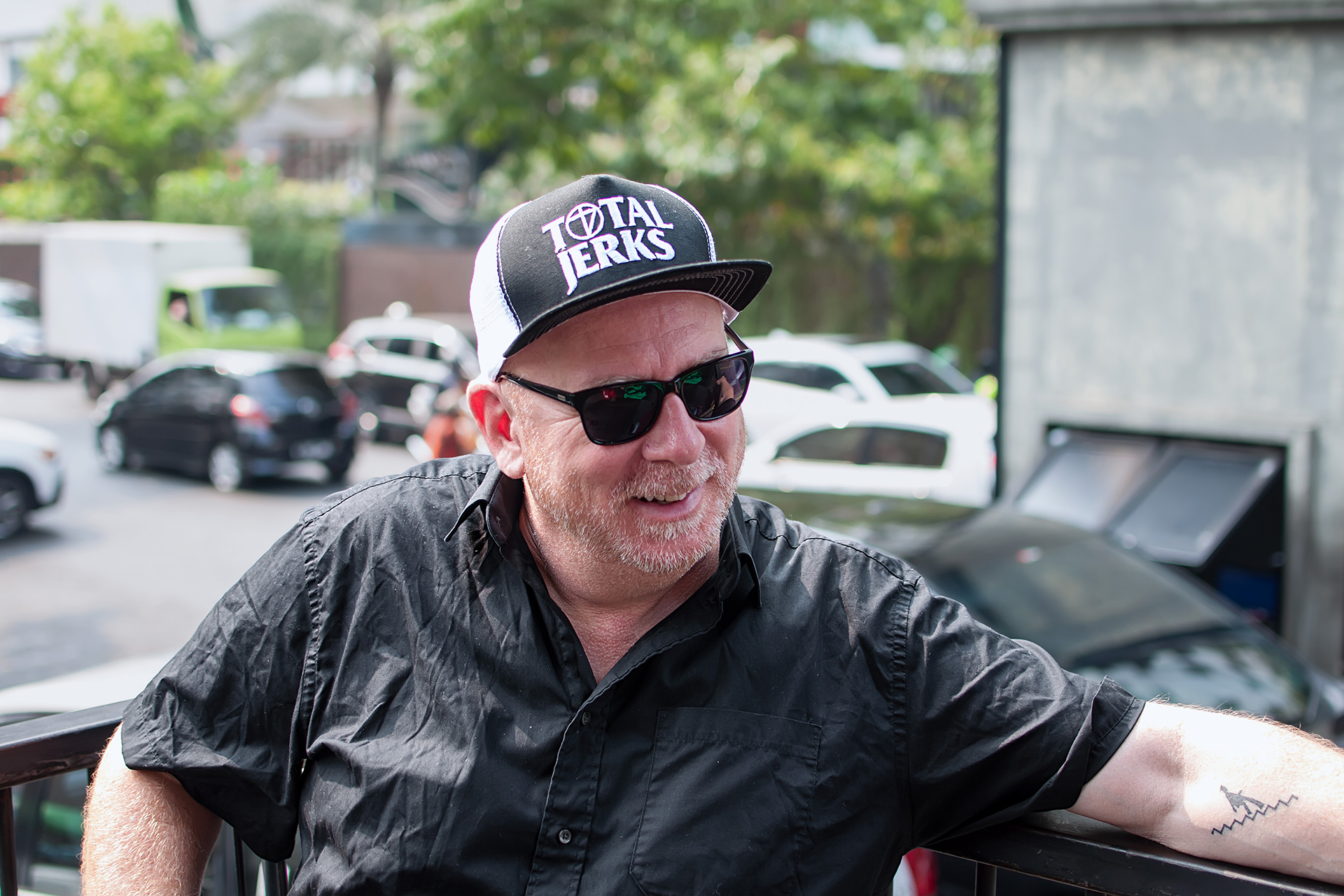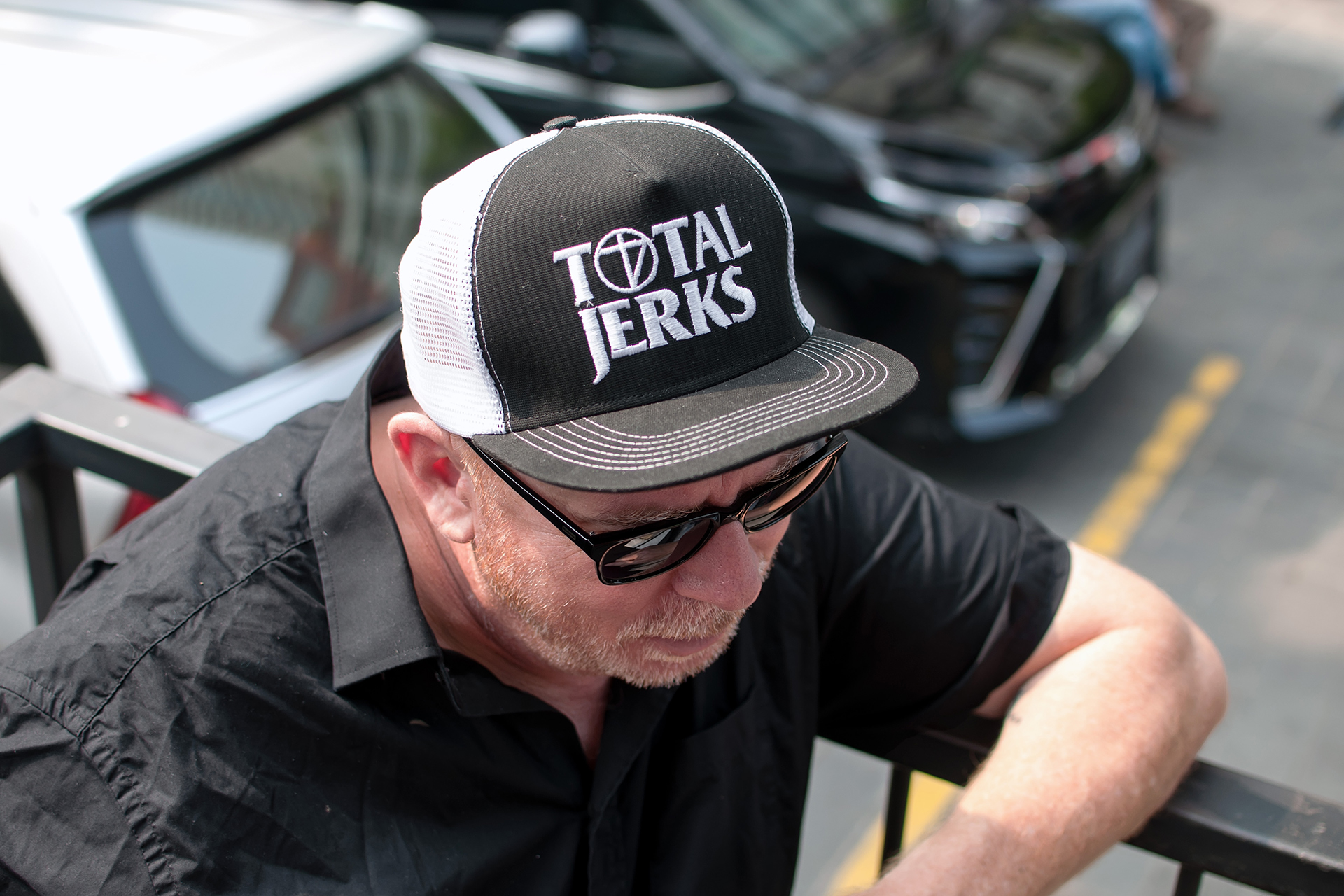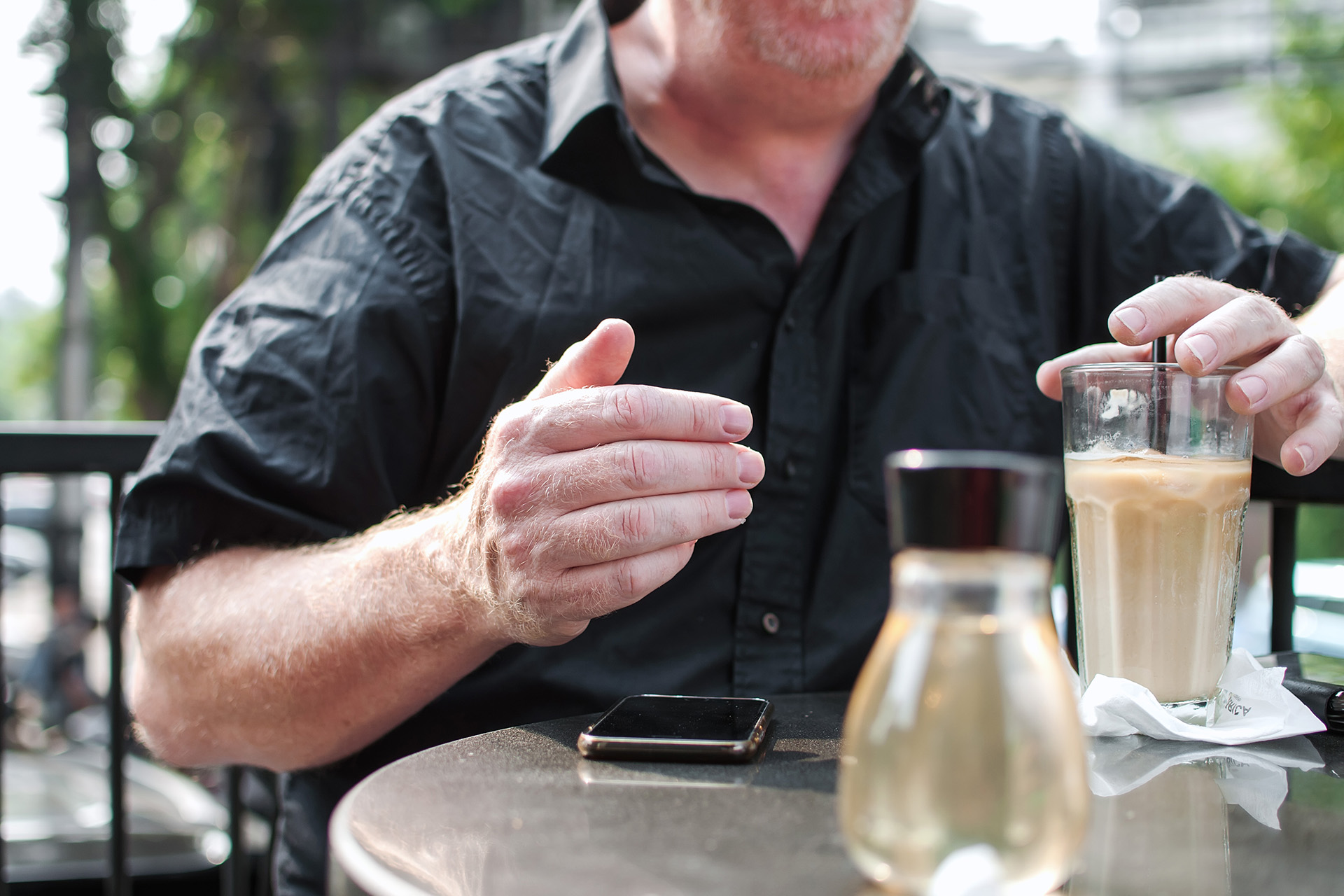 Our shop is selling pretty much exclusively to young people. And that's a brilliant thing but it would take time. And labels are not manufacturing thousands of copies of vinyls. We do runs of 200-300, and with an artist like Father John Misty maybe 10,000. But anywhere between 1,000-10,000 and that's about the limit. There's no more than that. There aren't more than 10,000 people in the world who are buying vinyl right now, in my opinion, unless it's something massively copied. So, the income has dropped, but your expectations have to just shift. It's not a bad thing, it's not like "oh God, let's just give up". It's just you have to adapt, and you have to go "okay well then this is how it is, no point in crying about it".
I'm not somebody that's just happy listening to the same thing over and over again.
There are other ways to make money if money is the motivation. For me, it isn't. I don't really give a shit. I don't ever care about how many records a band sells. I'm not interested. I don't look at the streaming numbers, or the sales, ever. Someone else does at the label, of course, I'm not an idiot. Somebody has to look at the stuff. But I'm personally not interested in it. My interest is in helping the bands, the musical side of things, the creative side of things. The business would take care of itself. And if right now the money division has changed dramatically, the pie has gotten much, much smaller, well, we have to work out a way around that. You guys are working your way around it. In Indonesia, with the way you release music, it has changed dramatically. It's more about the merch, the t-shirt, the cap, it's that stuff. Yes, the music, but that's not the motivating force because you could hear it for free. Because no one has any money. No one could afford £20 for the vinyl. Well, the rich can, but most working class could not afford vinyl or even CD.
If you're going to stay in the business, you have to adapt.
So, I can tell you about a band and in 5 seconds you could listen to them on Spotify for free. Is that a good thing? Yes, it's a great thing. Is it the same as it was? No. Is it better than it was? It's not better or worse, it's just what it is. I could be romantic about it and say "well, in my day, everything was so much better". It's just different, and you have to adapt. If you're going to stay in the business, you have to adapt. And it just means that when the band comes in and says "can I have £50,000 to make this record?", I'm like, "no, you can't", "can i have £5,000?" "maybe", because that's a more realistic amount of money given what you're going to earn now. Ten years ago, $50,000 for a band like Fleet Foxes would not be ridiculous, well actually they signed for $15,000. They were happy, they recouped their debt very quickly and now they're making great money. That's the ideal scenario. You don't want to be in debt to anyone.
As a band you don't want to be in debt to a record label. The problem is, for so many years in the major label industry, bands have been quite happy to be massively in debt. They'll take £1 million if the label's stupid enough to give the money. But eventually, you work out that "oh, I'm never going to make any money from that record. I'm going to be in debt to that label forever and they're going to own it forever." And that's exactly what happened to our band. We don't own anything that we released, and we will never own anything that we released. My label doesn't own a thing, we don't own anyone's product. We borrow it for the length that we agreed. You come to me and you say, "I've got this band and I want to put out a record", I'm like, "okay cool I'll give you this amount of money and I'll keep it for 5 years and I'll work with you and try to make you successful". Then after 5 years we could either agree to carry on for another 5 years or you can go off and work with someone else. That gives you freedom and independence for the band. I'm independent and now you're independent. Whereas previously, it's a fake independence. 4AD was a fake independent, because they were independent but we weren't. We were handcuffed to them forever, and remained so today. There's no difference with the majors, with the majors, of course they're gonna own you because they're giving you way more money. But a label like 4AD were giving us no money and owning us. That's not good. There's no positive there.
What advice would you give to up and coming new labels, or even to anyone thinking of starting a new label?
As a band you don't want to be in debt to a record label.
One of my sons, ever since he was a baby, has always been fascinated by music. And after he left school, he worked for a few years and saved up some money and went around the world – this is the kid who when he was 15 had more songs on his iTunes than I did, because he's downloaded them all for free. I'm like, "oh my God we're fucked, the world is fucked". If he's 15 and he's got a million songs for free, all kids in the world are doing the same thing and I actually believed that at that point, we might as well give up. And then he grew up, travelled around the world to India, Cambodia, Vietnam, Australia, all over the place, and then he came back when he was 23 and he said, "I want to start a label". (Laughs) I was like, "dude, are you crazy? That's the most stupid thing to do right now, there's no money in there!" And he said, "yeah, but I really love music and that's what I want to do". So that's what he does now.
If you've got a passion for something, don't let anyone tell you that you shouldn't be doing it. I think you have to accept that the world is so different, but it's not different for him because he doesn't know any different. He hasn't had my experience where it was like the heyday, where there was money rolling in and now there isn't any. He's only known a time when music was free. So he isn't approaching it from the viewpoint of "I'm going to make so much money!", he's approaching it from the viewpoint of "this is what I love, and I want to do it". Okay, he has a job too, he has a real proper job. Like most bands now have real proper jobs. You can't give up your job and expect to make money from music unless you're incredibly lucky, or making pop music, or doing something in the other side of music that does make money. In our weird world, there's no money until you get to a certain level. And that certain level is very different to what you think it might be. You may be headlining a festival and everyone thinks, "wow, they're so big", you're probably not really making that much money. You'll still be paying off all the money that you borrowed to get there. So it's a long game. You have to be in this for the long game. This isn't a quick fix. If you think "I'll get into the music business to make some money", well good luck with that. You'll be better off going to the casino because you'd get more chance of getting your money back.
On an interview from 2007, you didn't see yourself still being at the helm of Bella Union for its 20th year. Turns out, you're still here now. What does the future hold for Bella Union and for you as a musician?
I think the two things are very closely related, and maybe in 2007 I didn't realise it, but I was missing making music probably. That's my background, I'm a musician. I spent so much time and effort putting this label together and working with all these bands that I think I forgot about myself and my own passions. There's just wasn't enough time in the day, looking after all these problems and then you come home exhausted and you catch a few hours of sleep and you get up and deal with the next problem. And that's what I have been doing for 20 years.
There's a lot of enjoyment in helping bands achieve something. You see a band like Beach House, when they started out nobody knows them, and then 7 albums later, everyone knows them. That's a great feeling, I feel proud of them and it's good to be part of the journey. But I think for me to carry on doing this happily and fulfilled, I have to make music too. Whether it's a hobby, whether it's just on the side and I don't have to release or anything, that's fine. It's not about the releasing, it's about the doing, the making. I don't see anytime in the near future where I'm going to give up because I still love discovering new music. I listen to it all day, every day. And I haven't woken up yet thinking, "ugh God, more? I can't listen to another Soundcloud", I still love it and I'm still curious. When I'm not curious anymore and I'm just like "I don't care about your band" then I should definitely give up. But that hasn't happened yet, so, happy days.
I don't see anytime in the near future where I'm going to give up because I still love discovering new music.
As long as I keep making music when I feel like "I need to make music" so I got to keep the balance right. It's like the work-life balance, the real struggle, in my own way. Because my work is Bella Union and my life needs to be including not just walking the dog on the beach and spending time with my wife, it also needs to include making music. It's hard to find the time, that's the reality, because it is pretty full-on. We have 60 bands at the label and there's only 5 of us at the label. It's a worldwide operation now. But I have great people, I don't need to be on the phone all day solving problems. That's long gone. I have people that can help me with it. But I need to look at the problems, I can't pretend that it's not there. I have to be there and say, "oh shit we need to deal with this, can you deal with that?" I'm still going to oversee everything, read every email, and that's time-consuming. Sometimes, you get up in the morning at 8 o'clock and at 2 o'clock in the morning, the next day, you've answered 2% of your email because the problems sometime flow into the other. But it's better to be doing this than working in the toilet, so I have a great life, I'm not going to complain about it.