The Inspiration Behind A Multi-instrumentalist, Cosmo Pyke
We had an opportunity to do a quick interview with Cosmo Pyke after the show to talk about music, family, and his inspirations.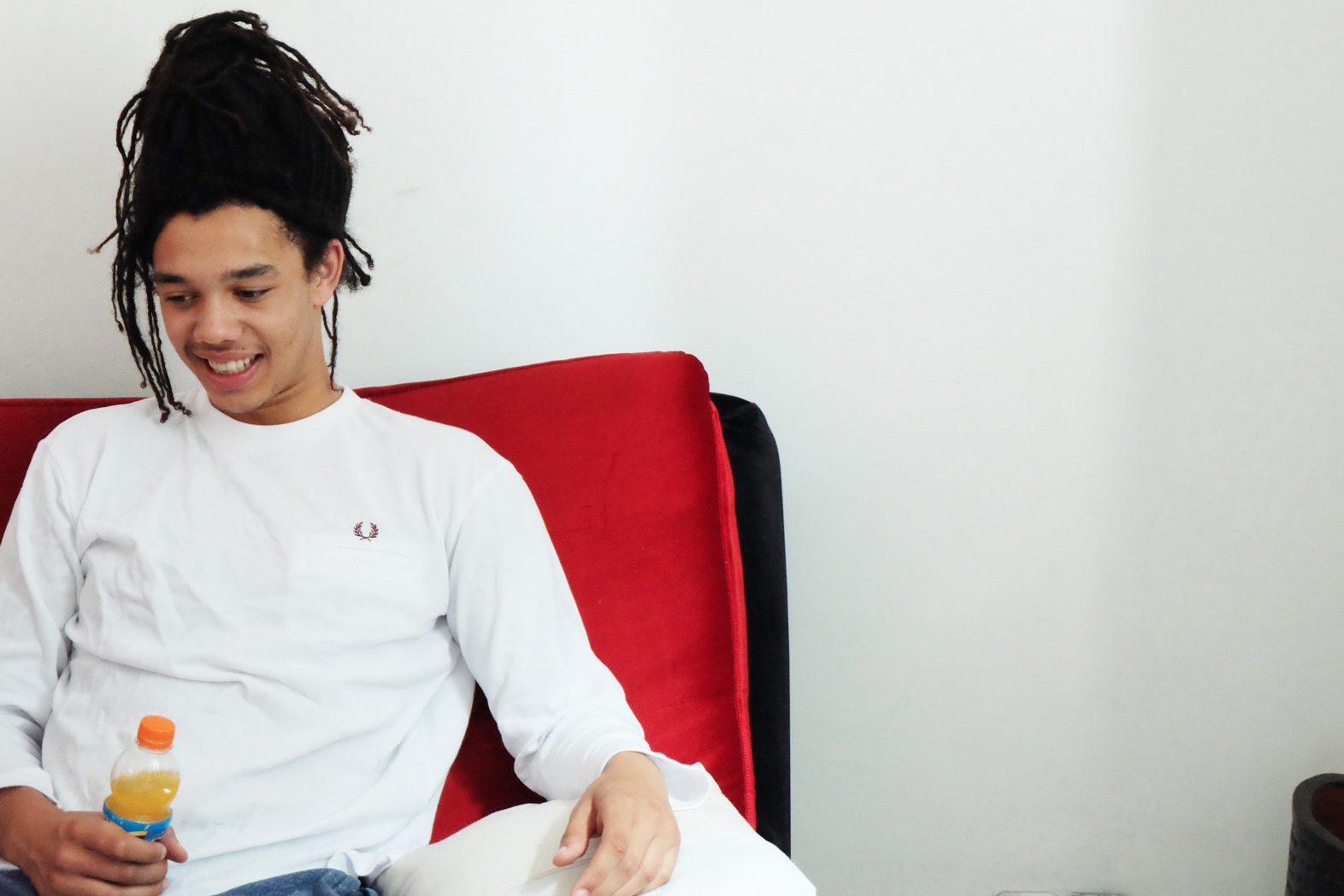 Teks & Foto: Salsabila Ramadhani
Cosmo Pyke, a songwriter and a multi-instrumentalist from Peckham, just hit Jakarta with his first appearance last Saturday, brought to you by noisewhore. Inspired by the multicultural world, Cosmo has crafted a soulful sound, ranging from jazz, hip hop, blues, and other related genres. Choosing Rossi Musik as a venue, Cosmo performed his best songs, including his upcoming-release songs. We had an opportunity to do quick interview with Cosmo Pyke after the show to talk about music, family, and inspiration.
Could you tell us about life in South East London and how it affects your music style?
Well, life in South East London is very good. I was born in a very nice family and house. I was a very calm baby, I didn't even cry when I was born. I was born in my room, in my house. My mom – she didn't believe in doctor, pharmacies, or medicines. She's a natural doctor – she does homeopathy. My parents took a big part in my life. They made me who I am today, and they're the reason why I am here.
You're known as a multi-instrumentalist musician. Could you briefly describe your music-making process?
I write the guitar chords down. I think about what I want to think about, and then I put lyrics to it. After that, I write the chorus, mash everything together, take influences from other people, steal things, gather it all, write it all down into one song, and then I play the song in my band. I keep playing it, won't stop playing it. After a year, maybe I'll put it out, because whenever I write a song it's like how long is a piece of string or an art.
You can carry a piece of art forever and you can draw my face forever. And then after I write a song, I will always play it – that's why last night I was playing on my new music, because I want to get better in it. So, when I actually have a chance to record it, then it will be the best they can be.
What and who are your musical influences and how do you think they shape the sound of your songs?
Bob Marley, Michael Jackson, Jimi Hendrix, Miles Davis, and everyone from jazz. My sound is very jazz-influenced, mixed with reggae, steady rock, blues, and hip hop. A Tribe Called Quest, Wu Tang Clan, Grime are influencing my music too. Basically anything black – I love black music.
We are pretty curious about your lyric-writing process. Beside catchy, I found most of the lyrics are quite poetic. You even featured Richmal Crompton's "Just William" sampling audiobook by Kenneth Williams in "Great Dane". What are your purpose behind every lyrics and is there any literature piece that inspires your lyric-writing process?
When I was young, I used to listen to Richmal Crompton's "Just William" every night before I go to sleep. When I got my first project, I feel like I wanted to have some samples on my music – so I thought it was the best thing. And then, I thought because I used to listen to that every night, I wanted to sample that. That's why I called the project "Just Cosmo" – because it's just me and my world.  
Fraser T Smith is the man behind Cosmo Pyke. How'd you end up making music with him, and what kind of contribution that Smith has to offer?
Such a big contribution, he was a brilliant man. He taught me a great chorus for "Great Dane". If it wasn't for him I wouldn't have written "Great Dane". I found out about him because I went to the Brit School, which is the same school as Amy Winehouse. I was in school and I saw an announcement in the board about an audition for Sony. After that, I signed up to that audition. I stayed up in the school until 17.30, and ended up meeting my manager, who also managed Fraser T Smith. After that, I played my music in front of him.
Two weeks later, I got a ring and they said that I should come to the studio. So I came to Fraser T Smith's studio, but didn't get a chance to meet him because he's so busy. I played my songs there and they filmed it. Few months later, I met Fraser T Smith, and from then on we decided to write music together. He helped me record my EP, "Just Cosmo".
How do you feel about the state of the creative industries today?
Terrible. They were just doing the same thing. You got to do something different. Everyone just does chop work and it's boring. I am independent, I don't have a label, I just do music on my own. I don't look at the creative industry. I just use my talent and try to connect with people through YouTube, and I think that's the biggest creative industry. YouTube is good. It's free, and it's cool.
Is there any interesting things that you experienced, or anything you'd like to explore while touring in Jakarta?
I wasn't feeling well, so I don't have a chance to go outside. It's so hot out here, and I do like it. I want to come back definitely, and go to Bali as well.
Do you have any future projects planned? A full album perhaps?
I got an EP coming out on January, and I played 3 of the songs last night. The new songs are begging to be on that. And then after that, I'm writing an album for next year, 2019. The EP is called "A Piper for Janet". Janet is my grandmother, and she died last year. She was born in 1922 and died in 2017. Me and my cousin are living in her house, so we decided to write music for her, called "A Piper for Janet". The name "Piper" comes from an artist's last name, John Piper.
So, my grandmother's friend, a British artist, did a piece of art for my grandmother and it's like the same style as John Piper – because he had a unique style. It's like a watercolor inspired painting, for Janet, and it says on it, "A Piper for Janet". After that, "Just Cosmo" came out, and I was thinking, what should I do next for my new music. Then, I saw that art, and I thought I want to work towards that. So basically, I've been writing my EP, for a piece of art, it's "A Piper for Janet".