Things We Like: Dari Minggu Kedua Maret
TV series, buku resep, hingga film yang kami sukai.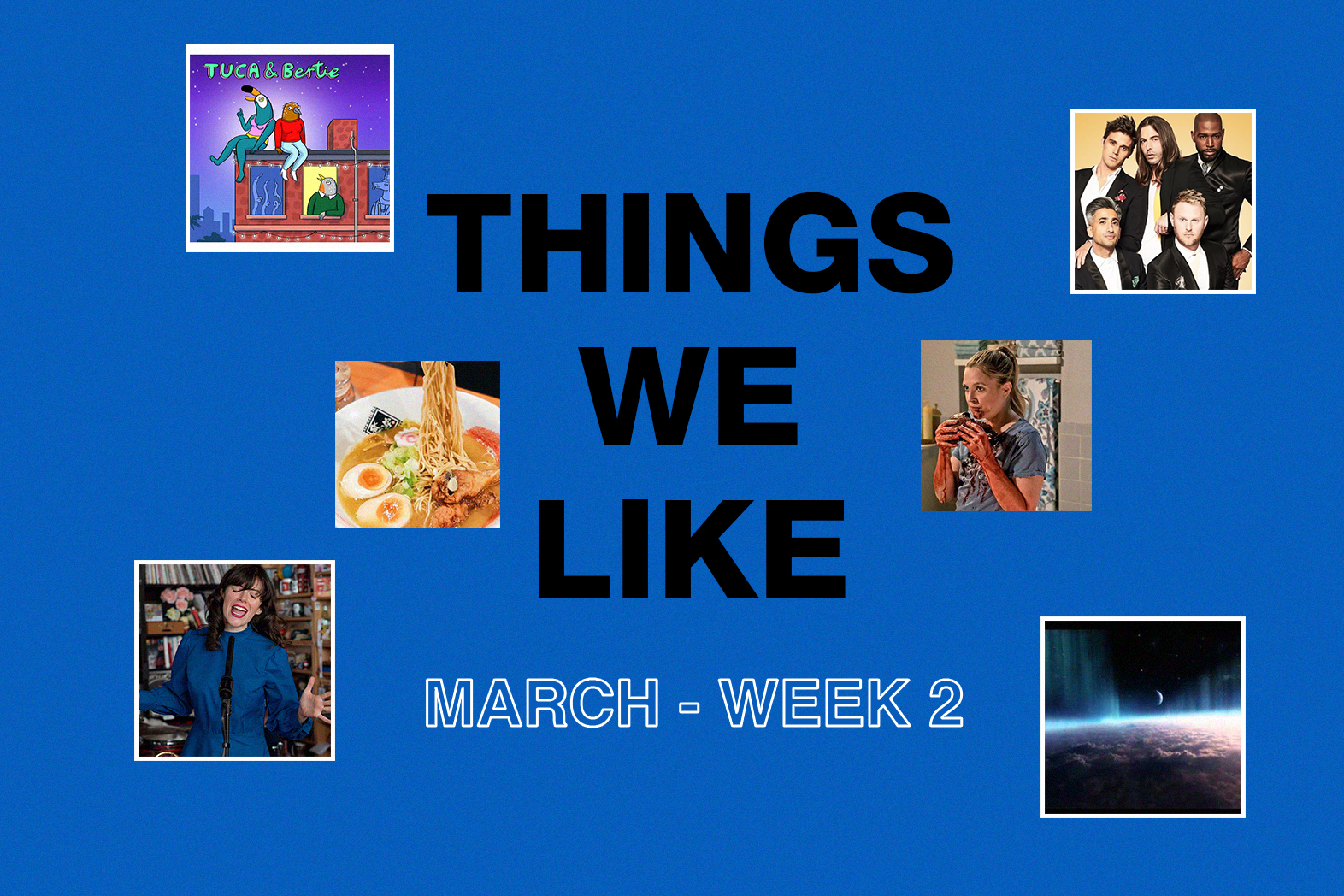 Di  "Things We Like", kami mengumpulkan hal-hal yang sedang disukai oleh tim Whiteboard Journal berikut alasannya. Dari season terbaru dari "Queer Eye", film disturbing yang visually pleasing, buku masak dengan resep yang mudah, hingga kedai ramen di Mangga Besar, berikut adalah "Things We Like" dari minggu kedua Maret.
FEBRINA ANINDITA
Editorial Staff
What:
Queer Eye Season 3
Description:
HENNY!! They're back! Seru dan kaget bisa selesai dalam 1,5 hari hahaha. Sekarang nggak sabar nonton "Queer Eye: We're in Japan" karena ada Kiko!
AMELIA VINDY
Editorial Staff
What:
Pieles
Description:
Visually eye pleasing yet disturbing. Pokoknya film ini menarik banget, karena bikin otak dan mata lo nggak singkron. Otak lo tuh terganggu nontonnya, tapi mata lo sangat-sangat termanjakan sama visual dan cinematography si Eduardo Cassanova. Film ini memaparkan realita untuk mereka-mereka yang lahir kurang sempurna dan bagi mereka yang "berbeda". Lo harus cobain sensasi perdebatan batin antara mata dan otak lo saat nonton ini hahaha. Selamat menikmati.
GHINA HANA SABRINA
Editorial Staff
What:
Tuca & Bertie
Description:
"Bojack Horseman" producer and art director has a new comedy series coming up! It follows the lives of two 30-year-old bird women who live in the same apartment building, hence Tuca and Bertie. Seeing how great Bojack is, I'm pretty sure this new series will be too.
EMMA PRIMASTIWI
Editorial Staff
What:
Aphex Twin – Stone in Focus
Description:
Change doesn't come into your life with a gentle knock on the door. It barges in. At times not so abruptly, it likes to sneak up on us. We may not notice it at first, but it comes anyway. Slowly in the beginning, and then all at once.
JANUAR KRISTIANTO
Heart Attack
What:
Love, Death & Robots.
Description:
Suka sci-fi? Premise post-apocalyptic? Talking Robot? Alien? Serial animasi Netflix ini layak dijadikan pilihan utama kalau lo pengen sesuatu yang fresh, beda & visionary. Hell if that ain't enuf, mungkin kehadiran David Fincher dalam tim produksi bakal bikin lo semakin penasaran (well you better be). Komparasi serial ini dan "Black Mirror" bukanlah mengada-ngada, dua-duanya punya gagasan kuat tentang konsekuensi sebuah dystopian future. Buat lo yang kurang betah berlama-lama mantengin serian, ga perlu khawatir karena tiap episode dalam "Love, Death & Robots" berdurasi singkat tapi tetap menyuguhkan cerita yang menarik.
DILA F. HASAN
Graphic Designer
What:
Santa Clarita Diet
Description:
Been feeling so bored with the routine and feeling unproductive at the same time. So I've been watching sooo many tv shows, in fact I think too much that I've bored myself with it, tapi tiba–tiba Netflix rekomendasiin series ini, well to be honest, this is one of those typical zombie stories so Iwon't expect too much. TAPI ceritanya lite, pace-nya life-like, jadi gak lompat-lompat yang bikin bingung, so dis ok for me. Also, mereka punya level humor yang rendah menurut gue sangat bikin mood naik disaat lagi lelah dengan semua rutinitas.
KANIA THEA PRADIPTA
Graphic Designer
What:
Orenchi Ramen, Mangga Besar
Description:
I accidentally crashed in this little mediocre-looking japanese resto in Mangga Besar area. Turned out, it offered a lot more than it looked. The vibe resembles the ubiquitous Japanese restos' vibe that you know in Blok M (Daitokyo, Kashiwa, etc. you name it), tapi disini lebih sepi dan laid back. It has various option of food from ramen, curry rice, bentos, to authentic appetizer. Gue pesan bento, yang lo bisa pilih sides-nya apa, mainsnya apa (which is super good! I love this feature), dan gue pilih cheese croquette dengan chicken nanban. OISHIII. Enak pake banget. Porsinya gede dengan harga sekitar 50k-65k. Truly worth it. Gue juga nyoba appetizer dan dessert-nya, both were super delish as well. Intinya semua yang ada di sini enak. Jadi ini semacam hidden gem nya Mangga Besar kali ya, karena jarang banget gue nemu resto Jepang otentik enak nyaman affordable di daerah sini.
SABRINA FARIZKY
Marketing & Sales
What:
Natalie Prass: NPR Music Tiny Desk Concert
Description:
The set was short, sweet, and perfect.
Suara Natalie Prass yang ringan cukup bisa menemani dan membuat senang hari-hari gue yang sedang dipenuhi bedrest, dan batuk.
ADYTHIA UTAMA
Videographer
What:
LEON – Breakfast & Brunch – Naturally Fast Recipes
Description:
Setelah beberapa minggu meninggalkan rumah dan orang tua lalu tinggal di apartemen. Maka sarapan sudah harus disiapkan sendiri. Sekitar semingguan lalu saya ke event bertajuk Big Bad Wolf Book Sale di ICE BSD. Nah terus ketemu deh nih buku resep. Mayan cuman 70 ribu dan buat nubie kayak saya. Hingga hari ini saya berhasil membuat sekitar 3-4 dari resep2 yang ada di buku ini.
MAR GALO
Bamboo Twist
What:
Dear Ex | Netflix
Description:
Love love this Taiwanese film about a bitter feud between a disgruntled ex-wife and a gay lover of a recently passing man. In the center of the tumult is the son who has a difficult relationship with the mother. The characters are very well-developed, the soundtrack is catchy, cinematography and coloring are top notch, and plenty of heartfelt moments. Reminds me of "Happy Together" meets "Rebel of the Neon God". Watch it and you won't regret it! Oh, and Roy Chiu is quite a hunk.