Things We Like: What We Plan on Doing During PPKM
Kumpulan aktivitas yang akan dilakukan selama di rumah saja.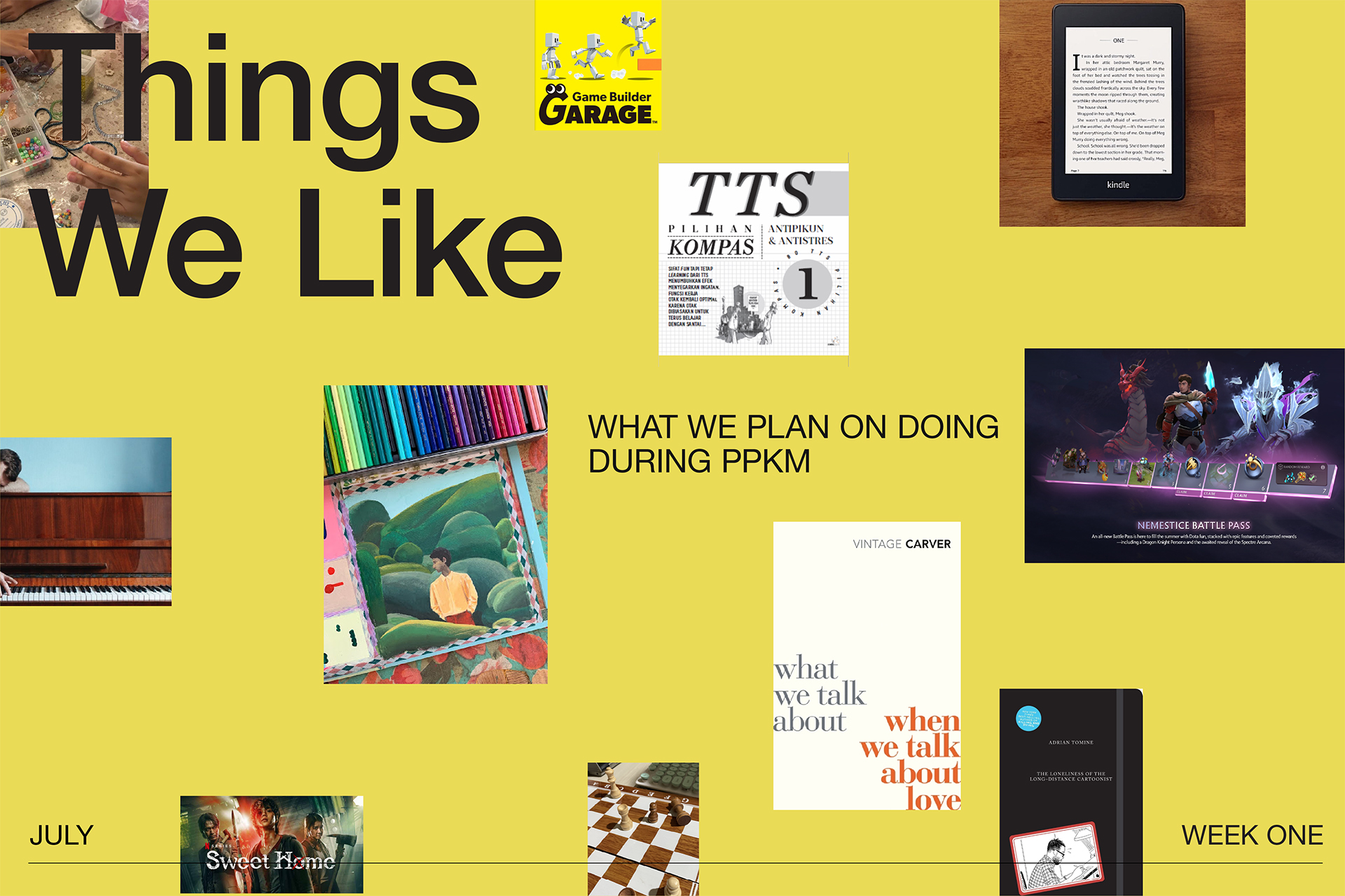 Pandemi kian merebak, kita pun terpaksa kembali ke masa seperti awal pandemi pada Maret 2020. Dengan kembali menjalankan hari-hari di rumah saja, kita pun kembali menghadapi realita yang mengharuskan kita untuk menikmati waktu di rumah. Untuk itu, kami mengumpulkan beberapa aktivitas maupun hobi yang akan dilakukan tim selama melewati masa PPKM.
M. HILMI
Managing Editor
What:
Baca Buku Lagi
Description:
Untuk sejenak melupakan berita buruk di timeline, belakangan lagi baca beberapa buku. Beberapa adalah buku lama yang belum sempet kebaca, salah satunya adalah buku Eka Kurniawan "Seperti Dendam, Rindu Harus Dibayar Tuntas". Abis baca jadi semakin penasaran bagaimana nanti Edwin menerjemahkan dalam bentuk film. Buku lain yang juga seru adalah "The Loneliness of The Long-Distance Cartoonist" karya Adrian Tomine. Sebagai penggemar berat, senang bisa membaca karya terbaru dari Adrian. Di sini, Adrian menuliskan memoir kehidupannya sebagai seorang kartunis yang seringkali ironis. Tapi dari pahit kehidupan itu, Adrian bisa mengolahnya menjadi karya yang beberapa kali mengundang senyum dan pada akhirnya mengundang haru. Sangat direkomendasikan bagi mereka yang sedang mempertanyakan keputusan-keputusan hidupnya (termasuk soal karir). Secara desain, buku ini juga menarik, berasa beli buku moleskine dan berhadiah ilustrasi komik dari seniman idola. 
FEBRINA ANINDITA
Editorial Staff
What:
"Sweet Home"
Description:
Lagi kena demam Song Kang nih. Sebelum nyemplung nonton "Nevertheless", disaranin teman untuk nonton ini secara berurutan di Netflix: Sweet Home, Navillera, Love Alarm, Nevertheless. Dalam 2 minggu gw pun tamat nonton 2 series pertama haha. "Sweet Home" mantep sih jalan ceritanya. Jadi gw rekomen itu juga buat perkenalan.
Nah, tapi karena gremet, jadinya gw sekarang juggle "Love Alarm" bareng "Nevertheless".
Gih coba kenalan sama Song Kang. Tapi nggak tanggung jawab sama efek sampingnya ya.
GHINA HANA SABRINA
Editorial Staff
What:
Catching up on reading & writing and other things
Description:
Honestly I don't really plan on doing new things during this lockdown. I barely even finished the things I started doing during the last lockdown, so I guess it's no different. Might sound a bit too pessimistic but I'm just being realistic! So yeah, need to focus on making time for myself and continuing other projects like @onlazysusan.
EMMA PRIMASTIWI
Editorial Staff
What:
Main Piano
Description:
I've always played, but sporadically. Dulu sebelum pandemi rutinitas gue pulang kantor pasti spend about 10-15 minutes playing to destress. I'm about to have a lot of spare time on my hands, so I really want to level up my skills, like properly with a teacher (online ofc) and everything.  
Playing makes me very very happy, I'm not as good as I used to be but it's ok. Everything is a process and I'll learn to take it a day at a time. Thankfully through pure muscle memory my hands still remember how to play some pieces but if you ask me what the notes are…. girl I really can't tell you. So, can't wait to revisit some of my old exercise books and seeing how horrible my sight-reading skills have gotten. 
CLARISSA AMABEL
Art Director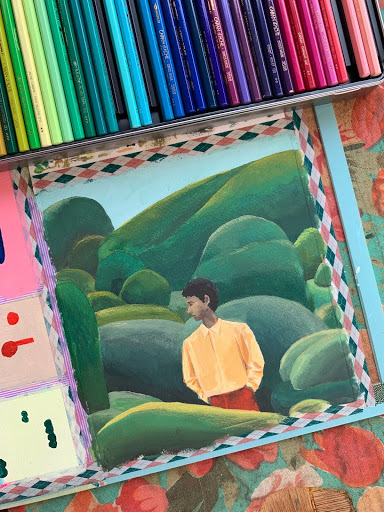 What:
Painting (& gaming)
Description:
Mulai melukis lagi sejak Corona2020, ketika menemukan onggokan alat gambar yang lonely sejak jaman kuliah (10 tahun bok). Yang gue suka dari aktivitas ini adalah gue bisa melakukan sesuatu pake tangan lagi, sedikit menjauh (walau gak pernah lepas) dari layar. Ngunyek-ngunyek kuas sama cat itu menyenangkan. Yang gue gak suka adalah karena ini, ehm, visual dan sifatnya kreatif, daku jadi overthinking lagi dan serba berusaha ngatur semuanya. Gimana mau jadi aliran expressionist kalo begini, huft.
Nah tapi akhir-akhir ini gue jadi gak disiplin melukis karena lagi main Divinity Original Sin II Definitive Edition wakwakwak seru guys lagi sale loh di Steam. TURN-BASED COMBAT FTW.
MONICA IVANA
Graphic Design
What:
Reading
Description:
Kalo lockdown pertama gue menghabiskan waktu dengan main ACNH sampe tolol, kali ini gue mau melakukan sesuatu yang lebih berguna. So… In the spirit of productivity and self-betterment, I finally bit the bullet and indulged myself with something I've been meaning to buy since my first year in college–it's been 5 years since, mind you–in hopes that I could read more this year! Yay me and nay me for my impulsiveness!! Bad financial decision aside, I've actually finished off a couple of new books and re-read some old ones since. I'm trying to read something that is actually useful rather than YA fictions for now since they can be the death of my sleeping schedule.
TIANA OLIVIA
Graphic Design
What:
Chess
Description:
Never thought that I would ever play chess during my leisure time, but here I am lolll. Been playing chess since a couple of months ago and I'm actually getting better at it (i think….). If I have more time, I want to actually learn more about it, like the famous chess openings and all that nerdy chess things. And no, I did not start playing chess bcs of Queen's Gambit.
MARDHI LU
Graphic Design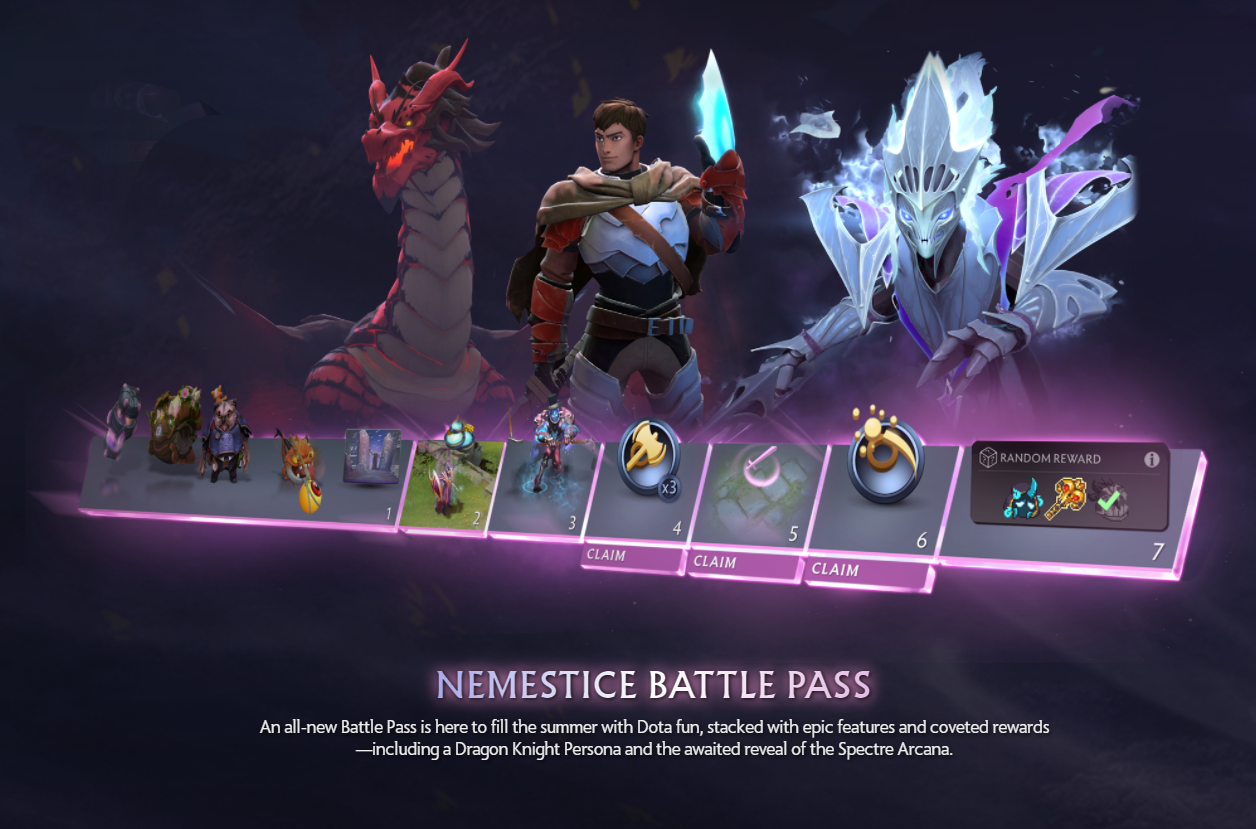 What:
Grinding out Dota 2 Battlepass
Description:
Dota ngeluarin summer battle pass dan gue akan nge-grind semua reward yang bisa gue dapetin semaksimal mungkin (grinding things helps run away from depressing situation and life HAHA) 
Untuk yang gatau battle pass itu apa, battle pass itu adalah semacam loyalty card yang lu beli. Dan lo bisa maen terus untuk unlock lebih banyak reward. The money from the battle pass will be used to support tournaments prize pool and developing the game itself.
SABRINA FARIZKY
Marketing & Partnerships
What:
Lebih Rutin Olahraga
Description:
Setelah mulai loyo olahraga beberapa bulan terakhir ini, kayaknya momen PPKM ini adalah waktunya ngerutinin jadwal olahraga lagi, dan sepertinya inilah saatnya membangkitkan jiwa ambisius ku untuk unlock semua achievement medals di NTC App. #FitGirl2k21 LET'S GOOOOO!!!
SHADIA KANSHA
Editorial Intern
What:
Mengisi Teka-Teki Silang
Description:
Ibarat kejatuhan Duren, kemarin sempat menemukan buku TTS di rumah yang masih kosong (dan ini bukan buku TTS yang cover-nya penyanyi dangdut ya, if you know what I mean). Selama lockdown, kebutuhan untuk menatap layar, apapun itu, meningkat. Mengisi TTS adalah alternatif hiburan yang baik dan bermanfaat supaya nggak lihat layar melulu. 
Oh ya, kalian berani nggak ngisi TTS tanpa lihat Google? Seru banget asli! Salah satu hal yang aku dan keluargaku lakukan minggu lalu adalah matiin semua device kita dan bener-bener muter otak untuk mengisi satu lembar TTS tanpa nyontek sekalipun. Sulit banget tapi setidaknya setiap diskusi, perdebatan, cocoklogi, dan tawa di antara kita bisa jadi sesuatu yang manis dikenang dari pandemi yang pahit ini. 
https://gerai.kompas.id/produk-kategori/buku/tts-kompas/
HANINDITO BUWONO
Editorial Intern
What:
Baca kembali buku kumpulan cerpennya Raymond Carver "What We Talk About When We Talk About Love"
Description:
Entah kenapa pikiran apa yang terlintas di benak gue kalau mendengar nama Raymond Carver tuh langsung tertuju sama salah satu puisi beliau di batu nisan makamnya, 
"And did you get what you wanted from this life, even so? 
I did.
And what did you want?
To call myself beloved, to feel myself beloved on the earth"
Mungkin dengan gue bisa selesaiin bukunya, siapa tau gue akhirnya memaknai bahwa kasih sayang itu sebenarnya bisa menyerupai berbagai bentuk — baik secara langsung maupun tidak langsung — kepada seseorang. Dari bentuk yang sangat manis, hingga yang sangat absurd. Dan, menurut gue itu sebenarnya yang diperlukan serta diketahui oleh orang-orang selama pandemi ini.
AQRAA SAGIR
Social Media Intern
What:
Game Builder Garage – Nintendo
Description:
I love videogames, and I've spent so many hours enjoying so many different types of games this past year and a half because of the pandemic. So when Nintendo released Game Builder Garage, a half game half interactive learning experience about making video games, I bought it on the first day. If you have a nintendo switch, this game is an absolute must buy, because not only is it a solid game by nintendo, it's also a profound educational experience, where you get to learn about foundational programming theories, insider look at how Nintendo approaches game design, and a virtually endless amount of games that you can download from other players or create by yourself. 
This game is a powerful creative tool, that I think everyone can enjoy, and I wholeheartedly recommend it to anyone who is interested in learning the magic behind video game production. 
Its also half the price of full priced Switch games!
VERISKA
Social Media Intern
What:
Menyelesaikan unfinished business dengan Thomas Shelby
Description:
Sebenernya kalo ngomongin series, gue bukan tipikal orang yang bisa memberikan komitmen tinggi (disclaimer: gue bukan sagittarius) dalam mengeluarkan tenaga jangka panjang untuk series yang punya season cukup banyak. Entah udah berapa banyak series yang gue tinggal kan begitu aja, karena merasa gak punya waktu dan tenaga segitu besarnya untuk memproses cerita dan permasalahan seru di series tersebut, salah satu contoh konkrit nya adalah Peaky Blinders. 
Gue meninggalkan Peaky Blinders di season 3 karena merasa itu terlalu seru dan gue membutuhkan spare waktu yang khusus dan cukup banyak untuk series satu itu. Di satu sisi, sejak gue berhenti di season 3, there's a lot plenty of known unknowns and unknown unknowns in that season. So there's a lot on my mind regards to the unfinished business on this series that I believe is best answered by wrapping it up over this quarantine. 
AZZAHRA SANIDHYA
Social Media Intern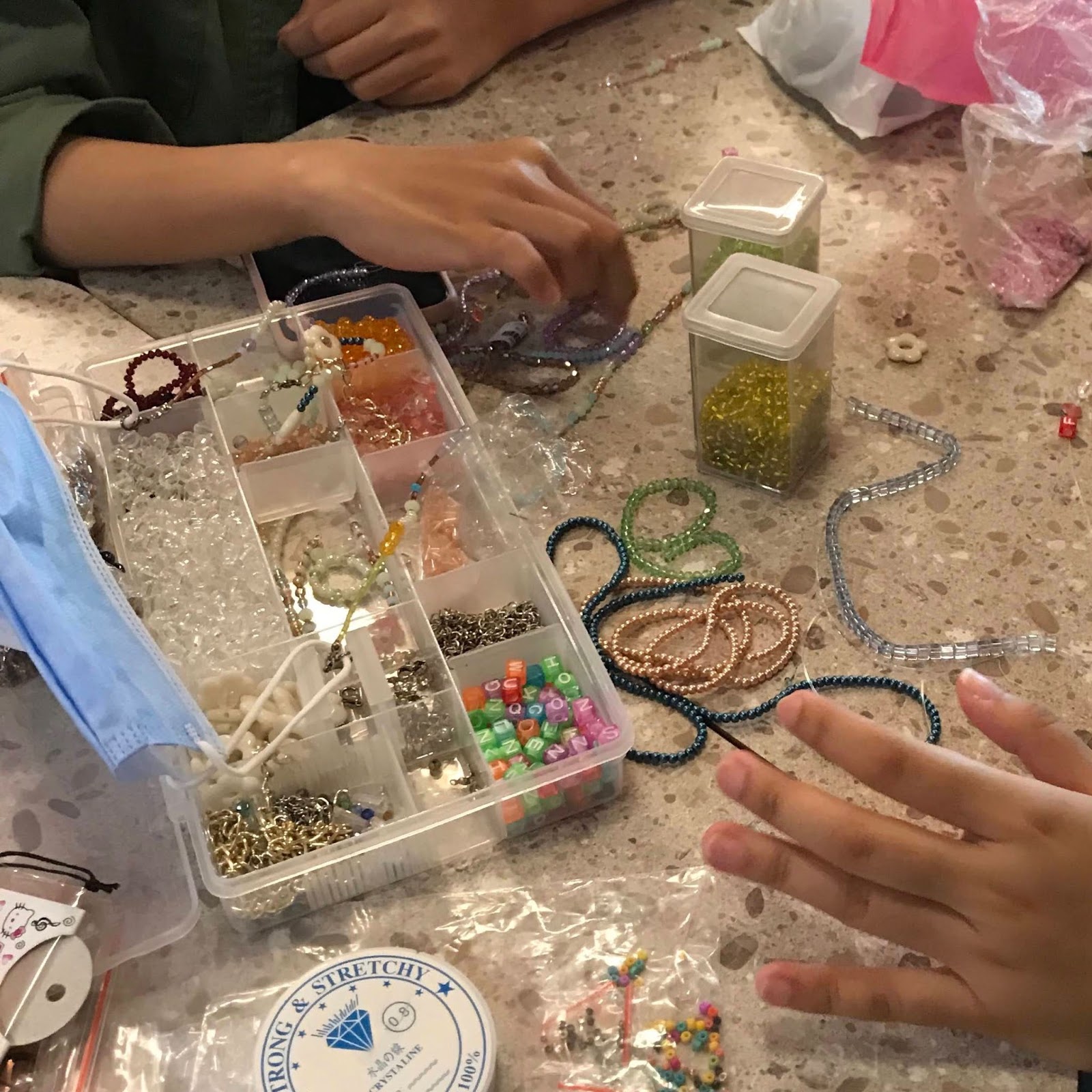 What:
Make things with beads!
Description:
Hal yang selalu berhasil bikin gue mikir 'hah, udah jam segini lagi?' itu otak-atik hal yang sifatnya diy, salah satunya membuat gelang, cincin dan kalung-kalung dari beads! Sebagai orang yang seneng ngulik sana-sini, hal kayak gini beneran berhasil bikin kamu fokus dan lupa waktu! Mulai dari cari-cari referensi ke Pinterest dan Instagram, sampai ubek-ubek marketplace buat belanja segala kebutuhan yang diperlukan buat bikin hal menggemaskan ini.
Gak cuma itu aja, sering banget rasanya gue mau putus asa ditengah jalan karena salah teknik iket-iket tali benang, salah masukin urutan beads karena ga fokus dan mata udah pusing liat tali benang yang super kecil, tangan lengket kena lem perekat, atau benang yang dipakai putus ditengah jalan waktu lagi serius masukin beads ke tali benang, asli ngaco banget, deh! Tapi worth to try, sumpah! Apalagi waktu kalung, gelang, atau cincin itu udah jadi, gue jamin temen-temen lo pengen minta dibikinin!