Discussing Funky Kota with DJ Jet Baron
Shunsuke Izumimoto (S) talks to DJ Jet Baron (J).
by Ken Jenie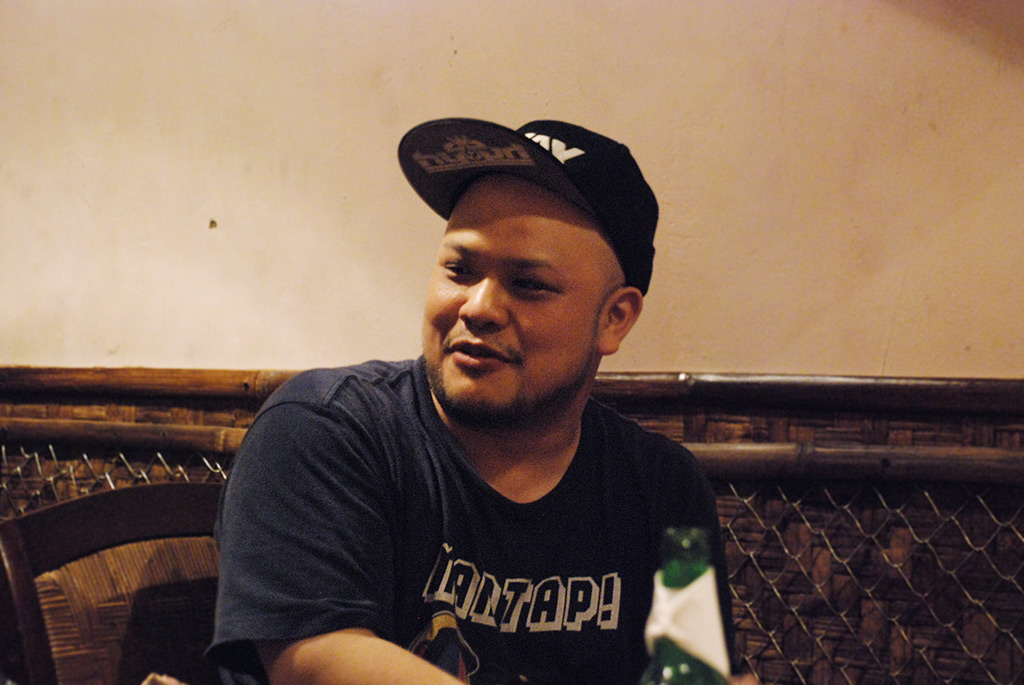 S
On a more general note, could you tell us how your interest in music began?
J
When I was in middle school, I wasn't really interested in J-pop. When I was in the third year of middle school, Denki Groove was pretty big. I thought they were interesting so I started listening to them. When I was in college, I was doing my part time job and started to learn sampling. Through the internet I got into Japanese rap, and finally during my college years, I found out about dangdut.
I was like, wow! What is this? It is kind of like Enka [a music style adapted from traditional Japanese music]. It was interesting, but I didn't know much about it so I went to Youtube to find out about the current state of dangdut. That was when I stumbled on Funky Kota – Funkot – which is Indonesian house music.
S
Alright, so you first discovered Funkot on YouTube.
J
That's right.
S
Could you describe to us your impression of Funkot music?
J
My impression? Honestly, at first I thought it was interesting. It was something that could make me laugh. It also seemed a bit cheap, frankly speaking. "What the hell is this?" I thought. It's a mix of things that aren't usually mixed together. The melody is sort of like Japanese Enka. But the rhythm and bassline is not what you'd find in regular Enka. There's a bit of trance in there. (Laughs). Funkot manages to mix music that aren't considered compatible, and the result works in a chaotic way.
You wouldn't hear something like this anywhere else in the world. You can only find it in Indonesia. I've never heard of anything like it.
S
So Funkot is something that you can't really summarize. It's pretty messy and includes a lot of different things.
J
Yeah, I really couldn't tell what it was because it was a mix of everything, but I just thought there's something interesting about it.
S
What genre of music do you play aside from Funkot?
J
Right now, I only play Funkot. (Laughs) As to why that is, I guess it's because Funkot sort of goes with just about any genre. And I can find the genres that I like in it. There's really no need for me to play other genres.
S
How does Funkot music relate to the other genres of music you listen to?
J
There is no connection between Funkot and other genres because Funkot itself is already a lot of different genres at once.
Normally, when a DJ plays a certain type of dance music, the bpm [beats per minute] would stay in a relatively consistent pace. In Funkot, you can suddenly change the tempo drastically from one song to another, often using the "are you ready!" breaks for transition. I wouldn't find so much freedom anywhere else.
S
How did you introduce Funkot music to your audience in Japan?
J
Initially, most people did not understand the music. They just saw it at face value and found it funny/interesting because it was so new. More people became interested in the music and its background after finding it on the internet.
S
Are there similar genres in Japan?
J
Similar genres. Hmm… Probably local dance music, like the one that is influenced by Eurobeat. Yeah, I guess that's pretty close to Funkot. Well Eurobeat originally came from Italy and then adapted into the Japanese context, which has then become unique to Japan. But the beat itself was still borrowed, whereas in the case of Funkot, the beat is completely original. So I suppose there is nothing quite like it Japan as of now.
Funkot is somewhat similar to the Wa Euro. Wa Euro was Japanese pop mixed in an Italo Disco style in the 80s. Japanese pop artists would send their songs to Italy to have it made with an Italo Disco production. So it similar in the mixture.
The big difference between the two is that though Funkot began as a hybrid of house music, it has evolved into its own original music – the bpm and the rhythm has changed. It is its own genre now.
In terms of sound, the most similar music that could be made is if you mix songs from Ondo (Harvest Festival) with House music.
S
Has the Funkot "scene" grown in Japan?
J
Well… compared to four years ago, the current scene is surprisingly much bigger. On a national level, the teams of Funkot DJs that have been formed are definitely increasing – Hokkaido, Kansai. Basically, it's growing in many places. A lot of young people are also starting to find Funkot interesting and want to give it a go. So many of them get together to make their own events.
S
So the growth isn't necessarily happening in the big cities, but in individual regions.
J
Small cities have their own Funkot scenes, and are adapting new elements to it such as video game sounds, and pop musician making Funkot remix of their songs. They are creating an evolution of the genre, but I do not know if this is right or not. It isn't the authentic Indonesian style of Funkot, but is rooted in the music.
S
In Indonesia, Funkot is listened to mostly by a certain class. How is it in Japan? Is there also a divide between class and music?
J
Right, well, in Japan, I don't think that the idea that poor people listen to this and the rich people listen to that exists. But, I guess, the most similar concept the Japanese have are otakus [a term for people who are obsessed with, typically, anime and manga] and yanchas [a term for people who are typically viewed as being mischievous, naughty, wild].
For the time being, Funkot is most popular among the otaku community. I would like it to be more of a mixed community with yanchas also in the scene, I believe they will enjoy Funkot as well.
S
So in Japan, it's not so much about the social class – as it is Indonesia – but more about hobbies and lifestyles.
J
Yes, exactly.
S
Funkot is a genre that came from another culture. So what's the difference between the original version and the Japanese adaption?
J
The selections and remixes are of course different. And the original Funkot is meant to be for larger audiences in discos, and played on large sound systems. The volume/sound management is different. But in Japan, it's for much smaller clubs. And a lot of people in Japan listen to it at home. A computer and a normal sound system would suffice.
S
What does Japanese Funkot actually sound like?
J
There's no dynamic range. For many people, it's something that you listen to at home, typically via the Internet. It's not necessarily something that you listen to at clubs – although it's slowly making its way into clubs – but predominantly, it's still something that appeals to the Internet society.
I think that Funkot is meant for the dance floor, so I sometimes wonder how people who prefer to listen to it are able to enjoy it.
S
How about in the car?
J
I don't think that sort of culture is here yet.
S
You've visited Indonesia several times. What is your impression of this country?
J
Indonesia is… how should I say it… well, I sense that there's a lot of chaos. Maybe it has something to do with the fact that it has absorbed a lot of different cultures.
S
I guess the last question would be, what sort of projects are you working on at the moment?
J
In Japan, music is often associated with the four seasons. Reggae is associated with summer. And I would like to make Funkot a winter genre. There's something appealing about a division based on seasons.
Also, we are collaborating with dancehall reggae musicians to create music and shows together. Perhaps we can create our own collaborative music.
S
Perhaps it will be like Bhangra Beat where the Bangladesh immigrants mix their music with English dancehall music and create their own genre, except this will be Reggae and Funkot.
J
Yes! But even though I want to mix other influences with Funkot, I still want to preserve the original sounds of funkot.
S
Alright. Thank you!
J
Thank you.