Indonesian Food Heritage with Lisa Virgiano
Ken Jenie (K) talks to Azanaya's Lisa Virgiano (L)
by Ken Jenie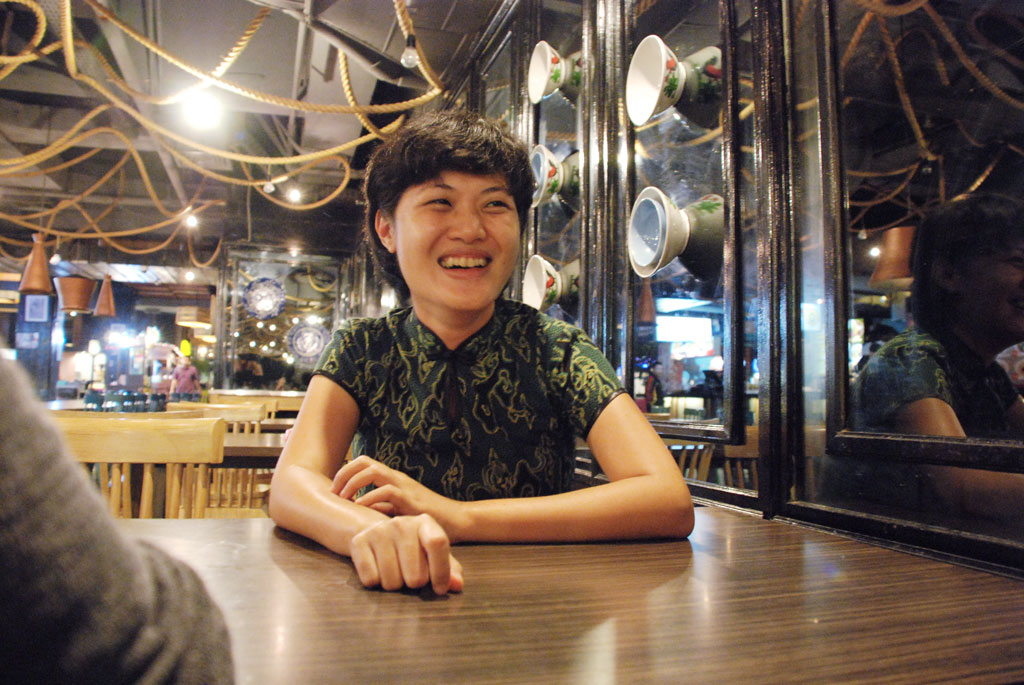 K
Can you briefly tell us how you became interested in working with food and what was your original goal when you started Azanaya in 2009?
L
It's actually quite simple. I have loved food since I was young; there is something about food that makes me happy. Not only does it make you personally happy, but through food you can contribute to the people around you.
I thought to myself that I had to make something out of this hobby – it began as my aspiration to fulfill my passion, but then I saw the many opportunities in the culinary world that has yet to be explored – this is why I created Azanaya in 2009. If I was to fail, then at least I tried to pursue my passion. One can always return to find regular employment, but if you do not try then you will regret it for the rest of your life.
The thing about food is that if you are passionate about it, the flavor is not enough – there are stories and history behind the dishes that could be told. To be honest, what I do does not really have an official title yet, but I predict that in the years to come what I do will be quite common.
K
So how would you describe what you do?
L
I am not sure myself, but a general title that could describe what I do is Food Culture Promotion. I am really passionate about promoting Indonesia's food culture to Indonesians themselves as well the international sphere. As a promoter, though, you cannot just "promote," you must also understand and cultivate the structure of food producers, identify the problems within the system, identify its potential, identify the market, etc. Because if you are simply promoting without understanding the actual condition of your subject, you don't actually know what you are promoting. What you would promote is something that isn't genuine, something without character. You can only create consumption, not production – it isn't sustainable.
So I introduce myself as a Food Culture Promoter, but the scope of my work isn't simply promotion. I also study and try to understand food and its origins.
K
One of Azanaya's best known event program, Underground Secret Dining (a dining experience where a special selection of food and location is unknown to participants) had its final event in mid 2013. As this was a staple of Azanaya, why end it?
L
I wanted to bring a new concept to the project. I think it would have brought boredom to me personally if we continued making it. Also, food can be explored from a different perspective. I am currently interested in building relationships with food producers. Working with farmers and fishermen to develop their product and help them in their cultivation process as well as market their products. These are things that are not only rewarding for myself, but it also gives me the ability to study our agricultural traditions.
K
You mentioned in Q&A Media that "[Indonesia] is rich in culture, spices and herbs, but less people really want to appreciate it and spend time to make it outstanding, because they are lacking the understanding." What is the general public understanding of culture, spices and herbs?
L
The lack of understanding begins when we consider what we have as being common – as in taking things for granted. Meanwhile, when someone who is unfamiliar with our abundance and variety of resources, they will be awestruck. This, of course, means we do not fully appreciate what we are eating.
Generally, when people talk about food they are describing the flavor, but it is much more than that. What we eat involves everything from nature, ecology, women empowerment, history, chemical structures – it is a combination of many different elements.
K
What should this appreciation be like ideally?
L
The truth is I cannot say what it should be like ideally, but I do believe we should start questioning and understanding what we eat. Eating isn't simply about judging whether it tastes good or not – that is subjective. Our taste and preference is based on your background – family, where we grew up, and so on.
"Good" and "delicious" are two different words to describe food. Good quality of ingredients and food inherently create delicious dishes, but delicious food is not necessarily good food.
K
So good food is delicious, but delicious food is not always good.
L
Yes. You can eat junk food everyday and call it delicious, but is it good?
This awareness of good food is the first step that I would really like the public to understand, particularly the youth. We are a country that is rich in agriculture, the second largest biodiversity after Brazil. We can be a prosperous country if we cultivate our agriculture and food culture.
From what I have noticed, when people have money to invest, most people choose to make a restaurant, but not many would want to invest in farming – most people do not want to get their hands dirty nor have the patience to cultivate their crops. What you have are restaurants that are perhaps cool, but without good ingredients you cannot create good food – only delicious food. As I have mentioned before, delicious is subjective. Good food can be measured by a standard – both quantitative and qualitative.
K
What is the cause of this lack of understanding of good food?
L
We are almost losing the real story of our food due to a gap/disparity between generations, and of education, as well as the rapid influx of foreign culture that has been adapted to ours. It is not uncommon to hear the older generation say things such as "The food isn't what it used to be like" and "We used to make this dish this way, it isn't cooked the same way anymore." I do not want these traditions to be relics of the past – they should be conserved so all generations can understand and enjoy them. Once they are gone, they are simply stories – ones that we cannot relate to because we cannot experience them.
K
How can the average person be aware of the food's background?
L
Start to know where your food comes from. You can simply go to your traditional market and, while you shop, ask the seller the character of the produce, what a good produce is, what locale it originated from. If you have a shopkeeper that is articulate and knowledgeable, you have found a source you can trust for both information and ingredients.
K
There is a very human/personal element when talking about food and ingredients.
L
Absolutely. It isn't uncommon to have a favorite butcher shop, for example. Ask yourself, why do you regularly shop at this butchery? Do you trust the quality? Where do they get the meat? How do they cut the meat? Most of the time people are generous in sharing knowledge so start asking questions.
K
We should be curious about our food.
L
Yes, and build a human relationship with your food. Food isn't just an object – there are many stories behind what you eat.
I can't blame Indonesians for being a bit ignorant about our culinary background. We are so accustomed to all of these amazing foods that we take it for granted. Again, if we see it from an outsider's perspective, we will be surprised and awed by Indonesia's abundant resources.
K
You have travelled extensively to study and sample local regional cuisines as well as study their agriculture. What are their perspectives regarding Indonesia's food culture? Do they feel threatened by the conditions?
L
Their perspective are like people in Jakarta, as in they also take things for granted. And the reason behind it is similar: for them, what they make is their staple produce so it is not special. They do feel threatened because right now the occupation of being a farmer is no longer profitable – there is no one standing beside them, not even the government.
K
What should the government's role be in supporting the local agriculture?
L
To be frank, I do not expect too much from the government because it seems to me that the people and the government live in separate dimensions. (Laughs) So I do not expect too much from the government, instead I try to help the government by way of supporting the local communities.
K
You mentioned earlier about the rapid influence of foreign cultures. In regards to this, is there a modern Indonesian cuisine – one that has only existed during in recent years?
L
Yes, there are many – particularly street food. For example, a trending dish right now involves it being "penyet" (smashed to make it softer). That is a modern type of street food. Another example are dishes that are made with wheat flour – martabak, cookies, and so on. Our ancestors did not make food with wheat flour. As a matter of fact, we do not grow wheat in Indonesia. Cakes were made with rice flour, sago flour, and glutinous rice flour.
K
That is quite interesting, I didn't think that the food you mentioned were relatively new.
L
Wheat flour started coming in to Indonesia in the 1970s. Even so, the flour that were imported aren't good. People often say that Indonesian bread tastes different from bread from, lets say, Australia – well that is because of the quality of flour and butter being imported. These are facts that aren't communicated to Indonesians consumers.
These types of information are in the hands of people with their own interests. It is never communicated that bread is made from wheat flour, that Indonesia does not grow wheat, which means it has to be imported. On top of that there are only three corporations that are players in the wheat flour market. Imagine how much money they are making off us.
There are many facts that never make it to the consumers. They are broken down into short segments that seemingly do not connect with each other.
K
You have traveled abroad and have participated in events. From your observation, what is the international perception of Indonesian food?
L
Unfortunately, there isn't a significant awareness of Indonesian food. Indonesia is not on the international gastronomy map.
There is something that we take for granted that has great potential, though: our agricultural produce. We need to communicate how sexy the variety of our produce is, which is second to Brazil for biodiversity. We have a lot of potential in selling our artisanal ingredients overseas.
For example: Rendang. Malaysia claimed Rendang, and it is fine because there are many West Sumatrans who moved there and Rendang is part of their culture. But only West Sumatrans that live in West Sumatra can claim to make Rendang Minangkabau or Rendang Padang because you have to make them with the local cow and ingredients. If you use imported beef, wagyu or kobe, calling it Rendang Padang doesn't make sense – you can only call it Rendang, or Rendang style.
The concept of territory/origin is quite important and cannot be duplicated. You can learn the cooking technique to make a dish, but you can't replicate the authentic local ingredients. We need to see the potential in our artisanal ingredients, because it is rich.
When I spoke in front of an international audience about, for example, our traditional rice, I talked about our varieties, how we cultivate, the community tribes that produce them, to the traditions involved in harvesting them. The audience was awed at how rich the biodiversity was. This was just talking about rice – imagine the reaction if I continued by talking about the variety of bananas. (Laughs)
K
What's next for you? Are there any projects that you are working on right now?
L
I'm very excited about this new project. I just returned from Halmahera in Maluku learning from the local farmers, tribes, foragers, fishermen and hunters about their artisanal ingredients. Their ingredients have great potential, but they need people who understand food and help them cultivate their local resource's culinary potential. That is my passion right now, to work with people from various locales in observing and developing.
I will be returning there [Maluku] in May to create a local government-sponsored festival in Jailolo Bay focusing on its culinary tradition. The theme is reintroducing the forgotten stories of Jailolo Bay – highlighting their tribal culinary customs. There are tribes that are specialized in farming, hunting, fishing, with each tribe having their own specialty ethnic dishes. The goal is to create a national awareness of their potential. 90 percent of their land is organic. The land is so fertile that they do not need to use pesticide, urea, or other any other chemical fertilizers. They have 46 products that are nominated for International organic certificates – that's crazy.
—