Urban Sketching with Anto Motulz
Muhammad Hilmi (H) talks to illustrator, traveller, food enthusiast, & video-maker Anto Motulz (A).
by Ken Jenie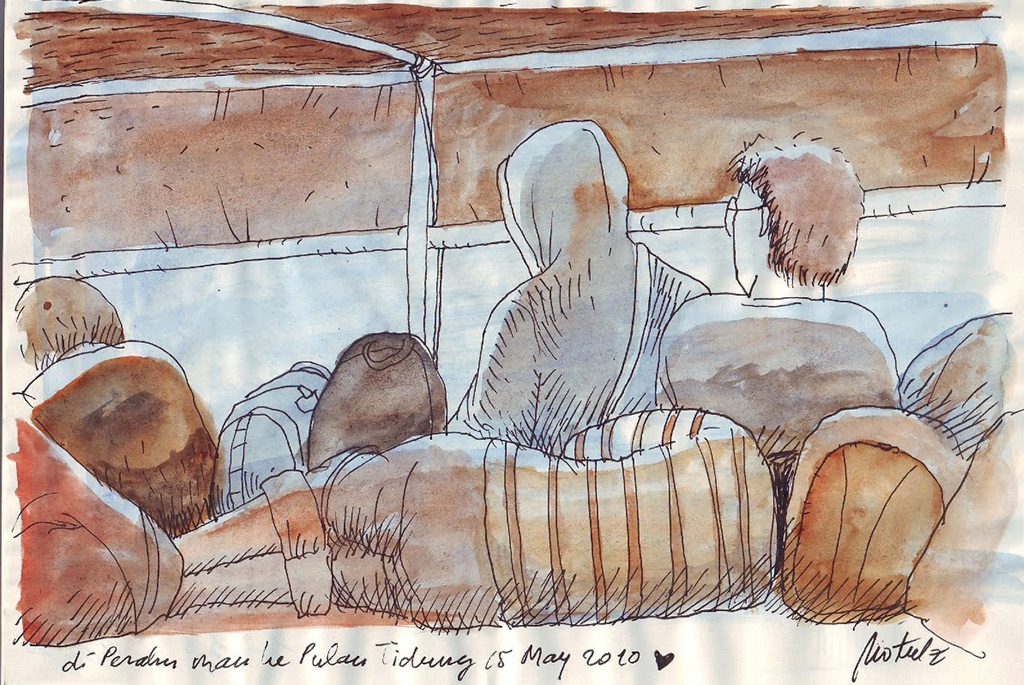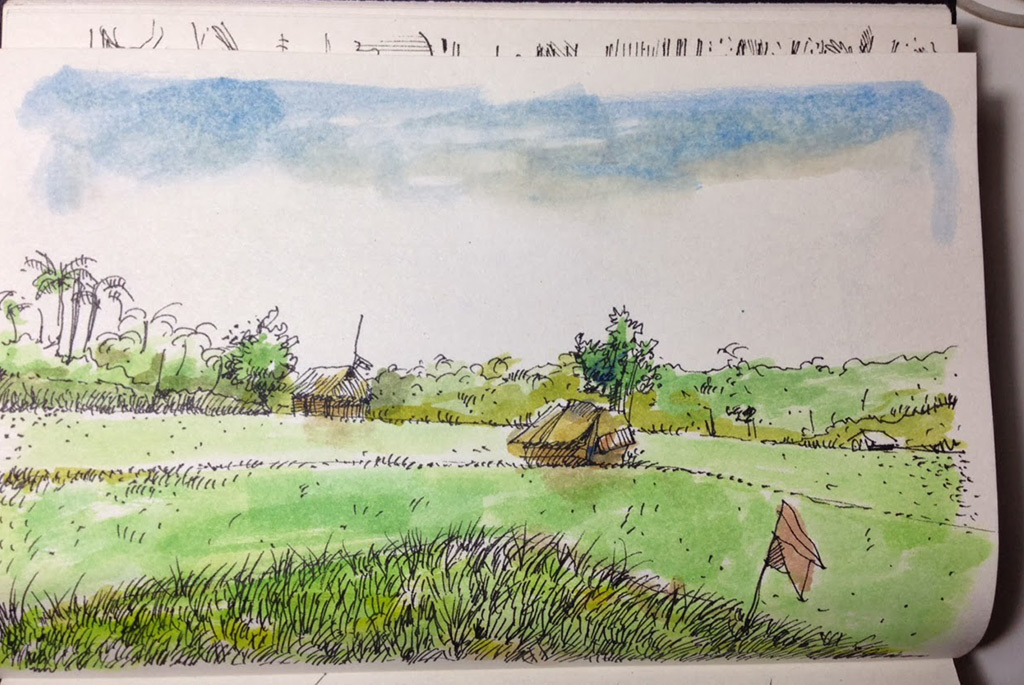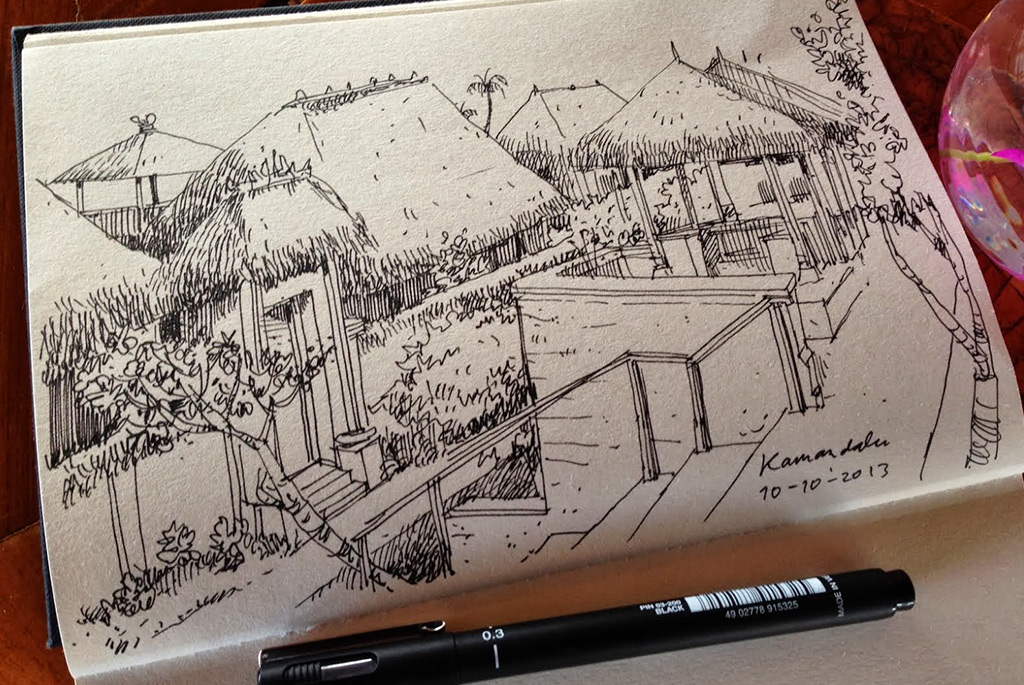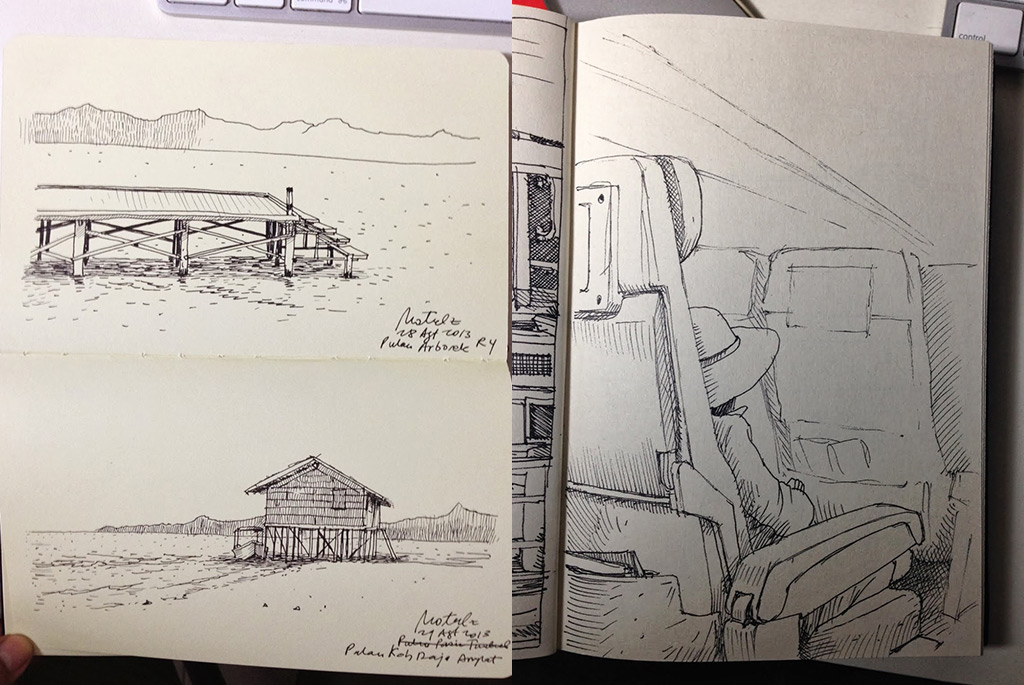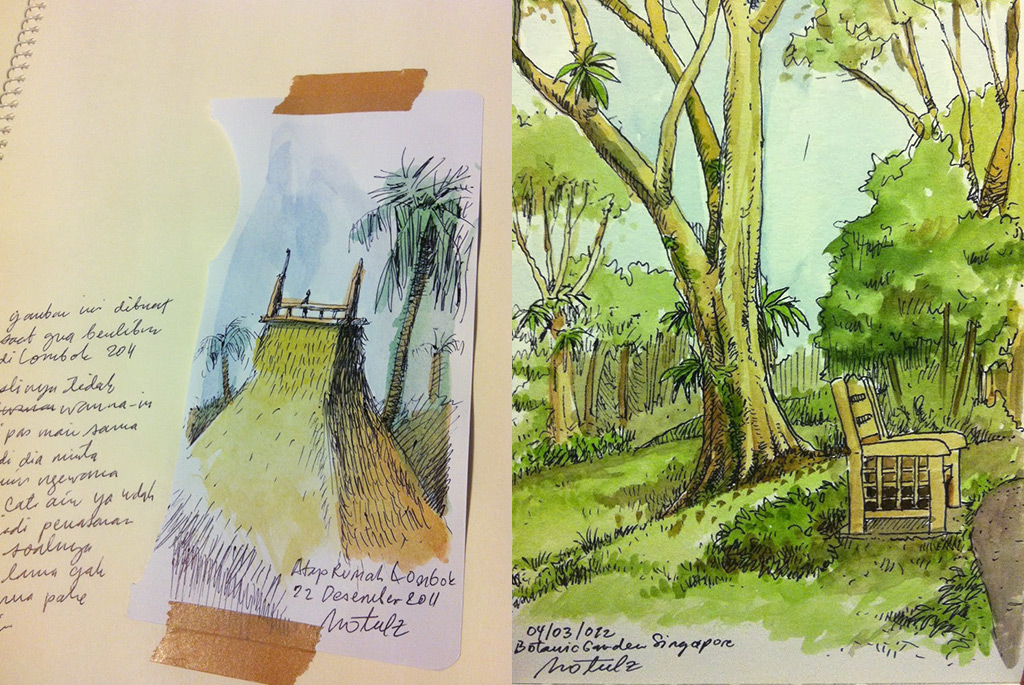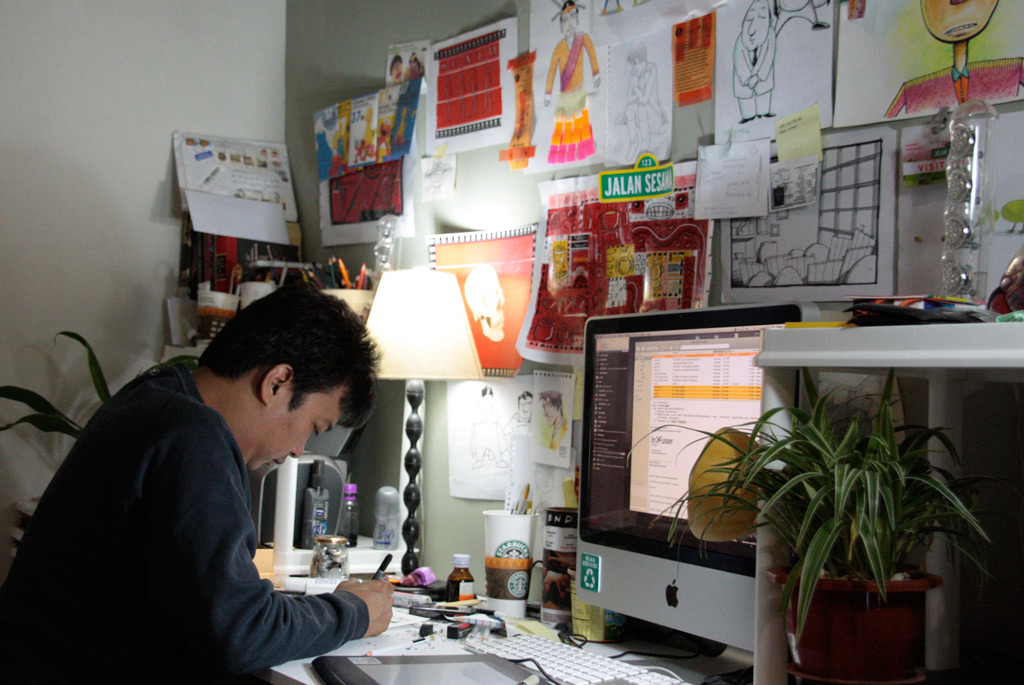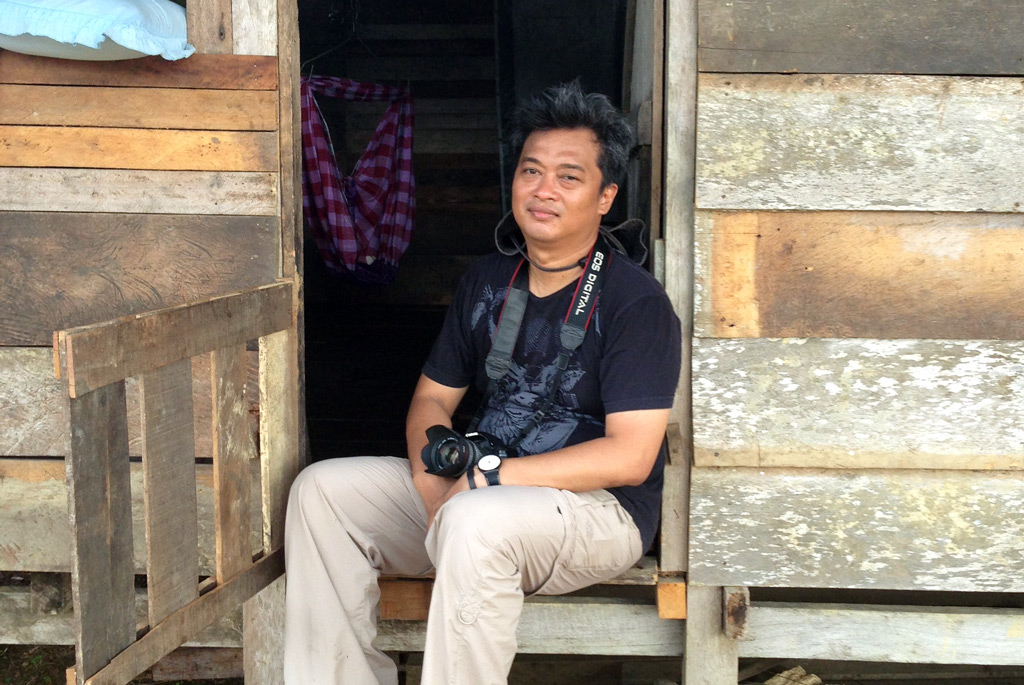 H
You draw, write, travel, and make music videos. Based on what you do, what would you describe yourself as?
M
I would simply call myself as a person who enjoys creativity. I began my professional career in creative fields, like you described, I have been an advertising art director, writer, traveller, music video-director, I have even been a soap opera producer. What all of those professions have in common is that they are creative work.
Which of these activities do you enjoy the most?

All creative activities are enjoyable, as long as they haven't been touched by a client's brief (laughs). Whatever hobby we enjoy naturally loses some of its pleasure when a brief is given. As a creative worker, you have to acknowledge that it is part of the job and creating a solution is part of that creativity.

H

As a comic artist/illustrator, how do you view the development of the comic book scene in Indonesia?

M

From what I have seen, the comic book scene is better than when I was actively making comics in the late 90s, but to say that local comic books have become popular is still very far from what the artists want. When I was active, we can only get American and Japanese comic books, now there are a variety of foreign publications, including European comic books. This is great because it will help create a more mature comic book readership here.

H

From what I have seen, Indonesian comic books have begun to lose its identity/character, with illustrations that seem to replicate anime or American comic books – while we had our own illustrative character before such as the work of RA Kosasih or Tatang S. What do you think?

M

Honestly, it would be damaging to creativity if we limit the possible illustrative styles. If you look at comic book artists in Mr. Kokasih's era, they were all influenced by American comic books from the 1950s like Tarzan and Flash Gordon. What separates those artists was, like Mr. Kokasih, their ability to inject ornaments or wayang elements in their comic books. This shaped the identity of Mr. Kokasih's illustrations.

For beginners, copying comic book styles is legitimate and fine. Don't get it wrong, foreign illustrators also "copy drawing styles." The thing is, their process doesn't stop in that stage, they continue to develop their illustrations until they find their own style, which becomes their character/identity.

H

You made a comic book called Kapten Bandung that was quite revered in its era, what was the idea behind it?

M

The comic book happened by accident. My friends in university were creating comic books at the time. They were very good at drawing anatomy and muscles, while I wasn't. So I finally created a comic book character that was the anti-thesis of a superhero, an average person-hero that does not have superpowers. Kapten Bandung is a hero-by-accident, because the real heroes are actually the residents of Bandung who help Kapten Bandung (laughs).

H

I heard that you were responsible for bringing Peter van Dongen's "Rampokan Jawa" to Indonesia. What was the reason behind it?

M

I have idolized Peter van Dongen for a very long time, from around 2000-if I am not mistaken. I was so determined to meet him, I worked on creating an exhibition in 2002 so I can meet with Peter. He is very kind and humble, I couldn't have imagined that I would meet him and work with him in many comic book projects, from creating comic books for fun to having exhibitions together. Peter's work has now been published in Indonesia, and I am happy to be able to purchase his comic book and read it in Indonesian.

H

As a traveller, what do you look for in your journey?

M

Every place has a character. Because I have a background in design, when I travel I really enjoy finding something that has to do with art and design, including architecture. Aside from that I enjoy observing community activities and culture.

H

What was the idea behind your website, Geospotter?

M

There are stories behind every travel we make. Well, because I love to tell stories I try to share my travel stories. Just like the Geospotter tagline, "Spot the world with stories."

H

You are also involved in ACMI (Aku Cinta Masakan Indonesia – I Love Indonesian Cooking). What are its activities, and what is the goal of ACMI?

M

My involvement began simply because I was asked to help create social media strategy, but then I joined the food tasting, and then Mr. William Wongso opened my eyes to cooking as an artform, where every ingredient is the paint. Mixing the ingredients and spices is the same as mixing colours with paint. Every mix and slice are like sketches and strokes on a canvas. I concluded that the understanding food expands our understanding of the arts and cultural through the sense of taste.

ACMI would like to invite Indonesians back into the kitchen, because ACMI is sure that the sustainability of crops begins from kitchens in our homes. The kitchen is where families in Indonesia begin to become familiar and enjoy home cooking as well as distinct Indonesian food, in traditional markets we can experience social interactions that are unmistakeably Indonesian.

H

Are there any interesting stories you can tell us about travelling?

M

Generally speaking, it opens your eyes and is insightful. A while, I often ridiculed and considered this country to be terrible, one that was always inferior to other countries – I was terribly wrong. By travelling, I am now able to see the place we live in through an outsider's perspective. I also can see Jakarta from a provincial point of view, and Indonesia from a foreign perspective.

H

What is your impression of Indonesia after you have explored its provinces?

M

Indonesia is a large country with awe-inspiring rich nature and extraordinary arts & culture. If there are people who say this country have a lot of differences, I say this country has diversity. Indonesia is rich because of its diversity, so let's not create homogeneity. Not only are we diverse in terms of ethnicity, arts, and cultures, but also in terms of flavours. We have a thousand kinds of coffee, a thousand kinds of sambals, a thousand kinds of soups, and a thousand kinds of satay! Crazy, isn't it? We haven't even talked about the thousands of fabrics/garments!

H

What are upcoming projects from Motulz?

M

A project that is coming soon is one that will showcase cultural diversity of Indonesia – I will be working with a couple of parties who share the same sentiment. I will also work on a project that is pretty ambitious, which is a book and animation project. Exciting, right?