Debbie Millman: How to Think Like a Great Graphic Designer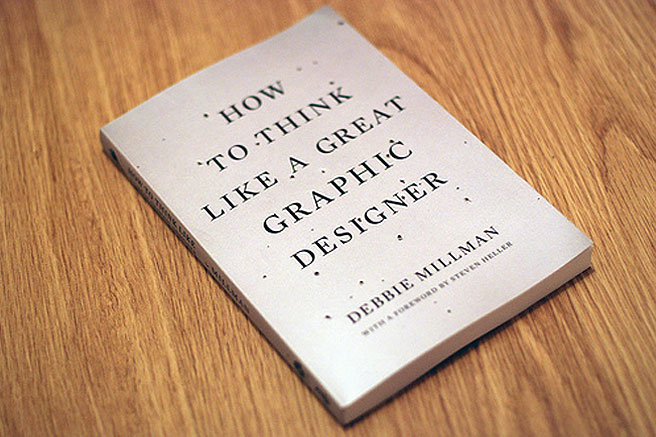 We have previewed a number of prominent Indonesian graphic designers in our interview section. We have asked them the core questions of their journey and choices that motivated them to pursue their passion.
With a similar notion in mind, prolific brand consultant, design journalist, and host of podcast series "Design Matters", Debbie Millman, have already been uncovering many aspects of the design industry for almost two decades now. In the book, "How to Think Like a Great Graphic Designer," she enlightens us to understand the thought-process of twenty-one of the world's most celebrated graphic designers (With particular focus to the ones who reside in US).  The book, which bears no visuals at all, contains segments of interviews with crafted individuals of the likes of Milton Glaser, Stefan Sagmaister, Chip Kidd, and even Peter Saville.
Throughout each conversation, you will be mostly astonished by the varying aspirations and values these designer hold on to. For example, James Victore holds a belief that the most enjoyable job will not earn you money. He puts it in his own term "There are jobs you do for "god," and there are jobs you do for money", encouraging him to focus on work that give him personal fulfillment although less gratifying economically.
Whereas, designer and educator, John Maeda, might contradict with the idea and go along with an advice that designer Paul Rand once suggested to him which is "make lots of money" with a belief that once you have no monetary constraints, you can start things with the utmost freedom.
The book also explores many revelation about the term graphic design and the contradictory idea of design being either a tool for communication for the public – or a simple form of self-expression only as remarkably discussed by Peter Saville.
This isn't just a book for graphic designers. Keep in mind it's also not a how-to book on design. It's a book for anyone curious to know how the great minds behind design work. You can even call it a philosophical book about graphic design.