Things We Like: Music On Repeat
Kumpulan musik yang sering kami dengarkan akhir-akhir ini.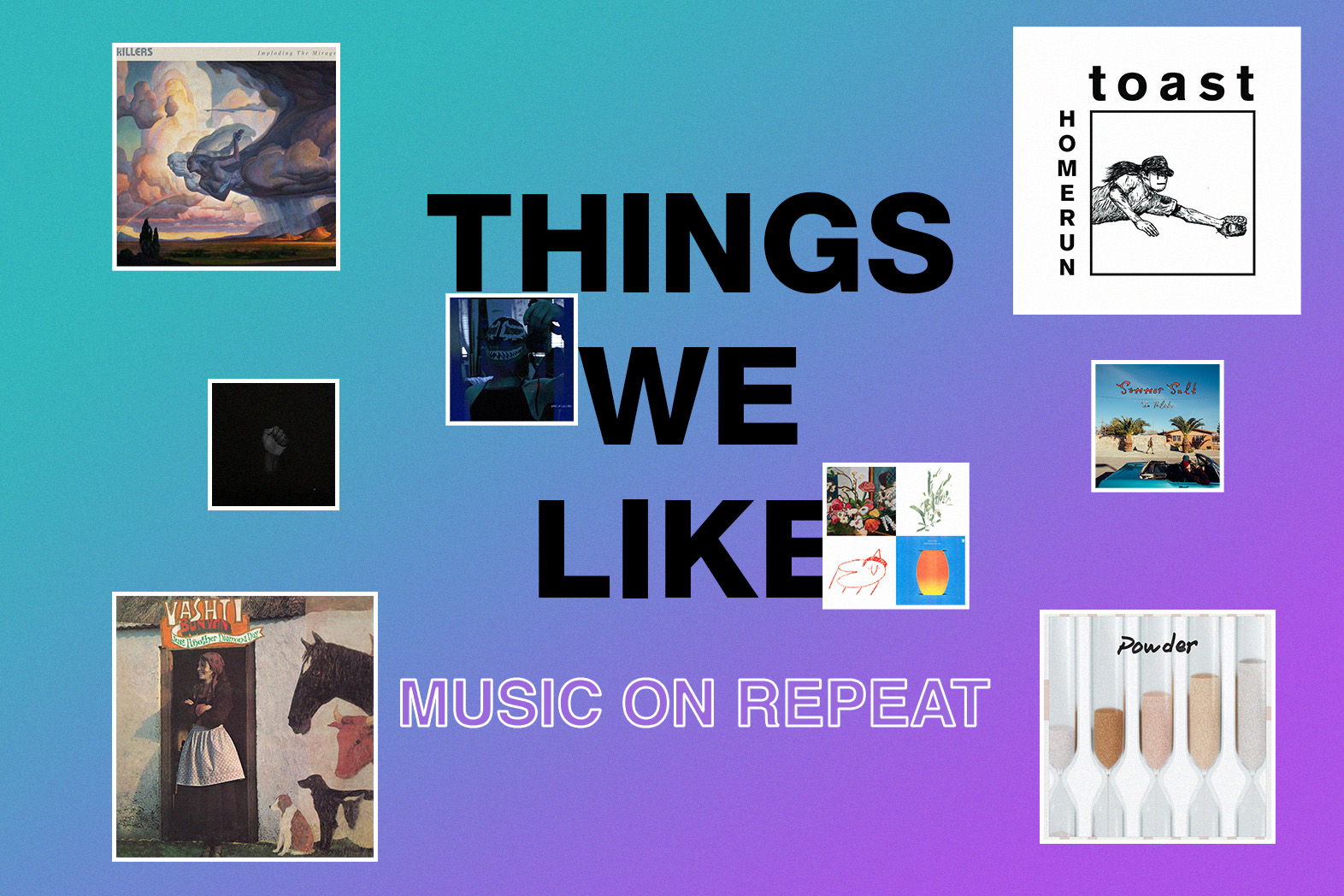 Pada "Things We Like" kali ini, kami meng-highlight ragam aktivitas favorit semasa berdiam di rumah. Dengan perilisan musik baru yang hampir ada setiap minggunya, kita tentunya tidak pernah kehabisan materi untuk didengarkan. Oleh karena itu, kami mengumpulkan sederet musik yang sedang didengarkan on repeat. Dari musik oleh Toast, Powder, SAULT, hingga The Killers, berikut adalah beberapa pilihan kami. 
M. HILMI
Managing Editor
What:
Toast
Description:
Saat Jakarta Selatan semakin identik dengan musik house, Tangerang semakin ngebut dengan deretan band punk yang bermunculan. Setelah Hong! yang nendangnya pol-polan, sekarang ada Toast yang juga tak kalah nampol. Mereka membawakan hardcore punk ala '80an dengan suara gitar nir-distorsi. Hasilnya adalah deru musik punk yang memburu dengan isian gitar ala indierock yang membuatnya terasa lebih segar. Tiga lagu di mini-EP  "Home Run" sama bagusnya, tak heran jika Dylan Baldi dari Cloud Nothings adalah salah satu yang memberikan jempol untuk rilisan ini. Bersama DOM65, Toast adalah bukti bahwa 2020 adalah tahun yang baik untuk musik punk. Perlu bukti? Dengarkan lagu '"2 Siang" dan rasakan sendiri bagaimana teriakan "Pikiranku Gusar" terasa seperti tailor-made untuk rasa frustasi yang belakangan semakin sering hadir di kehidupan.
FEBRINA ANINDITA
Editorial Staff
What:
Palermo: Wake up Lullaby E01 with Nunzio Borino
Description:
Hasil temuan browsing di Instagram. Enak buat didenger pas mau tidur.
GHINA HANA SABRINA
Editorial Staff
What:
SAULT
Description:
Sejak dengerin album pertama mereka "5" yang dirilis tahun lalu, lagu-lagu dari kumpulan musisi misterius ini selalu secara tidak sadar gue masukin ke playlist personal. Their songs are a mix of house, funk, disco, gospel, and reggae, but their lyrics are fearless, spirit-lifting and filled with call to actions which celebrate collective strength. What's more interesting is that no one knows who they are, they're completely absent on the internet, yet they keep on releasing great music. 
EMMA PRIMASTIWI
Editorial Staff
What:
Vashti Bunyan – Just Another Diamond Day
Description:
This album, man. We've all experienced various levels of "fuck this shit, i'm over it" this year. One time, instead of succumbing to the rage I decided to soothe it instead by replaying Just Another Diamond Day, over and over (and over) again until I get sick of it. I haven't gotten sick of it. I'm sure you won't either. 
This album makes me want to drop everything, give up all of my material possessions and live in a country house somewhere in Bath. Playing piano and singing to pets and farm animals alike. 
JANUAR KRISTIANTO
Heart Attack
What:
Powder In Space
Description:
The almighty Moko Shibata aka Powder! Sebenernya official mix ini udah nongol tahun lalu, tapi entah kenapa gue baru punya kesempatan weekend kemarin untuk ngedengerin dari awal sampe kelar, oh what a beautiful build up all the way to its finale! Tetap berkutat di sekitaran house, tapi mood dan ambience yang dipancarkan dari mix ini punya nuansa tersendiri mulai dari karakter yang cenderung perkusif, minimal, synthy hingga track yang lebih noisy; soundtrack pelipur lara di tengah situasi pandemi yang tak menentu & banalitas waktu yang terasa semakin membelenggu, sebuah relaksasi elektris.
CLARISSA AMABEL
Art Director
What:
The Killers – Imploding the Mirage
Description:
Honestly, The Killers is still doing it for me. Dari jaman SMA dengerin "Somebody Told Me" di radio (!!! I hate radio now), lanjut ke jaman-jaman begadang pas nugas kuliah, sampe ke  begadang ngerjain buku Direktori *hoek* beberapa purnama yang lalu… The Killers dan musiknya yang teatrikal tapi welcoming selalu cocok menemani hari-hari stuck di depan kerjaan. Buat gue, racikannya paling pas kalo gue perlu fokus, tapi cemungudh <3 
And kinda out of nowhere, they came out with a new album!! Different members, same Brandon Flowers (because let's be real, taunya cuma Brandon Flowers). Imploding the Mirage is still expressive, emotional, and enormous–but it's more optimistic. Each track is a small leap of faith going through a growth spurt in the span of 4 minutes. Bikin aku cemungudh terus <3
P.S: akutu pengen banget nonton the killers live, haa maaf basic tapi WBJ pls do your magic
ALEXANDRA VINNESA
Graphic Design
What:
Summer Salt – Candy Wrappers
Description:
Heard this song at a coffee shop one time, been my favorite since! Go to your rooftop, grab your books, snacks, and give this a listen! Perfect song for cozy Summer evenings. 
SABRINA FARIZKY
Marketing & Partnerships
What:
My 09/20 Playlist
Description:
Belakangan ini lagi agak jarang dengerin sesuatu yang spesifik, baik itu based on album maupun musisi, dan karena males mikir, jadi sering kali cuma dengerin lagu-lagu di Discover Weekly, atau playlist-playlist rekomendasi temen. Mohon maaf sebelumnya, Things We Like gue kali ini agak curang, karena yang gue share ini basically adalah isi dari playlist On Repeat gue saat ini di Spotify (shout out to Spotify for making my job a lot easier hehe).
Mood playlist ini cukup netral, jadi cocok didengarkan di segala suasana, entah itu lagi kejar deadline, atau lagi bikin kue, atau bahkan lagi bengong aja dikamar. Selamat menikmati!