Label Love: Atlantic Records
Number two out of the list of six essential record labels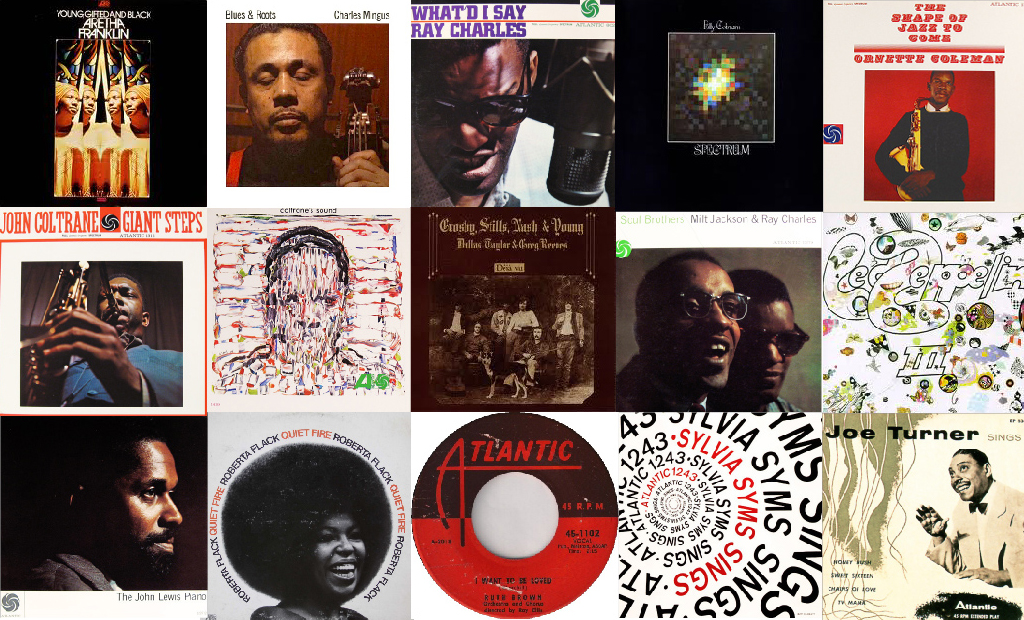 There's a memorable anecdote from a jazz documentary I saw some while-back which argued that African-American music was much more appreciated domestically by non-Caucasian Americans and immigrants compared to the local white population. The emergence of Alfred Lion and Frank Wolff (Germans) at Blue Note, famed music journalist Ira Gitler and Verve Records' main-honcho Norman Granz (Russian Jews), George Avakian (Armenian) at Columbia Records and of course Ahmet and Nesuhi Ertergün (Turks) at Atlantic Records were examples that proved the rule.
And it's Ahmet (and to an extent Nesuhi) Ertergün's work at forming Atlantic Records, which challenged the primacy of the major labels of the time (RCA, Columbia and Decca) and lead to the birth of rock'n'roll as we know it, that I'd like to delve in further detail in this segment.
After opting to stay in the United States after the death of his father (who was Turkish ambassador to the US), the jazz and rhythm & blues lover set up Atlantic Records (after hearing the name of a small jazz-label called Pacific Jazz) and recruited former dentistry student and A&R man for National Records Herb Abramson in 1947 with financial backing from a Turkish Dentist, Dr. Vahdi Sabit. After releasing a few minor hits, the label recruited Jerry Wrexler in 1953 (who had coined the term 'Rhythm & Blues' to replace the outdated 'Race Music' a decade earlier), and a whole new chapter of Atlantic Records started. The signing of Ruth Brown and Ray Charles a year later also proved to be catalysts in the evolution of the label and beat-based music in general.
As soon as Ray joined the label, he recorded a few soul classics for the label that would prove to be mainstream crossover hits. Many other contemporary luminaries soon followed, with Big Joe Turner, Charles Mingus, Professor Longhair, Mary Lou Williams and Dizzie Gillespie to name but five. Ahmet's brother Nesuhi also soon joined the Atlantic roster as partner, producer and head of the label's jazz-roster.
And according to Robert Greenfield's excellent essay on Ahmet, it was soon after that the trio of the Ertergün brothers and Jerry Wrexler began to realize that their target audience was no longer rural and black. Rather, it was teenage and white. The message had come through loud and clear for the first time in 1954, when Big Joe Turner's version of Jesse Stone's "Shake, Rattle and Roll" was covered initially by Bill Haley & His Comets and then Elvis Presley. And thus, the transformation from the black-influenced R&B into the predominantly white sounds of Rock n' Roll took place, as did Atlantic's fortunes from being a small independent label into the single biggest player in the rock market.
As the 60s came by, Atlantic were on a high. They tied up a distribution deal with Stax Records and played a big role in the emergence of Otis Redding. This was soon followed by hits from Mar-Keys, Rufus and Carla Thomas, Solomon Burke, Wilson Pickett, Sam and Dave, Percy Sledge, and Joe Tex. Yet it was at the height of their powers that Atlantic received a buyout bid from Warner Brothers in 1967. Reluctant to sell, Ahmet finally wilted and allowed the company he built to be sold for $12 million (which later turned out to be a bad deal compared to Atlantic's real worth). But with the Ertergün brothers and Wrexler staying at the label, the label got even stronger throughout the late 1960s and early 1970s by releasing memorable albums by Led Zeppelin, Frank Zappa, Cream, Aretha Franklin, Crosby Stills Nash & Young, and a whole host of others.
For yours truly, the aura and mystique of the label faded as the 1970s came to a close. Atlantic may have become larger and more powerful throughout the 1980, 90s and up till the present day, but the reckless sense of idealism had long since passed. Yet for every awful album Atlantic released in those periods (Kid Rock or 2-Live Crew anyone?), there'll always be a Charles Mingus' Blues & Roots, Big Joe Turner's Shake, Rattle & Roll and Led Zeppelin.
Ahmet Ertergün slipped and fell at a Rolling Stones benefit concert in New York City in 2006 and passed away a few weeks later. A tribute concert to the man was held the following year with a reunified Led Zeppelin headlining the event to say farewell to arguably the greatest music executive of the 20th century.
Ffonz' 5 Essential Atlantic Recordings:
1. John Coltrane – Giant Steps
2. Ray Charles – What I'd Say
3. Big Joe Turner – Shake, Rattle & Roll
4. Aretha Franklin – Rock Steady
5. Led Zeppelin – Rock 'n' Roll