Label Love: Blue Note Records
Number one selection out of the list of 6 essential record labels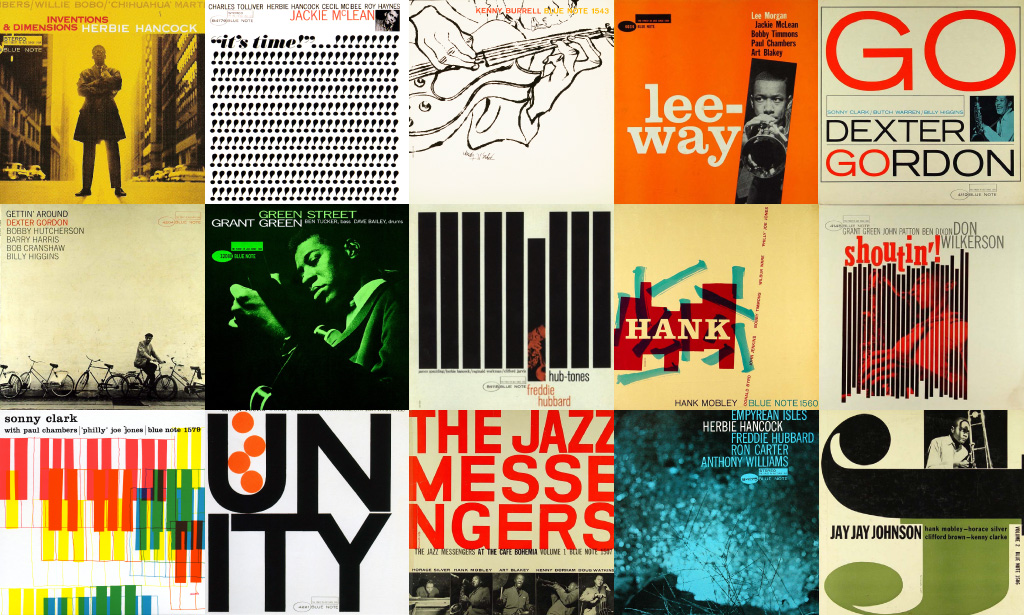 I still remember my first real foray into a vinyl record shop, approximately a decade ago. Not really knowing what to get, I just staggered through a bunch of crates in the jazz section and noticed a bunch of stunningly well-designed record covers. A quick look at the back sleeves indicated that most of these records were at least 50 years old. And as is typical, I didn't purchase any of them due to severe financial constraints. But the bunch of wax I picked up (and subsequently put back into the stack) stayed with me for quite some time after that. And although I have of course heard of this record label before, it wasn't until then that I realised why some people were obsessive about it.
I'm of course referring to the legendary Blue Note Records: the original hipsters' (beatniks) label of choice and the one that started it all. By starting it all I naturally mean setting up the blue-print of the modern independent music label: 20 years before Motown, Chess and Stax, 40 years before Factory, Rough Trade, and 4AD and 50 years before Warp and Ninja Tune. The way the label was operated and how it adapted to its surroundings is surely a valuable lesson to be learnt in this era where record labels are considered past their sell-by-date.
First and foremost, Blue Note is a jazz label. A jazz label founded in 1939, on the eve of the second world war by financier & left-wing writer Max Margulis (who left the label shortly after) and run by two German immigrants in the guise of Alfred Lions and Francis Wolf. The two friends independently emigrated from 1930s Berlin to New York City both due to the rise of fascism and also for their love of the jazz beat (which had been strictly prohibited under the Third-Reich).
And although they first focused on releasing 'old' jazz records by artists such as Sidney Bechet and Albert Ammons, it wasn't long before the label started pioneering what is then called 'modern jazz'. Through their acquisition of artists & repertoire man Ike Quebec, the label met the incomparable Thelonious Monk and thus kick-started Blue Note's association with modern bebop -a style of jazz that veered away from the danceable 1930s' swing music and focused more on the virtuosity of its players.
Throughout the 1950s and 60s, Blue Note released records by the crème-de-la-crème of the jazz circuit, which now reads like the definitive history of jazz: Thelonious Monk, Miles Davis, John Coltrane, Horace Silver, Sonny Rollins, Art Blakey, Ron Carter, Jimmy Smith, Donald Byrd, Lou Donaldson, J.J. Johnson, Herbie Hancock, Wayne Shorter, Eric Dolphy, and many more besides.
Yet it was how they ran the label, which makes them considered one of the finest. First and foremost Al Lions & Frank Wolff were true and honest fans of music, unlike many record executives at bigger labels. They'd regularly be seen at regular jazz nights across New York City and were also notably fair in their dealings with the musicians under their roster. Their recruitment of recording engineer Rudy van Gelder also added an extra dimension in how the recorded music was presented.
Two other huge factors for their legendary status are Blue Note's aforementioned modern and minimalist looking cover-art, a combination of the slick black & white photographs of Francis Wolff and the super-futuristic and minimalist artwork designed by Reid Miles (a graphic designer for advertising agencies and Esquire magazine). Take a look at any Blue Note record sleeve and the modernism of these records from the 1950s and 1960s will hit you right away. As The Guardian put it, "Miles's sleeves portrayed black jazz musicians not as entertainers but as urbane figures in a metropolitan landscape. Every album cover was tantalising, with its bold, futuristic design and a photo of the artist slotted into the pattern, like an icon." It was also during a brief few years in the mid-1950s that a young Andy Warhol interned at the label and produced a few of their legendary art-covers.
Sadly the classic Blue Note period gradually subsided with the acquisition of the label by Liberty Records in 1965, which prompted Alfred Lion to retire. Frank Wolff's subsequent ill health and death in 1971 marked the true end of the classical Blue Note era. The label was then acquired by a succession of major labels throughout the 1970s and 80s and is now owned by EMI. Despite losing it's true heart and soul, the label continued gaining popularity, first through the updated funk element brought in by The Mizell Brothers throughout the 1970s and also due to being heavily sampled by hip-hop and other sample-based musicians throughout the 1980s and 90s. And thankfully today the label is still producing some gems in the form of Robert Glasper and Jose James (under the direction of Don Was from Was (Not Was) no less).
Ffonz' 5 Essential Blue Note Recordings:
1. Herbie Hancock – Cantaloupe Island (1961):
2. John Coltrane – Blue Train (1957):
3. Horace Silver – Song For My Father (1964):
4. Art Blakey & The Jazz Messengers – Mosaic (1961):
5. Donald Byrd – Think Twice (1974):