Moon River & Me
Revisiting Henry Mancini's Finest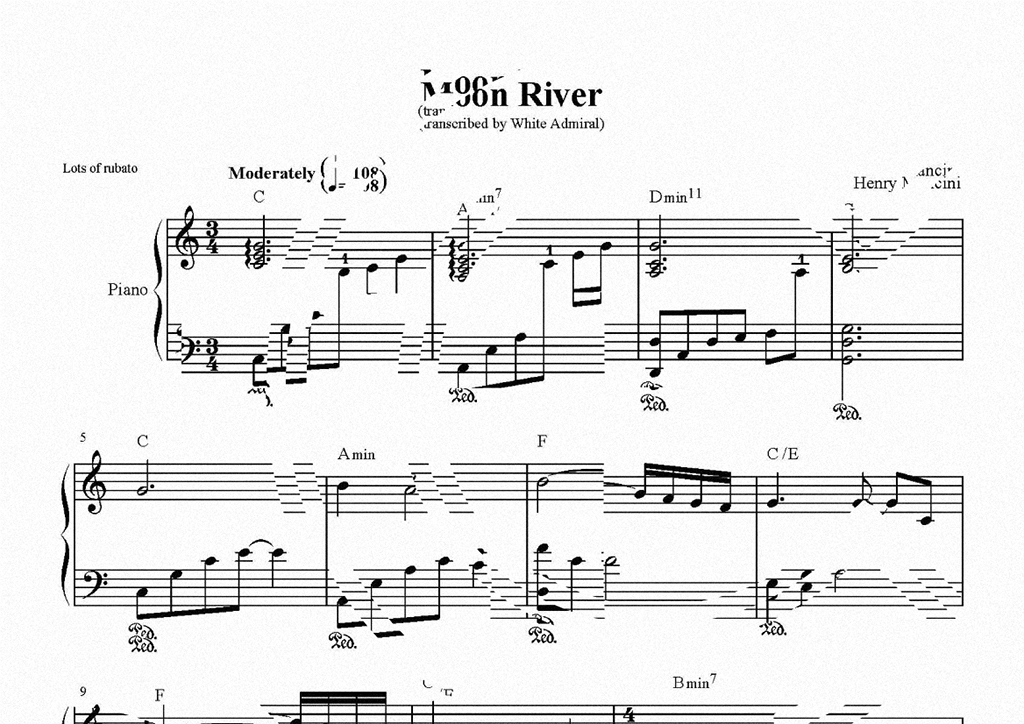 I heard it first when I was 8, as I dig into my old man's cassette collection. It wasn't even one of his favorite; he probably never listened to it at all.
"Classic Music Theme Collection", that was what it said on the cover. With the mighty Holly Golightly sitting on the window of her New York apartment, playing guitar and looking all so lovely. That was probably the reason why I took that particular cassette among all options. So I played all the tracks and stuck with one Disney-like tune that I couldn't forget ever since.
Henry Mancini's – the very first version I know. No lyrics, perfect harmony. As I watched Breakfast at Tiffany's couple years later, there was a particular scene that brought back a memory, memory of Mancini and his melody, with a girl with her guitar. That was the start of my story and "Moon River".
What is Moon River?
One of my questions of life. Exaggerating, I know. But I keep coming back to that question every time I listen to the song, and I listen to it a lot.
I've been doing some research throughout the Internet and never really find the answer. Some sources mention that it was only a song specially made for Breakfast at Tiffany's which Mercer wrote as reminiscent of his childhood in Savannah, Georgia. Some other sources even discuss every bit of the lyric into the pore. But still, nothing's good enough to explain what it means by Moon River. Yet I believe, Mancini and Mercer didn't just make it out of commercial reasons, hence the bewitching combination of the tune and the lyric. There must be something complex and beautiful behind this favorite song of mine. At last, I always think of this song as an open ending song; thus the structure of the lyric doesn't make one bit of a sense, the tune helps us to elaborate and create our kind of story according to our history.
Let's continue with headset and YouTube!
"Moon river, wider than a mile
I'm crossing you in style, someday"
One part that I understand for sure. Though Moon River might means the actual Moon River in Savannah, I always think of it as an impossible scheme. Mancini and Hepburn make it clear with the way they play the tune; with soft and dream-like ambience, it stimulates the audiences' feelings toward how dreamy it is to sail across the Moon River. Thus, my first premise of this song is that this is a song of hope. Aretha Franklyn emphasises the "in style" part of the lyric. With big band and happy tune, she flips the dreamy feeling into an optimistic mood. This is one of the songs you should listen in the morning to boost up your mood and renew your motivation to do something big about your day and your tomorrow. Similar to Aretha's, Jazztronik's version is also one of the best upbeat versions of this song. You know, how Japanese always pull things off beautifully! If you like rock ballad, search for Clapton & Beck's version and you'll find one pretty serenade that will blow your mind away.
"Oh dream maker you're breaker, where ever you're goin' I'm going your way.."
Imagine how a guy playing his guitar and singing this song with a hopeless romantic eyes. Or perhaps, if you are more of a modern-kind of music lover, please do check Pink Martini's version from the album Retrospective. I personally like mediocre men's voice; nothing fancy, just simply in tune. I find it super cute when men try to sing and serenade, although they know they don't really have the quality to do such thing. Imagine that, along with this song. And surprisingly, this voice that you are listening to just now (as I assume you're following this with headset and YouTube) is Gus Van Sant's voice, the director of Good Will Hunting and My Own Private Idaho.
Sometimes, I even listen to Moon River as a heartbreak song. Morrissey and The Killers Change the whole mood and even some part of the lyrics. Peace to all The Killers lovers in the world, but Morrissey's version is so much better; it tears my heart in to micro pieces.
"Two drifters off to see the world, I'm not so sure the world deserves us,
We're after the same rainbow's end
Is just around the bend, how come?
It always just around the bend"
This is a self-explanatory lyric, especially if you are familiar with the song. Morrissey twists its ending where it supposed to be a happy ending. Instead, he chooses to hang your feeling out to dry with the fact that whatever it is that you hope for, it is always just around the bend. I'd also like to recommend you to listen to the 9 minutes version of Morrissey's in your darkest hours. Well, it won't help you to feel better, but you might see pain in the most beautiful way.
To be honest, not everyone can pull off this song nicely. For me, one of worst version in the entire viral world is Bxjamin's. They try to make a rap out of this song. Probably, this song is just doesn't meant to be like that to keep its original ambiance. In the other hand, one of the best standard versions of this song is Beegie Adiar's. This might be bias since she is one of my favorite piano players, but you probably also agree that this version is easy to listen to and arouses a wide range of feeling and fit to any kind of occasion.
Two years ago, I went to Savannah to cross my list, trying to understand what Mercer meant by Moon River by seeing the real Moon River with my own eyes. Frankly speaking, I've seen lots of rivers that are way more magnificent than this particular river. But now I've land on my own conclusion. It doesn't really matter how this river looks to anybody, what matter the most is what it is to Mercer. To you. To me. And I come back all over again to the first square; what is Moon River? What is Moon River to me?
I don't want to anchor you to my view, so I'll leave this essay all opened up. That night when I stood still staring at the river, I listened to Andrea Motis' version; one of the best version of all. That was one of those points of my life where I thought about lots of things until I lost on my own thought and then felt content and grateful for no specific reason. I kind of like the feeling of that.
"We're after the same rainbow's end, waiting round the bend, my huckleberry friend
Moon river and me"
"Moon River and Me" ditulis oleh:
Irina Chatarina 
A financial analyst that has a deep affection towards music and movies.