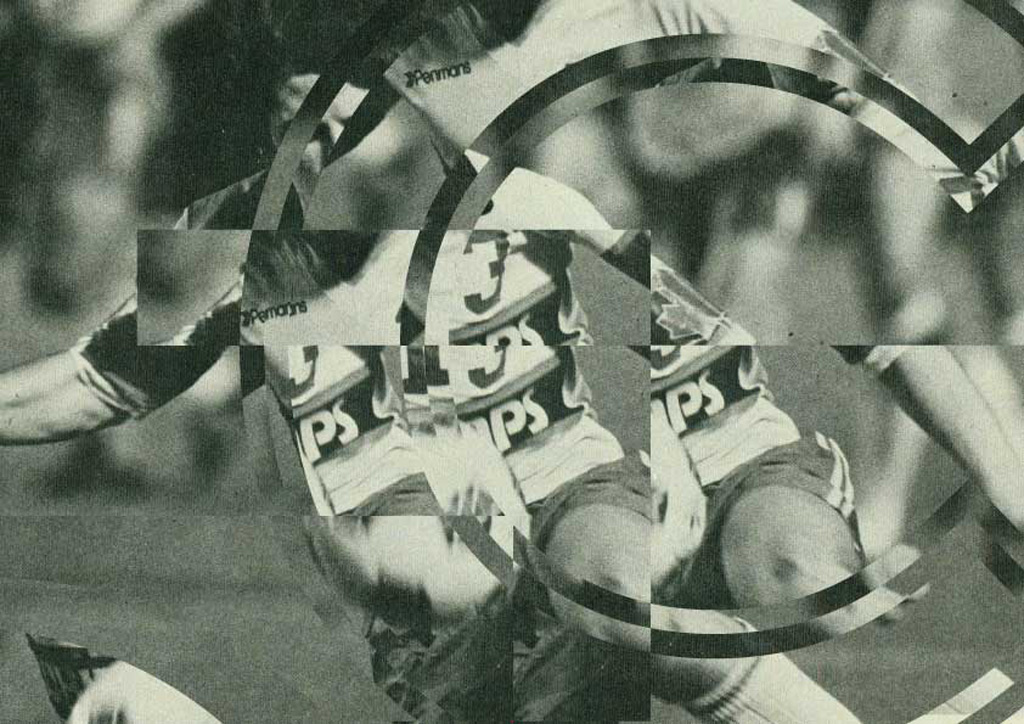 "He looks bigger in real life". That is perhaps the most common thing I hear while watching football in stadiums here in the United Kingdom. This is because since the dawn of television, we have become a victim of the simulacra: we see images beamed to us through television as more real than the real thing.
There is, of course, a difference between attending a football game and watching it on television. The media does not just present the sport; it gives us representation of the match. Modern football coverage brings us drama through slow motion replays, graphical overlays, fast paced action scenes, and comprehensive build up to entice audiences.
Throw in dramatic music and you'll have the equivalent of a Hollywood action movie without a fixed scenario beamed to you live every weekend.
Scholars argued that television, through the use of production techniques such as editing, camera movement, and lighting makes the viewer access to the game distinct from live spectators. Broadcaster have a tendency to focus and isolate players by framing them in shots that create a visually dramatic impact hence increasing the human element of the game.
However, we became a prisoner to television producers, directors and commentators. The audience are in the mercy of them as we are only presented with a selective and limited view of a football game that deprives us of a perception of the game as a whole and hence its patterns and tactics.
This selective representation extends to the final recapitulation of a match or series of matches. This can lead to biased assessment of a football match based on highlights provided by broadcasters. It is annoying if we missed a match and all we got are highlights of a 90 minute football game compressed into 1-3 minute segments.
I watched many a live game during my five year spell as a football journalist but I first realized the over dramatization of the sport when I watched the English national team played against France in the first group match of the 2012 European Football Championship in Donetsk, East of Ukraine.
If you take away all the coverage, infographics, dramatic music, and over exuberant commentator, you will left to see 22 adult men running around in a rectangular grass field chasing a white ball. Here I am in the middle of an Eastern European country some 12.000 km from Jakarta thinking, "is this game worth all the hassle?"
Then it hit me, football itself is simple. However, the requirements for the sport to be sellable as a consumer product for the whole world made the feed indistinguishable from the real thing.
We are fed the hyper real, the product of a manufacturing process of suitable images that sometimes distort us of their real life counterpart. It was French scholar Jean Baudrillard who first came up with the concept. He first used the term when he described the 1991 Persian Gulf War as the perfect 'television war' in which we viewed a spectacle akin of a Hollywood movie with smart bombs and victorious American fighting men.
In reality, the Gulf war was said to be a massacre so highly manipulated by the Western media that it became a triumph of public relations. Mainstream media failed to take account facts such as the amount of high explosive unleashed in the first month of the conflict exceeded that of the entire allied air offensive during World War II. Moreover, the number of Iraqi civilian casualties are suppressed, especially those who suffered long term injuries.
Larger than Life?
If we see football players in real life and up close, they are by all accounts just like you and me. However, television made them larger than life. This is a called the simulacrum, where the false (through media coverage) seems to be more real than real. It is also the inability to distinguish between real and false.
Take for example, Jordan Henderson, who has the hype to be the next Steven Gerrard in Liverpool. The media machine try to portray him in a grand way, the successor to the line of The Red's captaincy throne. But, when I met him during Liverpool's Asia tour last summer, he's a shy person who is clearly feeling the weight of the significant transfer fee, some 16 million pounds when Liverpool bought him from Sunderland, three years ago.
It doesn't help that my fellow journalist ask him how is the feeling of living with a tag of an overrated player. Poor Henderson, the lad scuffed a bit not knowing what to answer. "I just tried to get on with live not thinking of what others think about me," he said in a tone of voice that makes you took pity on him.
Or, it could be the other way around. Arsenal goalkeeper Wojciech Szczesny looks like a nervous guy on the field. He's not exactly renowned for his verbal approach to other players on the pitch, and he certainly is not in the mould of legendary goalkeepers such as Oliver Kahn or Peter Schmeichel in terms of shouting to their defences.
I met him twice during the past two years, once after the opening game of Euro 2012 in Warsaw where he was sent off while playing for Poland against Greece and then last summer when Arsenal came to Jakarta. In the first instance, I saw him toughening up to the gathered journalists who scrutinized him about the match.
The lad was brave, not a lot of players will confront the media after the kind of mistake he did: sent off on his international tournament debut in his hometown.
This shy man on the pitch stare back at the journalists and answered their questions calmly even though he's having the worst day of his life. "In my head I feel like I want to hang myself! However, I try to be calm and I don't want to be too sad after a setback and too happy if something went really well in life," he said to me in Jakarta.
In that second encounter, I got the chance to see the other side of him. He's a really funny and open kind of guy. He came in to the interview tent with Jack Wilshere and Kieran Gibbs but he was not like those two English players who came in like they know they are international stars. Szczesny came in with a little bit of hunch shoulders, perhaps worrying that he could hit the top of the tent with his height, but that makes the lad looked even more modest.
"Do you like Warsaw?" He asked me candidly in return after I barrage him with football related questions and told him about our encounter at the Euros. A swift time later the conversation just went along informally, about his life outside football and who's the best playing FIFA in the squad. "Definitely Theo Walcott and Jack (Wilshere)", he answered with a big laugh and a cheeky look towards his teammate.
A Simple Game
You often think footballers are detached from this world because of the ridiculous amount of money they earned every week. These encounters made me think otherwise, some of them are not really larger than life after all. Without all the glamour and glitz that surrounds them, they are just like you and me.
Supporters don't see this and they idolize football players like they do to any other star. People were screaming and yelling wildly towards Wilshere, Gibbs, and Szczesny when they appear to the Indonesian public after our interview session. Some have been waiting for 4-5 hours just to get under two minutes of their attention.
Football and television made this phenomena. It has been so since the first explosion in television rights agreement between Sky Sports and the Premier League in 1992/93 which was worth 304 million pounds for five seasons. Adjusted for inflation it is approximately half of a billion pound in current money but the latest Premier League TV rights which hits 3 billion pounds last summer dwarves that number.
In the end football is simple and there is no other better way to describe and loving the sport like what the late Sir Bobby Robinson, former Barcelona, Newcastle, and England national team coach, once said:
"What is a club in any case? Not the buildings or the directors or the people who are paid to represent it. It's not the television contracts, get-out clauses, marketing departments or executive boxes. It's the noise, the passion, the feeling of belonging, the pride in your city.
It's a small boy clambering up stadium steps for the very first time, gripping his father's hand, gawping at that hallowed stretch of turf beneath him and, without being able to do a thing about it, falling in love."