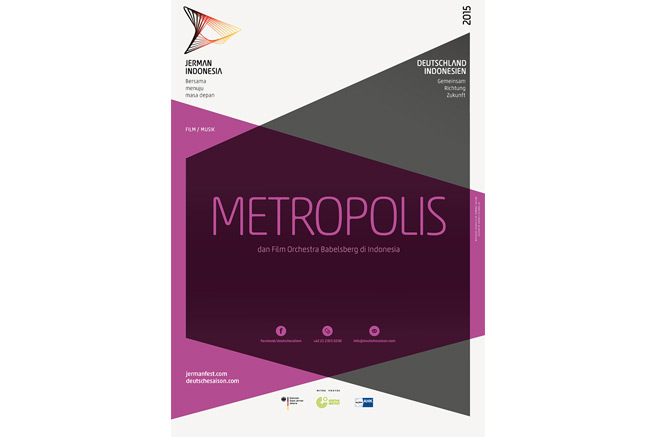 On September 5th 2015, the "German Season" officially opens with the monumental silent film "Metropolis". The first public screening in Indonesia of the original full length version premiers with 60 musicians from the "Deutsches Filmorchester Babelsberg" (German Film Orchestra Babelsberg) in Teater Jakarta. The performance will be accompanied by a live broadcast screened in the public forecourt.
"Metropolis", a classic silent film of German expressionism directed by Fritz Lang was filmed between 1925 and 1926. Set in a futuristic urban dystopia with a divided society, this was the first science fiction feature film of the genre. Considered one of the most important works in film history it was the most expensive film of its time. The renowned score, composed by Gottfried Huppertz drew on a plethora of influences and was groundbreaking in both its approach and realisation. Huppertz integrated the composition into the film production process, also composing a "leitmotif" for each protagonist.
Direct from Berlin, the "Deutsches Filmorchester Babelsberg" are internationally renowned for their live film concerts. The orchestra embodies a rich history that runs parallel to the history of German Cinema. Join us as the 60 member orchestra bring the film and score to life in what promises to be a legendary event.
Following the premiere in Jakarta, "Metropolis", accompanied by the "Deutsches Filmorchester Babelsberg", will tour to Bandung and Surabaya.