MoMA Dibuka Kembali Setelah Ekspansi 450 Juta USD dengan Ruang Tambahan 100 Ribu Kaki Persegi
MoMA berkolaborasi dengan Diller Scofidio + Renfro dalam pembuatan museum baru.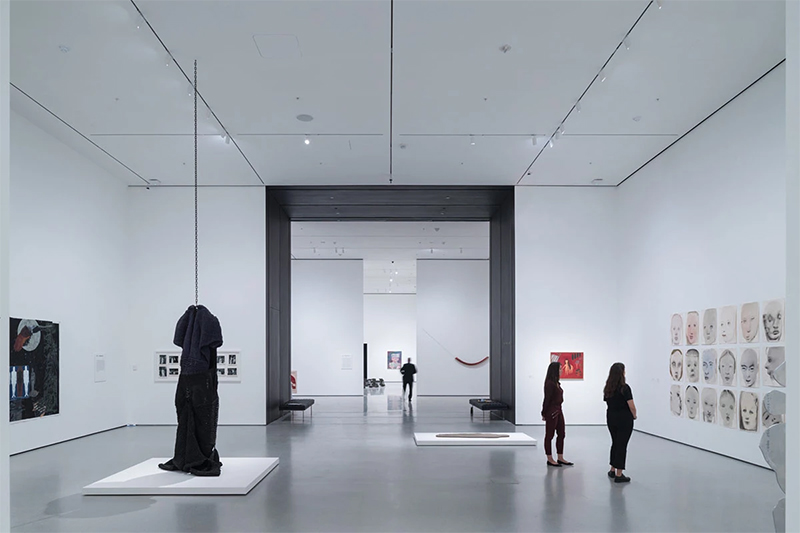 Teks: Novila Nuramalia
Foto: MoMA / Iwan Baan
Museum of Modern Art (MoMA) baru saja memberi kabar baik untuk para penggemar gelaran seni. Setelah empat bulan menutup pintunya, MoMA kembali dibuka pada tanggal 22 Oktober 2019 dengan 100.000 kaki persegi tambahan ruang. Renovasi seharga 450 juta USD telah berlangsung selama empat tahun, tetapi museum tidak perlu menutup seluruhnya sampai 15 Juni kemarin.
Diller Scofidio + Renfro berkolaborasi dengan Gensler pada proyek tersebut, yang mana terdapat penambahan ruang galeri seluas 40.000 kaki persegi, lobi baru, lantai dasar yang diperluas, dan laboratorium kreativitas. Sebuah studio baru yang terletak di jantung museum akan menampilkan program siaran langsung dan pertunjukan yang 'bereaksi terhadap, mempertanyakan, dan menantang sejarah seni modern dan momen budaya saat ini. Galeri street-level yang berada di lantai dasar akan dibuka secara gratis untuk semua pengunjung. Juga akan ada restoran baru yang bernama The Carroll dan Milton Petrie Terrace Café.
Pembukaan pameran baru ini akan meliputi Sur moderno: Journeys of Abstraction, member: Pope.L, 1978-2001, Betye Saar: The Legends of Black Girls Window, Private Lives Public Spaces, Artists Choice: Amy Sillman- The Shape of Shape, Haegue Yang: Handles, dan Surrounds: 11 Installations. Tak hanya itu, brand-brand ternama seperti Vans, UNIQLO, IZIPIZI, dan PLEATS PLEASE juga berkolaborasi dengan museum ini untuk peluncuran produk-produk baru.
Museum buka setiap Sabtu hingga Kamis dari jam 10 pagi hingga jam 5:30 sore waktu Amerika Serikat. Untuk gelaran UNIQLO Free Friday Nights di hari Jumat, jam buka diperpanjang hingga jam 9 malam.