Jean Jullien Membuat Karya Seni Fungsional Berupa Lampu Porselen Bernama "Billy the Lit Companion"
Dibuat dari ilustrasi gambar tangan Jullien pada badan porselen dan bohlam yang memiliki dua buah ekspresi muka; "Happy" dan "Moody".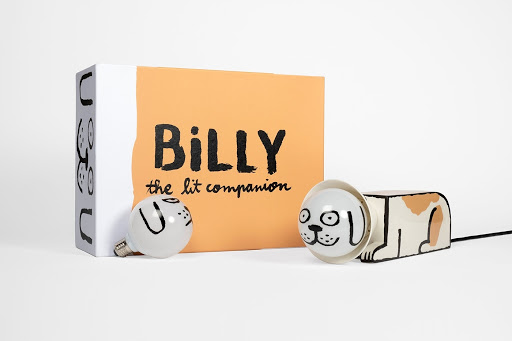 Teks: Daniet Dhaulagiri
Foto: Case Studyo
Jean Jullien kembali membuat karya pertamanya di 2021 bertajuk "Billy the Lit Companion", bekerja sama dengan Case Studyo, dia membuat sebuah karya seni fungsional berupa lampu berbentuk karakter anjing. Sebelumnya Jullien sempat megikuti sebuah pameran grup di Belgia, menampilkan karya berupa pahatan dan lukisan minimalis yang diberi nama "Les Gens".
Karakter anjing yang menjadi bentuk karyanya tersebut dibuat dari ilustrasi gambar tangan Jullien, menghiasi badan porselen dan bohlamnya—yang hadir ke dalam dua buah ekspresi wajah berbeda; "Happy" dan "Moody". Lampu porselen tersebut memiliki ukuran 34 cm x 8 cm x 13 cm, lengkap dengan kabel untuk saluran listrik tentunya.
Case Studyo mengucapkan dalam sebuah pernyataan, "Billy is a playful dog with a porcelain body, a lightbulb for a head and a radiant personality. Welcome him into your home and you'll notice this dog will light up every room."
Nantinya setiap edisi dari lampu porselen tersebut sudah ditandatangani oleh Jillien, diberi nomor, lengkap denga sertifikat keasliannya. Hanya tersedia sebanyak 100 unit saja dengan 10 bukti seniman dalam edisi yang tersedia melalui web dari Case Studyo.