Craig Green Kembali ke Runway Sejak Januari 2020 dan Menampilkan Karya Terinspirasi dari Paru-Paru Besi
Koleksi ini merupakan comeback setelah melewati hiatus selama dua musim.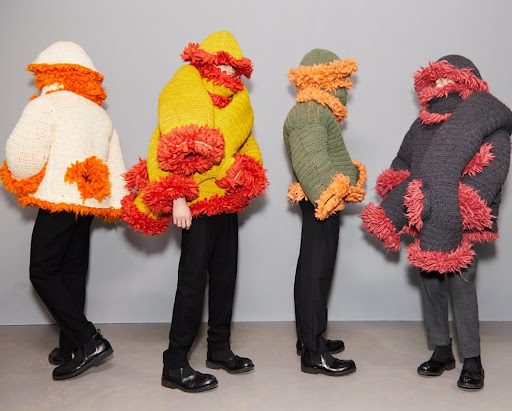 Teks: Nancy Rumagit
Foto: Craig Green AW22
Craig Green kembali menghadirkan karya-karyanya untuk ditampilkan di London tahun ini sejak pertunjukan terakhirnya pada bulan Januari 2020.
Pertunjukan ini diadakan di sebuah warehouse di London dengan desain tempat duduk berbentuk sebuah tabung berisi air untuk para tamu-tamu. "We thought it was amazing because when you sit on it, you can feel the other people on it too; the weight of the other people every time they sit down," ujar Craig Green ke AnOther. Green pun mengatakan bahwa mereka mendapatkan tempat duduk tersebut dari sebuah flood defence company.
Untuk tahun ini, Green memilih untuk bekerja sama dengan sejumlah pabrik-pabrik industri yang di antaranya memproduksi lapisan karpet dan lateks medis, dan bukan ditujukan untuk memproduksi bahan-bahan pakaian. Akibatnya, beberapa warna di koleksi ini dipilih karena minimnya pilihan yang tersedia di pabrik tersebut. 
Foto: Craig Green AW22 / Paul Phung
"They were all functional in some way, but mixed together accidentally created some kind of strange, optimistic rainbow," ujar Green. "I think that the choice of the materials throughout were quite raw, like rubber, silk, and denim. They are what they are. I also love the idea that some people hate those materials. For some people something might be the most comforting, luxurious material they could think of, but for others, it kind of repulses them. I like that play between those two extremes."
Selain itu, Green pun mengatakan bahwa semua karya-karya 3D-nya terinspirasi dari paru-paru besi. "–we found all these images of a man that lived inside an iron lung for almost all of his life," ujarnya, sebelum ia menjelaskan ketertarikannya terhadap lubang-lubang seputar paru-paru tersebut yang ditujukan agar orang-orang dapat mengurus badan orang tersebut. "So it was all about other people touching you, you touching other people, and I guess that feeling of hyper-tactility went through the whole collection. It was about touching – and feeling things again."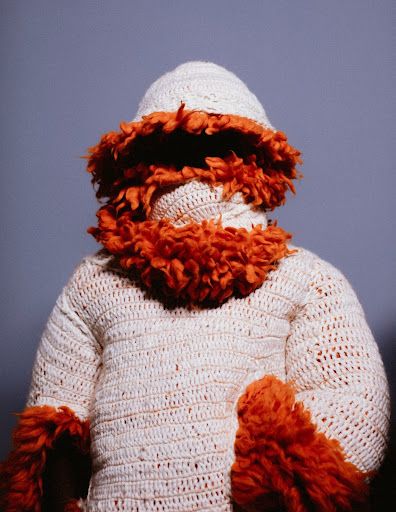 Foto: Craig Green AW22 / Paul Phung