Mangaka Horor Junji Ito akan Mengisi Suara Karakter dalam Adaptasi Anime Uzumaki
"Disclaimer: Kami belum bisa mengatakan karakter mana yang dia suarakan."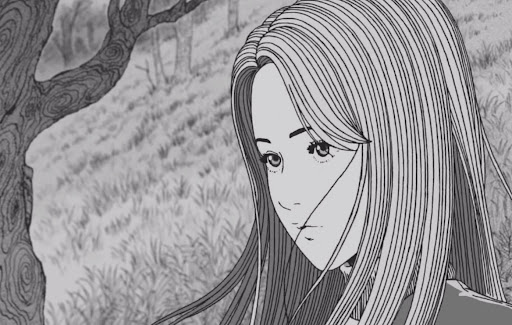 Teks: Nada Salsabila
Foto: Adult Swim
Semenjak diumumkan pada 2019, adaptasi anime dari serial horor Junji Ito, Uzumaki, sempat mengalami penundaan dikarenakan pandemi. Setelah cuplikan singkat mengenai adaptasi tersebut dirilis pada tahun 2021 oleh Adult Swim, belum banyak update terbaru lagi mengenai proyek tersebut. Dalam video tersebut, sutradara Hiroshi Nagahama mengatakan bahwa proyek tersebut masih dalam pengembangan.
Update on Uzumaki Anime and some words from Director Nagahama. https://t.co/NbqS7bYIwk

— UzumakiAnime (@UzumakiAnime1) June 15, 2021
But good news for us Junji Ito lovers, akun Twitter resmi untuk anime Uzumaki mengungkapkan berita terbaru yang melibatkan sang pencipta manga tersebut. Ternyata, keterlibatan Junji Ito dengan proyek tersebut akan mencakup akting suara.
Nantinya, Junji Ito akan mengisi suara salah satu karakter dalam adaptasi anime dari manga Uzumaki-nya. Pengumuman itu dibuat melalui akun Twitter resmi anime Uzumaki yang membagikan video dibalik layar dari proyek tersebut.
Akun Twitter tersebut merilis video yang menunjukkan keterlibatan Ito dalam proyek tersebut, menampilkannya di bilik rekaman. Namun klip saat Ito melakukan rekaman diganti oleh bunyi bip. Klip tersebut juga menampilkan pesan yang berbunyi, "Disclaimer: Kami belum bisa mengatakan karakter mana yang dia suarakan." Namun, beberapa klip setelah itu melibatkan Ito yang mengatakan, "Saya biasanya memiliki pengucapan yang buruk, jadi melakukan 'peran ini' adalah sempurna." 
Merry Christmas🌀 pic.twitter.com/frgwKjDsx7

— UzumakiAnime (@UzumakiAnime1) December 24, 2021
Mini-seri empat episode Uzumaki akan tayang perdana sekitar Oktober 2022. Studio Drive memproduksi anime tersebut, dengan Mushishi dan direktur Detroit Metal City Hiroshi Nagahama yang mempelopori proyek tersebut. Selain itu, komposer Colin Stetson juga akan menangani musik seri ini. Sebelumnya ia juga telah membuat musik untuk film seperti Hereditary dan Color Out of Space. Selain itu, anime Uzumaki diperkirakan akan tayang perdana di Toonami Adult Swim sebelum dirilis di Jepang.