Things We Like: Mind-Blowing Documentaries
Kumpulan film atau seri dokumenter yang cocok untuk ditonton selama di rumah saja.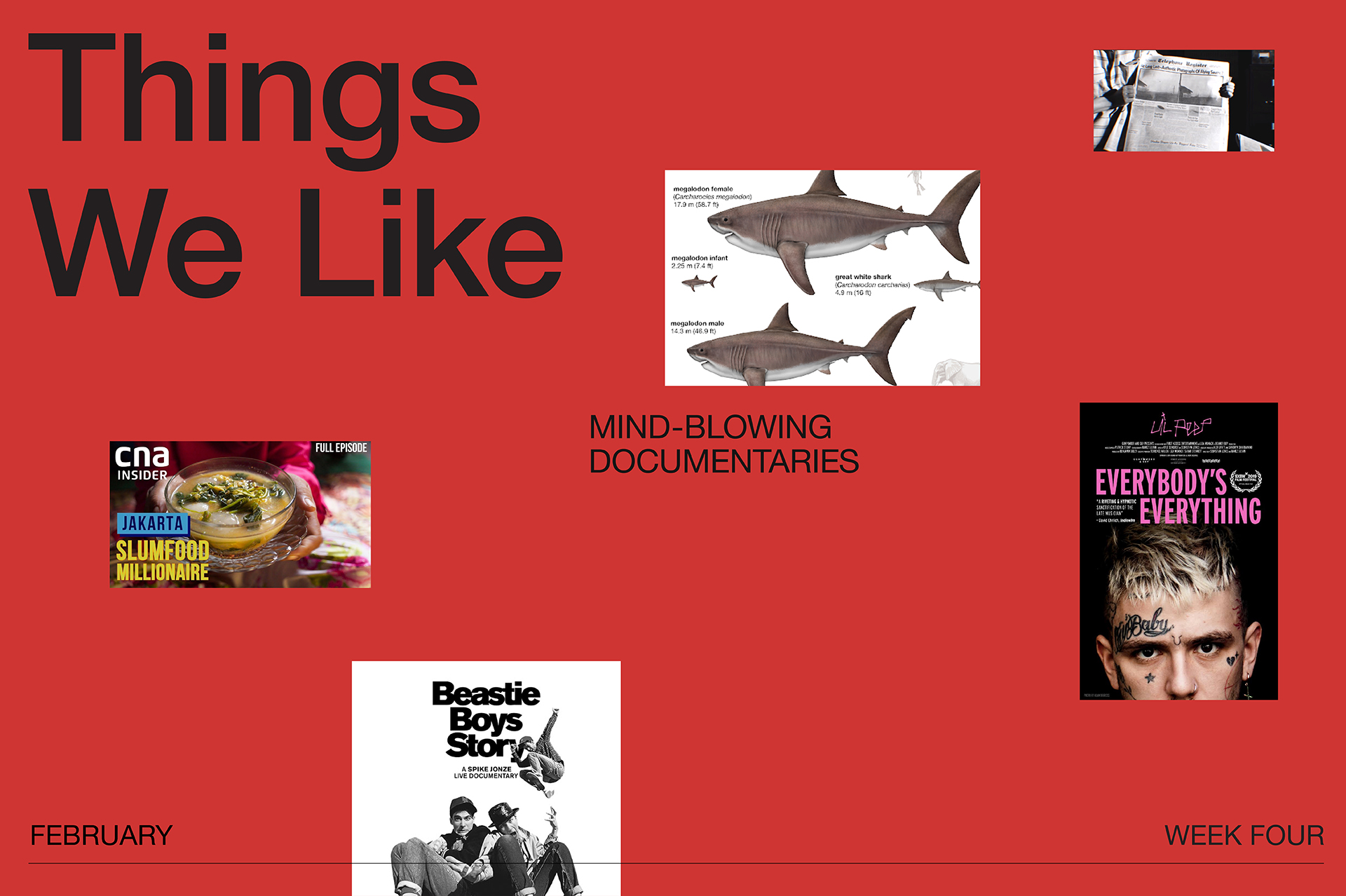 Menonton film dokumenter adalah salah satu cara untuk bisa mengenal dunia di luar sana, yang jauh dari jangkauan kita. Melihat situasi kini yang memaksa kita untuk berada di titik yang sama, pada "Things We Like" kali ini, kami mengumpulkan beberapa film atau seri dokumenter yang tepat ditonton selama di rumah saja. Berikut adalah beberapa barang rekomendasi kami.
EMMA PRIMASTIWI
Editorial Staff
What:
Megalodon: The Monster Shark Lives
Description:
Had a mild obsession with megalodons bcs they are huge sharks. First I found out about them on Shark Week, my favorite week on National Geographic and they had this mockumentary about Megalodons and people freaked out about it. I was one of those people. But then The Meg came out and ruined everything so, bye. 
Prehistoric things are so fascinating everything is huge. 
JANUAR KRISTIANTO
Heart Attack
What:
Beastie Boys Story
Description:
Gak ada director yang lebih cocok untuk menggarap dokumenter seru, insightful sekaligus mengharukan ini selain Spike Jonze. Dengan pendekatan live set, photo/video slides pun kehadiran sosok Mike D dan Ad-Rock membuat live documentary ini fun buat ditonton buat lo yang kepo sama cerita Beastie Boys ataupun mungkin lo yang udah ngefans sama mereka dari dulu, a definitive must-see!
MARDHI LU
Graphic Design
What:
Lemmino – The Unknowns: Mystifying UFO Cases
Description:
4 Tahun yang lalu, gue dapet rekomendasi di Youtube sebuah video tentang The Dyatlov Pass Case, oleh Lemmino. Gue nonton deh, dan dari hari itu gue selalu nonton semua video dari channel itu.
Dari video Dyatlov Pass Case itu, Lemmino sering mengeluarkan dokumenter singkat tentang kejadian kejadian aneh yang ada di bumi. Tapi bukan teori konspirasi ya, dia cumen memaparkan bukti faktual yang emang legit. Dan dia present story aneh ini dalam cerita yang runtun.
Video dokumenter tentang UFO ini adalah salah satu yang membuat gue pengen percaya konspirasi UFO. "Pengen" tapi ngga percaya yaaaa. IT'S REALLY WEIRD AND SEEMS LIKE THE GOVERNMENT WANTS US TO NOT KNOW ABOUT ALIEN
SABRINA FARIZKY
Marketing & Partnerships
What:
Everybody's Everything (2019)
Description:
I wasn't prepared for such a heartbreaking documentary when I watched it for the first time. 
Gue sendiri sebenernya ga se-familiar itu sama Lil Peep dan karya-karyanya, dan nonton documentary ini pun karena penasaran liat rating-nya yang bagus. Basically this doc captures the life of Lil Peep (born Gustav Åhr), which was cut far too short when he died of a fentanyl-Xanax overdose in November 2017. Menurut gue, yang membuat film ini special adalah dokumentasi yang cukup lengkap untuk menceritakan alur hidup Lil Peep dari kecil hingga momen-momen terakhir dia hidup, waktu nama-nya sedang naik-naiknya. 
**SPOILER ALERT: bagian tersedih pas kakek-nya lagi jadi narator dan bacain surat-surat yang dia tulis buat Lil Peep, dan menunjukkan the special bond that they have and how he never stopped seeing Peep as his little boy.
MAR GALO
Bamboo Twist
What:
Slumfood Millionaire (Short series from CNA Insider)
Description:
A 6-episode food journey through humble neighbourhoods in Asia. It's a very interesting look into the lives of these residents through their delicacies. Though, I'd say some of these places are not slums, they are just a low-income neighbourhood. Living on a limited finance doesn't mean that you can't enjoy good food. And what a feast these people are having! 
All episodes are on YouTube.