Things We Like: TV Series
Kumpulan TV series yang sedang kami tonton akhir-akhir ini.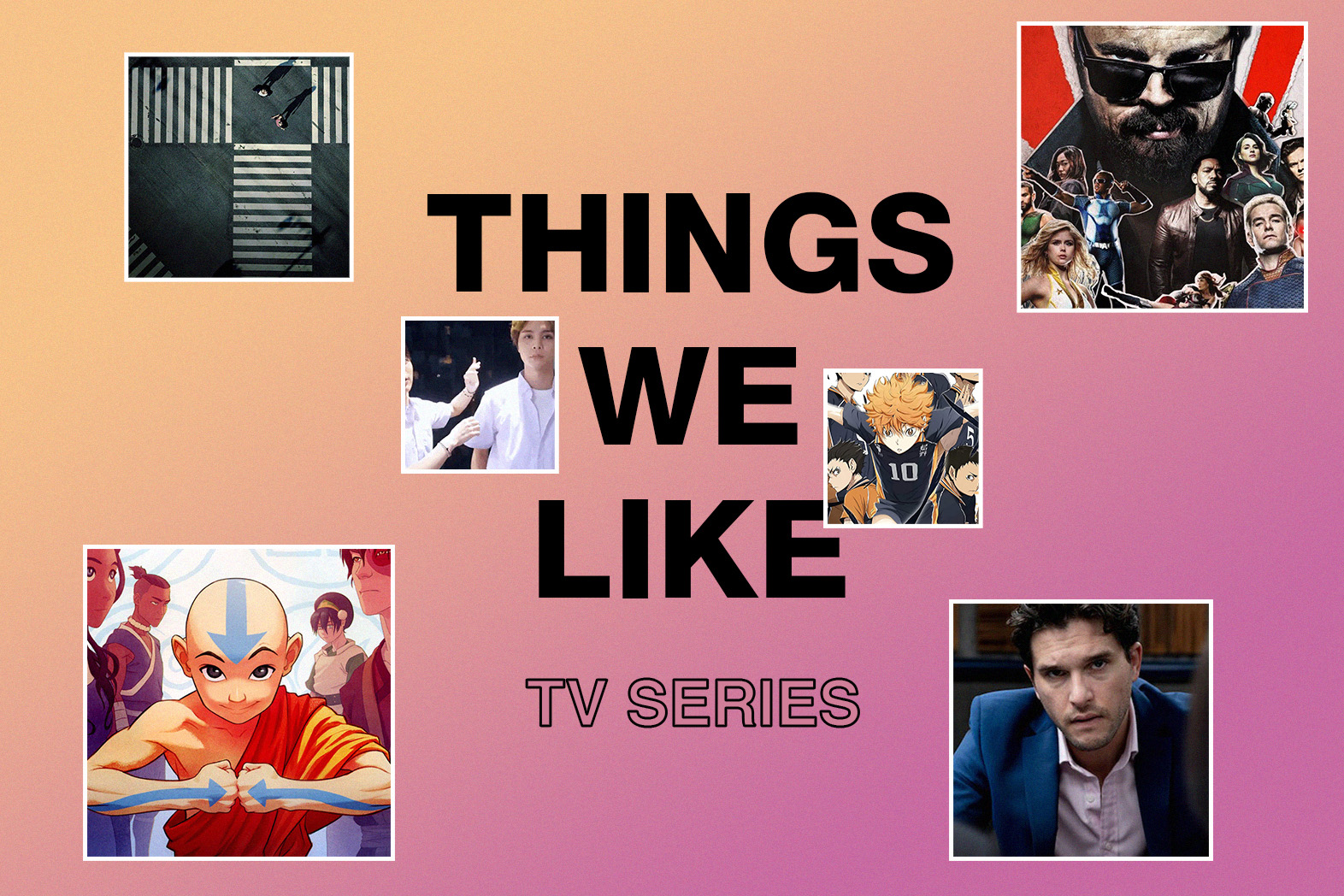 Pada "Things We Like" kali ini, kami meng-highlight ragam aktivitas favorit semasa berdiam di rumah. Dengan semakin banyak bermunculan series baru yang berkualitas dari berbagai streaming platform, kita dihadapi dengan pilihan yang luas. Oleh karena itu, kami mengumpulkan sederet series yang sedang ditonton akhir-akhir ini. Dari anime, suspense, hingga crime drama, berikut adalah beberapa pilihan kami.
M. HILMI
Managing Editor
What:
Avatar: The Last Airbender
Description:
Entah sudah berapa kali rewatching, dan masih sangat menikmati. Kemarin niatnya ngajak nonton Akal, tapi ternyata doi belum tertarik dan justru gw yang nyangkut. Selalu ada takeaway baru pada setiap pengalaman nonton, membayangkan bahwa ini adalah serial tentang perang tapi berdasar pada kemanusiaan, terdengar seperti plot film perang Hollywood kebanyakan, tapi yang ini menjalaninya dengan sepenuh hati, bukan cuma di mulut saja. Jujur lebih banyak belajar tentang kemanusiaan dari kartun ini daripada dari pemerintah (yang lama-lama kayak King Ozai). 
2020 akan berakhir, dan 2021 akan segera hadir, bagi gw Avatar Aang membantu untuk menyambut harapan-harapan baru yang akan lahir. 
FEBRINA ANINDITA
Editorial Staff
What:
NCT Daily
Description:
Bukan series sih, tapi aktif banget upload video barunya. Jadi NCT Daily ini akun YouTube khusus keseharian dan program-program lucu member NCT. Sebagai NCTzens, gw merasa dimanja banget karena selalu dikasih video hampir tiap hari :"""
Belum nonton semua karena ada sebarek, tapi favoritnya sih program "Johnny Communication Center" karena Johnny mulai naik peringkat menuju ultimate bias xixixi.
Nggak sabar nunggu video behind the scene photoshoot album "Resonance Pt. 2 Arrival version" aaaaaa
Makasih NCT udah bikin happy~
GHINA HANA SABRINA
Editorial Staff
What:
The Boys
Description:
Honestly, it's been a while since the last time I watched tv series because, reasons, but "The Boys" was the last time I watched something so religiously because it's so damn fun.
Basically a superhero movie on steroids, it's not all fun and games and saving the world. It deals with the dynamics of being a superhero, their egos, the politics within them, the celebrity culture that comes with being a superpowered human and a lot others. The antithesis of Marvel, I guess. 
EMMA PRIMASTIWI
Editorial Staff
What:
Haikyu!!
Description:
Mas Hilmi… You win. 
Satu-satunya anime yang bener-bener buat gue seneng. Jujur awalnya gue nggak tertarik tapi banyak banget yang rekomen so I thought why not give it a try. Tadinya gue kira ga ada yang bisa menggantikan "Kuroko's Basketball" sebagai all time favorite, kata mas Hilmi "Haikyu" is better and I guess.. He is… kind of… right… 
When I say I have been obsessed with "Haikyu", I have been obsessed with "Haikyu". It was a slow burn. Watched season 1, was like ok yeah it's fine. Watched season 2… why do I… feel… happiness?… Watched season 3, I cried with them, laughed with them…. And now I only wish the best for them. Idk why I'm so invested in their lives but I genuinely just wanna see them succeed hahahaha. 
Can't wait for next week's finale. Wuhu 
TIANA LONDA
Graphic Design
What:
Criminal UK
Description:
If you're into crime/detective drama series, you should give this a go. It's a very intense and gripping detective show. The stories take place inside the police interrogation room where the potential crime suspects are being (intensely) questioned by the detectives. My favorite episode is the one with Kit Harrington, with his epice 6 minute one-shot monologue scene. It's truly binge-worthy material!
SABRINA FARIZKY
Marketing & Partnerships
What:
Alice in Borderland
Description:
Gue sebetulnya jarang-jarang banget tertarik nonton live adaptation dari serial Manga, tapi pas liat review-review bagus untuk seri baru Netflix ini, langsung mencoba memberanikan diri untuk nonton. Wah ternyata memang bagus banget.
Selama nonton "Alice in Borderland", rasanya kayak nonton a mix between "Battle Royale" dan "Saw" dengan setting post-apocalyptic, with a strong comic book-y vibe, yang masih kental tapi ga terasa dipaksakan. Dan meskipun banyak adegan-adegan intense dan lumayan gore, tapi Shinsuke Sato bisa dengan apiknya menyelipkan humor dan adegan-adegan sentimentil. Jadinya pas nonton rasanya tegang tapi fun tapi kadang bisa mendadak sedih, hayo gimana tuh.