Things We Like: Osaka
Makanan, record store, hingga aktivitas kota yang kami sukai.
Di dalam program "Things We Like", kami mengumpulkan hal-hal yang sedang disukai oleh tim Whiteboard Journal dan Studio 1212 berikut alasannya. Kali ini merupakan edisi spesial yang merangkum hal-hal yang kami temukan selama perjalanan kami di Osaka, Jepang pada awal bulan Mei. Dari record store, pasar makanan legendaris, acara musik, hingga makanan yang dapat ditemukan di convenience store, berikut adalah "Things We Like" dari perjalanan kami di Osaka.
Editor
What:
Walking all day
Description:
So many things to see, so many people to meet, everything within walking distance, and if it ain't then we'll take the train there.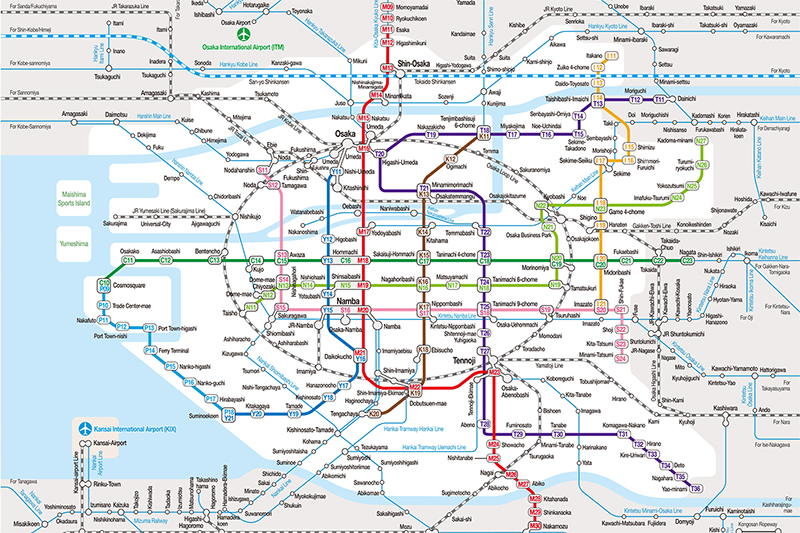 M. HILMI
Managing Editor
What:
Village Vanguard & Luke's Lobster
Description:
Karena agak susah memilih yang paling dinikmati di Osaka kemarin, jadi bakal ada dua hal yang dibahas di sini. Yang pertama Village Vanguard. Di plang tokonya, dia menulis tagline yang lumayan corny, "exciting book store". Tapi ketika masuk, ke-corny-an tadi ternyata bisa dipertanggungjawabkan. Isinya beneran exciting, terutama kalau ada darah-darah otaku mengalir di pembuluh. Pilihan bukunya seru, ada beberapa bertema Amrik (nyambung sama lokasinya di area Amerikamura), juga item yang Otaku related dalam berbagai macam bentuk. Dari sini, akhirnya bungkus dua figurin monumen "Tower of The Sun" dari sini. Kenapa dua? Yang satu buat di meja kantor, satu lagi dalam bentuk plushie buat anak di rumah. Start 'em young!
Yang kedua adalah urusan perut. Selama di Osaka kemarin nggak beli macam-macam, paling sering makan dari Family Mart dan 711 #sobatmisqueen. Luke's Lobster adalah makanan termahal yang dimakan di sana kemarin. Dan worth it sih. Siapa mengira ternyata lobster disajikan dingin, diapit dengan roti yang dibakar sebentar dengan butter bisa seenak ini. Tekstur daging lobsternya terasa, dan melengkapi rasa manisnya yang ngangenin. Dua hari berturut-turut beli lobster rollnya, dan akan masih mau makan lagi jika masih ada di sana. Nulis ini aja bikin ngiler. Enak kali ya kalau bisa buat jadi menu buka puasa. Ah, seandainya.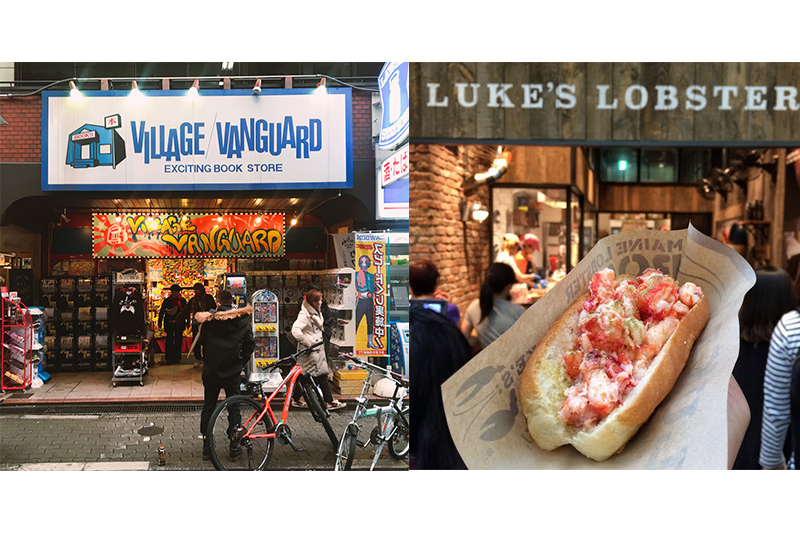 FEBRINA ANINDITA
Editorial Staff
What:
Newtone Records Osaka
Description:
Bingung mau nulis burger juicy di Critters Burger atau mas-mas ganteng di Lush yang bikin gue belanja hal nggak penting. Tapi terima kasih Jan buat rekomendasinya, gue jadi mampir ke sini dan tempatnya seru banget. Kecil sih, tapi semua sudutnya menarik buat dieksplorasi. Bikin pusing waktu nemu 1 rak isinya musik yang akhir-akhir ini sering gue dengar – mulai dari keluaran Multi Culti sampai Garzen.
Gue nemu Floating Points yang "People's Potential/Shark Chase" di pojokan lantai – tapi jadinya beli Mehmet Aslan. Love banget.
Kalau ada kesempatan ke Osaka lagi, pasti mampir lagi!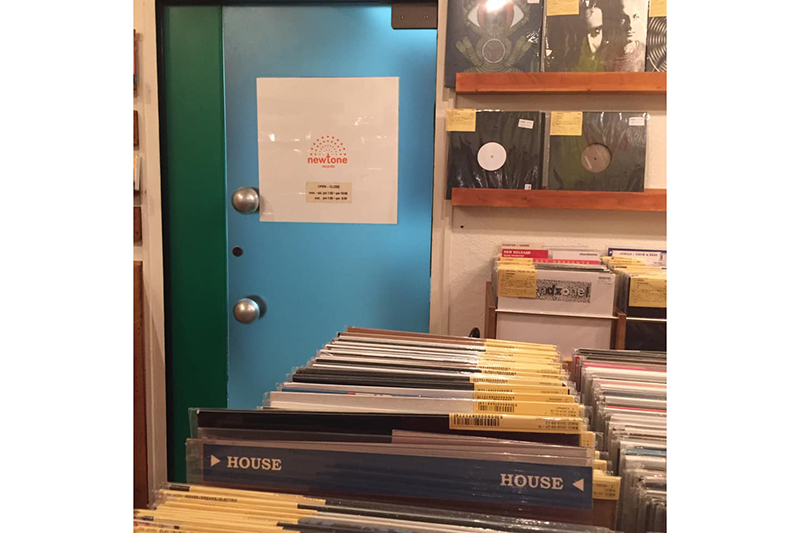 GHINA HANA SABRINA
Editorial Staff
What:
Jayda G at Circus Osaka
Description:
Jadi sebetulnya gue bersama beberapa orang dari trip ini udah berniat untuk merasakan suasana party di Osaka at least sekali aja, sampai membuat IG group yang isinya flyer-flyer events yang diadakan di tanggal kita di sana. Pada akhirnya, we decided to settle on one event, which is Jayda G's release tour. Saking niatnya, we all bought tickets while we were still in Jakarta. Fast forward to the day, pada hari itu Osaka dilanda hujan yang lumayan deras, tapi obviously that wouldn't stop us and we walked to the venue that is fortunately just a 15 minute walk from our hotel. The venue was small but not too packed that we couldn't dance, Jayda G played a very energetic set that kept us all dancing non-stop. Too bad I had to catch an early train in the morning to Tokyo, if not, I'd stay until the end.
EMMA PRIMASTIWI
Editorial Staff
What:
Odd Numbers Coin Pouch (& the Hot Shop Owner)
Description:
A hidden gem indeed. The place itself is filled with unique local brands – ranging from dress shirts, tailored suits to pottery. But one thing that stood out came from one of their in-house brands, Tango that offered the cutest leather coin pouch (which I am now a proud owner of). So glad we stumbled upon this store! Not only did we find beautifully crafted accessories, I found the most beautiful man in Osaka. Will definitely come back! If not for the beautiful pieces, then for the beautiful man.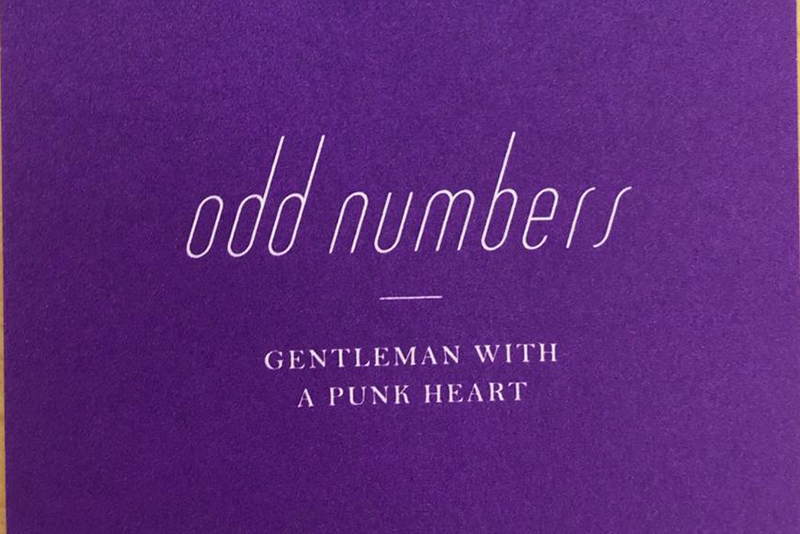 CLARISSA AMABEL
Graphic Designer
What:
BSPK Hotel Cotton Pajamas
Description:
Bless Japanese hotels and their courtesy to provide sleeping clothes for their guests! Due to my last-minute packing habits, I completely forgot to bring my standard sleeping attire of oversized, stretched T-shirt and overwashed shorts on this trip. Can you imagine my delight upon entering my room and finding a set of freshly pressed, white, soft cotton pajamas on my bed?
I believe the good people of BSPK Hotel invented the PJs to perfectly complement the dreamy pleasures of the duvet. Have you ever been wrapped inside a perfect cotton burrito? I have, and I felt great.
[I forgot to take a picture of myself with these robes from heaven, so I present to you our Account Manager]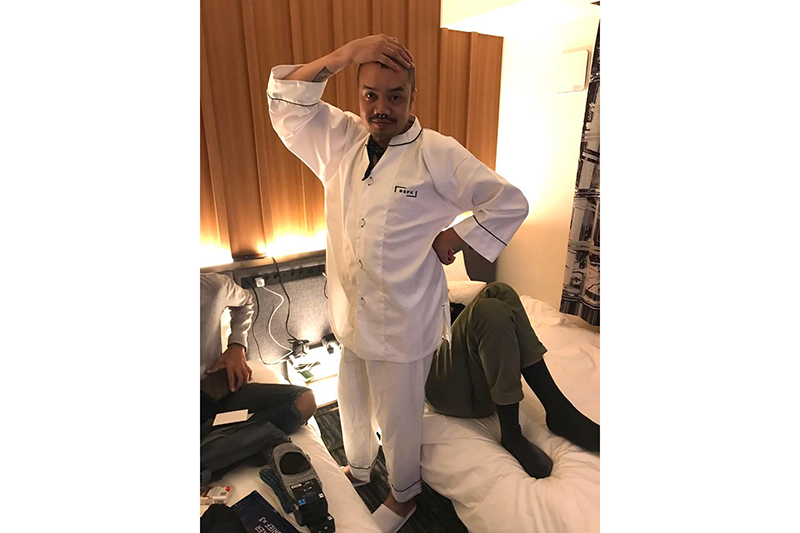 DILA F. HASAN
Graphic Designer
What:
Family Mart Foods
Description:
Tempat penginapan kita di Jepang untungnya sangat strategis, dekat ke mana-mana termasuk mini mart, seperti Family Mart dan 711. Tapi jangan salah menilai, Family Mart di sana adalah the OG MINI MART dari yang di sini. Makanan di sana = makanan siap saji dengan kualitas yang sama seperti bakery dan fast food lainnya, sangking enaknya tiap pagi di sana gue selalu beli onigirinya sampe eneg dah tuh, makanan manisnya juga sangat extra!! Seperti kue sus, crepes gulung dan kue bolu enak bangettt huhu. Highlight gue tetep Famichiki, ayam goreng fillet juicy dan tender seperti ayam KFC, rasanya yang gurih dibungkus dengan tepung krispi. UGGGHHH dan harganya cuman 180 yen, sungguh surviving only with famima food gue di sana.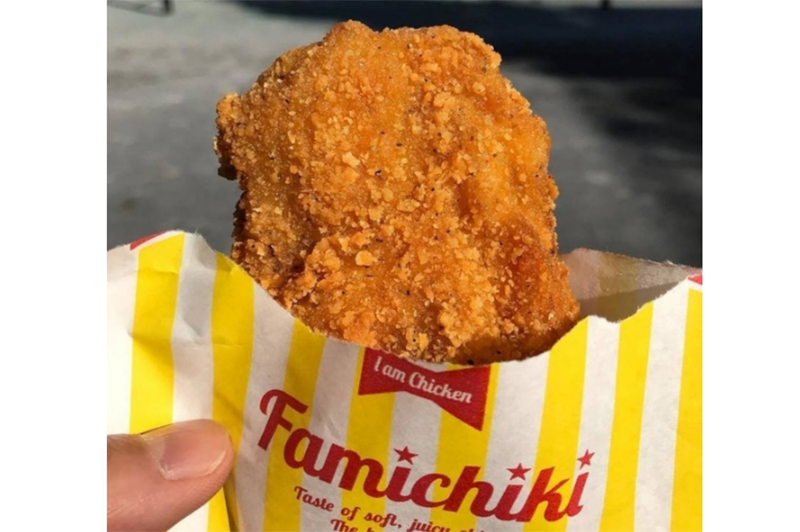 SABRINA FARIZKY
Marketing & Sales
What:
Kuromon Ichiba Market
Description:
Suatu keharusan setiap kali ke Jepang untuk mampir ke pasarnya, dan di trip kali ini pun gue menyempatkan diri untuk mengunjungi Kuromon Market, the main food market di Osaka, tepatnya di daerah Namba.
Dibuka dengan strawberry mochi dan ditutup dengan sake hangat di salah satu kedai sushi, semua makanan yang dicoba disini semacam memberikan next level happiness untuk gue.
Meskipun begitu, highlight utama dari kunjungan ini adalah THE OYSTER. The freshness of the oyster combined with soy sauce and a dash of lemon juice literally sent me to food heaven for a brief 5 second. It was so good, I even moaned a little.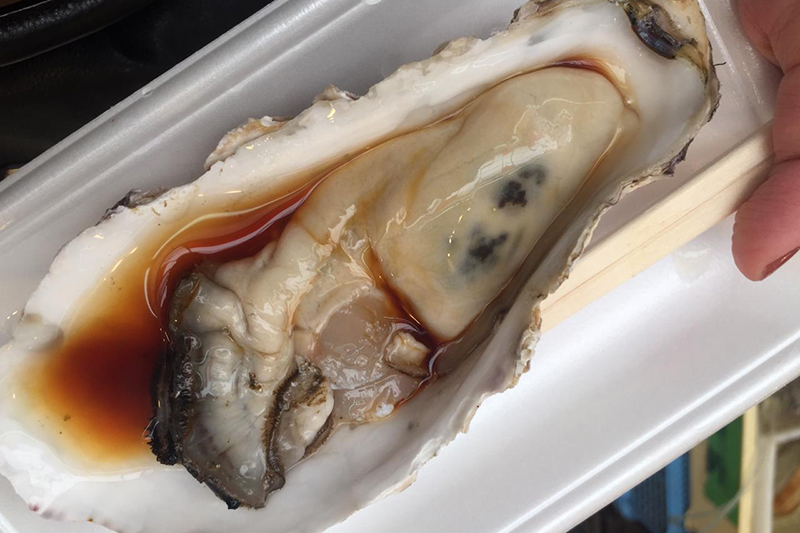 MAR GALO
Bamboo Twist
What:
Time Bomb Records
Description:
Was gonna do Walkers Bar but no decent picture. Was gonna do Newtone but Feby beat me to it. So, third on the list is Time Bomb Records. From the name, you can tell it's a punk rock record store with everything punk rock and beyond. It has an extensive dig of garage rock, rockabilly, psych, and many, many more. What I love about this place is that it really reminds me of Generation Records in NYC but bigger. The vibe and the layout with gig posters along the stairwell really brought me back to those days of putting up show posters around record stores, except it's more organized because it's Japan.
Didn't get to buy anything although tempted by Guitar Wolf and Cedric & The Jackals but already spent most of my money. They also have complete catalog of The 5.6.7.8's since they're the band's label. So cool.
JANUAR KRISTIANTO
Heart Attack
What:
Revenge Records
Description:
Setelah berputar selama beberapa menit akhirnya kesampean juga buat nyamperin Revenge Records, salah satu record shop punk di Osaka milik gitaris Framtid bernama Jacky, bareng sobi pang gue Gary Hostage. Sesampainya di sana, gue disambut poster L.O.T.I.O.N di depan pintu (alright, this place rocks already!). Suasana toko yang hangat membuat Revenge Records jadi salah satu destinasi para record collectors, terutama peminat underground punk & metal. Tersenyum juga saat menemui beberapa rilisan punk tanah air; ada Masakre, Zudas Krust hingga Total Jerks. Sekelar browsing records, akhirnya gue & Gary berkesempatan ngobrol bareng Jacky, mulai dari ngomongin band favorit kita Exit Order, cerita-cerita menarik seputar band-band legendaris Jepang hingga awal muasal punk masuk ke Jepang. It has been a short but memorable memories, gue pasti bakalan balik lagi ke tempat ini for sure!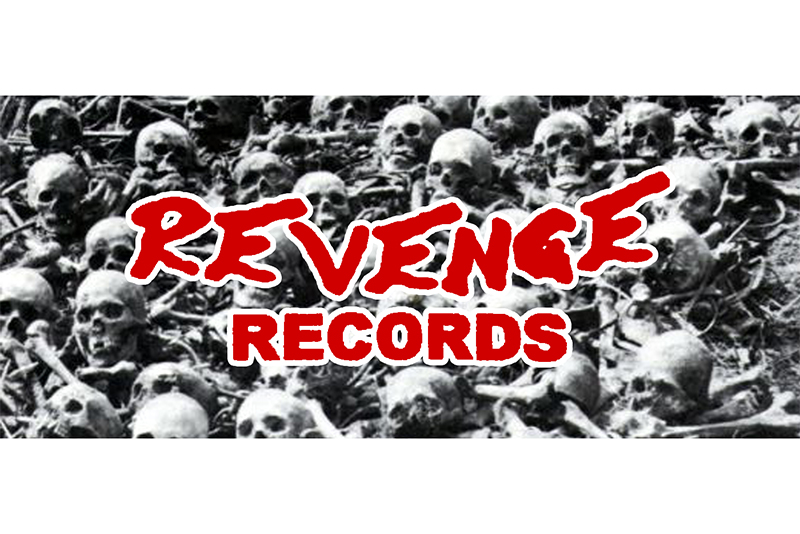 AVI AMERTA
Social Media Specialist
What:
Ukiniwa Bridge
Description:
I love how Osaka is such a friendly, walkable city. We stumbled upon this bridge while walking our way to Osaka's shopping destination, Orange Street from Namba. This bridge is such a lovely and cute spot and offers another view of Osaka. I especially like the greeneries planted on the bridge, and the few sculptures as well as benches placed around. The days we spent in Osaka was mostly rainy, but the day we discovered this bridge was sunny and breezy. This spot filled my need for public open spaces perfectly!
ATIKA SARWONO
Social Media Specialist
What:
Egg Tart from Lord Stow's Bakery
Description:
The entire trip was Amazing Race without a prize, but stumbling upon this piece of heaven on our way to the airport came pretty close. No one could deny the smell of Lord Stow's freshly baked egg tarts after carrying luggages through (what seems to be endless) steps of stairs and transferring between multiple railway lines. We knew we need to get them and we were not wrong. The Japanese has enhanced this classic Portuguese egg tart with a rich and thick egg custard on the inside and wrapped them with a perfectly crisp pastry on the outside. This was a sweet and unforgettable, we knew what true love is on our first bite.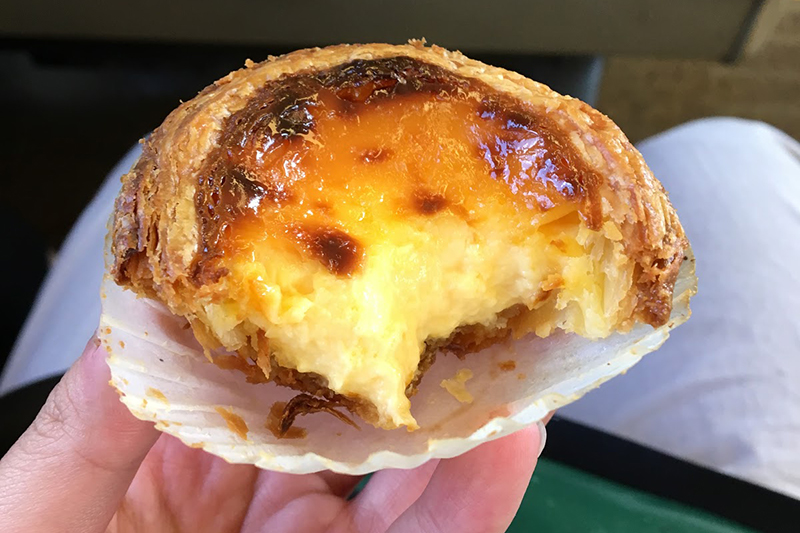 GERARD LATUADHI
Account Manager
What:
Toilet Osaka
Description:
Salah satu hobi saya adalah buang air besar (BAB). Saya sudah meninggalkan banyak jejak di berbagai toilet atau WC di Jakarta, dari yang jelek dan bau seperti WC umum, WC di pensi, sampai WC bagus di hotel berbintang, gedung perkantoran dan berbagai gedung komersial di Jakarta. Namun, dari semua WC bagus yang pernah saya kunjungi di Jakarta, tidak ada satupun yang bisa membuat hati saya bergetar; sampai pada saatnya saya merasakan WC-WC di Osaka… oh… Sensasi seperti pantat yang dirawat malaikat. Ada berbagai tombol di closet duduk yang bisa memberikan berbagai macam jenis semprotan ke pantat, ada juga background suara nyaman berbahasa Jepang dari dalam closet yang menyambut saya ketika duduk. Suhu air pun juga bisa diatur, apakah anda mau air yang agak dingin? Hangat-hangat kuku? Bisa… Tinggal pencet saja. Bahkan suhu tempat duduk pun bisa diatur. Apakah dudukannya terlalu dingin karena AC? Pencet saja tombolnya nanti juga hangat. BAB itu terlalu underrated dan sepertinya Jepang (Osaka) menyadari hal ini. Dengan closet canggih yang terdapat di berbagai gedung komersial di Osaka, pengunjung toilet bisa menikmati sensasi dimanja malaikat ketika BAB. Jadiiii, jangan lupa untuk buang air besar ketika berkunjung ke Osaka. SUGOI!
DIANTI SADDONO
Account Manager
What:
Street Artist di Shinsaibashi
Description:
Di Shinsaibashi ada jutaan orang, tapi yang selalu konsisten saya temui adalah figur satu ini. Wajahnya nggak asli sih, tapi dia selalu tersenyum dan dadah-dadah ke saya tiap saya lewat. At least, 2 dari 4 kali saya melintasi tempat yang sama, dia selalu automatically melambaikan tangannya. What a nice person??? Everyone should be like that sih. Kenal gak kenal, senyumin ajeee. Siapa tau berlanjut kan hubungannya hehehe.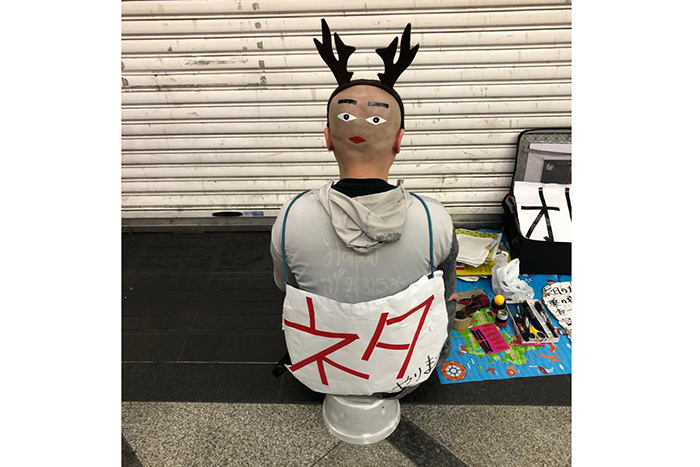 HARSYA ANDHIKA
Account Executive
What:
Kaiyukan's whale shark
Description:
Placed in Kaiyukan Aquarium's largest tank, the whale shark is clearly the most majestic sea creature I've ever seen. Straight from the Pacific Ocean, it swims endlessly among stingrays and mackerels, while managing to soothe my eyes and relaxes my nerves with how smoothly it swims.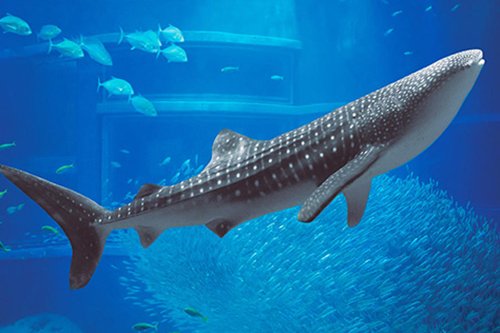 ARVIAN MINANDA
Account Executive
What:
Room 1114 – BSPK Hotel
Description:
Jadi ini kamar gue sama Mas Adit selama 4 malam di Osaka. Awalnya gue kira bakal jadi another room aja….ternyata lots of unexpected things happened. Room 1114 jadi "basecamp" kumpul yang lain setiap malam ternyata he he. Mulai dari gossip, nonton Detective Conan, dan juga Kanpai!! Cukup senang bisa lihat semua teman-teman mau kumpul walau kaki udah pegel bgt, kepala udah pusing dan kamar tidur gue jadi berantakan. Yang penting keluar dari kamar 1114 muka merah semua huehue. Till next time Guys!  \m/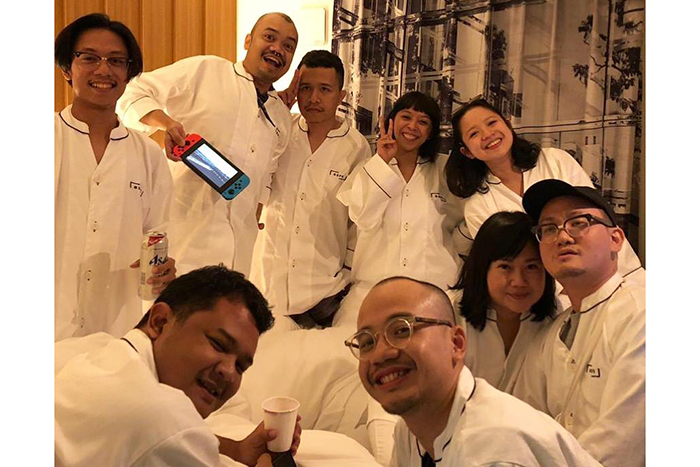 ADITYO CAHYO
Production Manager
What:
Sake
Description:
Keiindahan kota Osaka bukan dari tempat wisatanya melainkan dari lingkungan dan masyarakatnya, mulai dari masyarakatnya lebih ramah dari Tokyo hingga layout kotanya sendiri yang memudahkan untuk jalan kaki/sepeda. Selain itu kotanya sangat menyambut wisatawan, dan bisa bersepeda dalam kota Osaka sangat nyaman. Berawal dari mengenal salah satu bar dekat hotel dengan tempat tidak begitu menarik, dan semua tulisan menu bahasa Jepang dan tidak ada gambar satupun, saya memberanikan diri untuk memesan sweet sake yang akhirnya dipilih beberapa rasa. Alhasil semuanya enak dan barnya seperti yang punya teman sendiri saking ramah waiters-nya. Setiap malam wajib mampir seperti membeli jajananan di Family Mart. Semua itu menjadi pengalaman berharga seperti warga lokal sehingga berwarna dalam liburan kali ini.