Things We Like: TV Series According to Our Interns
Kumpulan TV series pilihan para intern.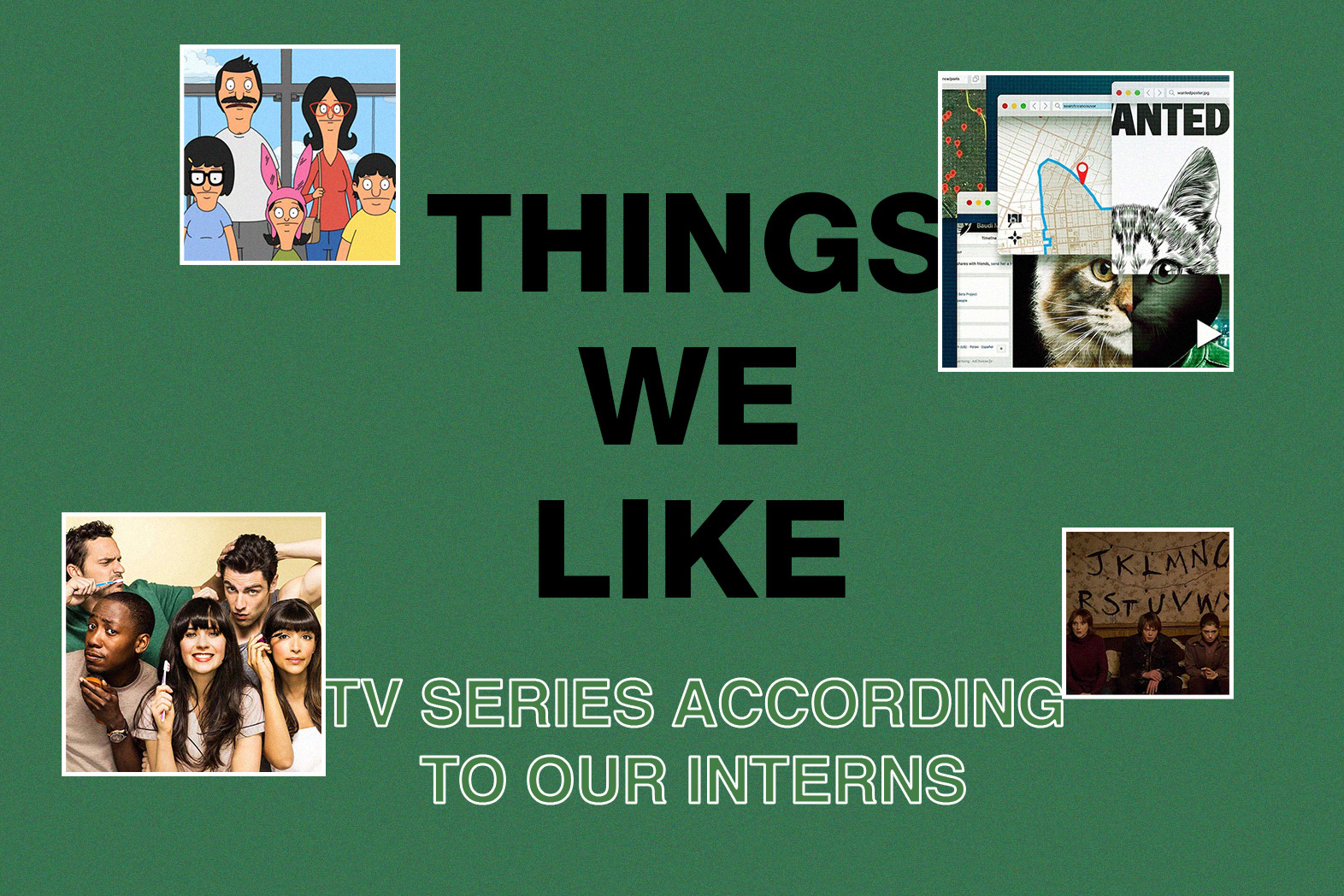 "Things We Like" kali ini adalah edisi khusus karena kami mengundang para intern untuk memberikan rekomendasi pilihan mereka. Masih dalam rangka meng-highlight ragam aktivitas favorit semasa berdiam di rumah, kali ini kami memusatkan perhatian pada TV series menarik yang bisa ditonton. Dari animasi, komedia, hingga docuseries tentang serial killer, berikut adalah beberapa pilihan mereka.
NISKALA H. UTAMI
Editorial Intern
What: 
Bob's Burgers (2011 – now)
Desc: 
"Bob's Burgers" is about the titular restaurant run by Bob, Linda, and their three children. Due to their clashing personalities, this not-so-average family is always getting in all sorts of trouble.  
Unlike most adult animated shows, "Bob's Burgers" is grounded and relatable to viewers.Their problems do not involve travelling through time and space, instead they worry more about not being able to pay rent, annoying in-laws, or missing Halloween. 
"Bob's Burgers" is my go-to show for everything. I watch this when I'm sad and need a laugh, or when I'm bored and there's nothing else to watch. I will never get tired of this show!
SABILLA SALSABILLA
Editorial Intern
What: New Girl (2011 – 2018)
Desc: 
I love everything about New Girl. All of the actors, the jokes, their love-hate relationship as a roommate yang kadang suka bikin iri, dan juga intro-nya yang super catchy. Alur ceritanya pun dari pilot juga dibangun dengan detail, kita sebagai penonton semacam "dijelasin" dari awal gimana masing-masing pemeran bisa kenal satu sama lain, termasuk alasan kenapa Jess (Zooey Deschanel) nekat untuk pindah ke apartemen yang dia temuin di Craigslist dan akhirnya tinggal sama tiga laki-laki yang nggak dia kenal.
This series is also very realistic with what happens in real life. Nick yang males cari uang, Schmidt yang gak disukain sama rekan kerjanya, New Girl shows the ups and downs of everyone's career or financial problem. Other than that, series ini juga ringan banget, jadi cocok untuk ditonton selepas kerja seharian sambil rebahan sebelum tidur.
ADINDA MUTIARA ANISA
Editorial Intern
What: 
Stranger Things (2016 – now)
Desc: 
Call me old fashioned, but I was born to love this show. As corny as it sounds, tapi emang udah kenyataannya begitu. Dari awal season 1 keluar, gue udah nge-fans banget. Bahkan, waktu dulu gue selalu cekokin orang-orang yang gue tau buat ikutan nonton TV series ini. Eh, sekarang udah mainstream dan udah banyak banget yang nonton. Sekarang jadi kayak guilty pleasure gitu.
Stranger Things sendiri awalnya menceritakan tentang hilangnya seorang anak laki-laki secara misterius yang kemudian diganti dengan kemunculan seorang gadis dengan kekuatan telekinesis. Sejak saat itu, semua hal supernatural mulai terungkap, seperti halnya laboratorium rahasia pemerintah, portal ke dunia lain, dan monster-monster jahat. 
Mungkin yang bikin gue suka banget sama Stranger Things itu adalah ceritanya yang dinamis dan cocok untuk semua umur, ya. Hampir semua genre juga ada series ini, mulai dari thriller, comedy, adventure, sampai ke romance. Jadi, Stranger Things tuh bisa dibilang comfort show deh buat gue.
DANIET DHAULAGIRI
Editorial Intern
What: 
Don't F**k with Cats: Hunting an Internet Killer (2019)
Desc: 
Docuseries yang disutradarai oleh Mark Lewis ini menceritakan sebuah kisah nyata. Pemburuan seorang kriminal narsistik yang berawal dengan membuat geram para pecinta kucing (termasuk gue waktu nonton) karena mengunggah video aksinya ketika membunuh dua anak kucing ke sebuah laman Facebook. 
Pemburuan berlangsung dengan teka-teki yang selalu diberikan oleh sebuah akun Facebook anonim kepada para pecinta kucing yang geram akan video tersebut. Serial yang cukup menguras emosi, namun memiliki alur cerita yang mampu membuat gue tercengang. Plus itu kriminal ada okenya juga karena doyan banget sama "True Faith"-nya New Order hahaha..