Things We Like: Upcoming Releases
Kumpulan TV series hingga game yang kami tunggu-tunggu.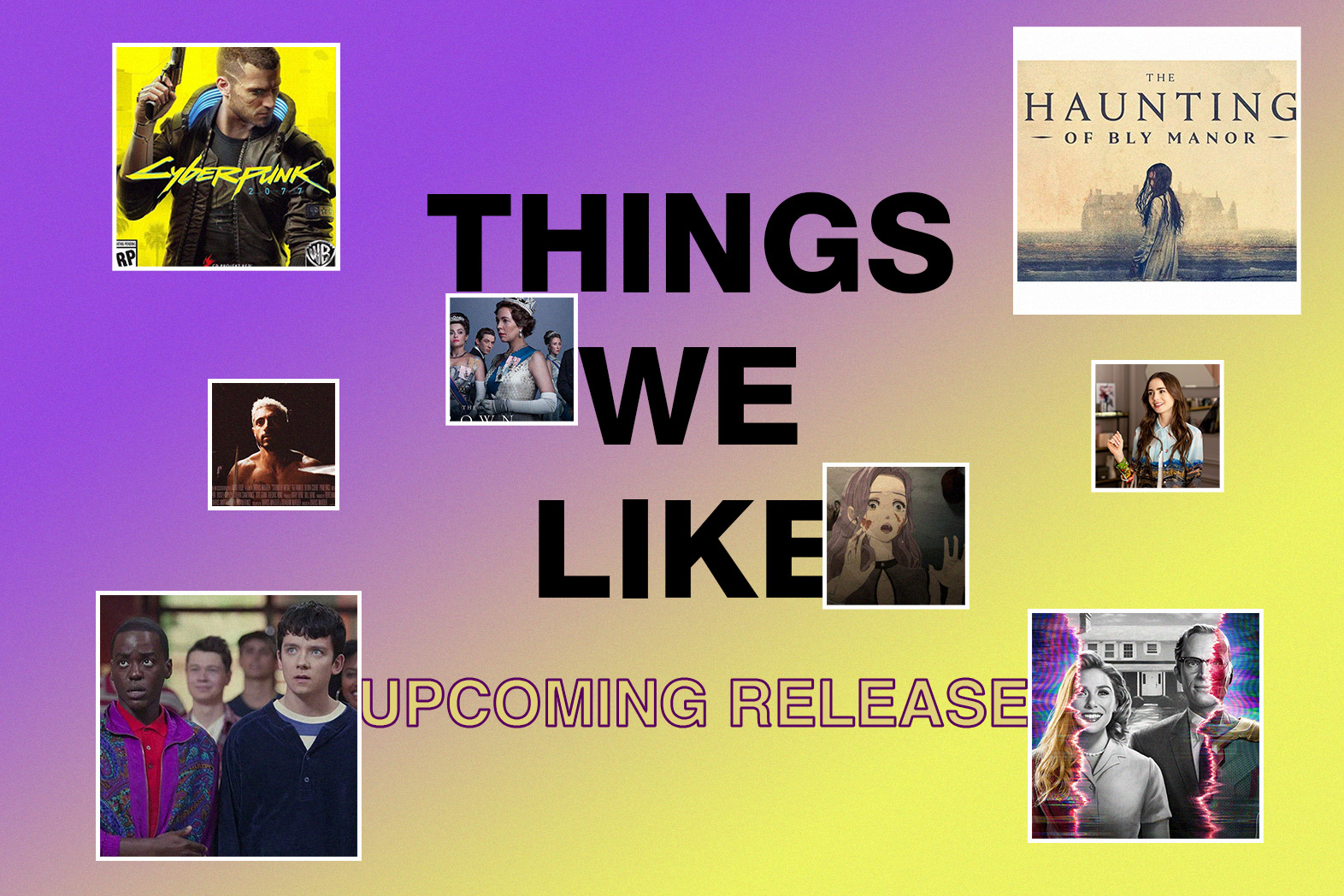 Pada "Things We Like" kali ini, kami meng-highlight ragam aktivitas favorit semasa berdiam di rumah. Dengan semakin banyak bermunculan trailer yang menyajikan banyak tontonan hingga game baru, kini kita dihadapi dengan pilihan yang luas. Oleh karena itu, kami mengumpulkan sederet upcoming releases yang ditunggu-tunggu. Dari TV series Marvel, game post-apokaliptik hingga season terbaru dari tontonan favorit, berikut adalah beberapa pilihan kami.
M. HILMI
Managing Editor
What:
Wandavision
Description:
Sebagai penggemar Vision dan Scarlet Witch, film Marvel yang sudah-sudah rasanya kurang memberi ruang untuk dua karakter ini berkembang (ingat bagaimana Vision berperan layaknya tahu rebus saat melawan Thanos dan pasukannya?). Padahal, dua tokoh ini lumayan sentral perannya di komik. Terutama Scarlet Witch yang pernah memusnahkan semua mutant di series berjudul "House of M". Akhirnya, Disney dan Marvel memberi ruang bagi dua karakter ini untuk berkembang melalui judul "Wandavision". Sekilas melihat trailernya, akan terasa agak 'cuckoo', di mana Wanda dan Vision dibuat hidup dalam setting film sitkom Amerika 60'an. Tapi semakin dilihat, kita bisa tahu bahwa series ini akan menjadi penentu fase-fase mendatang untuk Marvel Cinematic Universe. Terutama potensi bahwa Wandavision akan menjembatani pertemuan antara Wanda bersama Dr. Strange (dan fakta bahwa Scarlet Witch adalah salah satu sorcerer supreme), juga calon untuk Captain Marvel yang baru?! Selama ini belum tertarik untuk nambah langganan layanan streaming, tapi Wandavision bisa menjadi alasan yang baik untuk mulai langganan Disney+.
HANA DEVARIANTI
Lifestyle Editor
What:
Emily in Paris
Description:
Probably will be the next "fashionable" series from Darren Star, the creator of "Sex and the City". Maybe very unrealistic, but nevertheless (and hopefully) fun to watch.
FEBRINA ANINDITA
Editorial Staff
What:
Sex Education
Description:
Buruan lah.
GHINA HANA SABRINA
Editorial Staff
What:
The Haunting of Bly Manor
Description:
Seeing the success of Hill House, I CANNOT WAIT to see how terrifying this series is going to be. While Hill House had set a very high bar for this type of production, I'm pretty sure it's going to be a hellscape either way. 
CLARISSA AMABEL
Art Director
What:
Cyberpunk 2077
Description:
Oke untung gue tidak punya PC atau Playstation, karena kalau iya fix gue udah jadi your basic gamer gorl. Tapi bersamaan dengan semua gaming community di luar sana, I'm really looking forward to the release of CYBERPUNK 2077 which btw KEANU REEVES! 5 years in the making?!??!?!
How will I be enjoying the game without the means to play it? I WILL WATCH HOURS AND HOURS OF GAMEPLAY VIDEOS HEHE! Gue yakin kalo gue main, pasti gue akan stres karena banyak elemen jedor-jedor (very bad at FPS games) dan ngeng ngeng ngebut (also very bad at racing games). Yang bikin gue excited banget adalah environment-nya yang AeStheTiqUe dan character building nya sih. Penasaran banget storyline-nya gimana.
Take it from me, kids: Save your hard-earned money and let someone else buy the game. You can just sit back and watch 50+ hours of gameplay while you clean your house/fold laundry/eat lunch/wash dishes etc. 
TIANA LONDA
Graphic Design
What:
The Crown Season 4
Description:
I've watched all the previous seasons and I love, love this show. I can't contain my excitement for the upcoming season! Yasss, more scandals and drama from the royal family. And I'm really eager to see their take on the Lady Diana story, should be interesting….
SABRINA FARIZKY
Marketing & Partnerships
What:
Sound of Metal
Description:
Cukup penasaran habis baca berbagai review bagus tentang film ini, dan bahkan rating di Rotten Tomatoes-nya pun 90%. Also, a blonde Riz Ahmed. 
MAR GALO
Bamboo Twist
What:
Beauty Water (Kyung Hun Cho)
Description:
Psychological horror on beauty standards in Korea. It's about a girl who found mysterious beauty water that can reshape her looks. An adaptation from a comic that looks quite grisly. It was supposed to be out in August but got delayed by the pandemic. Not sure when it will have worldwide release.