"Just for Today" Menceritakan Bagaimana Kesehatan Mental Clairo yang Terpengaruh oleh Pandemi Covid-19
Dengan hanya memainkan gitar akustik, "Just for Today" direkam mandiri oleh Clairo dengan detail latar kicauan burung dan suara Joanie—anak anjing yang dipeliharanya—di penghujung lagu.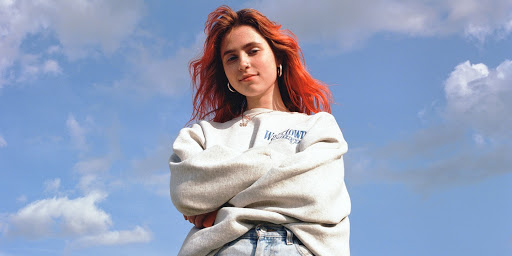 Teks: Daniet Dhaulagiri
Foto: Pitchfork / Jimmy Bui
Sudah hampir satu tahun Covid-19 mewabah, terjadinya pandemi ini memaksa kita semua untuk berdiam diri di rumah, beradaptasi karena banyak hal dalam kegiatan sehari-hari yang harus berubah, beberapa dari kita gagap dan gelisah, namun banyak juga yang bisa menjalaninya dengan mudah.
Musim dingin dan karantina mandiri rupanya bisa menjadi perpaduan yang bisa membuat kesehatan mental beberapa orang seakan terjun menurun, hal tersebut juga dialami oleh musisi solo yang pada tahun 2019 lalu merilis sebuah album penuh berjudul "Immunity", ya Claire Cottrill atau yang lebih dikenal dengan nama panggung Clairo.
Pada hari Selasa (26/1) lalu, melalui akun Instagram-nya, Clairo mengunggah video berisi rekaman sebuah lagu yang ia beri judul "Just for Today". Petikan gitar akustik yang ia mainkan dengan iringan detail latar suara kicauan burung menjadikan lagu tersebut terdengar sederhana, manis, dan mengesankan. Bahkan di penghujung lagu, Joanie, anak anjing yang kerap muncul di laman Instagram-nya belakangan ini menghampiri Clairo dan sempat menghentikannya bernyanyi karena dia tak bisa menahan tawa.
Meski "Just for Today" terdengar indah, Clairo menyanyikan tiap bait lirik tersebut dengan suaranya yang merdu namun lirih. Lagu tersebut memang memiliki lirik yang menceritakan bagaimana dirinya harus berjuang karena pandemi dan karantina mandiri cukup berdampak untuk kesehatan mentalnya. 
"not sure about you, but my mental health has taken a major dip since quarantine started- at times I feel like i've never felt worse. new medication, hotlines, and one scheduled appointment with a psychiatrist later and i'm feeling more like myself again," tulis Clairo dalam unggahannya tersebut.
Dia juga menyertakan nomor hotline untuk pencegahan bunuh diri, "national suicide prevention lifeline: 800-273-8255 (24 hours, with an online chat too)". Beberapa hal tersebut membuat "Just for Today" sangat terasa jujur dan personal bagi Clairo, bahkan dirinya perlu menuliskan "TW (trigger warning): mental health" di awal keterangan unggahannya tersebut.
Kalian bisa mendengarkan "Just for Today" dari Clairo dengan klik tautan di bawah ini.